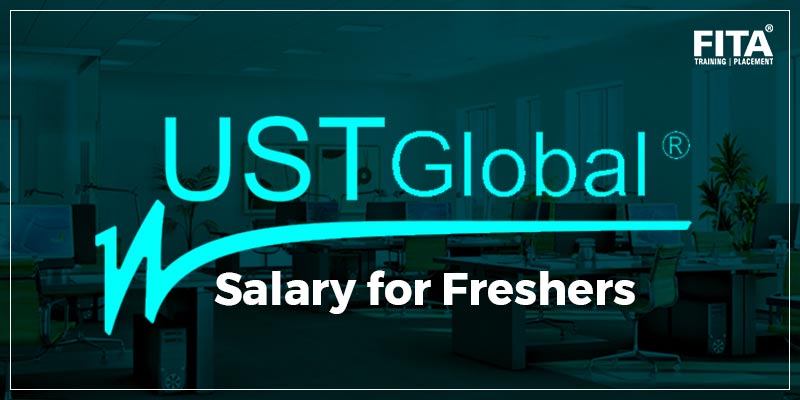 UST Global affords end-to-end digital transformation services to leading companies across the world. The company uses a centric global engagement model to drive international clients, which made UST attain the No.1 IT firm against all its competitors worldwide. Besides, the company has achieved its fifth stage of global funding with more than 34 leading investors. The company's tremendous growth accommodates numerous opportunities and career prospects for freshers and experienced professionals. So, this article provides a brief discussion on UST Global Salary for Freshers.
Who Can Apply for UST Global Services Private Limited?
Applicants/Candidates are encouraged to apply for various posts at UST Global with the best UST global salary package for freshers. The candidate must be passionate about driving and transforming digital technology services. Except for passion, UST Global propels its IT services by onboarding the right talent and using proper tools. So, the applicant must be talented and knowledgeable about digital transformation tools and technologies. If any applicant matches these criteria, they can go forward to the application phase and search for job vacancies at UST Global Career Page.
How to Apply and Get Hired for Freshers Posts at UST Global Services?
Interested applicants can go for two options for applying at UST Global Services
Procedure for Campus Selection for UST Global
Off-Campus Drive for UST Global
Procedure for Campus Selection for UST Global
Applicants can search for numerous vacancies and job posts at the Career Page of the UST Global Services website. Then, they can proceed to register and apply for specific positions by submitting the necessary documents and information.
Off-Campus Drive Selection for UST Global
Off-Campus Drive for all IT companies takes place at Colleges/Universities. Similarly, UST Global conducts an annual off-campus drive at campus and placement cells of nearby locations. Therefore, applicants are advised to stay tuned to their websites for off-campus drive updates and information. They can approach nearby placement centers to get interviewed and placed.
Eligibility Criteria for Jobs at UST Global
Applicants/Candidates/Fresh Graduates with a degree from B.E/B.Tech/B.Sc/B.Com/BCA are evidently eligible for applying various posts for UST global salary for freshers. In addition, candidates with post-graduation from M.Sc/MCA also have greater chances to apply. Besides, all the freshers must have obtained 60% of aggregate marks throughout their academic careers without any backlogs. These are some of the essential qualification criteria for various posts at UST Global Services.
Learn and make yourself eligible for UST Global through FITA Academy and its trending courses at Java Training in Chennai
Selection Procedure and Interviews at UST Global
Upon successful submission of application and after candidate shortlist. The selected candidate will undergo four stages of the interview process; they are
Stage-1: Firstly, the applicant undergoes a written examination where they are allowed to crack a series of tests. The tests include quantitative aptitude, analytical reasoning, and non-verbal reasoning.
Stage-2: Secondly, the applicant will countenance a technical test where the assessment includes speed test, word swapping, and dictionary key problems.
Stage-3: Here, the applicants can participate in a group discussion with peers. The total time duration is ~25-30 minutes. In this round, the communication and analytical skills of the applicants will be evaluated.
Stage-4: This is the final round interview process at UST Global. Usually, the HR Manager will take over the interview assessment. In this stage of the interview, Technical questions from essential IT backgrounds (C, C++, DBMS, SQL, Data Structure, etc.)will be assigned to answer.
Fundamental Skills Which Increases the Chances of Getting Placed
Fresh Candidates/Graduates with fundamental interpersonal skills have a maximum probability of getting placed into UST Global Services. The skills must cover problem-solving, technical thinking, problem assessment, good verbal & communication skills, and proficiency in basic programming or coding skills. Also, the candidate must be hardworking, innovative, productive, passionate, and flexible with job hours are likely to have increased chances of getting placement.
Python is the leading IT course revolutionizing the digital world, making you unique through additional skills. Learn Python Training in Bangalore at FITA Academy.
UST Global Salary Structure for Freshers
UST Global Freshers Salary varies for different postings.  We have shown different roles with our approximated salary package for freshers in the below chart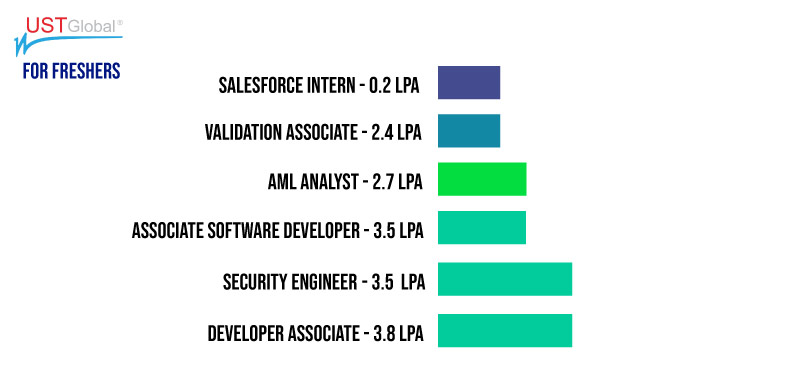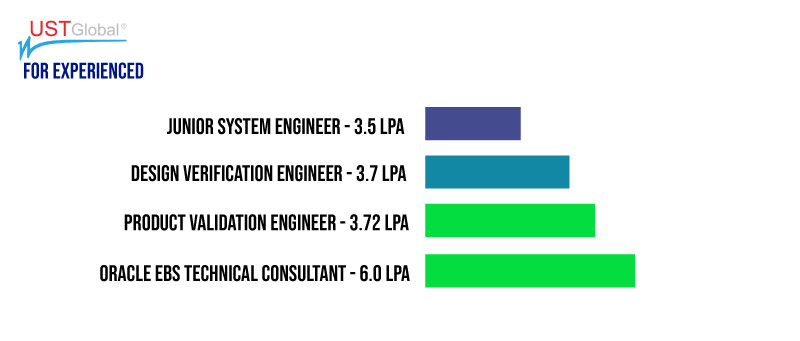 Vital Skills, Roles, and Responsibilities of various Jobs at UST Global
Salesforce Intern
Graduates/ Freshers with a background in Apex, Lightning, Salesforce, and Visual force are eligible to apply. During their post, they have the following key roles to undertake and fulfill
Maintenance of Users and their Setups
Organisation Management
Performing the Role of Hierarchy
Making Reports and Dashboard
Guiding Other Interns at Salesforce Team
Collaborating & Collating for essential requirements with new stakeholders
Validation Associate
UST Global wants their fresh validation associate to have proficient skills in GMP, GDP, MS Word & Excel with a relevant degree from an engineering background. During their onboard work hours, they have the following vital roles and responsibilities
Serving as a project lead
Mentoring or guiding junior teams
Handling of everyday tasks within the scheduled time, and accuracy
Interact with external clients for joint venture
AML Analyst
AML stands for Anti-Money Laundering Analysts. UST expects its analysts to have a more robust understanding of their business sector, excellent communication skills, and competent interpersonal skills to collaborate with various compliance teams. As AML Analyst, they are assigned to undertake the following critical tasks
Gathering Information, Assessing, and Analysing Financial Risks
Monitor and Regulate the threat of higher risk activities
Explaining their risks to regulators and auditors
Reporting everyday performance of the industry in terms of risk and risk mitigation
Verification and validation of data and solutions to meet AML regulations
Enhance the skill set and marketing experience of AML Analyst through learning Digital Marketing Courses in Bangalore at FITA Academy.
Associate Software Engineer
To join as an Associate Software Engineer, the applicant must have expertise in Python programming, UI development, PyQT5, Popularity with PySerial, GIT, and good communication & verbal skills. Usually, associate software developers are concerned with developing applications and software products in association with a software engineer. During their job roles, they have the following key roles and responsibilities to handle
Conduct quality tests, analyze, and design newer products
Develop software and applications to meet ISO Standards
Supporting teams to create technical design documents
Supporting and providing all internal assists to various IT departments
Maintain a standard record to report all status or issues
Train and guide all supported teams associated with software development
Inspired about careers at UST Global? Become an associate software engineer through learning PHP Training in Chennai.
Security Engineer
Freshers with any degree related to computer science or IT with fundamental skills in C++, Java, Python, Ruby, Node, Go, and Powershell are eligible for this post. As a security engineers, they have the following vital roles and responsibilities at UST
Mutual work with teams related to security activities
Maintain security standards, procedures, and policies for all projects
Conduct Vulnerability assessment and document all the findings
Ensuring Cyber Security and Risk assessment
Submission of standard risk assessment reports to admins
Development Associate
UST Global Services needs a fresh development associate. They look for candidates with expertise in Fullstack, Java, Angular, JQuery, Bootstrap, ReactJS, NodeJS, and REST API. In addition, they expect good communication and presentation skills with debug skills to develop browsers, cross-browser UI, and so on. Development Associate is concerned with the following roles and responsibilities
Analyzing, Interpreting, and Developing Newer Applications
Debug Test Coding
Testing Documents, Products, and Components
Following strict project deadlines
Effective email communication and conversing
Testing and Validation of functionalities
Promoting faster goals, accepting and seeking feedback from employees
Junior System Engineer
Freshers/Graduates seeking a Junior System Engineer role at UST must have expertise in Linux, ITIL, Troubleshooting, Oracle Database, ASM, RAC 11G, and RAC 12C. As a Junior system engineers, they are concerned with the following roles and responsibilities
Management of Linux ITIL Tools
Decisioning the results to drive stakeholders
Guide and Manage team members to IT prospects
Troubleshooting Issues concerned with Linux Operating Systems
Handling of Mission-Critical Applications
Management of Oracle Database
Design Verification Engineer
UST Global hires candidates with a strong background in System Verilog, VHDL, UVM, C, C++, Assembly Perl, TCL, TK Makefile Spice, EDA Tools, and technical knowledge in AHB, AXI, PCIe, USB, Ethernet, and miscellaneous. Design verification engineers have more significant roles and responsibilities than any other roles; some of them are
Contributing to the design task related to RTL Design or Module
Supporting Engineers in validating PD, DFT, and circuit designs
Analyze and complete the assigned task on time
Timely delivery of tasks and other assignments
Documenting the tasks or works performed
Become an exceptional design verification engineer with robotic automation through learning RPA Training in Bangalore at FITA Academy.

Product Validation Engineer

An applicant applying for Product Validation Engineer at UST Global requires a bachelor's degree from a mechanical or electrical background. Also, any relevant experience as a validation engineer, basic knowledge of the production process, procedures, quality control, and electrical and mechanical testing using tools. PVE needs to fulfill the following roles and responsibilities during their working period
Determine the working and functionality protocols of all products
Review and validate the products
Validation of Designs and Identifying Failure Points
Detecting failure points in products
Performing quality control checks and other inspections
Documenting their findings and analysis
Oracle Ebs Technical Consultant
Job Seekers/Freshers looking for Oracle Ebs Technical Consultant at UST must be expertise in the following domains: RICEWP, Oracle E-Business Suite, Basic knowledge in computer science, and customized fusion applications. During their active posts, they need to do the following key roles and responsibilities
Develop and Implementation of RICE Workflow Components (RICEWP)
Utilizing the SQL, PL/SQL, BI Publisher, Report, and Form Developer
Working with OBIEE and other related apps
Working with Oracle E-Business and related applications
Employment Benefits at UST Global Services 
Picnic Trips and Firm Outings: UST surprises its employees with vocational trips to national and international locations.
Guided Training and Placement: Unexperienced/Freshers were put into some period of soft-skill training programs to enhance their skill sets.
Beneficial Health and Life Insurances: UST provides Health and Life Insurances to all the employees for their family wellness and care.
Refreshment Spots: UST Employees are gifted with refreshment spots or a cafeteria to relax and re-energize themselves during break-offs.
Multinational Transit and Settlement: UST affords their employees to relocate and settle anywhere around UST Centres worldwide. It gives additional merit to international tourism.
Education Assistance: UST Global provides educational assistance to both employees and their children to complete their studies.
Global Opportunities for Freshers at UST Global
UST Global Services have more than 15+ International Offices across the world. So, Freshers at UST can avail benefits of international relocation and jobs at various centers of UST. Some of the areas served are covered below
United States
European Nations
South Africa
Asian Pacific
Learn and crack IELTS through IELTS Coaching in Bangalore at FITA Academy for UST Global's International benefits.
Core Areas Served Through UST Global Services
Implementation of Digital Strategies and Operations – This area is concerned with strategizing and implementing digital solutions, engineering custom application & tools, data solutions, scaled operations, enterprise-based application services, product engineering, and acquiring next-generation talents.
World Class Experienced Designs – This area is concerned with advisory and consultation of CX strategy and Management. Besides, the core area also includes implementing and maintaining marketing and commercial solutions.
Transformation of Technologies – The area deals with the digital transformation of agile and clouds, managed data analytics and security services, innovations, automation programs or products, and numerous digital services.
Platforms for Newer and Updated Products – The area deals with the Management of products and their platforms, sustaining Health and Cyber-proof spaces, Smart operations, PACE, and IQ managed services.
Industries Served Through UST Global Services
Healthcare and Management – UST is continuously striving towards shaping the future of healthcare and management. The company associated with global clients helps find better solutions to digital healthcare and business.
Products & Manufacturing – UST serves other product and manufacturing industries to transform their ways to build and the approach to operate them. It also affords faster, safer, reliable, and more personalized product experiences worldwide.
Public Relations – UST aids in promoting clients' products so that the products and services can create a significant impact on human lives.
Retails and Shops – UST is tirelessly working towards transforming and redefining the digital retail experience of all retailers. It helps get more customers and sustains the supply chain for better retail operations.
Banking and Financial Services – UST has served hundreds of financial companies in affording quicker, safer, and delightful human-centric customer experiences to all financial & banking sectors.
Digital Technologies – The digital services and tools provided by the UST Global remain a pioneer of digital tech transformation and engagement.
Telecommunication and Television Media – UST helps telecommunication and digital media for uninterrupted streaming, customer satisfaction, and cost-effective entertainment.
Top IT Partners of UST Global Services 
The tremendous growth and achievements of UST Global diverted the attention of leading IT firms across the globe. Notable partners of UST Global Services are
Technology Partners
Salesforce
Oracle
Microsoft Services
IBM
SAP
Cisco
MongoDB
EpiServer
TIBCO
OutSystems
Informatica
Broadcom
BMC Software
SailPoint
Dendo Technologies
Pegasystems
Channel Partners
Amazon Web Services
Snowflake
Software AG
Talend
Blue Yonder
Pimcore
FICO
AutomationEdge
Kony
SuccessFactors
HealthEdge
Namogoo
Experitest
The expansion of global partners opens a new gateway to explore new opportunities and career prospects for freshers who are looking for UST global salary for freshers.
Explore various leading and trending IT Courses at FITA Academy across Chennai centres. Learn Artificial Intelligence Course in Chennai for successful IT operations.
Synopsis on Significant Benefits of a Fresher at UST Global
Sparks you with an influential hands-on IT experience
Accelerates freshers innovative ideas and makes it global exposure, accessible, and indexable
Provides a new adventure on work-life balance and other academic activities
Provides all the necessities for life from food to the health insurance
Offers numerous benefits with paid-leave and international trips
Opens up a new global market for employees' work experience and certifications
Our well-researched article has briefly introduced UST salary for freshers and its various interesting job postings concerning the demand and prospect of emerging freshers in various engineering sectors. In addition, our article would provide a clear pathway to application procedure, employment benefits, and life prospects at UST. Therefore, we highly recommend freshly graduated students, freshers from any sector, and experienced professionals to look for UST Jobs. In short, UST would benefit their employees with reliable recognition, work-life balance, assistance in education and health care support, and various international opportunities. Finally, an employee with hands-on experience from UST Global Services has a global reputation, increased demand in the global market, and potential career benefits.
Frequently Asked Questions (FAQ)
1. How much do the UST Global Freshers get paid off?
The UST salary for freshers changes for various job postings. However, the salary usually ranges from 0.2 LPA (for Salesforce Intern) to 8.0 LPA (for Oracle Ebs Technical Consultant).
2. Is UST a perfect company to work for?
UST has an excellent and friendly work environment with a culture to work. Furthermore, the teammates are so supportive and motivating. UST provides e-learning services for the growth of employees and their talent exposures. So, UST is a perfect place for growth and work-life balance.
3. Is UST Global a Multinational Company?
Yes, UST has been serving worldwide and was found to be one of the best and top outsourcing MNC companies in India.
4. What are the employment benefits of UST Global?
UST offers various employment benefits for its employees. Such benefits include vocational trips, guided training, reliable health insurance, refreshment spots, global transit services, and educational assistance.
5. What countries does UST Global serves?
UST global serves worldwide. Some significant countries include the United States, Europe, South Africa, and Asian Pacific.