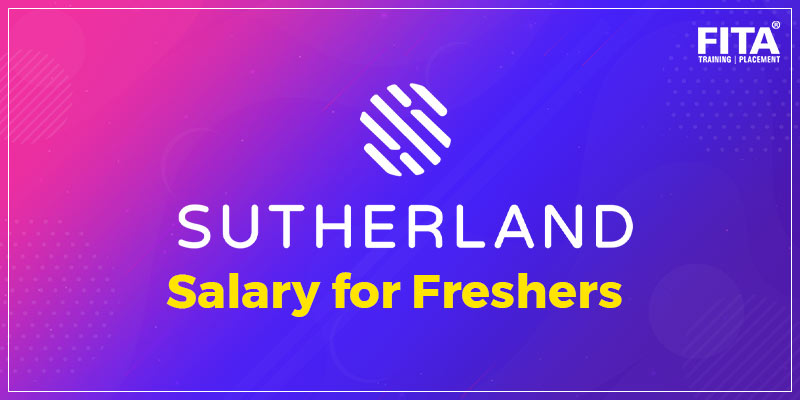 Introduction
Sutherland, a global business process outsourcing and technology services company, announced that it will be offering freshers in India a salary of Rs 2.4 lakhs per annum. The company has stated that the offer is meant to attract the best talent in the market and to fuel its growth plans in the country. It exceptionally delivers artificial intelligence, cognitive technologies, automation, and human-centric design for a better IT experience. Sutherland tends to afford numerous job opportunities and career prospects for graduates who are looking for Sutherland salary for freshers among all IT firms. So, in this blog, we will provide an overview of Sutherland, its various technical roles, the procedure to apply, salary structure, and numerous career prospects.
Who Can Apply for Job Roles at Sutherland?
Freshers or Applicants seeking to pursue a passionate IT career are encouraged to apply. Besides, freshers who have completed their bachelor's or master's in computer science and any relevant field are eligible to apply. Eligibility and qualification criteria will be discussed in the upcoming sections.
How to Apply for Sutherland Jobs?
Candidates can apply for Sutherland through two different modes. They are as follows
Online Mode – Through this mode, the applicant can visit their jobs page at their official site. Search for various roles and register the application through submission of resume. After submission, shortlisted candidates will receive an email concerning the further interview process.
Offline Mode – Apart from online mode, candidates can go for an off-campus drive where the applicant needs to get an appointment in advance from their official page. Then, the venue, eligibility details, date of interview, and other relevant information will be mailed from the human-resource executive.
Qualification Criteria for Jobs at Sutherland
Candidates seeking excellent job roles at Sutherland with a good Sutherland salary for freshers must have the following qualification criteria:
The applicant must have completed a degree in the following domains: bachelor of engineering (B.E); bachelor of technology (B.Tech); bachelor of science (B.Sc); bachelor in computer application (BCA); Master's in Engineering (M.E); Master's in Technology (M.Tech); Master of Science (M.Sc); and Master of Computer Application (MCA).
Then, the applicant must possess or have obtained 60% of aggregate marks throughout their academic career or have obtained 6.5 CGPA (cumulative grade point average).
The applicant should not possess any kind of backlogs at present or past academic careers.
Enhance your qualification criteria for Sutherland through learning DevOps Training in Chennai at FITA Academy.
Supplemental Skills for Job Roles at Sutherland
In addition to academic qualifications, the applicants are expected to have additional skills and relevant experience. Some of the supplemental criteria are
Applications are highly preferred for the candidates who have 0-3 years of hands-on work experience.
Intermediate knowledge of Microsoft SQL Server, Database Management, 2008-SQL, and Above.
Experience in Customer Handling and Services
Hands-on experience in clinical application management, system manual, automation, and other relevant experience.
US Healthcare knowledge, analytical thinking, and user training experience.
Good experience in Microsoft Office and its related products.
Sutherland Salary Structure for Freshers
The Sutherland Global Services Salary for Freshers differs for different posts. However, the salary package ranges from 2.3 to 2.9 Lakhs Per Annum. Here is the approximation of the salary structure for various roles at Sutherland.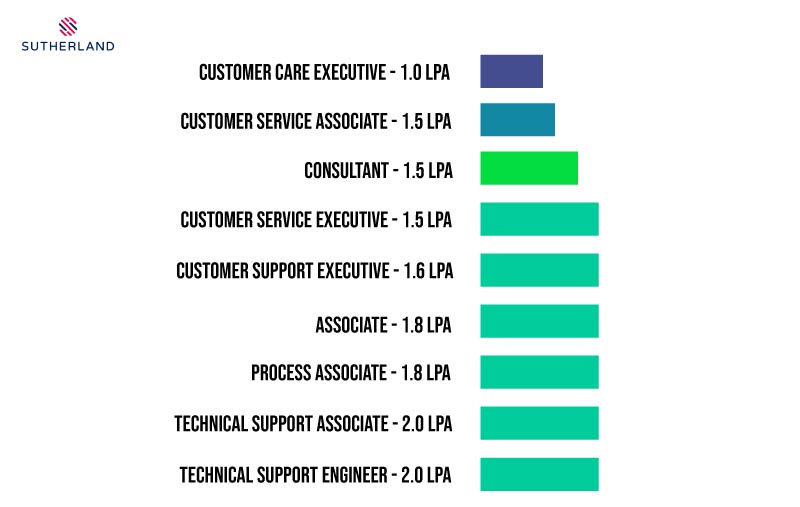 Applicants who want a salary increment at the shortest interval, learn and enhance their skill set through pursuing Python Training in Chennai at FITA Academy.
Required Skills, Roles and Responsibilities of Various Posts
The following section is brief about significant job roles and their key responsibilities.
Customer Care Executive
The customer care executive is responsible for offering excellent customer care, services, sales support, and the management of the team. Then, Sutherland expects their new applicants to have desired skills such as customer care support, excellent communication skills, BPO consulting and processing services, national and international calls management, flexible work hours, and processing international voices. They are supposed to complete or follow the key roles and responsibilities below.
Management of the team as a team representative.
Supervising customer service process
Generating and Managing business policies and procedures
Organizing training and standardized service sessions
Reviewing applications and hiring new staff
Improve your communication skills through learning Spoken English Classes in Bangalore at FITA Academy.
Consultant
Consultants are associated with numerous job roles; therefore, Sutherland expects their freshers who are looking for a good Sutherland voice salary for freshers to have desired skills like awareness of commercial products; numerical and analytical skills; excellent interpersonal and communication skills; ability to work within a collaborative environment; well-written skill; and with self-motivating & passionate. As a consultant, they possess the following key roles and responsibilities.
Conduct research on firms, and gather surveys and interviews to acquire knowledge of the firm and their business.
Detecting, Identifying and Resolving Technical Issues.
Reporting the data of issues either vocally or graphically shows the present scenario and finds a newer approach to resolve them.
Utilizing analytics data to make data models, conduct research, and report the findings to clients and industry professionals.
Training new hires and freshers
Process Associate
Freshers seeking process associate roles with an excellent Sutherland associate salary for freshers are expected to have desired skills such as hands-on experience in process associate; knowledge of software processing & process simulation; expertise technical and communication skills; and ability to manage mechanical equipment. Process associates are concerned with the following essential tasks and responsibilities, which are
Analyzing company's progress, delays, and other obstructions
Suggesting Ideas for the increased production process
Processing purchase and selling products
Servicing and Managing mechanical production equipment.
Reporting quality assurance of production channel and identifying production flaws
Producing documents and production process reports.
Technical Support Associate
To join as a technical support associate, the candidate must have expert skills in Microsoft product, Linux, Cisco, and relevant experience in desktop support, technical support; proficiency in Linux/Windows/Mac and other operating systems; desk software; remote applications; and miscellaneous. The Technical Support Associate is concerned with the following key roles and responsibilities.
Identifying appropriate hardware and software.
Identifying and resolving technical issues.
Identifying and correcting problems.
Troubleshooting and resolving network difficulties.
Configuring Hardware and Software installations.
Listening to the customer's complaints and consulting with them
Providing accurate and timely feedback to clients.
Customers are guided through a set of steps to address an issue.
Following up with customers to check that the issue has been handled or resolved.
Replacing or repairing the required components.
Assisting in the deployment of new apps.
Providing procedural documentation as a type of help.
Managing several cases at the same time.
Testing and evaluating new technologies.
Conducting electrical safety checks on equipment.
Technical Support Engineer
Sutherland wants their fresh technical support engineer to have expertise skill sets in the following domains: knowledge of Linux/Windows/Mac OS, understanding of computer networks and mobile devices, and expertise in WAN/LAN/MAN networks. In addition to this, the applicant must have intermediate skills in script languages such as Java, Perl, Python, BASH, and others. As technical support engineers, they must accomplish the following key responsibilities.
Configuring computer programmers and software installations
Maintaining computer networks and operating systems
Diagnose and restore network faults
Analyze, debug, and resolve customer's concerns
Learn and become expertise in networking services through CCNA Course in Bangalore at FITA Academy.
Employment Benefits for Freshers at Sutherland
Employees or Freshers seeking Sutherland global services salary package for freshers are benefited through numerous employment benefits listed below.
Diversity and Inclusion – Washrooms accessible to everybody, Health Insurance for Partners of the Same Gender Policies that are gender-neutral. Members and managers of the LGBTQ+ community might benefit from a mentoring program. Accessible to people with disabilities Employee Disability Sensitization Programs, Friends of Pride, a PWD buddy program.
Health and Insurance Policies – Sutherland provides their employees medical, health, and life care insurance policies. It aids employees to have additional financial claims during critical emergency periods.
Week-Off and Paid Leaves – The company also offers 24 paid sick leaves and 182 days for maternity & 5 days for paternity.
Stunning Allowances – Sutherland offers Work at Home (WAH) allowances for system repair.
Career Prospects – Applicants get leading, mentoring, and internal career opportunities for career prospects.
Social and Mental Prospects – Sutherland conducts virtual fitness programs for the health benefit of employees and other mentors.
Shopping Hubs – Employees benefit from lots of exciting shopping brands and cashback offers.
Recognition and Rewards – Sutherland appreciates their exceptional employees with various awards for their excellence.
Referral Bonus and Increments – Finally, the company provides exciting bonuses to their employees for bringing talents like them.
Learn and clear IELTS through IELTS Coaching in Chennai at FITA Academy. Explore and infinity
Conclusion
This blog has discussed Sutherland's summary, job listings, application processes, numerous roles and responsibilities, employment perks, global prospects, and fresher's benefits. The organization has worldwide solid recognition and continues to be a promising platform for emerging IT professionals. Candidates will benefit from the environment's innovative and cheerful culture, which will enable them to achieve an outstanding and promising career. We strongly suggest freshers to approach Sutherland and register for various employment openings. The applicant's professional expertise and abilities will make them highly demanding in the global market. In other words, the Sutherland salary for freshers is really good and right now you can get a job in Sutherland with that salary.