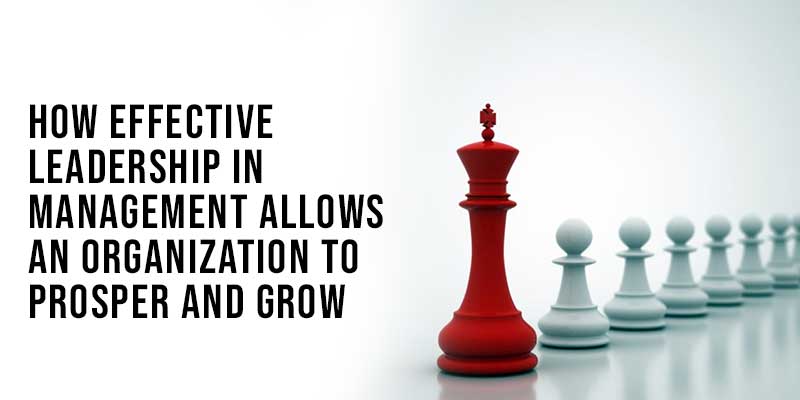 Leadership and Management roles are often mistaken to be synonymous by most employees in recent days. It is vital that every employee learn the difference between leadership and management to identify their employer, either as a good leader or a manager. Knowing this difference can also help them in building themselves into better people.
Developing leadership and management skills can reward you in the form of job promotions, hikes and can even directly contribute to the growth of your business. Master the skill through Leadership Training in Chennai! Leadership and Management are two different paths to make the employees work effectively toward the vision. Imagine, what would be the result if both the skills intersect!?
Leadership
Leadership is motivating and influencing people for a selfless cause in most cases. The objectives are usually taken willingly and enthusiastically. They guide people in the right direction by providing inspiration, encouragement and support. Along the journey, leaders check on their followers to make sure they are aligned together. Habitually, they don't get involved in the making of tactical decisions.
It is more of a social influence process that maximizes the efforts of others toward the achievement of a common goal. It is the result of conformity and requires human resources to achieve the intended outcomes.
Roles of a Leader
Most leaders don't occupy a position in management. It can also be said that a leader does not always need to be in the management team, emphasizing that anyone can be a leader. Following are the core functions of a leader,
Coach – The responsibility of a leader is to develop others so that they can succeed in their present tasks and prepare for future ones.
Facilitator – It is necessary for you to make things easy for others. While we usually think of this in the context of a meeting or a group, there are numerous situations when you will be asked to act as a facilitator to help processes flow more smoothly and increase productivity.
Strategist – This position is not limited to an organization's top leaders. All leaders must think strategically, consider the big picture, and determine which paths and methods the team should take in order to achieve the intended outcomes.
Visionary – Leaders must have a clear sense of where they are going and why that destination is important to the organisation, their team, and themselves.
Change Agent – The need for change is inextricably linked to strategy and vision. As a leader, you must lead and champion the changes you want to see and those that have been invested in you from up the ladder.
Decision Maker – You want others to participate and provide feedback. As a leader, though, you will need to be decisive and make difficult decisions, You must not be scared to make a judgment.
Influencer – This job, whether it's referred to as mediation, negotiation, or even arbitration, is all about power. As a leader, you must consistently exert a good influence over others.
Team Player – You can't always be in charge. You must also be a team player, which includes knowing when to relinquish control and allow others to take the lead.
Delegator – You have to accept that you can't do everything. The finest executives distribute willingly and wisely to ensure that everything gets done and that their workers are prepared to take on larger roles within the company.
Listener – Leaders frequently believe that they must do all of the talking, but this is a mistake. In reality, the finest leaders inquire, listen, and observe more than they speak. Make sure you pay attention to the people you're in charge of.
You could have all the leadership qualities at times, but you fail to inspire them because of communication barriers. Effective communication is essential for a leader to send the right message and motivate the employees. Learn Spoken English Classes in Bangalore to overcome the barrier and become a celebrated leader.
Management
Managers are hired by the companies to perform with the power of hiring and firing people. They control employers and direct them to work hard and achieve the company's goal. Management is task-oriented and consists of pre-planned tasks which are to be executed by the subordinates. The primary focus of the management would be meeting the company's goals and the rest are less often taken into consideration.
Only the art of management can bring any business forward to success. Good management is necessary as it helps in achieving group goals. Management is to increase the productivity and effectiveness of the employers, processes, projects, and the whole organization itself.
Roles of a Manager
What managers do? Ever thought of it? A manager is obliged to perform four primary functions. They are planning, organizing, leading, and controlling.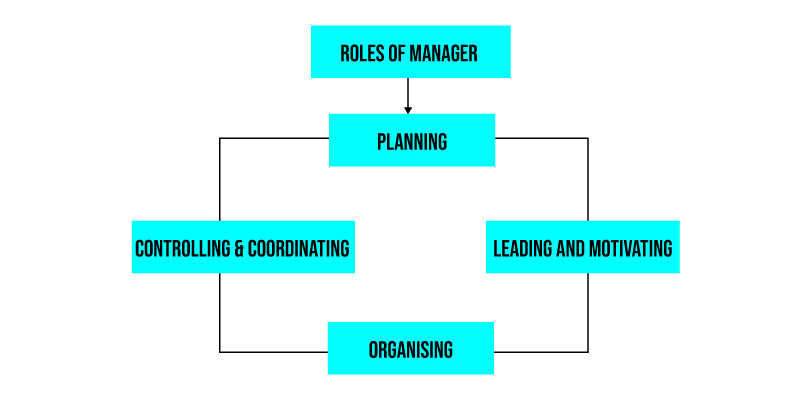 They also perform other multiple tasks as listed below,
Figurehead – As a manager, you own social, ceremonial, and liable responsibilities. You're expected to be a source of inspiring light to people.
Liaison – Managers must communicate with both internal and external stakeholders. You must be able to network effectively on behalf of your company.
Monitor – In this role, you seek out information about your organization and industry on a regular basis to find the relevant changes in the environment. You also keep track of your team's productivity as well as their well-being.
Disseminator – This is where you share potentially useful information with your coworkers and team.
Spokesperson – Managers represent and speak on behalf of their companies. You are responsible for the communication of information about your company and its goals to people outside of it.
Entrepreneur – As a manager, you initiate and oversee organizational change. This entails solving problems, coming up with new ideas, and putting them into action.
Disturbance Handler – When an organization or team encounters an unexpected stumbling block, the manager's responsibility is to take charge. You must also assist in the resolution of internal conflicts.
Resource Allocator – You must also decide where organizational resources are best applied. This includes allocating funds as well as assigning personnel and other organizational resources.
Negotiator – You may be asked to participate in and direct key talks within your team, department, or organization.
Leadership is to let the team fail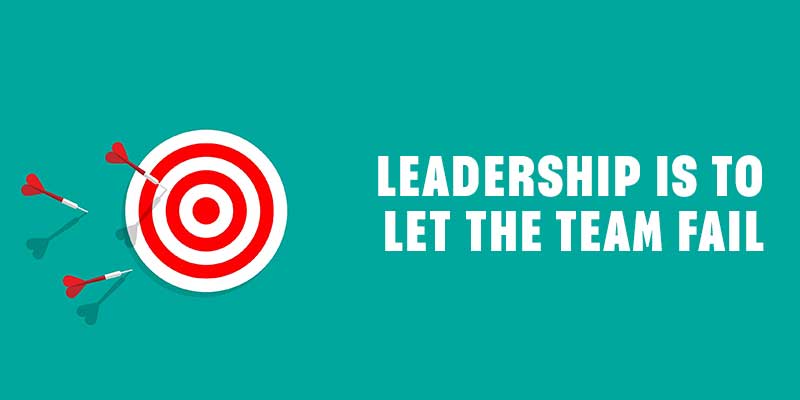 Failure could teach more than what a leader could teach their team. As it is always said, 'Failure can be the best teacher in everyone's life'. Leadership is not all about leading the team to success. It is also about the growth of your team members. Always aiding them in the worst situations and playing the role of a cushion would not let them grow. Great leaders tell their team what is needed and let them do it in their own style. They closely watch them and provide insights into their self-growth. They provide enough space for trial and error for their team.
A good leader has to train their team members to become leaders of the next generation. The new leaders wouldn't be strong enough if they don't face any failures. IBM's Thomas J Watson often says, "The fastest way to succeed is to double your failure rate". The major difference between leader and manager is that most managers fail to do this as they always work for risk controls. Similarly, there are so many unrevealed facts about leadership skills. Join the Leadership Online Courses to learn all of them and become an effective leader in your workspace.
Leadership vs Management
Management can be compared with science as they are planned, logical, exact, standard and more of mind. But, leadership is an art. On a whole, if management is required leadership is essential. The below table might help in understanding the difference between leadership and management.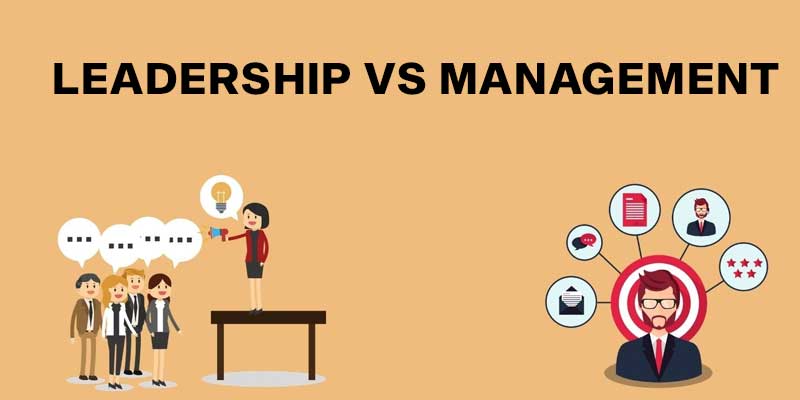 | | | |
| --- | --- | --- |
| 1 | Provides direction and leads them. Communicate and inspire them to achieve goals. | Lays down the structure, represents authority, and takes responsibility for the company's vision. |
| 2 | Focuses on Listening, creating relationships, cooperation, inspiring, motivating, and procuring followers. | Focuses on planning, organizing, hiring, directing and controlling. |
| 3 | Gets authority from followers. | Gets authority by virtue of the post. |
| 4 | Follows their own instinct. | Follows the policies and procedures of the company. |
| 5 | Deals with the people aspect of the company. | Deals with the technical dimension of the company. |
| 6 | Proactive | Reactive |
| 7 | Based on verbal communication. | Based on written communication. |
| 8 | Takes charge of a situation and sets an example. | Takes responsibility for a situation. |
| 9 | Takes risks. | Controls risks. |
| 10 | Subordinates are followers and fans. | Subordinates are executive employers. |
| 11 | Performs one function. | Performs four major functions – planning, organizing, leading, and controlling. |
| 12 | Intrinsic process of motivation. | Extrinsic process of motivation. |
| 13 | Sets direction for the team. | Plans tasks for the team. |
| 14 | Appeals to heart. | Appeals to the head. |
Leadership in Branding
Most people would have not heard about leadership brands, yet every one of us is either witnessing or experiencing it in this age of media. In simpler words, people market products to increase their market share values but recently they started to brand their leadership skills to mindshare their company or firm among consumers. For example, Google is a technology leadership brand; Apple is an innovative leadership brand and American express is a global leadership brand.
Social media platforms have been playing a vital role in marketing leadership brands. Learning Digital Marketing Course in Chennai can help in marketing your leadership skills for your business. Grab the chance to become the brand for your own business!
You don't own a business? No worries! Certification in Digital Marketing can fetch a good job that meets your salary expectations from the wide range of Digital Marketing Jobs in Chennai.
Leadership and Management are Interdependent
Most people take leadership as synonymous with management and others look only at the difference between leadership and management. People actually fail to look at their interdependency. Both leadership and management are necessary for any organization. Without leadership, teams would be aimless and unable to unite behind a common goal. And without management, teams would be unable to take concrete steps or fulfill the goals necessary to achieve their vision.
Leadership and management are required for managing the human resource at a company. Master these two skills through the HR Training in Chennai to make use of the large demand in HR jobs.
Which one are you?
As you have now understood the difference between leadership and management, take a self-test of checking the skills you possess and find your innate ability.
Core Management Skills
Communication
Interpersonal skills
Motivation
Organization
Deputation
Forward planning
Strategic thinking
Problem-solving
Commercial awareness
Guideship
To become a better communicator, attend Spoken English Classes in Chennai at FITA Academy. This can help you in situations of representing yourself on behalf of your company. It also helps in maintaining better communication bonds with the subordinates and clients of your company.
Core Leadership skills
Communication
Motivation
Deputation
Positivity
Trustworthiness
Creativity
Feedback
Responsibility
Commitment
Flexibility
To develop your innate quality, join Soft Skills Training in Chennai. Soft skills are as important as your technical skills to fetch you a great job. You might also get promotions and hikes if you are already an employee.
Guidelines for a Leading Manager
Have you ever wondered what is leadership in management? A manager who possesses leadership in their management would most likely become the leading manager all the time. A leading manager knows the interdependency of leadership and management. For an effective outcome and to achieve goals both are essential.
One of the roles of a manager is to lead the organization. Knowing when to show their formal authority and avoid directing and controlling employers would be the must-need understanding for a manager to perform the role. This can bring out a better performance rate from employees resulting in achieving the company's vision. On the flip side, if a manager fails to perform the role, they develop hatred in the workplace which doesn't help in reaching the goals. The leading manager creates a better workplace for themselves as well as the employees while contributing to the company's vision.
FAQs