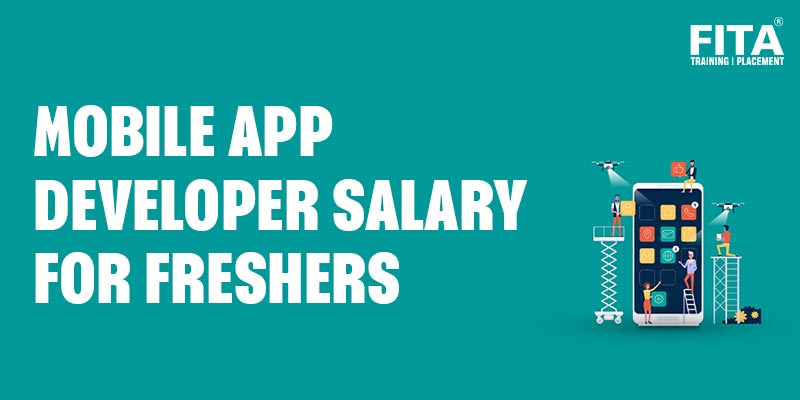 If you intend to begin your career in the IT sector, many jobs are piled up, from software engineers to cybersecurity analysts. Whatever field we choose, we should have the skill relevant to the role we tend to prefer. Why are acquiring skills essential? Because it makes you stand out from other candidates. 
If you are interested in becoming a mobile app developer, you can join Mobile App Development Courses Online and learn about Mobile App Development Platforms, Native App Development, Cross-Platform App Development, Android Vs iOS, and Android Architecture.
There are enormous job opportunities for freshers both in technical and non-technical. Among various demanding career opportunities, software developer, web developer, DevOps engineer, cybersecurity analyst, the mobile app developer has a tremendous growth in IT sectors. 
Mobile smartphones have become prevalent, with two-thirds of the world's population having access to mobile devices. That's about 6 billion distinct cellphone customers. It means that utilizing smartphone apps for shopping, obtaining a taxi, booking appointments, designing, and playing video games has become routine.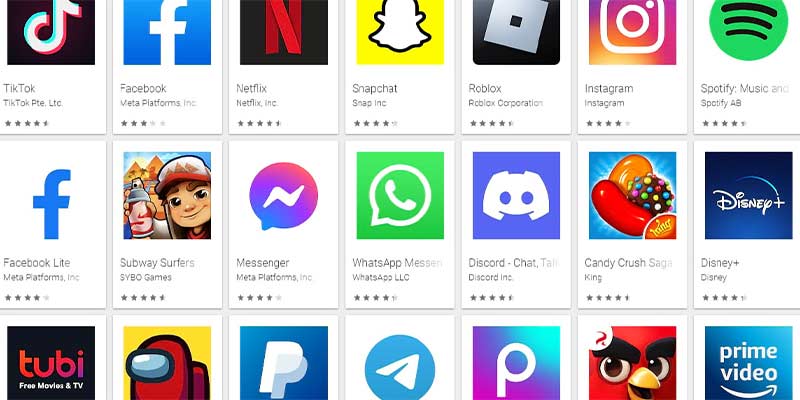 Due to the demand for smartphones and the usage of their devices, mobile app developers are rising exponentially, and the market for this never fades in time to come. The booming startup industry has also fueled demand for mobile app developers, with many of these companies willing to pay highly competitive wages to suitable candidates. Many startups are already focusing solely on mobile, with no web presence; in some ways, the computing device revolution of two decades ago is now being replicated on the mobile front.
Moreover, the mobile app developer has plenty of job opportunities in many top companies, and the mobile app developer's salary for each company is represented below.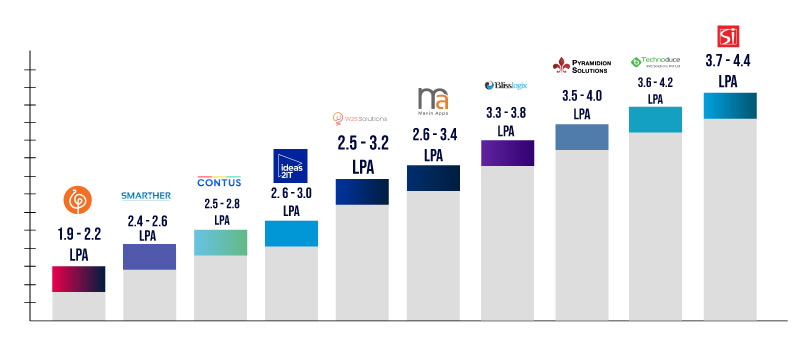 Now, we shall discuss the demand for the mobile app developer and mobile app developer salary in India.
Why is mobile app development a demanding career?
With the increasing number of customers using smartphones and tablets to access the Internet, mobile app development offers a unique opportunity to reach many potential customers. According to the survey, 68 percent of smartphone owners in the United States use their devices to access the Internet regularly. According to recent surveys, app downloads will have surged to more than 190 billion by 2017, and mobile app sales will have soared to $64.5 billion. The steady development of smartphone and tablet sales explains these extraordinary figures.
App development is in high demand, and numerous job postings are looking for an application developer. For example, Software development has a job outlook of 24%, which suggests it will increase far quicker than other employees in any industry. Even though the tech market is becoming extremely competitive, there is still plenty of demand.
According to the US Bureau of Labor Statistics, the median income for software developers is around $120,000 per year.
Your chances of becoming a mobile developer are increasing exponentially. Moreover, with the predicted growth in the need for mobile developers to 28% by 2026 and the continued popularity of mobile devices, understanding how to deal with these devices can help you find a job.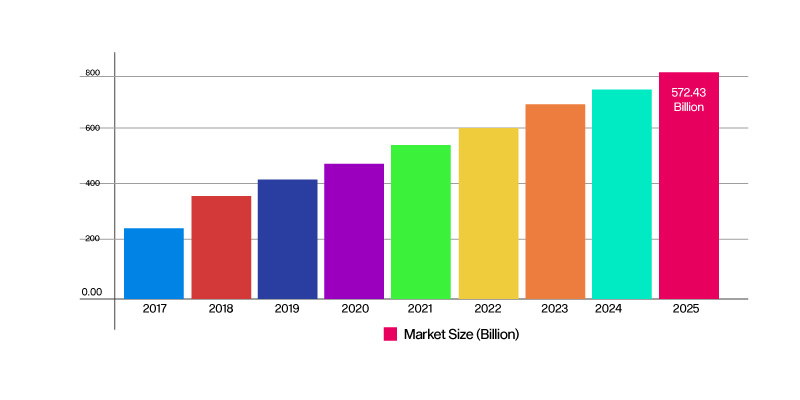 Mobile app developer salary in India
Mobile application developer salary in India ranges from 2.5 to 3 lakhs per year. Most importantly, it depends on the experience. Look at the graph and understand better.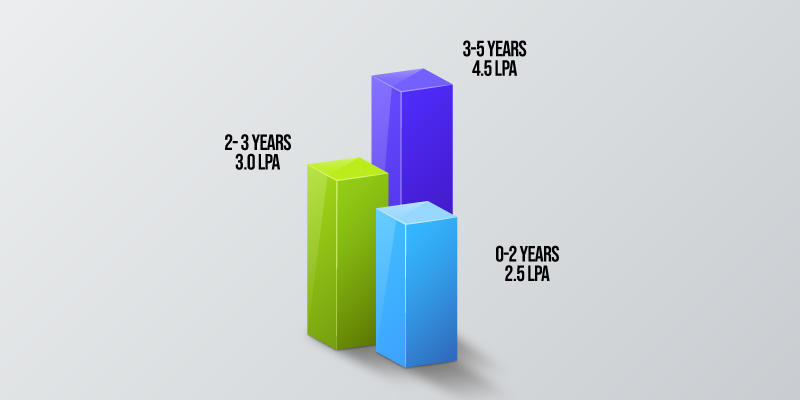 Salary Per Skills – The wage package for freshers is influenced by an applicant's competency; the statistics below are estimations.

Now, we shall discuss the Steps to Becoming a Mobile App Developer
To become a mobile app developer, you should possess C/C++, C#, and Java skills. Every mobile app development requires a skilled candidate with good programming language skills. So acquiring these skills would help you sustain your field of interest. Moreover, choosing a coding language depends on the mobile platform you intend to choose. For example, apps for Apple's iOS are developed by the C programming language, whereas Java is the coding language obtained to attain proficiency in android apps. 
To learn more about the IOS app development, you can join IOS Course in Chennai at FITA Academy and learn basic concepts such as Basic Objective-C Syntax Numbers, Variables, Strings, If / Else Statements, Ternary Operator, Equality, Loops, Arrays, Dictionaries, Simple data types vs. Objects, and Creating and building simple applications
So, you can learn Java to begin your career in mobile app development. So, you can learn Java and Java EE. Most organizations nowadays seek mobile app developers that hold a bachelor's degree in one of the following fields:
Software Engineering

Mobile Application Development

Mobile Computing

Computer Science 

Any degree related to the app development
Training Programs
If you are intended to head your career in the IT sector, then equipping yourself with skills will help you and your career as a mobile app developer. As discussed above, it is mandatory to learn any programming language. It also must have course certification. Taking the course will help you have a piece of practical plus theoretical knowledge to gain real-life experience. So, join Android Training in Chennai and become a Certified Android App Developer, which will help you obtain cutting-edge expertise in the field.
What's it Like Being a Mobile App Developer?
After focusing on the completion of the degree and skills, you start beginning your career in top companies like Hyperlink InfoSystem, Infosys, Tech Mahindra, Fueled, Tata Consultancy Services, Accenture, Capgemini India Pvt Ltd, Zensar Technologies, WillowTree Apps, and data Systems. Moreover, the mobile app developer's salary ranges from 3 to 3.2 lakhs per year—the range of the pay increases after gaining years of experience. Like your income, your obligations will be determined by the employer, your app development experience, and the platform or OS for which you develop apps.
To learn more about mobile app development, you can join Mobile App Development Courses in Chennai and acquire an in-depth understanding of Installation of Android Studio, Installation of Eclipse and ADT Plugin, Setting up an Android Project, and Android Project Structure.
Responsibility of mobile app developers and with whom they work:
As a mobile app developer, you have many responsibilities, and you must integrate with the team to outsource the best product to the customers. 

Develop, evaluate, and enhance mobile applications.

Make sure the quality and usability of your apps meet your customers' needs.

Create apps for specific operating systems by writing code.

Design and build the app's user interface.

Inform your team members about your concepts and designs.

Assist your app so that complications can be addressed quickly.

In the case of facing challenges, find, fix, and workarounds.
Moreover, as a mobile app developer, you must work with the entire team. Undoubtedly, you need to cooperate with the big group that could support bringing out the best application into the market.
Project Manager

Business Consultant 

Designers

Analysts

Developers

Quality Assurance specialists

Software engineers

Sales and Marketing specialists
Skill Sets required to become a mobile app developer
Below are the qualifications expected of a mobile app developer:
Expertise programming in C++, Java, or

Swift

Experience with OOP design s Minimum three years of experience with systems engineering, programming, and data structuring

Excellent problem-solving and analytical abilities

Excellent verbal and written communication skills 

Must have the ability to work with the team.

Ability to translate complicated technical blueprints into simple concepts for executive reporting.
If you want to become a mobile app developer, you can join Java Training in Bangalore and learn core concepts of Java EE,  Core Java Programming, Data Types Operators, and Variables.
Moreover, in particular, you should have skills like:
Android: Kotlin, Java, C++

iOS: Swift

Windows: C#, C++, Python, Java, Perl

Mac: Swift

Linux: Python, C++, C, Perl, Java

HTML/CSS,

Javascript

, Java,

PHP,

Python, and Ruby are examples of web applications. Frameworks like Django, Laravel, and Ruby on Rails are frequently utilized, particularly for languages like Ruby and Python that were not designed for the web.
If you intend to learn a python programming language, you can join Python Training in Chennai and learn Python Dictionaries, and Install Python and Environment Setup. 
Mobile apps took off in various fields
Healthcare, E-learning apps, Social & entertainment apps, Remote working apps, Digital payment apps, and many others.
Top 5 mobile app development Frameworks
 Kotlin

Java

Swift

Flutter

ReactNative
What Does the Future Hold for App Developers?
New and inventive mobile apps continue to be in high demand. Because of this rapid expansion, freshers have several opportunities to work for an organization or as a freelancer. Finding a suitable position that suits your specific skills ever again in the future should not be difficult, indicating that a career in mobile app development is a worthwhile, long-term investment.
According to several IT employers and administrators, the need for mobile app developers is significantly outnumbered. Indeed, it is estimated that 400,000 new mobile app development will be produced next year.
Now, you would understand mobile app developer salary and mobile app developer salary in India. So, As a developer, all you have to do is keep up with current technology trends and focus on creating things that the market wants. If you're a developer or tech enthusiast, this is unquestionably the finest time to experience and learn about mobile app development. If you are interested, you can join Mobile App Development Courses in Bangalore and learn core concepts, frameworks, and tools utilized for mobile app development.