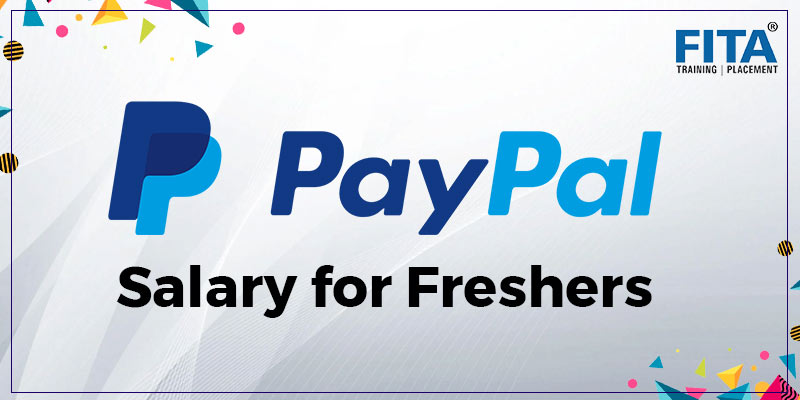 Today we are going to discuss Paypal Salary for Freshers. Paypal or Paypal Holdings Inc is an American-Origin multinational company that deals with online payments. Its main operation of work is to help people transfer money to each other through their electronic devices such as computers, laptops, smart mobile phones, etc. The company was established by Peter Thiel, Luke Nosek, and Max Levchin in 1998 and was named Confinity then. But it was operated as a security software company but when the business model failed then switched to developing the digital wallet system and its first version was released in 1999. The company was renamed Paypal in 2002 after becoming an independent company and Spun off from eBay. Paypal is headquartered in Sanjose, California in the United States. It is also located in other countries like India, Singapore, Germany, Ireland, Malaysia, and China. It is located in cities in the above-mentioned countries like Nebraska, Luxembourg, Arizona, Texas, Berlin, Chandler, Dublin, Dundalk, Omaha, and Shanghai.
Let us now see the solid reasons to join Paypal as a Fresher before moving on to the Paypal Salary for Freshers.
1. Paypal has a Great Work Environment
Paypal has grown to be a multinational company soon after the launch because of the value it follows and implements in all of its work environments. The values it follows are Collaboration, Innovation, Wellness, and Inclusion. The company follows these values very strongly and has instilled the same in its employees. Being a multinational company, you will encounter many people from across the world and this helps you to collaborate with like-minded people and it will be easy to get your ideas across. Since it also encourages creativity and innovation, you can show your unique talent and come up with solutions for business problems quicker and faster.
2. Employee-Friendly
Paypal is a very much Employee-friendly company. It practices the same at all levels in the organization. It considers this benefit as a top priority and conducts various extracurricular activities for the employees to help them relax and be energetic at the same time. Paypal has an on-campus gym, relaxation areas, game rooms, art/music communities, etc. It also provides intense career coaching for its employees to get trained in the latest and advanced technologies and provides employee benefits like health insurance for them and their families. As the work from home option is very much in trend, it still lives up to its values by conducting online catchups, online music sessions, and others.
3. A Workplace of Diverseness and Inclusion
Paypal is a workplace where you can meet people from all over the country. This means it has a rich and diverse culture where you can encounter many brilliant minds. You get to also witness different cultures which might inspire you to learn from them. This leads to Paypal having a richly diverse culture where every employee is a critical resource that works for the welfare of the company and also for their progress. Paypal supports its employees through employee resource groups like Paypal Pride and its principles like Unity, Thrive, Serve, Amplify, Aliados, and Believe.
4. Paypal is the leader in the Electronic transmission of Money
If you get to join Paypal, you will be working for one of the top financial technology companies. Paypal is utilized by almost 325 million users in 200+ countries. All these 325 million accounts are supported by 3,000 Paypal employees who are working in Paypal Global Operation centers in Dublin and Dundalk.
5. You get to build the future
Paypal's aim is all about reimagining or reshaping the way money is getting transferred. It wants to build a platform that is safe and secure and also for the people to transfer money to each other or for other purposes. Paypal is an excellent platform where you can witness your growth and also can be a part of future success.
The Paypal Salary for Freshers attracts many Freshers from around the world to join in the company.
The Interview Process at Paypal
Paypal actually conducts the interview in 4 rounds. The rounds are,
Online Test
Technical Interview – First Round
Technical Interview – Second round
Managerial Round
The Paypal Interview is one of the toughest interviews to crack. So the best way to be ready is to prepare well before attending the interview.
Online Round – The Online round is conducted through Hackerrank and usually the Online round has two questions with 14 test cases each.
Technical Round 1 – Technical Round 1 is conducted for an hour and the usual questions asked on round 1 are coding questions.
Technical Round 2 – Technical Round 2 is also an hour-long round where questions are asked about the details in your resume.
Managerial Round – Managerial Round is the last round in the interview process. It lasts for about 45 mins. In this round, the questions are based on real-life examples which you have to answer based on the OOPs concept. Some other questions will also be asked about the information in your resume.
Let us now see the Job level or Job hierarchy in Paypal and the Paypal Freshers Salary
Entry Level or New Graduate or Technologist Staff 1
Technologist 2
Senior Technologist
Staff Software Engineer 1
Staff Software Engineer 2
Senior Staff Software Engineer
Principal Technologist
There are also other job roles available in Paypal which are Software Engineer, Full Stack Engineer, Android Engineer, iOS Engineer, Salesforce Marketer, Member Technical Staff, Data Science Engineer, DevOps Cloud Engineer, Machine Learning Engineer, and more.
In fact, Paypal has various domains like Engineering, Product Management, Design & User Experience, Sales & Business Development, Trust, Safety & Fun, Marketing & Communications, General Management & Business Support, Finance, and more. In each domain, there are more prospects of jobs that you can choose and apply according to your skills, knowledge, and expertise in technology.
Let us see each of the job roles in detail with its responsibilities, skills needed and the corresponding Paypal Package for Freshers.
1. Software Engineer
A Software Engineer is a professional who writes codes for computers or operating systems to develop them. In technical terms, they apply the concepts of engineering, mathematics, and computer science to develop operating systems for computers.
Their day to day responsibilities include,
Create and maintain software systems
Analyze and test new software programs
Improve software for speed and performance
Create and test the codes
Communicate with clients, engineers, security specialists, and stakeholders
Show the new features to stakeholders and new customers
Oversee the System performance
Monitor the Software Development Life Cycle
Create and execute project plans
Implement Mathematics and Statistics to solve new problems
Software Engineer Skills
Understand the Software Development Processes
Knowledge of Object-Oriented concepts
Proficiency in Software Testing and Debugging.
Analytical and Logical Reasoning skills
Problem-solving skills
Fluency in Verbal and Written communication
Teamwork skills
The Salary of a junior or fresher in Software Engineering in Paypal is around Rs. 2 to 3 lakhs per annum.
To gain additional skills in Software Engineering, students can join the Software Testing Training in Chennai at FITA Academy through which they can learn and master the software testing techniques and methods.
We also conduct Python Training in Bangalore for Bangalore students to help them gain comprehensive knowledge of the Python Programming Language.
2. Full Stack Engineer or Full Stack Developer
Full Stack Developer is the one who develops both the front-side and back-side of a website or a software application. They need to have knowledge of both the front-end and back-end languages as well as database management knowledge to graphic design and UI UX Management.
A Full Stack Developer's Roles and Responsibilities
Creating Client-side website architecture
Illustrating the User Interactions on Web Pages.
Creating the Server-side of the application.
Make sure the application is optimized for Mobile Phones also.
Make sure the application is responsive on other platforms.
Teaming up with Graphic Designers to design the website's features.
Monitoring the project from designing to development.
Developing APIs.
Make sure both the technical and customer needs are met.
Full Stack Developer's skills
Knowledge of Front-end languages and Frameworks like HTML, CSS, and JavaScript.
Knowledge of Back-end languages and Frameworks like PHP, Perl, and Ruby.
Knowledge of Database Management Systems like MySQL, SQL Server, Postgre SQL, MongoDB, and Oracle.
Proficiency in Version Control.
Expertise in Web Hosting platforms like AWS, Google Cloud, Microsoft Azure, etc.
Creative skills
Analytical and Logical Skills
Problem Solving Skills
Time Management Skills
The Salary of a Fresher Full Stack Developer in Paypal is around Rs. 2 to 3 lakhs per annum.
To become a Full Stack Developer in Paypal, join our Full Stack Developer Course in Chennai at FITA Academy and learn all the essential concepts. The Paypal India Salary Structure is high compared to other countries.
3. Android Engineer or Developer
An Android Developer or Android Application Developer is the one who develops applications for smartphones which is run by the Android Operating System. In this job role, the Android Application Developer needs to pay attention to precise details because the application developed has to be compatible with the Android versions and other Android devices.
An Android Application Developer day to day responsibilities include,
Write precise and efficient codes to develop Android Applications
Oversee the performance of apps and work to improve them at the code level.
Find and resolve the bugs, faults, or errors and improve the application performance.
Do instrumentation tests on code.
Team up with other teams to design new features.
Stay updated with the latest mobile technology trends, applications, and procedures.
Android Developer Skills
UI/UX Skills
Knowledge of Mobile App Platforms
Knowledge of Android Programming languages like Java, Kotlin, etc.
Knowledge of Cyber Security Awareness.
Proficiency in Agile Development.
Proficiency in Backend Computing.
Analytical and Logical skills.
Problem-solving skills
Fluency in Verbal and Communication
The Salary of a Fresher in Android Development in Paypal is around Rs. 2 to 3 lakhs per annum.
To get hired as an Android Developer in Paypal, students can choose our Android Training in Chennai and learn completely about the Android Development process.
The Paypal Freshers Salary is high in many countries and it is one of the driving factors for many freshers.
4. iOS Engineer or Developer
An iOS Developer or iOS Application Developer is the one who develops software applications for Apple Smartphones. iOS Developers should know the iOS programming languages Objective C or Swift. They must also understand the programming practices that revolve around the iOS platform.
iOS Developer Responsibilities
Develop mobile applications for Apple's iOS operating system.
Team up with the design team to design app features.
Make sure the quality and performance of the applications are top-class.
Find the application problems and solve them.
Solve the application bugs before the final release.
Implement the application on the App Store.
Manage the codes.
Illustrate and implement the application updates.
iOS Developer Skills
Knowledge of Objective C or Swift Programming.
Knowledge of Apple's Xcode IDE.
Spatial reasoning skills
Knowledge of Design guidelines
Knowledge of UI and UX
Proficiency in Apple Human Interface Guidelines
Networking skills
Proficiency in Core Data
The Salary of an iOS Developer in Paypal for a Freshers is around Rs. 2 to 3 lakhs or Rs. 3 to 4 lakhs per annum.
To become an iOS Developer in Paypal, students can choose our iOS Training in Chennai and learn all the substantial concepts of iOS technology.
The Paypal Package for Freshers differs from professionals to professionals and it depends on the skills, experience and expertise in a technology.
5. Data Science Engineer or Data Scientist
A Data Science Engineer or Data Scientist is a professional who deals with large amounts of Big Data which may be structured, unstructured, or Semi-structured. They analyze data to find hidden patterns in them to understand their users' behavior. By analyzing their users' behavior they can know their needs and wants and help their company to build suitable products for them.
A Data Scientist Responsibilities
Find worthy data sources and automate the collection processes.
Do processing of structured and unstructured data.
Evaluate large amounts of information to find trends and patterns.
Develop predictive models and machine learning algorithms.
Mix models through ensemble modeling.
Explain the information through data visualization techniques.
Offer solutions and strategies to business processes.
Team up with Engineering and Product Development teams.
Data Scientist skills
Knowledge of Programming languages.
Machine Learning Methods and Techniques.
Knowledge of Data Visualization and Reporting.
Proficiency in Risk Analysis, Statistical Analysis, and Math.
Being effective in Communication.
Skills in Software Engineering.
Knowledge of Data Mining, Data Cleansing, and Data Munging.
Research Skills
Knowledge of Big Data platforms.
Knowledge of Cloud Tools.
Knowledge of Data Warehousing and Structures.
The Paypal Fresher Salary in Data Science is around Rs. 3 to 4 lakhs per annum.
If you want to become a Data Scientist in Paypal, you can choose our Data Science Course in Chennai and master the Data Science technology.
Conclusion
In this blog, we have discussed the Paypal Salary for Freshers for different professions and job roles. The Paypal Fresher Salary depends on the candidates' skills, knowledge, and expertise. There are many other domains and roles in Paypal that students can explore and know. Here we have discussed the top roles in Paypal and their responsibilities and skills needed. Hope this blog would have rendered sufficient knowledge for students to know and understand about their desired careers.