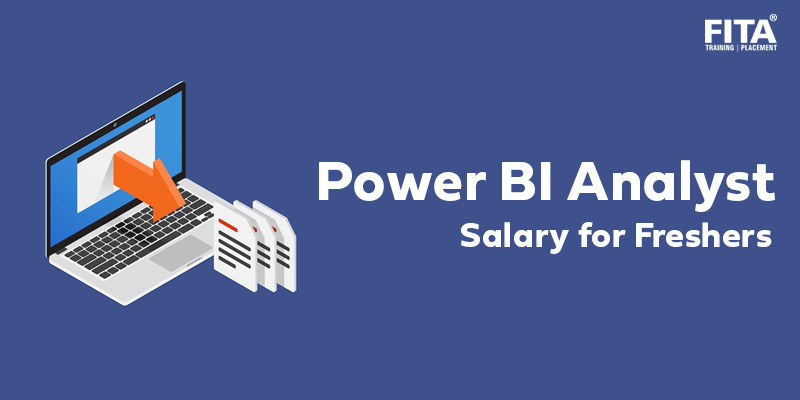 The salary of a power bi analyst in India can vary widely depending on the experience and skills possessed by the analyst. A fresher with no prior experience may earn a lower salary than an experienced analyst, while senior analysts typically receive higher salaries.
The power BI technology has gained immense popularity in the recent years owing to its versatility and ability to provide insights that can be used for making informed business decisions. The application is used by organizations of all sizes, from small businesses to Fortune 500 companies. 
It is one of the most widely used business intelligence tools out there. It allows you to create interactive reports and visualizations that can be used to analyze data. In order to be a successful power bi analyst, you will need to have a good knowledge of the tool and its capabilities. However, not all analysts are paid equally. In this article, we will discuss what power bi analyst salary in India is and what factors may affect it.
A Career in Power BI
PowerBI offers a wide range of job roles. You can start your own consulting company or join an existing one. If you have skills in Power BI then you can easily find a job in any of the following areas:
1) Data Visualization – You can design dashboards, reports, visualizations, etc.
2) Business Intelligence – You can create solutions like SSAS, MDX queries, DAX formulas, etc.
3) Application Development – You can develop applications using PowerApps, Power Query, Power View, etc.
4) Project Management – You can manage projects related to Power BI.
What Skills Are Needed?
In order to become a successful Power BI Analyst, you should possess some specific skills. Some of these include:
Strong analytical skills

Good communication skills

Ability to work under pressure

Knowledge of Excel

Understanding of SQL Server Analysis Services (SSAS)

Experience working on large datasets

A strong understanding of data visualization
The above list includes only a few of the skills that are needed to succeed as a Power BI analyst in India. There are many other skills that are also required. For example, if you want to work in a project management role, you will require additional skills such as Microsoft Project, MS Office 365, etc.
Salary Trends
The average annual salary for a Power BI analyst in India is around Rs 2.5 lakhs. This figure varies based on location, industry, experience, skill set, etc.
Given its widespread usage, it is not surprising that the power bi analyst salary in India is quite high. According to a report by Indeed, the median salaries for power bi analysts across India vary from Rs 1.5 LPA for those with 0-2 years of experience to Rs 2.5 to 4.3 LPA for those with 5-8 years of experience.

As mentioned earlier, the salary depends on several factors. These include your location, type of organization, experience, skillset, etc. Given below is a table which shows the average power bi analyst salary for different locations in India. The table showcases that analysts in Mumbai receive the highest payouts, while those in Delhi come in second. However, all Indian cities offer competitive salaries for power bi analysts. Additionally, the number of opportunities for career growth and development are abundant within the industry, regardless of location. Consequently, any power bi analyst looking to make a significant impact on their career should consider seeking employment in one of India's major cities.
Salary Range Based On Different Companies
Given below is a table which shows the average power bi analyst salary for different companies in India. While it is difficult to compare salaries since different companies have different structures, here are some approximate figures that can give you an idea of what to expect.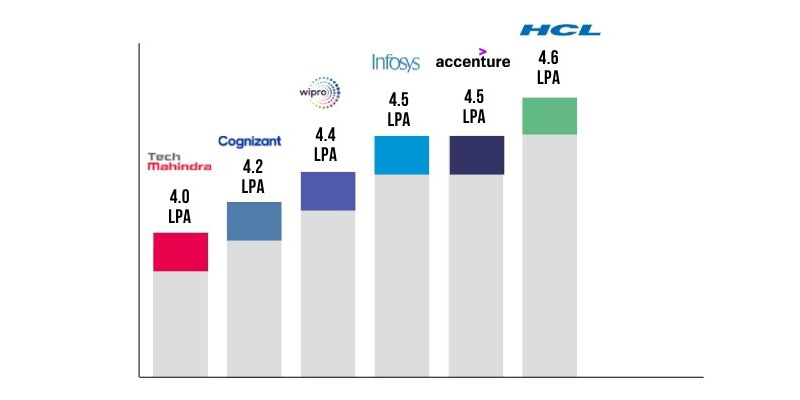 It is important to note that the average salary figures given above do not take into account the cost of living in each city. The cost of living in cities such as Bangalore and Hyderabad are much higher than that in smaller towns like Bhopal and Jaipur. Hence, the actual business intelligence salary in India package offered may be lower than what is shown in the tables above.
Salary Range Based On Work Experience
If you are looking to make a career in Power BI, it is important to understand that the salary for a Power BI Analyst can vary depending on your work experience. The below image shows the average business intelligence analyst salary in India based on work experience.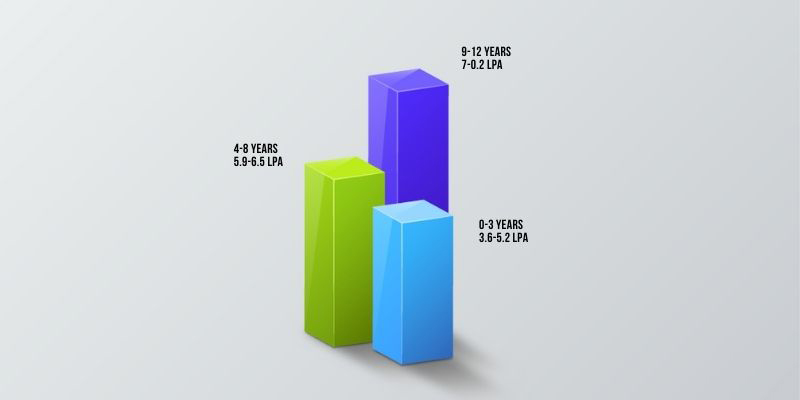 If you are looking for more information about this career path, please visit our website and if you would like to apply for any of the jobs listed on our site, please click power BI jobs in Chennai.
Salary Range Based On Skills
The below is a table which shows the average salary for Power BI Analyst in india based on skills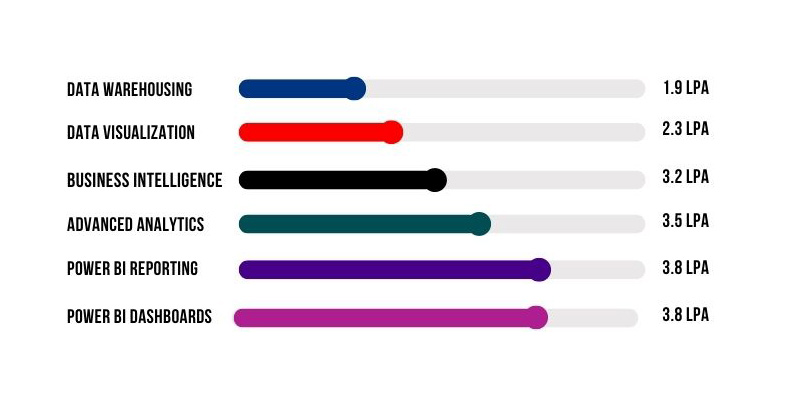 The business intelligence analyst salary range in India depends on the skills and experience required for the role. A Power BI Training in Chennai can help you to acquire the required skills. Then you can apply for an analyst job in your dream company.
Power BI Analyst Job Description
As mentioned earlier, a Power BI analyst plays an integral role in the development of data visualizations and dashboards. Their main focus is to collect and analyze data from multiple sources and present it in a meaningful way. They have to create reports using the tools provided by Power BI. They also need to use interpret tools like results Excel and make Power recommendations Query accordingly.
What Business Analysts do is?
Business analysts are skilled at analysing data and presenting information in a clear and concise manner. They often work closely with other software developers and database administrators to ensure that the right data is stored in the right place, and then presented in the most effective way. Business analysts may also be responsible for writing reports about the results of their analysis. These reports may be sent directly to management, or shared internally within an organisation. Business analysts should be able to communicate clearly with all levels of staff, including both employees and customers.
Business analysts play a vital role in any business organization. They help businesses manage their finances, marketing strategies, sales plans, and customer service operations. They also provide advice on how to improve processes and procedures.
Role And Responsibilities Of Power BI Analyst In India
The responsibilities of a power bi analyst are as follows:
Create reports and dashboards based on data collected from different sources

Use the tools provided by PowerBI to analyse data and present it in a useful format

Interpret the results of the analysis and make appropriate recommendations

Write reports and present findings to management

Communicate with users and stakeholders regarding the results of the analysis

Develop and maintain databases

Ensure security of sensitive data

Work collaboratively with other team members

Provide technical support to end-users

Perform other duties as assigned
In order to be a successful power BI analyst, you should have excellent communication and coordination skills. If you're interested in learning more about this role and its responsibilities, then be sure to check out our Power BI Interview Questions and Answers to learn more about this exciting opportunity.
How To Become A Power BI Analyst?
If you wish to become a Power BI analyst, you must first obtain a bachelor's degree in computer science, information technology, or another relevant field. After completing your studies, you can apply for jobs at organizations where you can gain hands-on experience. Once you get hired, you can learn about the various aspects of Power BI through online courses and books.
You can also enroll yourself into Power BI Training in Bangalore offered by FITA Academy. The training programs cover all the topics related to Power BI. In addition to this, there are numerous certification exams available for professionals who wish to enhance their knowledge further. You can take up one of these courses to prove your expertise.
Power BI offers several job opportunities across the globe. However, if you want to start your career as a Power BI analyst, India is a great option. There are many companies offering high salaries to qualified candidates. If you have completed your Bachelors Degree in Computer Science, Information Technology, or some other relevant subject, you will find plenty of job opportunities.
Understanding Business Intelligence and its Ttools
What is Power BI?
Power BI is a cloud-based platform that allows users to create interactive visualizations. It provides a variety of features such as creating dashboards, charts, maps, pivot tables, and more. Users can easily share their creations with others via email, social media, and even mobile devices.
Who uses Power BI?
Power BI has been used extensively by large corporations like Amazon, Apple, Facebook, Google, IBM, Netflix, and Walmart. Many small and medium enterprises (SME) use Power BI to analyze data and present insights in an easy way.
Why choose Power BI?
There are many reasons why people choose Power BI over traditional reporting tools. Some of them include:
Easy to use – Power BI is very simple to use. Anyone can quickly create beautiful visuals without having to be a professional developer.
Powerful – Power BI gives users the ability to create powerful visualizations. They can easily add filters, chart types, and graphs to their worksheets.
Interactive – With Power BI, users can interact with their data. They can drag and drop elements on the canvas to change the visualization.
Data Driven – Power BI lets users connect to any type of database. This means they don't need to worry about installing software or learning how to work with different databases.
Mobile Friendly – Power BI makes it possible to view reports from anywhere using a web browser. Users can access their reports from their smartphones and tablets.
Customizable – Power BI allows users to customize their reports according to their needs. For example, they can add text boxes, images, videos, and hyperlinks.
How does Power BI work?
Power BI is based on three main components:
A dashboard – Dashboards are the heart of every report created using Power BI. These dashboards consist of multiple pages. Each page contains various elements including charts, tables, and maps.
An API – APIs allow developers to integrate Power BI into applications. Developers can build custom apps using the API. They can also develop third party apps that can read data directly from Power BI.
Analytics services – Analytics services provide real time analytics to help users make better decisions. They offer machine learning capabilities which enable users to analyze big data sets. Particularly our Data Science Course in Chennai

will support you in building a robust predictive data science model with analytics services.
Where do I begin?
If you want to become a Power BI analyst in India, you should first decide what kind of role you would like to pursue. You can either join a company where you can learn the basics of Power BI or you can enroll for online courses offered by Microsoft.
Once you have decided on your career path, you will then need to find out if there is a job opening at your desired location. You can search for jobs on Indeed, Monster,  etc. Alternatively, you can contact local companies and ask if they have any open positions.
You can apply for these roles through LinkedIn, Glassdoor, Indeed, Monster, etc. Once you get hired, you will start working on projects related to Power BI.
What Technical skills are needed?
To become a Power BI analyst you need to possess some technical knowledge. The following skills are required to become a Power BI Analyst:
Programming Skills

– If you want to write code, you must know Java, C#, VB.NET, JavaScript,

Python

, R, SQL, Visual Basic, HTML, CSS, XML, XSLT, JSON, RESTful Web Services, SOAP, WSDL, JAX-WS, OData, OpenAPI, and other programming languages.  You can start with

Java Training in Bangalore

so that you can know the basics of programming. After learning Java, you can start with other languages.

Business Intelligence (BI) Skills

– To be a Power BI analyst, one must understand business intelligence concepts such as data mining, OLAP, MDX, SSIS, DAX, Power Query, Power View, and Power Map.

Analytical Skills

– You must have analytical skills to perform analysis on large datasets. You must also have good problem-solving abilities and strong communication skills.

Technical Skills-

You must have excellent troubleshooting skills. You must also have the ability to solve complex problems.

Data Visualization Skills-

You must be able to create visualizations using

Excel

. You must also be familiar with charting tools such as Tableau, Qlikview, Spotfire, etc. Our

Tableau Training in Chennai

will help you gain the skills required to excel in a market where so many firms are now adopting this tool.

Project Management Skills

– You must be detail-oriented and organized. You must also be able to multitask.

Communication Skills-

You must be an effective communicator who can explain things clearly. You must also be comfortable communicating with different types of people.

Problem Solving Skills-

You must be self-motivated and have the ability to work independently. You must also be flexible enough to adapt to changes.

Teamwork Skills-

You must be willing to collaborate with others. You must also be a team player.

Technology Awareness-

You must be aware of new technologies and how they can benefit businesses.

Experience-

You must have experience working with data. You must also have worked with multiple platforms.
Conclusion
The salary of a power bi analyst in India can vary greatly depending on experience, location, and company size. However, the average business intelligence salary in India is around Rs. 2 lakh per annum. While this may not be as high as some other countries, it is still a respectable amount and well above the average salary in many other countries. Accordingly, if you are looking for a career in power bi analysis, Power BI Online Course is a good place to start.