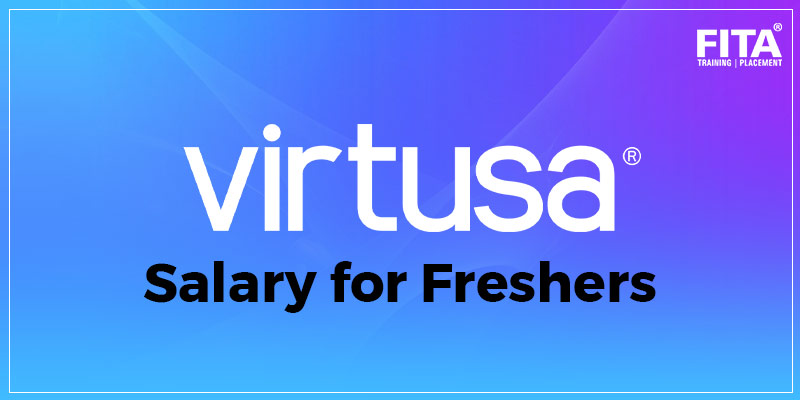 Virtusa is a leading digital outsourcing company that uses digital IT services to help worldwide clients accelerate their businesses. Consulting and design, digital engineering, cloud transformation, and managed services are among the services offered. Virtusa provides services to some of the world's most well-known companies, including Amazon, Google Cloud, Oracle, Adobe, and others. It is recommended that freshers and veterans search for virtusa job positions. With a strong virtusa freshers pay, employees at virtusa have global merit and recognition.
Applicable Candidates for Virtusa Job Roles
Virtusa is looking for ambitious, bold, self-motivated, and enthusiastic candidates for their responsive roles. To optimize their potential and professional opportunities, the applicant must cooperate as part of a team. If you're one of them, look at the job opportunities. Now let us talk about how to get recruited at Virtusa, the benefits of working there, and the salary packages from the freshers to the experienced. Make you a unique applicable candidate among competitors through learning an emerging course Artificial Intelligence Course in Chennai. 
Gateway to Get Hired into Virtusa
Through its 52 CoE (Center of Excellence) centers, Virtusa hires both freshers and professionals. For placement, interested students should contact their local Virtusa centers or campuses. In addition, virtusa plans to open 70 more excellence centers across the country to provide a fantastic entry point for IT candidates. Some CoEs can be found and located at Vellore Institute of Technology (VIT), SRM Institute of Science and Technology, and Sathyabama University, as stated by the Hindu Businessline.
Virtusa Salary For Freshers
Virtusa is an excellent corporation for IT freshers and aspirants with a competitive starting offer. Freshers' virtusa salaries range from 2.12 LPA to 4.5 LPA (Lakhs Per Annum), whereas experienced professionals' salaries range from 3.3 LPA to 7.5 LPA. Have a prospective salary increment opportunity through pursuing an advanced programming course Python Training In Chennai.
Virtusa Salary Structure 
For different designations, from freshers to experienced professionals, the virtusa package for freshers varies. The chart below indicates an increase in virtusa freshers salaries and an average virtusa experts salary.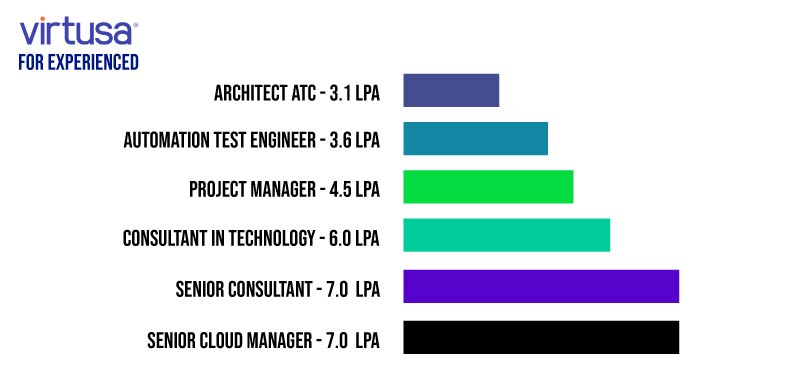 Freshers should engage in and complete a Data Science Course in Chennai if they want to boost their average virtusa fresher salary. The potentiality for freshers with advanced skills and their salary package is likely to increase in the IT Job Market.
Career Benefits for Freshers at Virtusa
Freedom to Innovation

– At virtusa, you can innovate your ideas with collaborative workspace and stimulating environment. Your innovation is supported and encouraged through both junior and senior associates. Then, to innovate your passion, virtusa offers international collaboration with multi-national companies.

Empower Your Dreams at Virtusa

– Virtusa appears to be the best and most ideal platform for candidates who desire to transform and innovate IT technologies. Through its global services, Virtusa offers various solutions and personifies your dreams. It provides a fantastic platform for growth in concert with the IT industry's development. Any new work you develop with Virtusa is readily identifiable and stands as a unique solution across all IT sectors.

Develop Your Professional Career

– Virtusa is most renowned for its "Labor Hard & Play Hard" motto, which states that hard work shows in the excellence and quantity of products produced. There are countless chances to investigate and dive efforts to progress your career.

Cross-check your Ability and Productivity

– Virtusa provides you a bigger platform to demonstrate off your abilities to create distinctive and creative technology for worldwide companies. You can also measure your productivity by completing a set of projects in a fixed period of time.
Qualification Criteria for Virtusa's  Freshers Jobs
IT Freshers or Aspirants who want to start their career at Virtusa with a good virtusa freshers salary must have completed either a Bachelor's or a Master's degree. With a reasonable percentage, the professional degree should be B.E/B.Tech, M.E/M.Tech, or MCA (60 percent or above). You can apply to multiple positions at Virtusa Careers if you are a fresher who has recently completed your graduation. Learn AWS Training in Chennai to add a supplemental skill set to your resume and make your application shine out.
Supplemental Skill Criteria for Virtusa Roles
Fundamental skills such as scientific and critical reasoning, problem-solving and problem analysis, ability to work in multidisciplinary teams, strong leadership value, cognitive processing and innovative thinking, flexibility with work hours, and so on are considered necessary for freshers seeking career opportunities at Virtusa.
Basic Skills, Roles and Responsibilities of Job Roles at Virtusa 
Consultant
To join as a great consultant with an affordable virtusa fresher salary, then they have to do the required tasks, where the person serves as a subject matter expert in his or her profession. They are very reliable at identifying the source of problems and delivering remedies in a thorough and precise manner. The goal is to make the firm more efficient and prosperous. The consultant should possess the following skills such as data analysis, research techniques, IT systems, and consulting experience. As a consultant, they have the following responsibilities to undertake which are
To understand their needs, meet with management or other key persons.

Gather information through interviews, questionnaires, and other ways.

Perform data analysis to identify the issue and attempt to resolve it.

Conduct situational and data analysis to identify and appreciate a problem or issue.

Present your results to the appropriate executives and explain them.

Provide suggestions for improvement based on the objectives.

Make plans to put recommendations into action and overcome opposition.

Make plans for people who may be affected by the change or provide training to them.

Evaluate the daily work hours and make changes if necessary.

Refresh your knowledge of the industry, product, and field.
As the consultation deals with the requirement of good communication skills, we suggest you complete the Spoken English Classes in Bangalore. This course will enhance you communication skill and the way of conveying messages. 
Software Engineer
Freshers who wishing to join as a Software engineer at Virtusa are expected to have desired skills in WSO2, Access Management System, APIs SOAP, Rest, SOA BPEL, LDAP Systems, Java, SQL Database, Unix, Shell scripts, DevOps, Docker, Kubernetes, Docker and Swarm. Expertise in these skills might increase the chances of getting a great virtusa salary for freshers. The software engineer is associated with the following key roles and responsibilities, they are as follows 
Create an entire software development process and software development life cycle (SDLC)

To establish requirements and solutions, develop flowcharts, layouts, and documentation.

Ensure your code is well-designed and tested.

Create specifications and evaluate the feasibility of executing them.

Make an ideal functional software approach by integrating software components.

Create software validation plans and methods for quality assurance.

Maintain features and functionality through documenting them.

Existing systems should be repaired, debugged, and upgraded.

Distribute applications and acquire feedback from the users.

Observe project documentation and regulatory standards.

Make sure your application is updated and has the greatest features.
Become an exceptional software engineer through learning Software Testing Course in Bangalore at FITA Academy. This course may embed your skillset with numerous software testing approaches which are very essential for a software engineer.
Associate Engineer
Freshers seeking this job role require expertise skills with some relevant experience. But, they are expected to have desired skills such as analytic skills, problem-solving skills, excellent verbal & communication skills, and proficient in Microsoft Azure, Office, suite, and other utilities. As a associate engineer, the person is concerned with certain roles and responsibilities which are
Conduct routine and entry-level engineering tasks with various approaches.

Create, Develop, and Execute engineering designs and advanced plans.

Evaluate and analyze newer materials, engineering equipment, and engineering practices. 

Developing engineering calculations, mathematical approaches, estimations, and statistical assumptions. 

Reviewing and estimating the gross-cost of all projects.

Evaluating numerous quotes and documents to assist other senior engineers.

Conduct reliability, equipment, materials, and other test studies.

Apart from their major tasks, they are also responsible for additional tasks and duties. 
Enhance your skill set to get considered for associate engineer roles through pursuing RPA Training in Bangalore. This may teach you the robotic and automation processing techniques helpful for the engineering studies of materials. 
Automation Test Engineer
Engineers that work in test automation create systems that run automated tests on new and existing software. They also use guidelines to design automation scripts and develop approaches. Freshers seeking this role with feasible virtusa salary for freshers are required to have desired skills such as C/C++, C#, Java, and other relevant programs. As a automation test engineer, they are concerned with the following key roles and responsibilities which are as follows
Creating test automation scripts and designing them.

Guidelines for using test automation.

Testing flaws in software to find out what's wrong with it.

Developing solutions in collaboration with Quality Assurance Analysts and Software Developers.

Keeping up with the latest advancements in the sector.
Consultant in Technology
Freshers who wish to become a technical consultant require fundamental skills in communication and customer relationship management. In addition to this, the skills such as C#, OOPS concepts, WebAPI, ASP.NET MVC, development of web application, implementation of REST API, and microservices are optionally preferred. Then the technological consultant are confined to fulfill the following key roles and responsibilities at the workspace which are as follows 
Using Microsoft or.NET core technologies to run complicated apps.

Developing frontend and other applications APIs

Create microservices that are small and distributed.

Re-architect or reconfigure existing programmes for newer versions.

Deployment and DevOps flow have been streamlined and automated.
Pursue Dot Net Training in Bangalore to improve your consulting services to clients. The.NET course has changed the way mobile, online, and computer applications are developed.
Virtusa Services and Supports
The company tends to offer numerous IT and consulting services worldwide. Its services grow exponentially with the increase in global opportunity at excellent virtusa salary for freshers. Some of affordable services of Virtusa are as follows 
Design & Consulting Services

: This section deals with creating strategic roadmaps and blueprints for the company's goals and prospects.

Digital Engineering Services

: This service is concerned with the use of digitalized technologies to improve digital transformation and performance.

Cloud Transformation Services

: This category includes services such as digital infrastructure, intelligence and analytics, application development for a better user experience, and app development for assuring IT sector digital security.

Managed Services

: These services assist IT clients and industries in seizing new chances to change and globalize the current digital environment.
Virtusa's Global Firms & Clients 
As formerly stated, Virtusa provides a wide range of services, ranging from banking products and services to travel and hospitality. The following were some of the most well-served customers:
Industrial Capital Management:

Virtusa's digital engineering tools are used by a number of banks and financial institutions throughout the world. Through API Banking modules, data science, and block chain technologies, Virtusa XLabs has been able to provide banking services.

Communication and Transmission Services:

To cover a larger network region, Virtusa uses AI-driven automated Omni-channel Transformation services. It helps CSPs (Communication Service Providers) build a reliable transmission infrastructure.

Consumer Goods and Commodities:

Virtusa's CPG (Consumer Packaged Goods) – an artificial intelligence and data driven module – has substantially increased the sales and export of Product and Sales companies.

Health and Lifecare Services:

Virtusa has extended its digital healthcare services to monitor authentic data of patients due to the large number of global patients. Its solid model meets the company's competitive, financial, and regulatory needs.

Virtusa in Life Sciences

: Its digital life science interface helps medical experts track chronic illness management, collect patient data from pharmaceuticals and medical devices, and share and manage data using AI and machine learning. This digital interface is an excellent choice for virtual health care.

IT Software Solutions:

Virtusa provides a wide range of IT services to clients all around the world. Data collecting, data analysis, analytics, technology and publishing firms, content delivery, and various are examples of professional services.

Insurance Policy Firms:

Its digital transformative technology and user interfaces have helped over 2000 insurance companies increase their productivity.

Small Scale Software Sellers:

It promotes small scale software vendors to keep their businesses running smoothly by providing opportunities for product modernization, digital care, and support. As a result, the software sellers are now able to provide world-class IT services to clients across the world.

Industrial Manufacturing and Services:

Virtusa can afford to upgrade manufacturing sectors with newer digital models and smart technology. Industrial investors were able to acquire new technology partners and make wise investments thanks to its smart services.

Social Media and Services:

Virtusa has been supplying 25+ global media and 2000+ specialized media around the world for over a decade. It aids in the preservation of their track records and ensures that they are completely referenceable.

Transportation Services for Import and Export:

Virtusa employs its digital transformation technologies to upgrade transportation and logistics services around the world. It gives producers and merchants easy access to each other's import and export services.

Travel, Transportation, and Hospitality Services:

Travel, Transportation, and Hospitality Services, like other services, redefines the global era of digital marketing. As a result, Virtusa provides digital services and products to help it modernize.
Freshers Perks and Benefits at Virtusa
The company is a great platform for freshers with lots of employment perks and benefits. It also provides employee support and covers all the life insurance and policies. Some of the attractive benefits of Virtusa Employees are as follows 
Virtusa provides complimentary snacks, coffee, beverages, and other important food products to its employees.

All of Virtusa's employees are covered by health, life, and medical insurance and plans.

Since the covid-19 pandemic, the company has offered WFH (Work From Home) possibilities to all employees, and any qualified candidate can take advantage of this opportunity at any time.

Freshers are given sufficient soft-skill training and safety protocols to follow before they are hired as professional employees.

The organization maintains various gymnasiums throughout its accommodation locations for physical and mental well-being.

Virtusa offers team outings and vocational tourism to a variety of geographical regions to keep their staff interested.

Any employee who is willing to relocate to one of Virtusa's overseas offices can apply for this position. To get your VISA approved, you must learn and pass the

IELTS Coaching in Bangalore

.

Finally, the company promotes child care and educational help for the children of its employees to ensure a prospective career for the freshers.
Freshers Job Satisfaction at Virtusa
Virtusa provides an affordable job satisfaction rate for freshers. The rate is estimated against the average percentile of salary & benefits, work life balance, career growth, work satisfaction, and job security. Overall the job satisfaction percentile is about approximately 66% which is far better as compared to other IT sectors. Overall freshers benefits and their rate is shown in the below chart.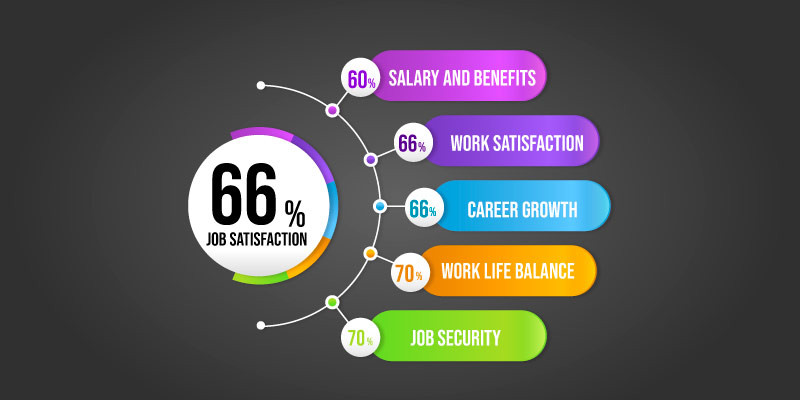 The company provides a great amount of freshers opportunities and employment benefits for all the IT aspirations or experienced professionals. A Job career with Virtusa holds a global merit and recognition which creates a magnificent impact in the IT job market. It also provides a great deal of virtusa freshers salary for the persons who are looking for a feasible initial salary package. As the company attracted global tech giants such as Amdocs, AWS, Azure, Google Cloud, Oracle and so on, the freshers are likely to get a multitude of work experience with multiple experts across various IT platforms. Therefore, we highly encourage freshers or job seekers to look for various job roles for a great virtusa fresher package. It is a great workplace to start a featured and professional information and technology career. Hope we have covered all the necessary topics and discussions required for freshers to get placed in Virtusa with an affordable salary package.