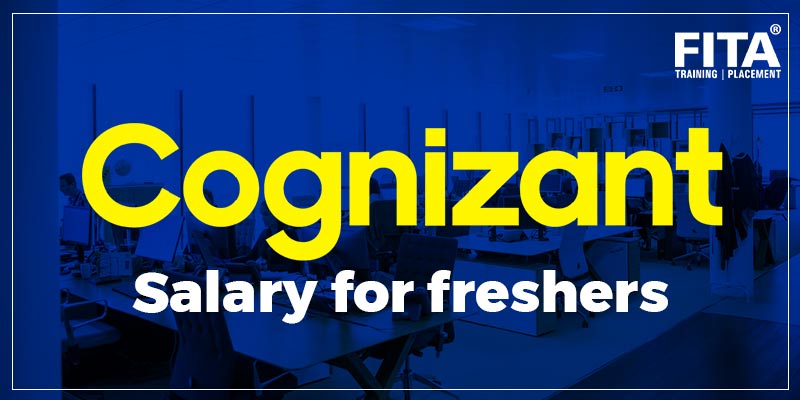 Cognizant is an emerging Information Technology company located in the United States. The company is best known for digital transformative tools and services to drive business processes and outsourcing services. The company received the Artificial Intelligence Breakthrough Award for AI Excellence in 2021, which sustains a prominent position in Fortune 500 companies. The company has acquired more than 70+ IT firms through its digital services as of this year.
The company is rated and best suited for freshers who are looking for a wonderful professional career and a Cognizant package for freshers. This article will overview a brief introduction and pathway to enter Cognizant Technology Solutions Corporation.
Who can Apply for Job Roles at Cognizant?
Applicants who are passionate to excel in the boundaries of the digital world and capable enough for a competent role are advised to apply. Then, the candidate must have an information & technology-related background, coding and computing skills, and relevant experience in Cognizant's services are encouraged to apply.
How to Apply for Cognizant's Fresher Roles?
Cognizant aspirants seeking job roles can apply through either online mode or offline mode. The following are the procedures to apply for job roles.
Online Mode – Applicants can fill out the online application form by submitting and attaching all the necessary documents on their official page.
Offline Mode – Cognizant also drives its placement cell for off-campus drives; candidates can register for off-campus drives beforehand for successful entry. The applicant must have mark sheets from 10th, 12th, and any degree, passport-sized photos, and an updated resume.
After successful submission of application and registration, any of the representatives from their Human-resource will contact the shortlisted candidate for further information. Usually, Cognizant follows four routes of the interview process: they are GenC, GenC Elevate, GenC Pro, and GenC Next. Besides, some four stages of the interview process are as follows for candidates looking for an excellent Cognizant package for freshers.
Shortlisting of Candidates – A technical chair from Cognizant will examine the candidate's application throughout this round. The recruiter will call the shortlisted applicants for more information and a second phase interview to see if the candidate's qualifications fit any of the job openings.
Technical Interview Round – This is the opportune stage of the interview process for applicants to demonstrate their technical aptitude and potential to the sophisticated panel. This round has quizzes, quantitative problems, and other related questions.
Human-Resources Interview Round – This round of interviews allows freshers and Cognizant recruiters to get to know each other. The HR recruiter will review the candidate's career goals, basic skills, competencies, passion, and other capabilities throughout this phase. Similarly, the applicant might ask HR any relevant questions concerning their roles.
Offer Letter Rollout – This is the final phase of the applications; if any applicants are selected, they will acquire an appointment letter with a good CTS salary for freshers.
Qualification/Eligibility for Freshers at Cognizant Roles
Applicants looking for various job roles at Cognizant must possess either a bachelor's degree (in engineering or technology, B.E/B.Tech) or master's degree (M.E/M.Tech) from any recognized colleges or university.
The applicant must have acquired more than 50% of aggregate marks in all subjects throughout their academic career.
Candidates with academic gaps of less than two years are acceptable.
At the time of the interview, the candidate should not have any exam backlogs.
Moreover, finally, the applicant must be flexible to relocate anywhere in India for work.
Advance your qualification through learning the leading programming course Python Training in Chennai at FITA Academy.
Additional Capabilities for Freshers to Increase their Chances of Getting Placement
Cognizant is searching for younger staff who have outstanding interpersonal skills, problem-solving ability, cognitive intelligence, intellectual abilities, excellent administration, good communication, and basic scripting or computing capabilities. Candidates with workplace flexibility who are diligent, innovative, intelligent, enthusiastic, and flexible are also more likely to be selected.
Cognizant Salary Structure for Freshers
Employees at Cognizant have different and various salary packages. The package varies depending on the experience and skills the candidate has, here is the list of approximated salary package for freshers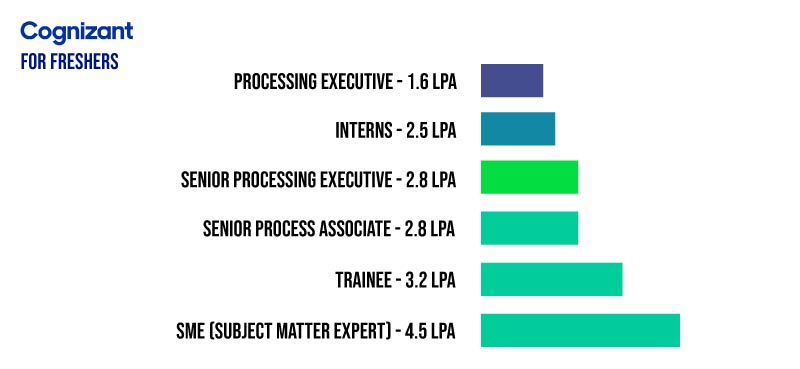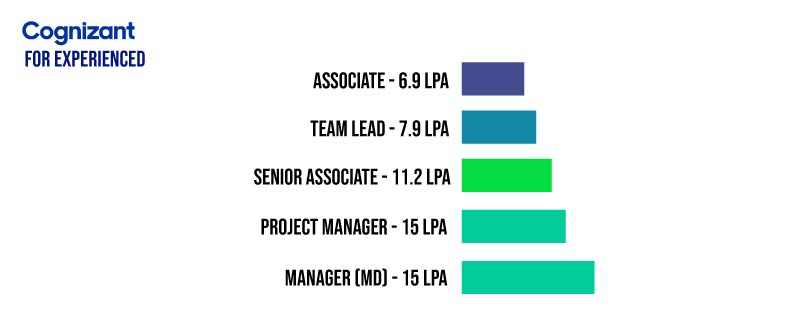 The above-listed Cognizant fresher salary is tentative, approximated from the ratings and reviews provided by the past employees. So, the package may vary from the actual salary package.
Fundamental Skills, Roles and Responsibilities of Freshers
Processing Executive
Cognizant wants their Processing executive to have the following desired skills: Both inbound and outbound calling, processing voice, management of relationship and customers, customer and product support, team management, marketing collaterals, payment posting, processing transactions and payments, business management, RCM, and insurance & account management.
Creating new business leads and following upon them.
Creating and presenting proposals to potential clients.
Assuring that all procedures are carried out in compliance with corporate policies and health and safety laws.
Establishing and sustaining connections with coworkers, clients, and vendors.
Answering any inquiries or concerns in a timely and courteous manner.
Staff and operations are being monitored and plans to enhance efficiency and save costs are being devised.
Creating sales and performance reports and offering training and direction to employees.
Assisting managers in developing performance-enhancing incentives.
Attending courses and events to broaden one's skill set and network.
Become a processing executive expert through learning Digital Marketing Course in Chennai at FITA Academy. The best institute in chennai aspiring to train freshers for featured IT campus placement.
Interns at Cognizant
At the initial stage, interns at Cognizant were trained for business and client management. So they are looking for the following desired skills: processing international voices, BPO process, customer support, flexible to US shift hours, best interpersonal and communication skills, customer care support and services, inbound and outbound process, and UK process. As fresh interns with supportive Cognizant company salaries for freshers have the following key roles and responsibilities to fulfill
Attend and Process National and International Class with Clients
Engaging in BPO consultant and Services
Providing best customer support with client satisfaction
Collaborate with team members to succeed company's business
Senior Processing Executive
For this role, the applicant must possess a degree with hands-on experience in any of the accounting firms or computer application firms, and knowledge in Microsoft Excel, outlook. In addition to this, a senior processing associate is responsible to follow and do the following key roles at
Keeping record on POs, Invoices, Checks, Electronic transfers, and other AP tasks.
Applying client payments to open bills, recording receipts, and invoicing are all examples of accounts receivable processing.
Keeping financial data of bank accounts, credit cards, and loans.
Completing balance sheet including loans and reconciliations
Prepare journal entries for month-end closure, such as accrual (provision) entries, prepaid, cost classifications, loan entries, and so on.
Preparing basic reports and monthly schedules.
Become an exceptional senior processing executive for effective management of data through enrolling Data Science Course in Chennai at FITA Academy.
Senior Process Associate
Both Senior Process Executive and Senior Process Associate almost have similar kinds of roles and responsibilities to accomplish. Further, Cognizant expects their process associates to have good knowledge and skills in accountancy, provisions, revenue-expense matching, journal entries, excel sheet management, and expertise in outlook, Vlookup, and other formatting tools. Moreover, some of the desired skills such as excellent verbal and communication skills, prompt working, and careful handling of the firm's compliances.
Trainee
Fresh graduates with a degree from B.E or B.Tech are eligible to apply. Usually, Cognizant expects their trainee to have fundamental coding and computing skills, and languages. They usually train their trainees to develop digital business analyst programs. Hence, the trainees are associated with the following tasks
Engage with seniors and experts for collaborative work
Perform works as assigned by the supervisors
Follow proper instructions and regulations
Increase the chances of getting a placement at Cognizant through learning Software Testing Course in Chennai at FITA Academy.
Fundamental Skills, Roles and Responsibilities of Experts
Subject Matter Expert
SME Position requires years of sustenance and hands-on experience. Top desired skills that Cognizant expects from SMEs are excellent team leading and management; customer satisfactory services; subject matter expertise; finance and accounting; process compliance; TL, banking and finance management; SLAs' SME, and both inbound and outbound calls. As a SME, they have the following key roles and responsibilities
Using domain knowledge to assess corporate operations and procedures.
Identifying places where technology solutions might help the company operate better.
Consulting on a variety of company operations, mentoring, and imparting specific expertise are all things I do.
Recommending technological solutions and identifying the needs for software development.
During the software development life cycle, providing topic expertise and direction to IT developers.
Supervising technical solution creation, testing, and implementation.
Trying to figure out if technical solutions fulfill the criteria.
Verifying technical references, such as user guides, training manuals, and system requirements.
Prior to the delivery of technical solutions to end-users, ensuring appropriate depiction of knowledge.
Processes are being documented, and information is being disseminated to all key parties.
Associate
Cognizant expects their associates to have the following desired skills: project management; test cases; project planning; knowledge management; transition; change management; ITIL; requirement gathering; Java and Python; System Query language; UAT; Unit Testing; Floor management; and high-level designs. As an associate, they have the following key roles to fulfill
Plans and manages the daily activities of the marketing department.
Reports on success achieving firm goals to the executive marketing director.
Implements strategic strategies agreed upon by top management on a quarterly and annual basis.
Organizes and promotes new employee training as well as chances for older workers to further their careers.
Develops future operational strategies in consultation with the executive director.
Attends senior-level meetings to present on the marketing department's activities.
Depending on certain skill sets and expertise, the assistant director may be called upon to fulfill various roles.
Team Lead
The team must possess the following skills: leading a group of members; operations management; training process; team management; delivery of services; feedback; business improvement; Service-level-Agreement; people management; the process of excellence; customer experience; digital marketing; quality compliance; medical coding; and documentation process. As the team leads, they must inspire the team and follow the following key roles and responsibilities.
Create a motivating work atmosphere with a culture of open communication.
Set explicit team objectives.
Tasks should be delegated, and deadlines should be defined.
Oversee the day-to-day operations of the company.
Team performance should be monitored, and metrics should be reported.
Encourage team members to work harder.
Determine training requirements and give coaching
Pay attention to comments from team members and handle any difficulties or disagreements that arise.
Acknowledge and recognize exceptional achievement.
Encourage risk-taking and originality.
Suggestion and coordination of team-building exercises
Senior Associate
Applicants seeking a good Cognizant company salary for freshers must have prior knowledge from the following domains: project planning, project management, System-Query Language, Test cases, management, requirement gathering, strategy testing, DIV, test planning, business development, transition, case studies, resource planning, RFI, and RFP. As a senior associates, they have the following key roles and responsibilities to accomplish or fulfill
Use diagnostic procedures and necessary queries to do remote troubleshooting.
Take the consumer through the process of resolving the issue.
As support incidents are reported in the IT support systems, monitor and address them.
As needed, appropriately send queries and problems to higher-level layers.
Ensure that all requests are handled within the agreed-upon internal SLAs.
Assist in the recruitment of corporate and project personnel.
Using proper imaging and deployment tools, assist with the PC and laptop equipment deployment.
Ensure the integrity and security of the system, particularly in terms of user access permissions.
Perform and monitor routine housekeeping tasks, such as data backup.
Assist with the testing of new equipment and systems.
Prepare reports on how systems and services are working.
Manage the company's operations and strategy on a daily and long-term basis.
Ensures vendor contract compliance by planning, monitoring, and recording hardware assets and/or software licenses.
Resolves equipment failures/problems with the help of hardware manufacturers.
Assists the IT Manager with IT procurement and communicates with the Accounting Payable team to ensure that IT bills are processed on a regular basis.
Receives, processes, verifies and reconciles IT invoices to complete vendor payments.
Follow and promote IT&T rules and procedures.
As needed, assist other members of the IT team.
Expertise in the role of Senior Associate through learning DevOps Training in Bangalore at the leading training and placement firm, FITA Academy.
Project Manager
The project manager post requires skills from the management of multidisciplinary projects. Some of the basic skills requirements are – project management, project planning, project delivery, transition, high-level design, RFP, SCOPE, change management, SDLC, project estimation, business analysis, and knowledge management. A project manager is a leading role in IT industry so that certain responsibilities and necessities to fulfill
Planning for technology strategy
Integrate information technology into business for maximum efficiency.
To guarantee company success, understand the present and future business goals and continuing IT concerns.
Create a software renewal and update schedule for the firm.
Ascertain that workers are adhering to computer usage regulations and information security and privacy policies.
Assist in the hiring, onboarding, and continuous training of new IT personnel.
Direct and supervise IT employees.
Manager
The manager is the highest post in Cognizant and candidates seeking for good CTS company salary for freshers must possess the following domain skills: leadership, project management, delivery management, recruitment, solution design, enterprise architect, enterprise architecture, knowledge management, technology solutions, change management, operations, project planning, resource planning, team management, and business case. As a manager, they possess the following key roles and responsibilities
Monitoring network and data security on a frequent basis
Identifying and implementing opportunities to improve and upgrade software and systems
Developing and executing the organization's IT policy and best practice guides
Creating staff training programs and workshops
Auditing the system on a regular basis
Regularly running and sharing system reports with top personnel
Overseeing and defining timelines for significant IT initiatives such as system upgrades, migrations, and outages.
Managing and reporting on IT budget allocation
Providing guidance to employees of the IT team
Identifying training and skill development opportunities for the team
Employment Benefits for Freshers at Cognizant
Family Care Services – Cognizant offers an enormous measure of family care benefits, they are as per the following: reinforcement care, further developed family support, support for youngsters, maternity support, ripeness benefit, reception help, surrogacy help, transportation of bosom milk, and other effort administrations for endurance benefits.
Adaptable Spending Account: Cognizant provides an adaptable account for compensation to their employees each year.
Financial Support: Cognizant upholds schooling through financing. It supports employees and their children to get financial assistance for their higher studies and careers.
Worldwide Relocation Offer: Cognizant offers international relocation, through which the representatives can track down every one of the essential guides for worldwide migration in all nations. Clear IELTS and get your visa processed through learning IELTS Coaching in Chennai at FITA Academy.
Health and Other Insurances – Helps with purchasing, selling, and leasing a home; acquiring a home loan in the US, home and accident protection, delivering materials, and transitory lodging support.
Travel Support and Services: Employees of Cognizant have unique advantages of movement support administrations during primary or crises. Furthermore, it manages the cost of business itinerary items for their master representatives.
Wellbeing and Life Insurance: Cognizant covers ensured, sustainable, exclusively possessed, and versatile life protections for their representatives. It bears the cost of extra monetary advantages during a crisis and essential circumstances.
Work and Life Balance at Cognizant: Employees working with Cognizant have a fantastic equilibrium in their work and life.
Types of Industries Served Through Cognizant
Automotive Services – Through human-centred design, data-driven intelligence, or digital engineering, Cognizant assists OEMs, suppliers, dealers, and automotive financing firms in becoming modern corporations that create great automobiles and experiences.
Finance and Banking – When clients anticipate 24-hour financial services, maintaining a competitive advantage might be complicated. Cognizant assists in streamlining wasteful processes with ideas and solutions that help develop business while keeping customers at heart.
Capital Markets – Cognizant helps create solutions to improve loyalty, extended relations, and revenue generation.
Communication, Media, and Entertainment – Cognizant offers CX and Streamlining operations for newer opportunities to monetize insights.
Consumer Goods – The company helps clients in the development of digital culture through implementing cutting-edge technologies and connected customers.
Education and Support – Connected learning that digitally first prepares the path for the future of higher education. Emerging technologies such as analytics, artificial intelligence, and machine learning will be critical in hyper-personalizing the student experience, assisting in identifying at-risk students, and providing the most appropriate support for each individual.
Health Care and Management – Cognizant aids other iT companies to enhance their IT Infrastructure through an ecosystem-based operating model, which improves the chances of collaboration, agility, resilience, and consumer experience.
Information Services – Cognizant provides offerings and expertise across the information ecosystem to modernize the business model, accelerate innovation, increase agility, and meet the rapid demands of digital disruption.
Life and Other Insurances – Cognizant provides intelligence that improves digital presence, levels the playing field, and helps reach business goals.
Life Sciences – Cognizant Integrate new transformation into company strategy leads to better results and a more intelligent, agile, and high-performing organization.
Manufacturing Industries – Manufacturers may make business decisions using new digital skills and technology based on real-time contextual data. It is the most incredible opportunity of time, and Cognizant can help take advantage of it.
Oil & Natural Gas – The oil and gas business is turning to digital to give more energy alternatives, lower costs, and improve customer happiness as alternative energy sources develop and environmental concerns grow.
Retail and Store – According to research conducted by Cognizant, retailers with exceptional revenue growth generate a higher percentage of sales through the digital channels of Cognizant.
Transportation & Logistics – Transportation and logistics professionals are obtaining improved insight into their supply chains, attaining real-time data access, and expediting orders to consumers worldwide by using the power of digital tools of Cognizant and applying cutting-edge technology like IoT, machine learning, predictive analytics, and blockchain to get a leg up on the competition.
Travel and Hospitality – Digital may be the saving grace for the travel and hotel sector as it attempts to revive. Service companies may generate fresh momentum that pleases clients from chatbots to self-learning booking tools while also reducing costs. Cognizant can assist in evaluating various options and developing a digital strategy for the post-pandemic era.
Utilities and other Services – Cognizant leverages digital services to manage electricity, gas, and water.
Specialized Services Offered from Cognizant
Modernization of Applications and its Services
Artificial Intelligence
Business Process Services
Cloud Enablement and Services
Core Modernization
Digital Experience and Strategy
Enterprise Application Services
Enterprise Services
Industries, Platforms, and Solutions
Quality Infrastructure Services
Automation and Intelligent Process
Quality Engineering and Assurance
Security and Services
Software Product and Engineering
Know the significance of digital marketing to improve the business solutions at Cognizant through perceiving knowledge on Digital Marketing Course in Bangalore at FITA Academy.
Synopsis on Freshers Benefits at Cognizant Technologies
Freshly graduated students or Freshers seeking an excellent opportunity with an affordable Cognizant salary for freshers have numerous benefits at Cognizant Technologies. Some of the benefits were
An innovative work environment with excellent work-life balance
A good salary package with stunning bonuses
Life and Health Insurance Policies with Financial Compensation
Global relocation offers and international tourist trips
Recognizable designation with expertise skills
Excellent work experience with senior and experts
It opens the gateway to numerous opportunities and career prospects
An innovative and optimistic platform to begin a new featured professional career
Cognizant, the leading company, emerged from India and has been progressing to global nations. Its tremendous amount of employment benefits career opportunities for freshers has driven the attention of modern youngsters for a future IT career. Therefore, from our research and brief article, we explicitly recommend that freshers and newly graduated professionals who are looking for an excellent Cognizant package for freshers can doubtlessly go and apply for promising roles.
Frequently Asked Questions (FAQ)
1) Does Cognizant technologies pay a good salary?
Yes, Cognizant pays a good Cognizant salary for freshers ranging from 1.6 to 19 Lakhs Per Annum.
2) Does Cognizant Technologies increase Fresher's salary?
Cognizant provides a 90% salary hike to the new entrants compared to TCS, Wipro, and HCL.
3) Do Cognizant offer International Benefits to Freshers?
Yes, Cognizant has multiple international offices worldwide. So, freshers can migrate and work at any desired international work location.
4) What is Cognizant Technologies famous for?
Cognizant Technologies is famous for its leading provider of IT services, consulting, and outsourcing business process services.
5) Is Cognizant an excellent place to start my first professional career?
Yes, Cognizant has a unique and innovative work environment. It pays its employees with a good salary package and various benefits. So, it is a good beginning point for freshers seeking good CTS freshers salary.
6) Which is the best institute in Chennai to get training for IT placement?
FITA Academy seems best for IT training and placement. So, you can enroll in various FITA centers at Chennai, Bangalore, Coimbatore, and Madurai.