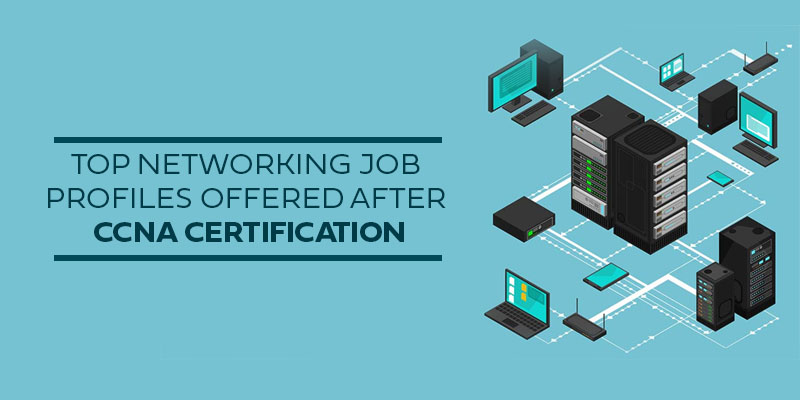 CCNA– Stands for Cisco Certified Networking Associate is an associate-level certification. Through this certification exam, you can gain more knowledge to create, manage and troubleshoot a small scale network. There are various tracks in CCNA like CCNA Data Center, CCNA Security, and CCNA Wireless and one can pursue any of this certification program to enhance their career opportunities. CCNA Training in Chennai at FITA guides and assists you in cleaning these certification exams. Join FITA and learn in-demand networking skills under real-time professionals.
Listed below are some of the top job profiles that are offered to you after the completion of the CCNA certification exam,
System Engineers
A System Engineer's major responsibility is to install and operate the various devices in a company, which involves the various hardware of PCs, switches, routers, and other devices. You have to get deep knowledge about the hardware aspects of Switches/ Routers.
Responsibilities
The system engineer should manage and monitor all the connected system, and infrastructure.
Configure, install, manage and test operating systems, system management tools, and application software.
Proactively secure the highest levels of systems and support availability.
Manage backup, security, and redundancy strategies.
Key skills:
Cisco Networking.
Network Management Administration.
Windows NT/ XP/7 Networking.
Technical Support Engineer
The main responsibilities of the Technical Support Engineer are to solve customer problems through the phone or via remote access.
The IT tech can handle monitors, and maintain troubleshooting computer systems and networks in a company.
Responsibilities
To implement support and general configuration of software.
To complete low-level official tasks.
Support the testing of internal projects and applications.
To deal with the clients in a technically efficient manner.
To give external client support via email and telephone.
Key skills:
Network Support
Microsoft Office
Troubleshooting
Window OS
Network Support Engineer
Network Support Engineer is described as L1 and L2 support engineers. They will not get direct access to switches and routers and also have to support engineers who have direct access.
Responsibilities:
Manage tickets, it is logged into the ticketing system via Email, Phone or the Web.
Manage the system notifications and react equally through service tickets.
Support technical problems are involving operating systems and core business applications.
Essential technical support at the network level: LAN and WAN, Routers, firewalls, connectivity, and security.
Support Printer and its networking issues.
The Remote access solution can support and implement VPN.
Work with the vendor for the problems that reported/ observed.
Key skills
Window OS
Help Desk
Basic Cisco Networking
System Troubleshooting
Network Administrator
Networking and System Admins are the two various job profiles, but it could be the same in some companies.
Responsibilities:
Support and Install, WANs, LANs, Internet, network segments, and intranet systems.
Manage and install the network software and hardware.
Design and develop a network, Perform network address tasks.
Assign form of authorization and authentication of directory services.
Troubleshooting network related issues.
Key Skills:
Basic Linux and Operating System
Windows OS Networking
Cisco CCNA Networking
Network Management and Administration
Network Engineers
It is one of the most popular job profiles in the networking field. Network Engineers can work as a part of the IT Support team in the company.
Implementing, maintaining, designing and handling the organization's network and their core responsibilities. Skills with Cisco Networking plays a large part in this role.
Responsibilities:
Install and configure the various network devices and services, (eg: Switches, firewalls, routers, VPN, load balancers, QoS).
Monitor execution and secure availability and reliability.
Perform network support and system grades including service patches, packs and security configurations.
Monitor system resources utilization, trending and capacity planning.
Other Job Roles: 
Various job roles are possible depending on the CCNA track. Those who have enough knowledge of wireless fundamentals can get the job easily. Some of the other job roles are Data Center Associate, Network Support Technician, Video and Voice Engineers, etc. Learn CCNA Course in Bangalore, and gain more knowledge in Cisco Networking field. At FITA, we guide you with the correct career path to broaden your job opportunities in the networking field.