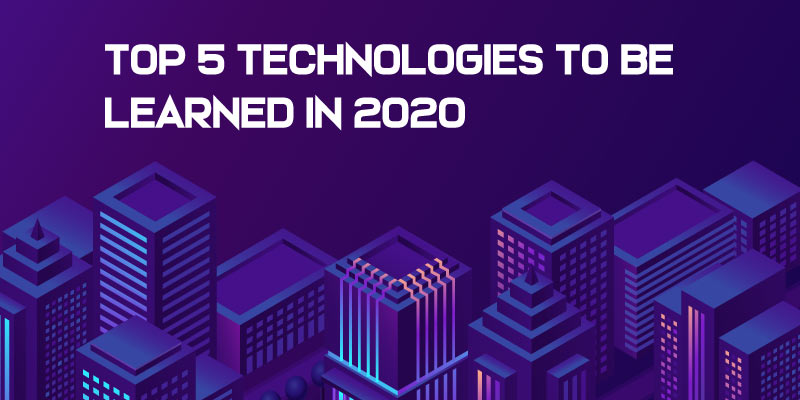 Technology keeps developing constantly. So, it is important to note that IT experienced professionals should realize that their jobs are not going to remain the same. They Should learn constantly and should stay up to date with developments in Technology. Here, we are discussing the technologies which are now trending in 2020.
Artificial Intelligence:
Presently, computers have features like the ability to think, examine and study without the help of human intervention, it is done with the help of AI technology. In this technical world, where various applications of AI can be seen, for instance, Siri and Google Assistant.
Refer Blog Real-Time Applications of Artificial Intelligence
AI is everywhere, from home to car, from smartphones to banking purposes. Microsoft, Intel, Amazon, Google, are some of the companies which are using Artificial Intelligence. In 2020, AI is going to have a major impact on the ever-developing technological field. Join Artificial Intelligence Courses in Chennai at FITA and learn advanced technology of AI and its applications to enhance your career opportunities.
Key Features: 
 In the upcoming days, it is expected that the minimum share market will reach $169411.8 at the global level.
The average salary for an Artificial Intelligence Engineer will be Rs.1,35,000 per year.
There will be more automation job opportunities in Artificial intelligence fields like Data Analysis, Face Recognition, Cyber Security, Advertising, Emotion Bots, Marketing and many more.
DevOps:
The perspective of DevOps is to connect them with the development and operation team for providing different tools and support in the development of the business. In the past few years, the development of DevOps has made important growth among various industries and this will continue in 2020. The DevOps transformation demands a complete re-architecture statement or it is ready to choose the technology replacement. Google, Groupon, Uber, Netflix, Amazon, Facebook are organizations that depend on DevOps Concepts. This method will continue in the upcoming years. Join DevOps Training in Chennai, and learn more about the DevOps process.
Key features:
The market share of DevOps is predicted to be $7 in upcoming years.
As per the Survey, the average salary of a DevOps Engineer would be $1,11,000 per year.
Machine Learning
AI is a subset of Machine Learning. Depending upon the algorithms and objectives, ML is classified into two types namely, Unsupervised and Supervised. The domains are important for career growth which is offering various opportunities in Machine Learning technology. In different industries, the technology of machine learning is developing quickly, and it is generating a huge demand for Machine Learning experts in 2020.
Key Features:
Machine Learning along with AI reaches the market share of a minimum of $2.6T in the next upcoming years, and can also expect the supply chain planning and manufacturing in $2T.
Huge job opportunities are there in the Machine Learning field. The salary of the Machine Learning Engineer is $ 1,20,400 per annum. Machine Learning Training in Chennai at FITA provides in-depth training of the Machine Learning concepts under expert guidance.
RPA- Robotic Process Automation
RPA is one of the popular technologies like Machine Learning and AI, which automates different jobs. RPA helps in businesses like transaction process, inferring applications, handling different data, and responding to emails. RPA works out very efficiently, where people are used for doing many tasks repeatedly. RPA can automate the tasks repetitively, it is stated that 45 percent of activities can be automated, including the jobs of the doctors, CEO and financial managers. RPA has a billion-dollar business in the market and several organizations would implement the RPA technology along with AI for their business purpose. RPA Training in Chennai at FITA provides a holistic training of the RPA Technology along with the various tools used in it.
Key Features:
The Market share of RPA is predicted to be 51% at the global level.
An average salary of the RPA professional is estimated to be a minimum of $71,000.