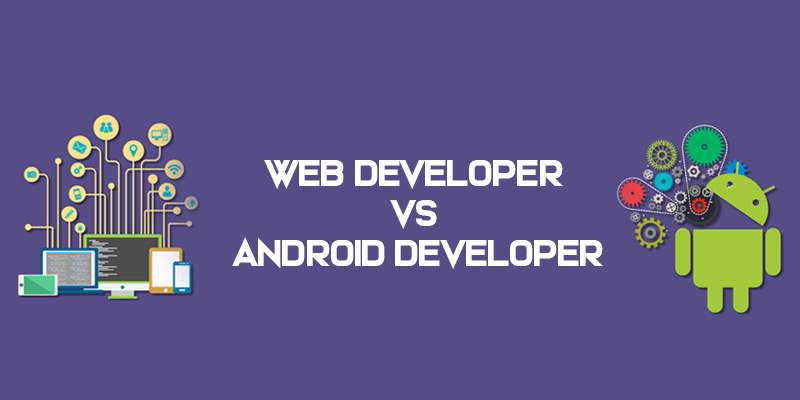 Android App Development is one of the most trending technologies in the industry. Web Development is also another trending technology, which would never dropdown.
Web Development VS Android Development both have excellent career choices. Presently, everyone has started to choose different career options.
What is Web Development and Who is a Web Developer?
Web Development or Web Designing is the task connected with developing websites for hosting via the internet or intranet. The process of web development includes web content, web design, web development, network security configuration, and other tasks.
Web Developer-  The role of the web developer is to code, design and modify the websites, according to the client's terms. Creating visually good appealing sites that are featured with user-friendly design and clear navigation is the primary responsibility for a Web Developer. Learn Web Development Course in Bangalore and gain deep-knowledge in Web Development.
What is Android Development and Who is an Android Developer?
Android is the Linux-based operating system. It is an open-source System. Almost all tablets and smartphones are using the Android System.
Android Developer- An Android Developer is a software developer, who is the expert in designing android applications for the play store. Join Android Training in Bangalore and learn more about the Android Operating System.
Web Developer VS Android Developer
| | | |
| --- | --- | --- |
| Basis of Criterion | Web Developer | Android Developer |
| Scope of Development | Web Developer- Developing Applications and Websites, which we see on the internet is wide. | Android Developer- The Scope of Android Developer is limited to android app development and its customizations. |
| Platform required | For Web developers, they need the Web browser to execute their developed content. | Android developers require the android platform to create an Android application. |
| The Programming Languages required for Development.  | The basic languages required for Web Development are CSS, HTML, and JavaScript. The large website demands Knowledge of Frontend, Database, and Backend. | The programming languages needed for the Android Developer are C, C + +, Java, Kotlin, and also Python to create the applications. |
| Database Knowledge | The Web Developer needs knowledge of the database to store the contents of the website. | The Android Developer requires the database knowledge to store the contents of their websites. |
| Application Bundle | Web Applications come in various styles, Some of the websites are containing very few collections of javascript, HTML5, and CSS files. Some of them are in the Web archive, which needs containers like JBoss, apache tomcat. | The Android Applications appear as APKs. The data of APK wants the android installer to get placed on android phones before running. |
| Career Opportunity | Android is frequently used in the Operating System. The Android mobile platform which has huge career opportunities. The Apps built by the android developer can make people's life easier. | In the IT industry, a huge number of web developers are required. The Internet is the never-ending process, We can find everything on the Websites and Web Pages, which we need. As long as there is a need for the internet, eventually, there will be a need for Web Developers to create the WebSites and Web Applications. |
| Examples | The famous apps which run on Android are Amazon, Mobile App, Whatsapp, Facebook for Android. | The popular Websites Facebook, Google, and Yahoo. |
The web Developer and the Android Developer are just a choice. The developer may choose Web Development as their Career. Web Developers are highly demanded not only in the Software field but also on many other businesses, who can resolve business problems. Join a Web Designing Course in Chennai and learn more about site development.
Android Developer as a career, permits you to make applications and can automate many processes through smart ideas and smartphones. Join Android Training in Chennai and gain more knowledge in App Development.