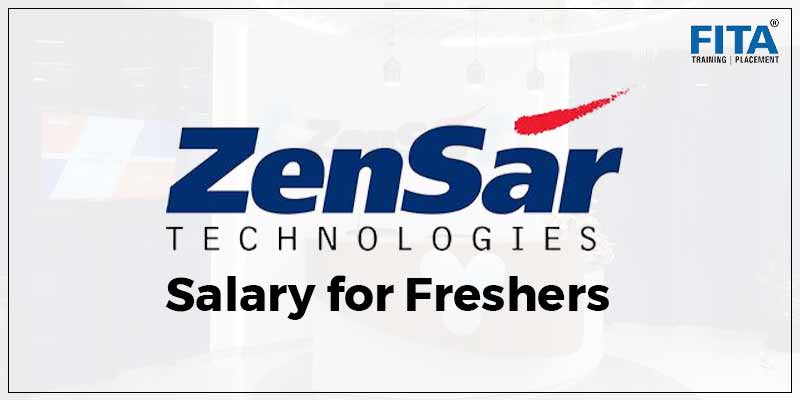 Zensor is a leading I.T. firm and holds 58th rank among global tech industries. Zensar technologies are known for their technology, consulting, and I.T. services. It primarily has expertise in conceptualizing, software engineering, designing, managing digital products, and marketing solutions. Zensor plays a crucial role in the dynamic acceleration of high-tech companies in the financing and insurance sectors, consumer services, health, and public care. This industry seems to have more than 10,000+ associates with more than 130+ leading centers across the globe. Emerging Techies or Fresh candidates looking for a new featured I.T career with an excellent zensar technologies salary for freshers can go for Zensar. The company affords numerous opportunities with a collaborative and innovative environment to work. Zensar salary for freshers differs for different positions. Therefore, this article briefly explains the zensar salary for freshers, how to get onboarded, eligibility criteria, additional skills, and significant roles and responsibilities.
Who Can Apply for Various Positions at Zensar Technologies?
Zensar Technologies considers freshers and experienced professionals passionate about their featured I.T. Careers. The applicant must be bold enough to act in scheduled work hours, passionate, innovative, and hardworking. The company connects with ideological and intellectual minds across the globe for superior growth and development. Besides, the company gives high value and global recognition through its worldwide networks and collaborative environment. Therefore, applicants with these superior qualities and qualifications are eligible to apply. Further, educational qualification criteria discussed in later sections, please be patient to read out the complete content to get an overview of Zensar significance and their company's professionalism.
How to Apply for Various Positions at Zensar Technologies?
As a fresh candidate, the applicant has two gateways to get placed. The Options are
Approach and Attend Nearby Centers where the Off-Campus recruitment drive is.
Explore and Register for various positions at the Careers Page of Zensar Technologies.
Zensar Tech looks for a candidate with bold ideas, newer strategies, social and good interpersonal skills, and the ability to drive and manage the I.T. community. So, an applicant with these qualities can apply for various positions at Zensar Tech. It always works towards creating new learning platforms and opportunities for freshers and experts. Besides, Zensar affords a smooth, healthy environment to work and work-life balance.
Academic Qualification Criteria for Jobs at Zensar
Zensar hires applicants with full-time degrees with B.E/B.Tech/BCA/MCA/MBA. The applicant is expected to have various levels of computer skills per the type of job position. Besides, the aggregate percentile score expected is about 60% in their degree, graduation, 10th and 12th grade with zero backlogs.
Fundamental Skills Required for Jobs at Zensar
Freshers looking for excellent zensar salary for freshers and with skills such as problem-solving, critical thinking, problem assessment, good interpersonal and communication skills, and expertise in basic programming are likely to have a higher probability of placement. In addition, the ability to guide and work with multiple teams, be productive, hardworking, innovative, and flexible with work hours are some of the additional vital credits that assist the applicant in getting placed. Explore various IT crash courses at affordable prices at FITA Academy in Chennai and Bangalore.
Zensar Technologies Salary For Freshers
Zensar technologies salary package for freshers changes for various positions, mainly from freshers and experienced candidates (with a year or more of work experience). Let us discuss the salary structure in brief.
List of Salary Structure at Zensar-Tech
The salary structure of various roles at Zensar varies from freshers to experienced professionals. However, we have shown our approximated package in the below graph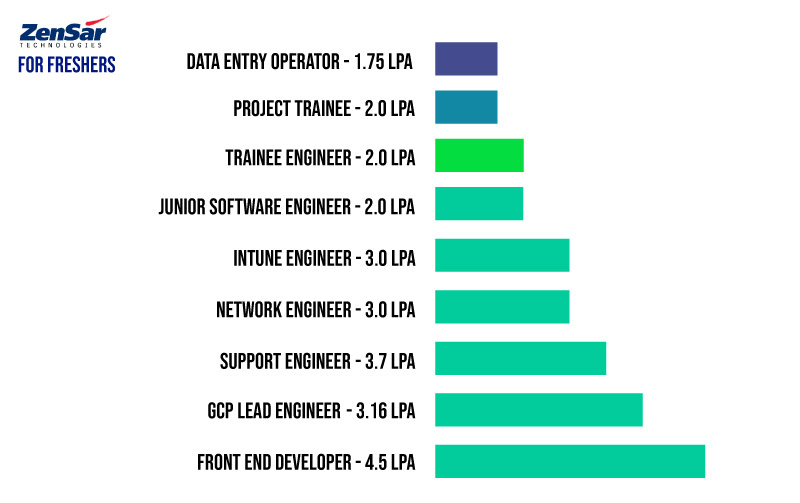 Skills, Roles, and Responsibilities for Freshers at Zensar Tech
Applicants looking for an acceptable zensar technologies package for freshers have certain roles and responsibilities to fulfill after successful recruitment. Let's discuss various roles and their key responsibilities.
1. Data Entry Operator
Freshers with any degree or computer background are eligible to apply for this post. The applicants must be capable enough to work with various data entry streams at Zensar tech. He/She is responsible for the
Working with basic worksheets and data entry
Management of Documents and Data Sources
2. Project Trainee
The applicant must have completed his/her B.E/B.Tech in Computer Science or Information Technology, or MCA with 60% of aggregate marks in their degree, 10th, and 12th.
As a project trainee, you need to enhance your computer and coding skills, learn Java Training in Chennai.
3. Trainee Engineer
To join as a trainee engineer, the applicant must have a minimal degree, either B.E. or B.Tech in computer science stream or I.T. He/She should have a minimum of 60% percentile of marks in their respective 10th, 12th grade, and Degree.
4. Junior Software Engineer
Zensar wants their fresh Junior software engineer to have good interpersonal and communication skills, problem-solving, analytic skills, and interest to work as a team. Besides, the candidate must have a customer-centric approach to drive customers for their software products.
Software Engineer aspirants recommended to join Python Training in Chennai.
5. Support Engineer – Graph Developer
Zensar wants their support engineers to have B.E/B.Tech in computer science with 2+ years of experience in SharePoint and Microsoft Teams; expertise in .NET Framework, NetCore, OOPs concepts, Javascript, JQuery, Powershell, RESTful, APIs, etc. OAuth Protocol. After proper selection and onboarding, the support engineer has vital roles and responsibilities.
To troubleshoot all the complex technical issues
Detect and fix the reported technical issues
Detect and Escalate the reported bugs in Microsoft Softwares and Products
Affording Global Customer support 24*7
To learn and become a support engineer at Zensar, learn Dot Net Training in Bangalore.
6. GCP Lead Engineer
To get hired into Zensar with a good zensar technologies package for freshers and as a GCP Lead Engineer Position, the applicant must have professional experience in GCP lead engineering, strong knowledge of the GCP environment, managed services, and configurations. Besides, he/she is expected to have expertise in data handling at data centers, applications, and services related to GCP. A GCP lead engineer has the following key responsibilities.
Design and Delivery of Multi-cloud operational model
Delivering cloud-based technical architectures, and optimization methods
Automation of DevOps and SRE Culture
Assisting the operations of Cloud
Mitigating the risk and issues associated with Cloud
Guiding and Leading Teams for Optimal cloud performance.
7. INTUNE Support Engineer
INTUNE Engineers must have 5-10 years of relevant experience with technical support from NOAM, EMEA, APAC. The applicant is expected to have strong analytical and problem-solving skills with a strong mind on customer focus. Besides, the engineer must have prior experience in making the right decision during a critical environment, thereby resolving the technical issues. In addition, the following skills are required for the post of INTUNE Engineer: WSUS, SMS, SCCM, MicrosoftIntune, DNS, Protocols, Devices, SQL, O.S., Mobile Devices, Clients, and Microsoft Office 365.
Learn Android Training in Chennai to become an INTUINE Engineer at Zensar tech.
8. Network Engineer
Applicants with a Bachelor in Computer Science and 5-10 years of networking experience, strong knowledge of Networking, troubleshooting, LAN, Network hardware, network software can apply for network engineering at Zensar. The applicant may have the following roles and responsibilities as a network engineer.
Maintenance of networks and their performance
Create and Establish network connections and configurations
Auditing the network I.P. addresses
Maximize the performance of networks through faster troubleshooting
Collaborate and work with network architects for network improvements
9. Front End Developer
To Join a Front End Developer at Zensar Tech, the applicant needs to have expert skills in Front End, Javascript, Angular, HTML, CSS, JQuery. The critical roles of front end developers are
Front End Development for Applications
Front End Coding for Apps and Websites
Work with HTML Sites and CSS related Services
To become a front-end developer at Zensar, apply and learn Python Training in Bangalore.
Skills, Roles, and Responsibilities for Experts at Zensar Tech
1. Service Desk Support
Zensar expects their service desk employees to have more robust verbal communication, respond to various calls and chats, and manage office tickets and invoices. Besides, they supervised all activities they made throughout the day and reported to the administration. In addition, the applicant must have completed any degree relevant to office management and system.
2. I.T. Management
Zensar has started to hire freshers from MBA/PGDM backgrounds for I.T. Management and Support. The candidate must have an MBA degree from any recognized institution with 60% of aggregate marks. As an I.T. Manager, he/she has the following key roles and responsibilities.
Working with End Users and ERP Systems
Finance Consulting with ERP Implementation
Services and Support with Other Clients
Do quick analysis and configure ERP Software
System Testing, Integration, User Acceptance, and Regression Testing
3. Site Reliability Engineer
The applicant or candidate with a background from Terraform, Azure, Resource Manager, GitHub, Synapse, Analytics, and other applications are eligible to apply. As a site reliability engineer, the applicant may have the following roles and responsibilities.
Cooperative working with data and software engineers
Developing robust systems through cloud architecture
Detecting issues with productions and infrastructure
Promote technical projects and architectural improvements.
A Wonderful Lifestyle at Zensar Technologies
Digital Lifestyle – A career at Zensar provides a digital lifestyle where any candidate can share their talents and ideas through various social media. Their Seniors or Peers will help them get feedback, suggestions, technical concerns, and direct questions to Zensar's CEO. Besides, they developed a digital platform for employees to encourage innovation and create social responsibility for digital media. Further, to check out business performance status, Zensar uses its digital tools to track finance and insurance information, sales & management, revenue prediction, and employee reviews.
Engaged Environment with Diverse Group of Peoples – Zensar promotes diversity and individuality to influence the resultant team. It has a diverse community of people of mixed race, ethnicity, gender, age, religion, sexual orientation, physical disability, socioeconomic status.
Global Networks and Multinational Offices – Zensar has successfully established its global and international offices apart from India. Zensar's offices mainly were located at the commercial hub of all nations; they are the United States, Singapore, South Africa, the United Kingdom, and across desirable sites of the world.
Glory Zone of Zensar Tech – Zensar has its own Human Glory Zone. The team members used to gather information about employees' interests, families, goals, pets, creativity, birthdays, and so on to celebrate in a social and exciting environment.
Employment Benefits at Zensar Technologies
Work From Home: Zensar remains the first among all I.T. companies in India to afford Work From Anywhere (WFA). It opened a new era of novel talents, opportunities, and a unique workforce. The company has successfully implemented work from the home model to benefit work-life balance.
Vocational Trips – To keep Zensar's employees engaged and active, the company affords vocational trips and team outings over a certain period. It keeps the mental and psychological health fit as I.T. sectors are concerned with a significant impact on mental stress and physio health due to workloads.
Reliable Life and Health Insurances – The company also provides health and life insurance to its employees. It covers the medical expenses, treatment, drugs, and inevitable accidental deaths.
Favorable Vacation and Paid Time-Off – Zensar Tech provides paid time-off and vacations at employees' request. Hence, it will not affect the employees' monthly compensation. So, a career at Zensar would be of outstanding merit with numerous advantages.
Sabbatical Paid Leave – Once the employee has completed seven years of work at Zensar, the employee is allowed to take sabbatical paid leave for one year. The holiday is provided for study and other significant occasions.
Leaves on Maternity & Paternity – Zensar cares about relationships and bondages. So it affords their employees' to take leaves on maternity and paternity.
Stunning Bonus with Salary Packages – Zensar offers performance bonuses and financial increments concerning employee performance and productivity. Besides, the company provides additional bonuses during the festival and other ceremonial occasions.
Additional Benefits of Jobs at Zensar Technologies
Hotspots for Refreshments – Employees can receive refreshments from the restaurant during business hours, with various refreshing drinks and snacks.
Complimentary Transportation System From Nearby Areas – Zensar provides a complimentary transportation system for free travel between employees' homes and workspace.
Career and Education Support for Children – Zensar supports their employees' children receiving valuable education and support.
Caring Child Care Centres – Zensar provides free child care centers to look after the children of their employees.
Complimentary Meals and Food – Zensar's employees receive complimentary meals and food products during onsite work hours.
Universal Relocation & International Trips – As Zensar has multiple multinational offices across the globe, employees have the right to decide on Universal relocation. The relocation follows specific requests and formalities; once they complete, they can go anywhere worldwide for their desired work at Zensar Offices.
Exploring Opportunities at Global Level
Zensar has diverse employment opportunities in the following countries affording unique work locations worldwide. The countries are
United States,
Singapore,
South Africa,
United Kingdom.
For interesting job roles globally, the applicant needs to crack IELTS. Learn a short-term crash course IELTS Coaching in Chennai.
Expertise Services Served Through Zensar
Experienced Services include digital design, engineering, and other services related to the brand, creativity, and content.
Application Engineering Services that include digital engineering and apps transformation.
Data Analytics and Engineering Services like AI/ML, Automation Systems, Graphical Visualisations & Analytical Services, and Data Engineering.
Application Management Services like quality engineering, oracle database, salesforce, and app management.
Foundation services include digital operations, workplace, cyber security, digital infrastructure, and digital experience management.
Top 10 I.T. Companies Served Through Zensar Tech Firm
Zensar has served numerous I.T. firms across the world. Notable tech giants and reputed I.T. companies are
Adobe
Amazon Web Services
Google Cloud
Google Cloud Platform
Google Data Studio
IBM
ORACLE
Microsoft
McAfee
Explore various PHP Training in Chennai and Python Online Course at FITA Academy located in Chennai and Bangalore.
Zensar Technologies has a global reputation and holds the key position among international I.T. sectors in terms of infrastructure technologies, experienced services, application management, and foundation services. The company has attained the Q3 stage of company funding with more than 19.8% yearly growth. Besides, the company attracts leading global investors of 2022. So, both freshers and experienced candidates are well-suited to the company to begin a new career with promising zensar technologies package for freshers. In addition, the organization seeks people who are enthusiastic, diligent, timely, and capable of leading others. If any candidate meets these above key points, take advantage of all the professional chances available on their career page website. Finally, concerning the study, analysis, and research discussed in this article, we highly appreciate and encourage freshers and other experts to join and begin a new featured I.T. career.
Frequently Asked Questions (FAQ)
1. What is the initial salary of freshers at Zensar Technologies?
Salary for Freshers varies for different positions at the company; usually, freshers' pay ranges from 3.65 LPA to 3.94 LPA.
2. What type of company is Zensar?
Zensar is an IT company providing end-to-end IT Services from business to consulting.
3. Is Zensar Technologies suitable for freshers?
Zensar technologies are suitable for freshers as they enable freshers to learn more and grow exponentially.
4. What are the superior features of Zensar?
Zensar has good ratings in compensation, benefits, work-life balance, employee management, work environment and culture, and CEO approval.
5. Does Zensar provide national and international opportunities for freshers?
Yes, but it depends on the applicant's performance, skills, and work experience. It affords work opportunities in countries like the UK, US, and South Africa.
6. Where to learn IT Courses for Zensar Placement?
FITA Academy in Chennai and Bangalore affords the best training and placement coaching for all IT sector placement. So, check out various computing and coding programs at FITA Academy.