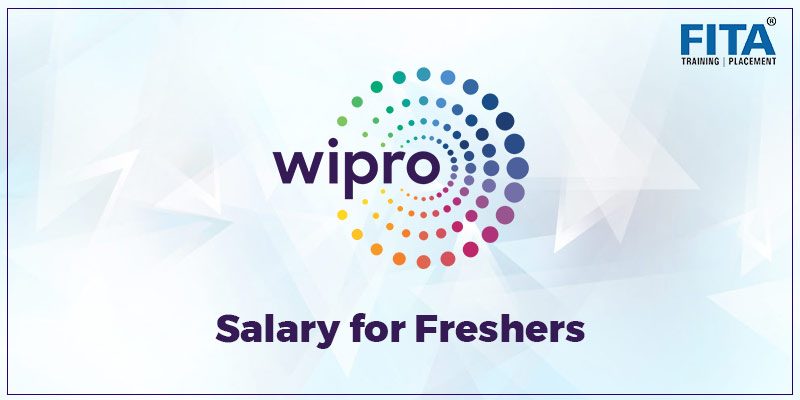 Today's blog is about Wipro Salary for Freshers. We all know Wipro is one of the IT giants in India. In this blog, let us learn more about the job roles for freshers and their responsibilities, and the corresponding salaries provided for them in Wipro. Before that let us see a quick introduction about Wipro, why Wipro is a good company for freshers, Wipro's Interview process, and more importantly the job hierarchy in Wirpo, Freshers's Job roles and responsibilities, and the Wipro Freshers Salary.
Wipro – An Introduction
Wipro is one of the top-tier IT companies in India and also a multinational conglomerate having its offices located in various parts of India. It stands in 29th place as one of the Fortune India 500 companies and it is the 9th biggest Software Company in India with more than 2,21,000 employees around the world. Wipro is not only providing IT services but also consulting, business process, and digital marketing services to other businesses. It also has another company with the name Wipro Enterprises which functions separately providing non-IT services to various industries.
The Wipro Fresher Package changes once students gain some experience in their field.
Why should I join Wipro as a Fresher?
1. It is one of the Top IT companies
Wipro is not just a name but a brand. It is one of the top IT companies in India which means you get to work with all kinds of professionals from your senior to high-level people. By working with all kinds of people, you can learn more academically as well as professionally. Also, by working in a top brand like Wipro, you get to learn the latest technologies Big Data, Cloud Computing, Virtualization, and more. This is one of the biggest advantages of working in a top-tier company.
2. Stable and long Career
Wipro is one of the few companies that helps you to have a long and stable career. In the sense, it does not have any strict firing policies but it does not mean it is lenient either but providing space for employees to learn and grow in the company.
3. Working in Wipro enhances your skills
Wipro has deployed the most cutting-edge technologies on its campuses. Therefore you have a lot of opportunities to work with them and improve your skills and knowledge. Every day it is a learning process in Wipro and you can utilize the large-sized library to be updated or equip yourself with the knowledge of the latest and essential technologies or topics. This also correspondingly increases your productivity and helps you to have the most precise knowledge.
4. Work Culture
Wipro has a healthy work culture and it is very employee-friendly. Some of its work policies are very much employee-friendly ensuring a safe working environment for both men and women.
The Wipro Starting Salary for Freshers is pretty high and it increases with experience and high knowledge.
5. People/Colleagues
Since Wipro is a multinational company it has a diversified work environment which means you get to work with people from different parts of the country and sometimes different parts of the world. There are high chances you would meet like-minded people with whom you can discuss your ideas and opinions and also come up with an ingenious solution for the business needs or problems.
6. Extensive Training programs
Wipro trains its employees through the best-skilled experts thus making sure its employees are equipped with the best knowledge of the technology or tool. There are also other learning resources for employees available at all times like computer labs and libraries which can be utilized 24*7.
7. Campus
Wipro has an awesome campus that is pollution-free having a greenish lush environment. Moreover, it has a beautiful landscape with trees and plants around it.
8. Salary
The Wipro Company Salary for Freshers and experienced professionals is high and lucrative. But if you are more skilled and knowledgeable, you will get incentives and performance-based hikes.
9. Facility
Wipro has an excellent campus with all kinds of facilities like a Gymnasium, indoor/outdoor game courts, and also the best cafeteria for its employees. It also has beautiful dormitories completely furnished and air-conditioned.
10. Work-life Balance
Wipro employees can balance their life and work in a more coordinated manner. All Saturdays are off in Wipro and holidays for festivals and occasions are entertained.
The Wipro Starting Salary for Freshers is pretty high compared to other countries.
Wipro Interview Process
Wipro conducts generally three rounds of interviews to select the candidates. They are,
Online Assessment round
Technical Interview round
HR Interview round
1. Online Assessment Round
In this round, you will be tested on three different topics or concepts.
First is the Aptitude round which tests your mathematics skills, logical reasoning skills, and verbal or communication skills.
Second is the Essay writing round which tests your precise writing skills in English.
Third is the coding round which tests your coding skills in the programming languages like Java, C, C++, and Python.
The Wipro Salary Structure for Freshers increases with experience, knowledge, expertise, and proficiency in their respective technology.
2. Technical Round
Candidates who pass the online test are eligible for the next round, which is the Technical round. Some of the concepts asked in the technical round are, OOPs, DBMS, OS, Computer Networks, and more. You should also have expertise in any one of the programming languages. In this round, you will be tested on your problem approaching skills, problem-solving skills, and soft skill such as communication skills, etc.
3. HR Round
Once you clear the HR round you will be called for the HR round. In this round, your strengths and abilities are assessed. Moreover, you will be asked general questions like,
Tell me about yourself?
What is your expectation of this role?
Why do you want to work for Wipro?
Explain your internships and projects.
Are you okay with relocating to other parts of India?
And there are more questions that may be asked in a general way to know whether you are the right fit for the role and the organization.
The Wipro Fresher Package is high compared to other high companies in India.
Eligibility Criteria
Any candidates who have done theirs under graduation or post-graduation.
60% or above in tenth and twelfth grade.
6.0 CGPA or above in graduation.
A maximum of three years gap is allowed between your tenth and graduation.
6.0 or above in your graduation or post-graduation.
No backlogs at the time of the interview
As we have seen the important details, let us move on to the main topic of the blog.
Wipro Salary for Freshers
Wipro follows a hierarchy the same way it is followed in every other top-tier IT company.
The hierarchy is followed as given below
A Band – Non-technical graduates
TRB – Team Rainbow Band – Trainees
B1 Band – Software Engineer
B2 Band – Senior Software Engineer
B3 Band – Team Leader
C1 Band – Manager
C2 Band – Senior Manager
D1 Band – Project Head/ Delivery Manager
D2 Band – Director/Chief Officers
E Band – CEO/President/Chairman
This is the job hierarchy of the Wipro Company. Let us now see the job roles given for freshers and for people with one year of work experience and also the Wipro Starting Salary.
1. Data Scientist
A Data Scientist analyzes large volumes of data to find meaningful information from them. They are high-level technical and analytical experts who have the ability to mine, clean, and present the data in an understanding format. This information is needed to solve the essential business needs of an organization or a company.
The Responsibilities of a Data Scientist
Gather large amounts of unstructured data and change them into an understanding format.
Resolve businesses problems using data-driven techniques.
Work with different programming languages such as SAS, R, and Python.
Implement statistical tests and distributions.
Implement analytical techniques such as Machine Learning, Deep Learning, and Text Analytics.
Team up with both IT and Business teams.
Finding meaningful information from data and recognizing trends that can solve business needs and problems.
Data Scientist skills
Knowledge of Statistical Analysis and Computing
Proficient in Machine Learning
Proficient in Deep Learning
Should have the ability to process large data sets
Data Visualization skills
Data wrangling Skills
Mathematical Skill
Programming Skill
Knowledge of Statistics and Big Data
The Salary of a Data Scientist in Wipro is around Rs. 3 to 4 lakhs per annum.
To become a Data Scientist in Wipro, join our Data Science Course in Chennai at FITA Academy and gain a commendable knowledge of the Data Science technology by getting trained under the industry experts.
2. Software Engineer
Software Engineer is an IT Professional who writes codes for developing Software for both Computer Systems and Applications. Also, they write codes for developing Operating Systems too.
The day to day responsibilities of the Software Engineer are,
Designing and managing software systems.
Analyzing and finding errors in new software programs.
Improving software for speed and performance.
Writing as well as testing the code.
Communicating with clients, engineers, security specialists, and stakeholders.
Explaining the new features to stakeholders and internal customers.
Software Engineer Skills
Knowledge of various programming languages like Java, Python, C, C++, and Scala.
Knowledge of Object-Oriented Programming concepts.
Knowledge of Database Architecture.
Proficient in Agile and Scrum project management.
Knowledge of Operating Systems
Cloud Computing Skills
Version Control Skill
Testing and Debugging Skill
Having an Eye for Detail.
The salary of a Software Engineer in Wipro for a fresher or professional with one year of work experience is around Rs. 3 to 4 lakhs per annum.
To become a Software Engineer in Wipro, select any one of the software courses at FITA Academy like C C++ Training in Chennai or .Net Training in Chennai and master the technology.
Java Training in Bangalore is conducted at FITA Academy for Bangalore students so that they can gain extensive knowledge of Java Programming Language.
3. Cloud Developer
A Cloud Developer is a professional who designs and develops a cloud application infrastructure. He/She not only designs and develops the cloud software but also constructs and manages the systems to make sure it is safe and secure.
The responsibilities of a Cloud Developer are,
Customizing cloud models based on the needs.
Creating and implementing cloud applications.
Incorporating various cloud services.
Put together the various technology components to build a cloud.
Monitor and manage the built Cloud Systems.
Implementing the Cloud Services.
Create Process and Workflow.
Cloud Developer Skills
Knowledge of Linux.
Knowledge of Databases like MySQL and Hadoop.
Coding skills in programming languages like SQL, Java, Python, Golang, PHP, and .NET.
Skills in AWS DevOps.
Proficiency in containerization tools like Docker and Kubernetes.
Virtualization knowledge.
Understanding of Security and recovery features.
Understanding XML, SOAP, WSDL, UDDI, and API.
The salary of a Cloud developer in Wipro is around Rs. 3 to 4 lakhs per annum.
To join as a Cloud Developer in Wipro, join our Cloud Computing Course in Chennai and learn extensively about Cloud computing technology.
4. Testing Engineer
A Testing Engineer is a professional who creates or develops test scripts for testing a software product/software service like websites and software applications. They are needed in every stage of the software development lie cycle to test the product in each stage and find out the faults or errors in them. They test the products to make sure the product is of top quality and is ready for customers' use. Other than quality, the product is tested for some other features which are reliability, speed, and functionality.
The Wipro Company Salary for Freshers in India is high compared to other countries.
The Testing Engineers' responsibilities are,
Test the developed software products and make sure they meet the actual requirements.
Make sure the performance and scalability of the software are improved.
Make sure the software products have a top-notch quality.
Team up with firmware developers and validation engineers.
Write automation scripts for software validation.
Find errors and faults in the software products.
Prepare reports and file the testing process progress.
Testing Engineers skills
Proficiency in Agile Testing
Knowledge of Automation Testing
Knowledge of Software Development Life Cycle Methods
Knowledge of Web and Mobile Technologies
Knowledge of testing tools and techniques.
Defect tracking skill
Understanding Test case Management tools.
Ability to implement SQL knowledge
Cross-browser testing skills
Project Management skills
Programming and Operating Systems knowledge
Domain Knowledge
The salary of a Testing Engineer in Wipro is around Rs. 3 to 4 lakhs per annum.
To become a Testing Engineer in Wipro, join our Software Testing Course in Chennai at FITA Academy and comprehensively learn about the technology through getting trained by the Testing experts in the IT domain.
5. iOS Developer
An iOS Developer is responsible for developing applications for the Apple iPhones powered by the iOS operating system. An expert iOS developer will be proficient in one of the two programming languages which are Objective C and Swift.
The responsibilities of an iOS Developer include,
Developing mobile applications for Apple's iOS platform.
Teaming up with the design team to design the application's features.
Make sure the quality and performance of the applications are top-notch.
Finding faults or errors in the applications and resolving them.
Publishing the apps in the App store.
Managing the code of the application.
Deploying application updates.
iOS Developer Skills
Proficient in Swift programming language
Knowledge of Apple's X Code IDE.
Understanding Spatial Reasoning.
Knowing the Design guidelines.
Understanding UI and UX.
Knowledge of Apple Human Interface Guidelines
Knowledge of Networking
Understanding Core Data
The salary of an iOS Developer in Wipro is around Rs. 3 to 4 lakhs per annum.
To become an iOS Developer in Wipro, join our iOS Training in Chennai at FITA Academy and extensively learn about iOS technology.
Conclusion
In this blog, we have seen in detail the Wipro Starting Salary for Freshers. But it all comes down to your performance and implementing your knowledge in the work environment. To attain the expertise and to be confident of your skills and knowledge, join our Academy where you will be completely trained in your chosen course by the industry experts.