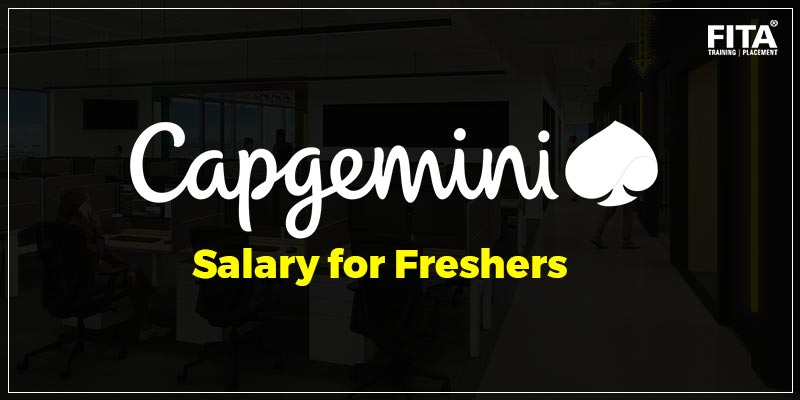 Today's topic is Capgemini Salary for Freshers. Capgemini or Capgemini SE (Societas Europaea) is a France-origin multinational information technology company operating in more than 40 countries. It was founded by Serge Kampf as enterprise management and data processing company in 1967. He then acquired CAP and Gemini Computer Systems in 1974 which was later renamed CAP Gemini Sogeti. Capgemini is a World leader in Consulting, Digital Transformation, Technology, and Engineering Services. The company prioritizes innovation to service customers in the best way possible. Some of its services are Artificial Intelligence, Business Operations, Cloud Services, Cyber Security Services, Digital Services, Intelligent Industry, Sustainability, Technology Solutions, and Transformation and Innovation. It serves most of the industries like Automotive, Consumer Products, Electronic, and high Techs, Government and Public Sectors, Insurance, Media and Entertainment, Telecoms, Banking and Capital Markets, and more.
FITA Academy is one of the best institutes in Chennai offering many beneficial software courses like Cloud Computing Training in Chennai or Software Testing Training in Chennai which is handled by industry experts.
Before going to the main topic, Capgemini Salary for Freshers, let us see the top ten reasons to work for Capgemini as a Fresher and its interview process.
1. Value-Oriented Company
Capgemini follows seven core values to the fullest. The seven values are Honesty, Boldness, Trust, Freedom, Team Spirit, Modesty, and Fun. If you think you have most of the values listed above, then Capgemini is the right place for you to start your career.
2. Employee-friendly
Capgemini welcomes the opinion of every one of its employees even if it does not align with the company's business needs. So the main point here is it even welcomes the difference of opinions and ideas but its employees should not feel that their ideas are not worthy. The company management makes sure that it is a work environment of different ideas and opinions put together that will help in the growth of the company.
3. Your learning never stops
If you get to work for Capgemini, you can never stop learning. Capgemini conducts world-class training for the trainees and experienced professionals. There are also online courses conducted every now and then through e-learning modules and rich-media online resources.
4. You have a Sharp and Steady growth
At Capgemini, employees' growth is also prioritized. Even if you want to switch careers or want to learn something different from your professional work, Capgemini is always ready to help you with the learning.
The Capgemini Fresher Salary is high in India and France compared to other countries.
5. People and Colleagues
Capgemini is a multinational company which means you get to work with people from different parts of the world. Therefore you can meet some brilliant minds and like-minded people with whom you can share your ideas and opinions. It is always an advantage to work with like-minded people because you can easily get your ideas and opinions across.
6. It is not just an another typical day in Capgemini
Yes, the above statement is true. It is not just an another typical working day in Capgemini because every day there is a new challenge waiting for you to solve. It is a creative work environment where everything you do has to be in a creative way.
7. Work-life balance
Maintaining a work-life balance will be easy for you if you get to work in Capgemini. The company had sure that the working environment is creative and healthy for the employees. So you can be sure you work in a progressive environment where all your needs are taken care of.
8. Your career growth is guaranteed
Since Capgemini conducts more online training and programs you can be sure that you have steady growth and have a long career. Capgemini is concerned about your personal development so they train you precisely to learn the latest and advanced technologies.
9. You can travel anywhere in the world
Since Capgemini has offices in multiple countries you have more chances to work in any part of the world. If you love to travel, then Capgemini is the right place for you to work.
The Capgemini Salary Structure varies from professionals to professionals and it increases with experience and after gaining high knowledge related to the domain.
10. Your work starts from the first day
In Capgemini, your work starts from the first day even if you are a fresher. You will start to get to work on projects right from day one. This way you gain knowledge right from the start.
Now we shall see the Interview Process of Capgemini and later we can see the Capgemini Freshers Salary.
Capgemini conducts three rounds of interviews for students who want to get selected in the company. They are,
Online Assessment Round
Technical Interview Round
HR Round
1. Online Assessment Round
The Online Assessment round is divided into four parts. Each division tests a student's capability in that particular topic or concept.
Pesudocoding – Pseudocoding is an MCQ round that tests the students' programming knowledge of particular concepts like C, C++, Java, Data Structures, and Object-oriented programming concepts.
Communication Skills – This is also an MCQ round. In this round students' vocabulary and grammar skills are tested from the concepts like Direct and Indirect Speech, Active and Passive Voice, Sentence correction, and completion.
Game-based Aptitude – This is a new concept introduced in the Interview test. The test is based on four gaming concepts like Deductive Logical Thinking, Inductive Logical Thinking, Grid Challenge, and Motion Challenge.
Behavioral Competency – The Behavioural Competency round is also known as the Adaptive Employee Personality Test which is in short ADEPT – 15. This is a work-related behavioral test where questions will be in the format of pair of assertions.
The Capgemini Package for Freshers purely depends on your skills, experience, knowledge, and expertise in technology.
2. Technical Round
If only candidates clear all the rounds they will be called for the technical round. This is a face-to-face round where your problem-solving and reasoning skills are tested. You will be asked about concepts such as OOPS, DBMS, Computer Networks, and Operating Systems. Also, your coding skills are also tested, so you have to be proficient in any one of the programming languages such as C C++, Java, or Python. So all in all, you will be tested on your technical expertise, coding skills, IQ Quotient, and Projects.
3. HR Round
The final round is the HR Round. This round can be attended by those who have cleared the technical round. In this round, the HRs will assess whether you will be the right fit for the role, can you adapt to the work environment, your strengths and weaknesses, etc. Some other basic questions asked during this round are,
Tell me about yourself.
Your expectation of the job role?
Why do you want to work for Capgemini?
Are you interested in relocating to other parts of India?
Eligibility Criteria for Freshers
It is a must that candidates should have all the eligibilities.
Candidates must have scored 60% or above in Graduation or Post Graduation.
The interview can be attended by both BE and B. Tech students.
M.E/M.Tech students should be only from Information Technology, Information Science and Computer Science.
Candidates should not have any backlogs at the time of the interview.
Let us now see the Capgemini Fresher Salary in India and let us explore each job role with the responsibilities and salaries.
Capgemini Salary for Freshers
The Capgemini Freshers Salary is one of the important factors students highly consider working in the company. Now we shall the job roles that are given for Freshers or candidates with one year of work experience.
1. Java Developer
A Java Developer is an IT professional whose main responsibility is to design and develop Java Applications. They are also responsible for performing many tasks from designing, testing, to developing till the Java Software Application is completely developed. Some of the other responsibilities of the Java Developers are,
Design, Deploy and manage Java Application Phases.
Performing software and architectural development activities.
Perform software analysis, coding, testing, and debugging.
Find the application issues.
Change requirements into Stipulations.
Deploy and maintain application software.
Suggest changes to enhance developed Java Application processes.
Create Technical Designs for Application Development.
Create Application code for Java Programs.
Skills needed to become Java Developers
Knowledge of Java Server Pages and Java Servlets
Knowledge of Web Frameworks like Struts and Spring.
Proficiency in Web Servers like SOAP and REST.
Efficient programming skills in HTML, CSS, JavaScript, and JQuery.
Knowing Markup languages like XML and JSON.
Knowledge of OOPs concepts and patterns.
Knowing Abstract Classes and Interfaces.
Knowledge of Constructors and much more.
The Salary of a Java Developer in Capgemini for freshers is around Rs. 2 to 3 lakhs per annum.
To become a Java Developer in Capgemini, join our Java Training in Chennai at FITA Academy and learn the Java Programming Language immersively.
For Bangalore students, we conduct the same level of training for Java through the course Java Training in Bangalore.
2. Python Developer
A Python Developer is the one who creates the server-side of the software applications or mainly works in the back-end of the application. They also incorporate applications with third-party web services and aid front-end developers with application integration.
The Responsibilities of the Python Developers
Teaming up with the Development teams to find the application needs.
Writing precise codes using the Python Programming language.
Finding errors in the applications and getting rid of them.
Connecting user-facing elements using server-side logic.
Analyzing Client feature requests.
Incorporating Data Storage Solutions.
Teaming up with front-end developers.
Creating digital tools to oversee online traffic.
Python Developer Skills
Knowing Python Web Frameworks
Comprehending front-end technologies
Having an Eye for Detail.
Fluent communication skills
Comprehending Code Versioning tools.
Good knowledge of Server-side templating languages.
Solid Testing and Debugging skills.
Knowledge of front-end programming languages like HTML, CSS3, and JavaScript.
The salary of a Python Developer in Capgemini for a Fresher is around Rs. 2 to 3 lakhs per annum.
To become a Python Developer in Capgemini, enroll in the Python Training in Chennai at FITA Academy and learn the programming language to its fullest.
The Capgemini Salary Structure varies from professional to professional and it increases with knowledge, experience, and expertise in technology.
3. Data Analyst
A Data Analyst is responsible for gathering, collecting, and interpreting the data to find meaningful information from them to solve the business needs and problems. He/she might work with other people like Data scientists, Data architects, etc to solve the business needs and problems together.
Responsibilities of a Data Analyst
Evaluating Data using statistical techniques and filing reports.
Creating Databases and Data connection systems.
Getting Data from main sources and managing Data Systems.
Finding, Evaluating, and interpreting trends or patterns in difficult data sets.
Cleansing the Data.
Collaborating with the Management to find business and information needs.
Finding new process improvement opportunities.
Data Analyst Skills
Knowledge of SQL and Microsoft Excel.
Knowledge of Tableau, Python, R, and SAS.
Proficiency in Microsoft PowerPoint, Microsoft SQL Server, Oracle, and Microsoft Power BI.
High-level skill in Data Visualization, Data cleaning, and MATLAB.
Knowledge of Databases like SQL and NoSQL.
Understanding Database Knowledge SQL and NoSQL.
Having Critical Thinking and Communication Skills.
The Salary of a Data Analyst in Capgemini is around Rs. 2 to 3 lakhs per annum.
If you want to become a Data Analyst in Capgemini, choose our Data Science Course in Chennai and master the technology.
The Capgemini Package is high in India and France compared to other countries and companies.
4. AWS Architect
An AWS Architect is responsible for designing, developing, and managing business applications and the cloud infrastructure in the AWS Cloud. They are high-level technical experts who know to develop cloud-based solutions and migrate workloads to the cloud.
The Responsibilities of an AWS Architect are,
Developing optimized cloud environments for the company.
Precisely understanding the business goals of the company and developing cloud-based solutions to satisfy the goals.
Making the cloud environments safe and secure and eliminating security breaches.
Finding the risks in the third-party platforms and frameworks.
Finding the ways to enhance operations of the company to digitize the tasks.
Exchanging Data and Internal Processes into Cloud Architecture.
Make sure there are no data leakages and data breaches.
Communicate with Sales Team, OPerations team, and IT Team often.
AWS Architect Skills
Strong Coding Skills in Java, Python, and C#.
Knowledge of Data Storage Fundamentals.
Proficiency in Networking.
Understanding Security Foundations.
Understanding Cloud Specific Patterns and Technologies.
Knowing AWS Service Selection, DevOps and Containers.
The salary of an AWS Architect in Capgemini for a Fresher is around Rs. 3 to 4 lakhs per annum.
If you want to become an AWS Artcihect in Capgemini you can choose the AWS Training in Chennai at FITA Academy and learn broadly about the AWS Cloud Computing Services.
Conclusion
So we have seen in detail the Capgemini Salary for Freshers through this blog. There are more job roles available in Capgemini that you can explore and understand its responsibilities and salary package precisely. The Capgemini Package for Freshers also varies according to the job roles and experience. So the Capgemini Freshers Salary highly depends on your skills, expertise, knowledge, and proficiency in technology.