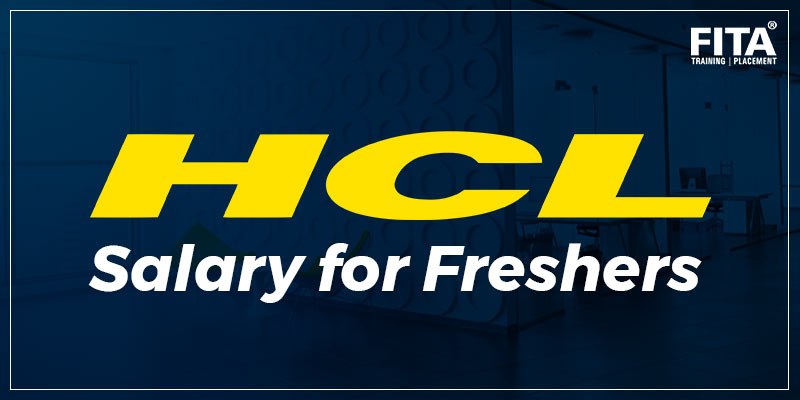 HCL is a leading multinational company providing numerous opportunities for freshers who are looking for a good HCL salary for freshers. The company has acquired Starshema which has been revolutionizing the data engineering services in Hungary. HCL has increased wider opportunities after the strategic acquisition of Starshema and has been serving more than 2000 companies worldwide. HCL empowers global technologies across the world and transforms next-generation business solutions. So, we will discuss in brief the job vacancies, procedures to apply, and appropriate salary package in this article.
Who can Apply for HCL Technologies?
Candidates with creative and strategic capabilities, specifically graphic and art developers, are encouraged to apply. In addition, entrants interested in a digital career working with multimedia products and services may register to HCL Technologies. In complement to passion and enthusiasm, aspirants must possess relevant skills from all HCL products and services to optimize their chances of getting the job.
How to Apply for HCL Technologies?
Applicants aspiring to join HCL Technologies with an excellent HCL fresher salary can apply for various roles through their recruitment process page. The Candidate can apply for HCL Technologies through two modes of application. They are
Online Mode – HCl aspirants, can go to the recruitment process page at their official site, followed by registration and application submission. Compliance requires the attachment of necessary documents.
Offline Mode – For the Offline recruitment process, the candidate must possess a 10th and 12th-grade mark sheet, an updated resume, passport size photographs, and any government-issued identification proofs.
After successful submission, the applicant undergoes four stages of selection and interview process. They are as follows.
Application Shortlist – In this phase, a technical chair from HCL will screen the candidate's application. If the candidate's credentials match with any of the job roles applied, the recruiter will contact the shortlisted candidates for further information and a second phase interview.
Technical Interview Round – This is the perfect phase of the interview round for entrants to show their potentiality and technical capability to the technical panel. This round consists of puzzles, mathematical problems, and other related questionnaires.
Human-Resources Interview Round – This interview round enables freshers and HCL recruiters to know each other. In this phase, the HR recruiter will test the candidate's career goals, basic skills, capabilities, passion, and other skills. In the same way, the applicant can ask any relevant questions to HR concerning their positions.
Offer Roll-out – This is the final stage of the application; if any candidate gets selected, an offer letter is rolled-out to selected freshers with a good HCL freshers salary.
Eligibility/Qualification Criteria for HCL Jobs
Applicants who have pursued full-time courses will be only considered for HCL Recruitment. Regret for the entrants who have done their part-time graduation and are not eligible to apply. Here are the following criteria for HCL Placement.
Entrants with a degree from B.E or B.Tech from specialized areas of CSE, IT, ECE, EEE, and EI.
For 2022 Recruitment, applicants who have graduated between 2020 & 2021 are eligible.
Freshers with UG or PG degrees in computer science, information technology, mathematics, electronics, and statistics can also apply for eligible roles.
In addition to the academic degree, the applicant must possess 60% of aggregate marks throughout their 10th, 12th grade, undergraduate, and post-graduation. Further, for off-campus recruitment, the candidate needs to have more than 65% of aggregate marks in all subjects of their academic career.
The applicant should not possess any kind of backlogs at the time of interview appearance.
Learn and make yourself eligible for HCL Technologies through leading IT courses such as Python Training in Bangalore at FITA Academy.
Significant Policies to Follow Before Appearing for HCL Recruitment
The applicant must follow specific policies beforehand to appear for HCL Interview with a good HCL starting salary for freshers. Violation of these policies may lead to application rejection or loss of interview. Some of the significant policies were
The applicant should not have attended any kind of HCL Interview within the past six months.
Rejected applicants are ineligible to apply again for the next six months.
If shortlisted candidates have missed attending the HR interview, they have the right to apply again for another opportunity of an interview.
If any of the applications get rejected for some reason, then the candidate is ineligible to apply for the HCL recruitment lifetime.
Supplementary Criteria for Freshers to Increase their chances of HCL Placement
HCL Technologies seeks to hire younger workers with good interpersonal qualities, problem-solving abilities, analytical intelligence, cognitive attributes, excellent administration, effective communication, and basic coding or computing skills are all mandatory. Similarly, candidates with work hours who are diligent, creative, intelligent, enthusiastic, and versatile are more likely to get hired.
Add supplementary skills and qualifications to your resume through learning Artificial Intelligence Course in Bangalore at FITA Academy.
List of HCL Company Salary Structure
The HCL freshers package varies for different roles, but somehow we have presented some salary approximations for freshers below (refer-chart).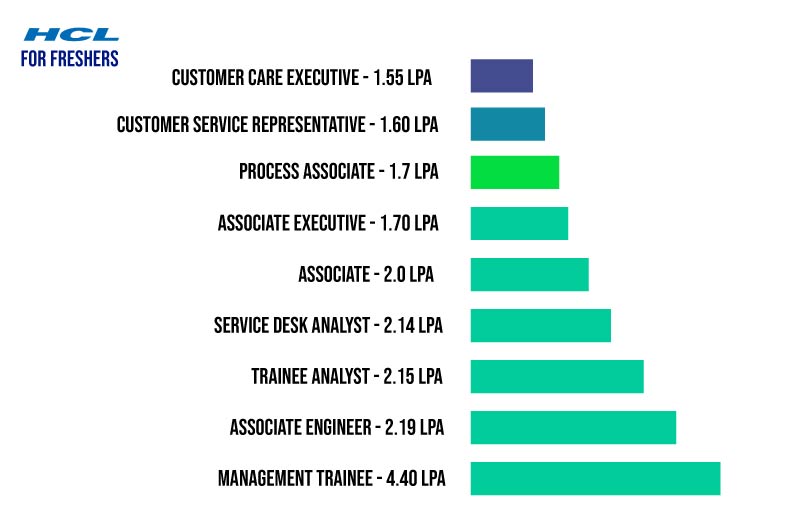 Increase your chances of getting more salary increment with additional qualification and through learning Full Stack Developer Course in Bangalore at FITA Academy.
Basic Skills, Vital Roles and Responsibilities of Job Roles
Customer Care Executive
HCL Technologies looks for a socio-interactive candidate for the post of Customer Care Executive with a suitable HCL technologies salary for freshers. For this role, the applicant must hold specific skills. The skills include conflict resolution, excellent interpersonal skills, multi-tasking, problem-solving, and good communication and relationship building skills. As a customer care support, they need to do the following tasks
Perform customer satisfaction surveys to determine the aspects of the company's services.
Improve the quality of routine client phone inquiries
Develop optimized email, social, and media communication ways
Dealing with Client complaints and affording the most superficial answers
Manage Client's order, payment, and delivery
Assist consumers in the selection of cost-effective products
Address consumer comments and complaints at the earliest
Intimate consumers of their impending sales and promotions
Establish a good relationship between consumers and clients
Create reports based on client satisfaction data and enhance their new abilities
Considering customer's availability during appointment scheduling
Affording a pleasant and memorable customer care experience.
Customer Service Representative
Customer Service Representative requires basic fundamental interpersonal skills such as serving customers calmly, being comfortable with computer usage, and any relevant work experience with customer support. The applicant needs to have a diploma or degree in any discipline. As a customer service representative, they need to fulfill the following tasks and responsibilities
Maintain a cheerful, compassionate, and professional approach towards customers.
Respond to the Client's inquiries at the earliest
Utilizing numerous techniques to communicate with customers
Detect and Resolve Client's complaints
Process orders, paper works, and applications requests
Record customer contacts, complaints, purchases, and feedbacks
Communicate and Collaborate with co-workers
Provide comments to customer service process and efficiency
Mentor Junior and other customer care representatives
Ensure customer satisfaction with excellent customer care & services.
Associate Executive
Freshers seeking to associate executive roles with a promising HCL technologies salary for freshers must have a bachelor's degree in arts with a minimal experience of 2-3 years. Besides, the applicant must possess strong interpersonal and communication skills; record maintenance, and basic knowledge of computers. As associative executives, they have the following key roles and responsibilities.
Maintaining records of people in the company or organization
Communicating with clients, people for activeness of the organization
Undertaking orders for the perfection of product sales and services
Working with Microsoft Word, Excel, Powerpoint, and other platforms
Process Associate
Applicants who aspire to join as process associate with HCL freshers package must possess the following skills: auditing, background verification, bonds, capital market, corporate actions, finance, fixed income, futures, mutual funds, options, and swaps. As a Process Associate, they have the following responsibilities to fulfill
Gather and Analyse the data for process delays, barriers, and weaknesses.
Mentoring for the enhancement of production, rates, and reduced cost.
Processing the orders of clients.
Maintaining and Servicing the equipment set for products.
Reporting quality assurance for flaws in production.
Ensure production quality and safety regulations.
Ensure the clearance of production areas without any obstacles.
Create reports on the production process.
Associate
HCL expects their fresh graduates seeking this role must have the following skills: excellent communication and interpersonal skills, CRM, POS software, knowledge on products, enthusiasts in company products, and miscellaneous. As an associate, they have the following key roles and responsibilities to accomplish
Welcoming customers for the introduction of products and services
Responding to questions asked by customers
Enhancing engagement with merchandise and customer service
Manage cash registers, financial transactions, and cash drawers
Accomplishing established goals
Guiding and redirecting customers to the retail store
Making promotional events and opportunities for customers
Cross-selling products for the enhancement of purchase amounts.
Service Desk Analyst
Freshers aspiring for good and excellent HCL technologies salary freshers can apply for this post since this post is from a technical background. All the necessary skills are fundamentally required to complete the assigned task. The company has been providing free training services for their freshers. As service desk analysts, they also have the following roles and responsibilities.
Systematically interprets user issues, identifying remedies and potential adverse effects.
Resolving issues and problems associated with database
Escalating complex and unresolved issues
Keeping track of record from the end-to-end perspective
Finding numerous methodologies for resolving issues concerned with service interruptions, ensuring compliance with SLA, and information security systems
Assigning unresolved calls at the earliest
Maintain the standard of records, process, and inform other users
Trainee Analyst
Freshers looking for any internship are advised to go for Trainee Analyst at HCL on excellent compensation and HCL company salary for freshers. HCL demands their applicants to have either bachelor's or master's degree in computer science or any relevant degree with programming skills from Java, Python, Selenium, and so on. As a trainee analysts, they have the following significant tasks and duties
Evaluate training programs for the organisation
Ensure training needs and the demand to fulfill it
Analyze existing programs and modify them with codes as per the client's needs
Gain knowledge and experience in the workforce at HCL
Collaborate with Seniors and other expertise professionals
Enhance your skillset by learning Data Science Course in Chennai with FITA Academy.
Associate Engineer
Associate Engineer at HCL Technologies requires strong analytical and problem-solving skills, excellent verbal, written, and communication skills, expertise in software engineering and software products. During their working hours, they need to accomplish the following key roles and responsibilities
Applying technical methods to mechanical assembly
Carrying out spreadsheet and document related functions
Verification and Validation of Engineering design and simulation
Inspecting the material's protective coating and its reliability
Utilizing the automation control algorithms for machines
Management Trainee
HCL Technologies seeking management trainees who are looking for a good HCL starting salary for freshers. The company expects the entrants to have the following skills: information; interpersonal and leadership skills; reliable and problem-solving skills; organizational and communication skills; presentation and analytical skills; proficiency in word, spreadsheet, and presentation; effective in time management; and willingness to travel. As management trainees, they have certain responsibilities to fulfill
Evaluating and monitoring the work performance and growth of others
Collaborating with managers to plan the work output for the organisation
Assisting in the development and implementation of policies, performance targets, and objectives
Working in various areas of the company, such as people, merchandising, buying, customer service, sales, and marketing, to gain expertise and perspective.
completing classroom training in a variety of areas about their department rotation
The applicant must take and pass examinations and assessments to continue the program.
Attending seminars and conferences that will help them advance in their careers.
Observing disciplinary hearings and researching effective conflict resolution
Making oral presentations and projects
Interviewing, recruiting, and then onboarding/training new workers are all components of the employment process that the applicant can participate in.
Improve the handling procedure and business strategy of HCL through learning Digital Marketing Courses in Bangalore at FITA Academy.
Employment Benefits for Freshers at HCL Technologies
Work From Home Opportunity – HCL offers work-from-home opportunities based on the employee's convenience. It led a path to the emerging workforce with several men and women worldwide. It also aids in maintaining an outstanding work-life balance.
Excursion Trips – In order to keep the employee engaged with their assigned works and tasks. HCL provides excursion trips over a particular period.
Healthcare and Life Insurances: HCL Technologies affords numerous insurance schemes to their employees; it includes healthcare, life insurance, vehicle insurance, and other relevant policies. It ensures the job and life security of their employees.
Vocational Trips and Vacation Leaves: HCL allows their employees to take paid-off leaves during any kind of vacation or vacation trip. It also offers financial support for international tourism with the employee's family.
HCL Fresher Salary with Stunning Bonus: HCL increments their employee's salaries for their high performance. In addition, it gives additional bonuses during festive occasions and other ceremonial occasions or festivals.
Cafeteria for Refreshments: All the employees at HCl are gifted with refreshment hotspots or a cafeteria. It provides a wide range of foods, snacks, and hot & cold beverages.
Complimentary Travel Assurance: HCL affords bus or cab facilities for all the remote employees to travel from home to the work location and vice versa. The travel fee is completely free.
Education Assistance and Support – HCL Technologies favours both employees' and their children's education through financial assistance and sponsorships.
Childcare Spots for Engagement: HCL affords free childcare centres for their employees' children. It aids their employees to manage home life and work balances.
Complimentary Food: Employees at HCL Technologies do receive free meals and other food items at their workspaces onsite.
Global Relocation and Overseas Transportation: HCL has international offices worldwide. So, an employee seeking to have the international opportunity can make their own decision to migrate and relocate to any of the HCL's offices across any country. Avail all the international opportunities from HCL through enrolling and cracking IELTS Coaching in Chennai at FITA Academy.
Global Industries Served Through HCl Technologies
Freshers seeking job roles at reasonable compensation and an excellent hcl starting salary for freshers can work and serve in any industry. Here is the list of industries served through HCL Technologies.
Aerospace and Defence for national and international security
Automotive Industries for transportation and logistics
Financial and Banking Management in both government and private banks
Capital markets. Captive business and chemical services
Consumer goods, energy utilities, and energy transmission services
Healthcare and management
Hi-Tech industries and Industrial manufacturing
Insurance and Life sciences
Commercial media, broadcasting, and entertainment services
Oil and natural gas mining, resources, and services
Public sector and retail management
Travel, Transport, Logistics, and Hospitality Services
Telecommunication and networks
Products and Services from HCL Technologies
Research & Development with Engineering Services – Several services include product engineering, platform engineering, operational technology services, next-generation engineering, and industry verticals.
Business and Information Technology Services – Itdeals with the foundation of digital business and related operations.
Strategic Ecosystems – Its services include strategic alliance partner ecosystem, start-ups, industries, and HCL cloud services.
Products and Platforms – It is associated with software and its related services. The services include HCL software, industry software, DRYiCE, hybrid cloud data platform, banking transformation platforms, and Nippon-workforce analytics solution.
HCL Strategy of Success – HCL follows its 1-2-3 mode of business strategy, and it stands as the key to success. The series of modes start from existing code services, accelerating new services, and building new and re-imaging mature products and platforms.
Synopsis on Freshers Benefits at HCL Technologies
Newly graduated students or Freshers seeking an IT career are advised to look for various roles and opportunities at HCL technologies; herein, we summarise the employment and freshers' benefit at HCL
An adaptive work environment with an excellent work-life balance
Satisfactory HCL package for freshers from 1.53 to 4.93 Lakhs Per Annum
Golden Life Insurances and Employment benefits
Complimentary food and transportation services
Opportunities for International relocation and family trips
Experience with global ranks and recognizable designation
Creates numerous demands and opportunities for career prospects
An optimistic place to begin a new featured IT career.
Since the foundation of HCL Technologies Private Limited in India, it has opened a wide range of employment and career opportunities for youngsters and professionals. HCL, along with its global network, research and development laboratories, co-innovation labs, has served more than 197K Ideapreneurs across fifty-second countries worldwide. Besides, the company holds a remarkable position in Fortune 500 and 650 of Global 2000. Therefore, freshers or fresh graduates seeking an outstanding career at HCL Technologies with a good and acceptable HCL company salary for freshers can go and explore the recruitment page of HCL.
Learn and enhance your knowledge base with various IT courses across FITA Academy Centres, enroll for AWS Training in Chennai at FITA Academy.
Frequently Asked Questions
1) What is the salary range of freshers at HCL technologies?
The HCL technologies salary for freshers ranges from 1.53 LPA for Customer Care Executive to 4.93 LPA for Management Trainee.
2) Which company is better: HCL or Infosys?
HCL Technologies is rated higher for work and life balance than Infosys. Further, the compensation benefits of HCL is also higher than Infosys. Therefore, HCL is better than Infosys.
3) Does HCL Technologies provide a hike in salary and promotion?
HCL Technologies is suitable for freshers with an optimal salary package. However, the time for salary increment and designation promotion takes a bit longer than in other IT sectors.
4) What is the maximum probation period in HCL?
The probation period of HCL usually varies from 1.5-2 months.
5) Who are the major clients of HCL?
HCL Technologies have attracted the attention of top leading global companies such as Merck, Autodesk, The Boeing Company, Global Pharmaceutical Company, and Miscellaneous.