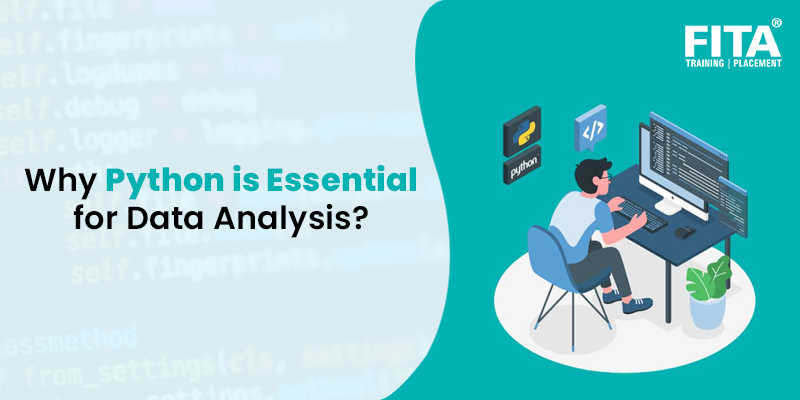 Data plays a pivotal role in the operations of any enterprise or business, as its effective collection, processing, and analysis are crucial for deriving valuable insights that inform strategic decision-making.
In today's business landscape, the data analysis industry is experiencing rapid growth. However, the sheer volume of data can pose significant challenges in terms of managing and processing it efficiently.
Python has emerged as a preferred programming language for scientific computing, largely owing to its extensive array of data-centric libraries and tools. These resources not only expedite data processing but also simplify complex tasks, ultimately saving precious time. Join FITA Academy for Python Training in Chennai and start your journey in the field of programming with the best!
This article aims to delve into the distinctive attributes of the Python programming language that render it an optimal choice for data analysis, shedding light on its superiority in this domain.
What is Python?
Python stands out as a prevalent programming language within the sphere of scientific computing. Its rich repository of data-centric libraries and tools significantly expedites and streamlines the data processing workflow, ultimately leading to substantial time savings.
This article will delve into the distinctive attributes of the Python programming language, shedding light on why it proves to be a superior choice for conducting data analysis.
Python, at its core, is a high-level programming language with an object-oriented design. It stands out due to its inherent features, including built-in data structures and dynamic typing, which eliminates the need to explicitly declare variable types as is required in languages like C or Java. These characteristics make Python exceptionally well-suited for various applications, including both software development and scripting tasks.
One of Python's distinguishing attributes is its straightforward syntax, which places a strong emphasis on code readability. This emphasis on clarity not only enhances the ease of writing code but also simplifies the process of maintaining and updating programs.
Python is a strong programming language with several applications, spanning from software development to web development and scriptwriting. It differs from languages like HTML, CSS, and JavaScript, which are primarily used for web-related tasks.
What is Data Analysis?
Data analysis is the systematic process of taking raw data and transforming it into information that is meaningful and actionable for users. This involves a series of steps, including data inspection, cleaning, transformation, and modeling, all aimed at revealing valuable insights, drawing informed conclusions, and facilitating decision-making.
In the contemporary business landscape, data analysis holds a pivotal role in making informed, evidence-based decisions and enhancing the operational efficiency of organizations.
Data mining represents a specialized branch of data analysis that places emphasis on statistical modeling and the exploration of information for predictive purposes, rather than merely providing descriptive statistics.
Meanwhile, business intelligence encompasses a subset of data analysis, with a strong focus on aggregating and analyzing data specifically for the purpose of improving business information and decision-making processes, ultimately aimed at increasing profitability.
Learn Python Training in Pune and start your journey in the field of ML/AI
Who is a Data Analyst?
Data analysts are responsible for the interpretation of data, utilizing statistical methodologies to analyze findings, and generating routine reports. Their duties encompass the strategizing and execution of data evaluations, as well as the implementation of data collection procedures, along with the application of statistical rigor and quality enhancement methodologies. Additionally, they oversee data processing and the administration of databases sourced both from primary and secondary outlets.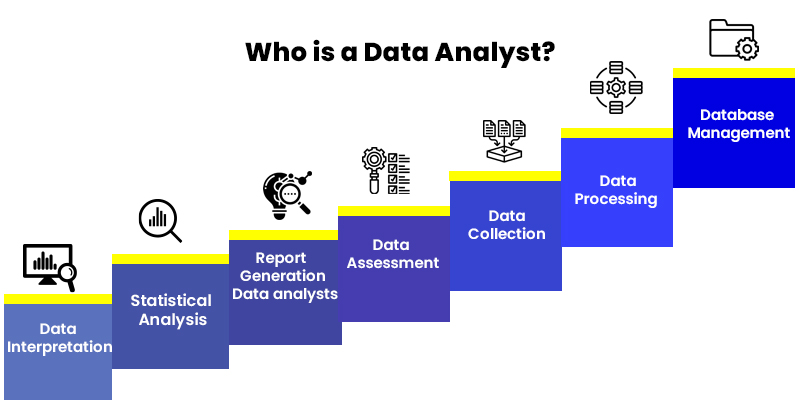 Data Interpretation
Data analysts are tasked with interpreting data, understanding its significance, and extracting meaningful insights from it.
Statistical Analysis
They employ various statistical techniques to examine data and make judgements in light of their findings.
Report Generation Data analysts
It generate regular reports summarizing their analyses and findings. These reports often provide valuable information for decision-makers within an organization.
Data Assessment
They plan and execute data assessments, ensuring that data collection processes are well-designed, reliable, and maintain data quality standards.
Data Collection
Data analysts are involved in the collection of data, both from primary and secondary sources. They may also be responsible for ensuring the accuracy and completeness of the data they collect.
Data Processing
They handle data processing tasks, which involve cleaning, transforming, and organizing data for analysis. This step is crucial for obtaining accurate and meaningful results.
Database Management
Data analysts often work with databases to store and manage data efficiently. They ensure data is accessible and organized for analysis.
In essence, data analysts play a vital role in an organization by making data understandable and actionable, which in turn aids decision-making processes.
Enrol Big Data Analytics Courses in Chennai and learn from the professionals with the help of real time projects
Why is Python such a great choice for data analysis?
Python is a versatile and highly interpreted programming language known for its myriad advantages, frequently harnessed to facilitate the handling of vast and intricate datasets. Python boasts a range of distinctive attributes that establish it as the foremost choice for conducting data analysis in data science.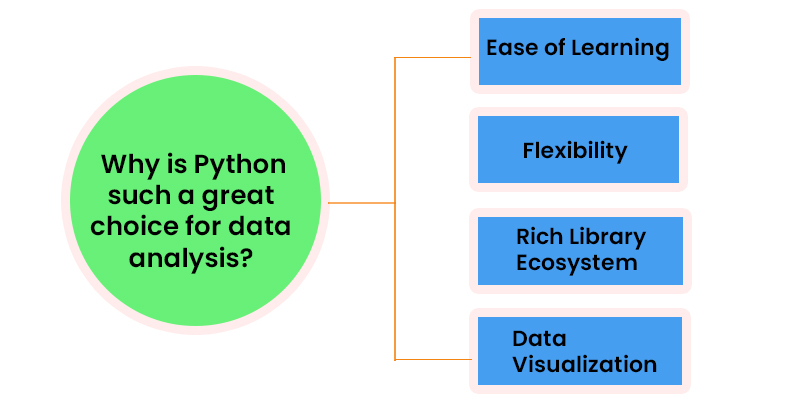 Ease of Learning
Python is known for its simplicity and readability. Its straightforward syntax allows data analysts and scientists, even those new to programming, to quickly create effective solutions for complex data scenarios with just a few lines of code.
Flexibility
Python's extreme versatility makes it a favorite among data professionals. It can be used for tasks ranging from data modeling and dataset organization to the development of machine learning algorithms, web services, and data mining, all within a short timeframe.
Rich Library Ecosystem
Python boasts a vast collection of open-source libraries that are freely available. Data analysts and scientists commonly use python libraries like Pandas, SciPy, StatsModels, and more, which are widely adopted in the data science community. This expansive library ecosystem continually evolves to provide robust solutions.
Data Visualization
Python offers a wide array of visualization options, recognizing that visual data representation is more accessible and memorable. Data analysts can create various charts, graphics, and interactive plots to enhance data accessibility and interpretation.
Built-in Data Analytics Tools
Python incorporates built-in analytics tools, enhancing its suitability for complex data processing. These tools facilitate pattern recognition, data correlation in extensive datasets, and provide valuable insights, which are essential for assessing performance and making informed decisions.
 Python's simplicity, flexibility, extensive library support, data visualization capabilities, and built-in analytics tools make it an exceptional choice for data analysis, making it a go-to language for data scientists and analysts.
The competitive edge of any company hinges on its capacity to extract valuable information and insights from data, thus facilitating sound strategic decision-making and influencing its overall performance.
Python, being a globally acknowledged programming language, serves as a potent tool for optimizing data management for several compelling reasons.
Python enjoys international prominence as the preferred language for data analysts and data scientists, primarily attributable to its comprehensive array of graphical features and visualization tools that enhance data accessibility. Join FITA Academy for Big Data Analytics Courses in Bangalore and understand data analytics and its techniques.
Moreover, Python continues to advance, growing in strength, features, and versatility, thereby consistently fortifying its position as a dominant force in the realm of data management and analysis.