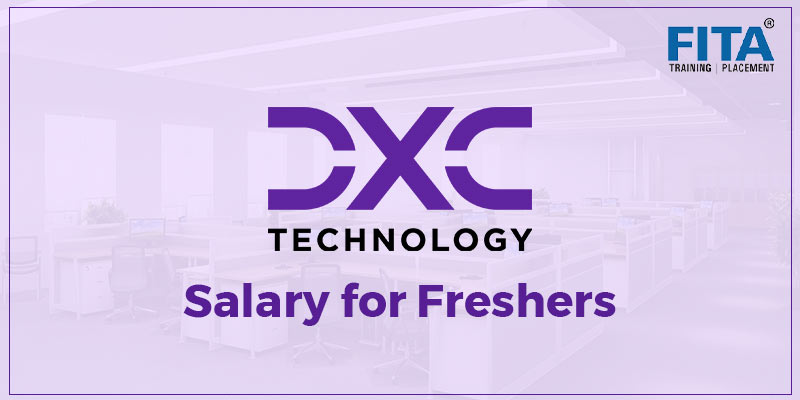 DXC Technology is a leading IT firm and a global Fortune 500 company. Customers of this company entrust their 150,000+ people in 70+ countries worldwide to deliver the most significant and demanding digital services. It utilises emerging technologies to provide mission-critical IT services across the Enterprise. The services and supports are to stack and drive the business impact. Besides, DXC Tech is looking for IT enthusiasts who can move their IT business solutions into a new era of next-generation technologies. In this article, we will lead freshers looking for the most excellent opportunities and job postings at DXC Technologies with a good dxc technology salary for freshers.
Who can apply for DXC Technologies?
Entrants are encouraged to apply for various roles at DXC Technologies. The candidate should have a strong desire to drive business solutions and digital technology services. Aside from passion, DXC Technologies advances its IT services to empower technologies through hiring qualified individuals and employing the correct tools. As a result, the candidate must be talented and well-versed in digitalization tools and technologies. If entrants meet these requirements, they can proceed to the application phase and search for job openings on the DXC Technologies Career Page.
Procedure to Apply and Enter DXC Tech.
Freshers can apply for various job postings at DXC Tech through two modes. They are as follows
1. Online Mode
DXC aspirants looking for various posts can apply through their official sites. The four simplest ways to apply are as follows
Log in to the official page of DXC at dxc.com.
Explore and Check out the "Careers" Page.
Search for various roles and go for "Apply".
Or Upload your Resume to the Careers Page.
2. Offline Mode
Apart from online mode applications, DXC drives their training and placement cell into Job Fairs, Colleges, and Universities. So, candidates can approach their nearby centers for an offline mode of application and get interviewed. DXC is gonna hire freshers for the 2022 to 2023 batch through its placement centers across Chennai, Bangalore, Hyderabad, Pune, Mumbai, Noida, Delhi, Gurgaon, Kolkata, and other metropolitan cities.
Qualification Criteria for various roles at DXC Technologies.
Entrants/Candidates with professional degrees, B.E., B.Tech., MCA., MBA., M.E., M.Tech., or any PG degree are eligible to apply for dxc salary for freshers. In addition, the candidate needs to have 60% of aggregate marks in all subjects of their UG, PG without any backlogs.
Earn additional qualification criteria for getting placed into DXC through learning Python Training in Chennai at FITA Academy.
Interview Assessment and Selection Procedure
DXC aspirants applying for various roles have three phases of interviews. They are as follows.
Phase-I: Technical Written Exam – In this phase, candidates will be asked from aptitude, logical reasoning, computer programming, debugging codes-based questions. Further, they need to write an essay.
Phase-II: Technical Interview- In this phase, DXC experts will take a direct interview with entrants. All the interview questions are from the written exams or tests.
Phase-III: HR Interview – Finally, after the written and technical round interview, the professionals from the human-resources team will test the ability and potentiality of candidates. Once the entrants clear this final round interview, they will get onboarded as DXC employees.
Through all these interview phases, the HR and other DXC experts will assess the ability and skills such as programming, knowledge of IT, excellent verbal and communication skills, and management skills. So, candidates are encouraged and recommended to prepare and be comfortable during the interview process. This is an excellent opportunity with a dxc technology package for freshers.
Additional Criteria for Freshers to Increase the probability of Getting Placed
Fresh graduates/candidates with strong interpersonal skills have the best possible chance of being hired by DXC Technologies. Problem-solving, analytical thinking, problem analysis, solid presentation and communication capabilities, and basic programming or coding skills are all required. Additionally, candidates who are diligent, innovative, efficient, enthusiastic, and adaptable with work hours are much more likely to be recruited.
Show your uniqueness among job applicants with an additional leading course Artificial Intelligence Course in Chennai at FITA Academy.
DXC Technologies Salary Structure
Here is the list of various roles for freshers at DXC technologies. These roles require hands-on experience from 0-3 Years. However, the DXC technology fresher salary varies for different roles, but some approximations can be found in the below chart.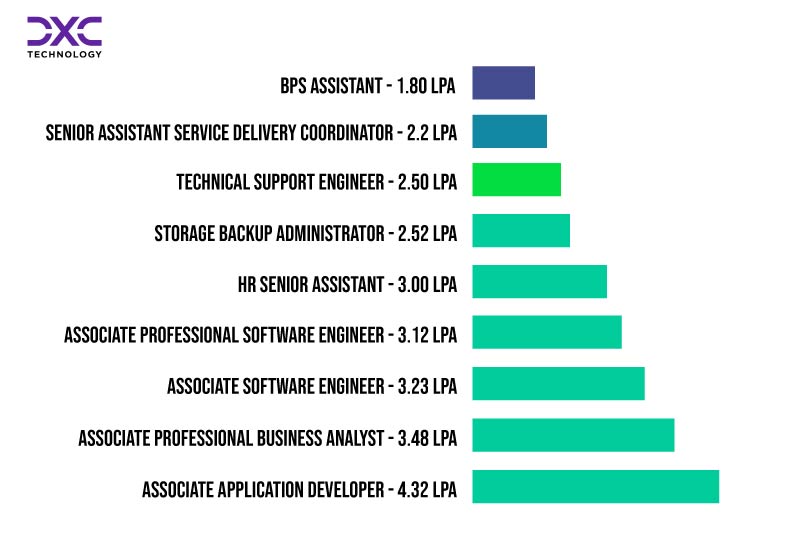 Basic Required Skills, Key Roles, and Responsibilities of Various Posts at DXC Technologies
BPS Assistant
DXC looks for candidates with a UG degree in commerce and relevant experience. Then, they are looking for entrants with good verbal, written, and communication skills with analytic thoughts and problem-solving desires. Besides, they need to be flexible today and night work hours. From a computer knowledge perspective, the candidate must have relevant experience in Microsoft Office, Typing, and Email management. Applicants are encouraged to apply for this position as well. During their onboarding period, they have the following key roles and responsibilities
Managing Life and P&C Insurances and other relevant Policies
Everyday Tasks on Recruiting Process and Quality Management
Develop knowledge on business with external clients with a vital objective.
Handling of firm's confidential data, policies, and other guidelines.
Making tough decisions in critical circumstances and balancing the company's sustenance.
Senior Assistant Service Delivery Coordinator
Applicants looking for this post must have a high-school diploma or relevant G.E.D. qualifications. In addition, they need to have administrative experience with technology, products, and operating systems. As a Senior Assistant Service delivery Coordinator, they have the following crucial roles and responsibilities
Managing routine activities in the area of business solutions and accountants.
Provide support in the management of data, database, and statistical reports.
Reporting service problems and ensuring problem-less workspace.
Gathering and Entering quality assurance information for best client services for business improvement.
Technical Support Engineer
Freshers seeking technical support engineers are expected to have work experience in software, hardware, and other systems. Interest in working with IT Projects and development, ability to work in a collaborative team, and consulting with global clients. As a techie, they have various vital roles and responsibilities listed below
Accept customer issues and restore the problems
Analyze, detect, troubleshoot, and get solutions to resolve all technical issues
Follow a standard procedure to take proper escalation of the unfixed issues.
Afford prompt and accurate feedback to clients
Making timely and accurate reports of troubleshooting
Follow SLA Guidelines for Issues
Storage Backup Administrator
Entrants must have UG Degree in computer science with expertise in skills such as IAT, NFS, CIFS, ISCSI, SRDF, UNIX, NDMP, GPUS, . NET, DOD, IAT-Level-II, Linux, and Other Operating Systems. Also capability in determining root cause analysis, running hardware upgrades, scripting, consulting, middleware, mainframes, firmware, Vcenter, OS (Various Operating Systems), and other management skills. A Storage Backup Administrator has the following vital roles and key responsibilities.
Management of Storage, Receipt, Issuance, and Delivery of Materials
Performing property maintenance with global clients and vendors
Provide Tech Assist in finding storage spaces for data storage and other applications.
Quick respond to all hardware and software issues and problems
Build relationships with the management of logistics counterparts within internal and external organizations.
Handling of demanding, multiple, and complex projects with good results
Answering phone calls during work hours or working with computers
Provide support through e-learning, execution, and parking orbits.
Troubleshooting gate system
Auditing Services
Associate Professional Software Engineer
DXC prefers the following skills for the role of Associate Professional Software Engineer: analytical, problem-solving, design, software testing, and creative skills. In addition, more vital interpersonal and communication skills with the potentiality to work with a group or team members. Primarily, graduates from CS, IT, ECE, EEE are eligible to apply for dxc salary for freshers. During their role, they have the following key roles and responsibilities to fulfill
Perform modeling, analysis, and simulations in computer systems.
The performance should meet the clients' requirements for improved business solutions.
Input support for documentation of software programs and other relevant hardware systems
Participating in designing, developing, analyzing, and troubleshooting software programs to operate within hardware systems.
Providing support to modify or customize default applications based on the client's needs.
Maintaining program libraries, research docs, and manuals.
Reporting the feedback and the status of software and hardware applications
The ability for collaborative work under the guidance of seniors for better software solutions.
Become a software engineer through enrolling and learning Software Testing Course in Chennai at FITA Academy.
Associate Software Engineer
DXC prefers analytical, problem-solving, design, software testing, and technical abilities for the post of Associate Professional Software Engineer. Furthermore, more essential interpersonal and communication abilities and the ability to work with a group or team. Graduates in CS, IT, ECE, and EEE are the most likely candidates for dxc salary for freshers. They must fulfill the following main tasks and duties during their tenure in this post.
In computer systems, they need to do modeling, analysis, and simulations.
The performance should match the clients' needs in terms of better business solutions.
Documentation support for software applications and other necessary hardware systems
Participating in the design, development, analysis, and debugging of software programs that run on hardware.
Assisting in modifying or customizing default apps to meet the customer's demands.
Keeping track of software libraries, research documents, and user manuals.
Feedback and the status of software and hardware applications are reported to the admin.
The capacity to work collaboratively under the supervision of seniors to develop superior software solutions.
Learn advanced software courses for senior positions at DXC through learning Dot Net Training in Chennai at FITA Academy.
HR Senior Assistant
DXC wants their H.R. to have a minimum qualification of a high school diploma or a G.E.D. Apart from that, the applicant must have two or more years of experience in human resources with relevant knowledge on human resource principles, procedures, practices, and digital marketing. Besides, they need minimal expertise in legal or corporate employment-related policies and H.R.S. (Human-resources Information Systems). The H.R. is responsible for the following roles and responsibilities.
Afford everyday clerical and administrative support to human-resources employees. The support areas include filing & organizing resumes and job applications.
Assist in filing personal documents, action forms, and offers with accuracy and verification.
Registering new information of a new employee in the H.R.S. System
Collect essential documents from the employee before hiring
Assist company's managers for administrative support and communication benefits
Assist recruitment and other related activities.
Associate Professional Business Analyst
The applicant looking forward to joining as an Associate Professional Business Analyst needs a bachelor's degree with expertise in business administration, IT, information systems, and other relevant experience in management. This post is an excellent opportunity for entrants looking for a good dxc technology salary for freshers. In addition to this, the candidate must have minimal experience or knowledge in IT interface, functional groups with firms, processing business, re-engineering business, and fundamental coding skills of primary languages. As an associate professional business analysts, they have the following key roles and responsibilities to fulfill
Designing and Planning Business Processes
Interpreting recommendations to improve business solutions
Providing assistance in analyzing a document and documenting strategies for clients' business
Making conceptual data models data dictionaries for a better understanding of business management.
Providing assistance in creating essential testing tools for the verification and validation of data incorporated into the system.
Aiding clients to modify their system requirements and applications.
Actively participating in group meetings to acquire knowledge on potential solutions for documentation.
Executing test operations for systems and helps in analyzing the results
Participating in technical reviews and inspections to acquire more knowledge of business models.
Improve the business strategy as an Associate Professional Business Analyst through enrolling in Digital Marketing Courses in Bangalore at FITA Academy.
Associate Application Developer
Entrants need to complete their graduation in CS, IT, EEE, ECE before applying. In addition, the candidate must possess programming, hardware, software, operating systems, programming database, analytical, interpersonal, verbal & communication skills, and the potential to work in a collaborative environment. As an associate application developer at the fresher level, they have the following key roles and responsibilities
Testing of codes, documents, and applications
Implementing programs and other applicable codes.
Provide technical support to the end-users
Peer-Review participation
Assist in test and programming plans.
Review, Analyse, Modify and Develop Existing Applications
Employment Benefits for Freshers at DXC Technologies
Work from Anywhere – DXC is one of the I.T. companies to provide the Work from Anywhere (WFA) option. It created a new age of fresh ideas, possibilities, and a distinctive workforce. The organization has successfully introduced a work-from-home approach to help employees maintain a healthy work-life balance.
Vocational Excursions – To keep DXC's employees interested and active, the firm provides vocational trips and team activities over a certain period of time. It supports mental and psychological health under balance because the I.T. Industry has a powerful effect on mental stress and physical health due to workloads.
Reliable Life as well as Health Insurance – The corporation also provides its employee's life and health insurance. It pays for medical bills, treatment, pharmaceuticals, and the inevitable deaths that occur as a consequence of tragedies.
Vacation and Vocational Trips – DXC grants their employees paid-off leaves and vacation trips. Their monthly payments won't get affected during this break as the company is filled with numerous benefits.
Stunning Bonuses with Salary Packages – DXC provides financial rewards and salary increments based on the motivation and performance of employees. In addition, during the fest and other ceremonial occasions, the company offers extra bonuses.
Refreshment Hotspots – During business hours, employees can have refreshments from the restaurant, including a variety of cool drinks and snacks.
Complimentary Transportation System – DXC offers a subsidized transportation system from neighboring areas, helping employees to move freely between their homes and workplaces.
Education Support – DXC assists in granting education support to their employees and their children.
Free Child Care Centres – DXC offers a free daycare center to take care of employees' children.
Free food and Groceries – DXC employees receive free meals and groceries during the hours on site.
Universal Relocation and Overseas Travel – DXC has multiple multinational offices worldwide. Hence,. Hence, employees have the right to make decisions about universal relocation. This move follows specific requirements and procedures. Once completed, you can go anywhere in the world to do the job you want at the DXC offices worldwide.
Increase the probability of availing of international benefits through learning IELTS Coaching in Bangalore at FITA Academy.
Core Areas and Services for Freshers Better Experience
Engineering Analytics – Its services include data, data analytics, design, and engineering.
Applications – Specialized areas include an overview of the application, modernization of application, DXC software support and services, Enterprise applications, SaaS, managed applications, development of modern applications, and digital assurance and apps testing.
Cloud – Interesting areas to learn are over the cloud and its services, types of cloud platforms, hybrid and multi-cloud platforms, and public clouds.
Consulting – DXC combines consulting services in industries, processing business solutions, and technologies. These services improve the challenges in business, opportunities, and practical objectives.
Insurances and BPO – freshers with commerce or management background can have outstanding experience in BPaaS insurance, BPO, Banking Services (BPO), Call centre, accounting, finance, and other insurance-based software.
IT Outsourcing offers the following services – IT outsourcing, data centre, computing, network mainframe, data storage, and data backup.
Digital Workplace – It deals with various services, including digital workspace for IT firms, digital support services, intelligent collaboration, and management of modern devices and workspace assets.
Security – DXC's digital services also play a crucial role in protecting cyber defense, securing transactions, and mitigating risk management.
Global Opportunities at DXC Technologies
DXC has international offices across the globe. Therefore, freshers and experienced professionals have a greater chance of getting opportunities worldwide. Significant offices of DXC were headquartered in the following locations
United States
Canada
United Kingdom
Germany
France
Italy
Spain
Sweden
Switzerland
Netherlands
Australia
Synopsis on Fresher's Benefits at BXC Technologies
An excellent work environment with a good work-life balance
Good DXC salary for freshers (1.82 to 4.85 LPA)
Lots of Health, Life, and Isurancial Benefits
Complimentary Food, Travel, and other benefits
International Opportunities and Vacation Trips
Globally recognizable work experience with IT experts
A good place to start a featured IT Career.
The modern world is endowed with numerous job opportunities from IT to the engineering sector. To guide emerging IT aspirants or Freshers, we have thoroughly discussed the DXC technology fresher salary and its numerous job roles in this article. DXC is a leading and emerging IT company that has received CyberRes Security Award, Strategic Alliance Partner Award, and Oracle Linux & Visualisation Award in 2021. Freshers seeking excellent job opportunities are recommended to go for DXC Technologies. The Exposure and Experience would open a high global demand for you to get hired into international companies across the world. So, check out the latest job vacancies and grab the opportunity at DXC at their official Careers Page.
Learn a Full Stack Developer Course in Bangalore at FITA Academy to increase the chances of getting placed at DXC Technologies.
Frequently Asked Questions (FAQ)
1. At what range, DXC employees get paid every year?
Payscale at DXC Tech varies for both freshers and professionals. According to the average estimate of ambition box, DXC pays 1.2 LPA for normal data entry operators to 65.8 LPA for DXC Director.
2. Who gets the highest pay at DXC Technologies?
The highest paying post at DXC is a director. The annual income of a director is around 65.8 Lakhs Per Annum. Besides, the top 10% of employees of DXC get 15.82 LPA in addition to 29 LPA for the topmost employees.
3. Who gets a minimum salary at DXC Technologies?
A data entry operator gets around 1.2 LPA. This is the lowest paying job at DXC.
4. What is the dxc technology package for freshers?
The average salary package for freshers ranges from 2.3 LPA (for Assistant Business Process Services) to 4.0 LPA (Associate Professional Business Analyst).
5. What are the employment benefits at DXC Technologies?
DXC offers numerous employment benefits to its employees. They are as follows: Work from Home (WFH), Vocational Excursions, Health and Life Insurances, Vacation Trips, Good Salary Package with Stunning Bonus, Refreshment centres, complimentary food, and transportation system, education and free daycare support, overseas travel, and global opportunities.