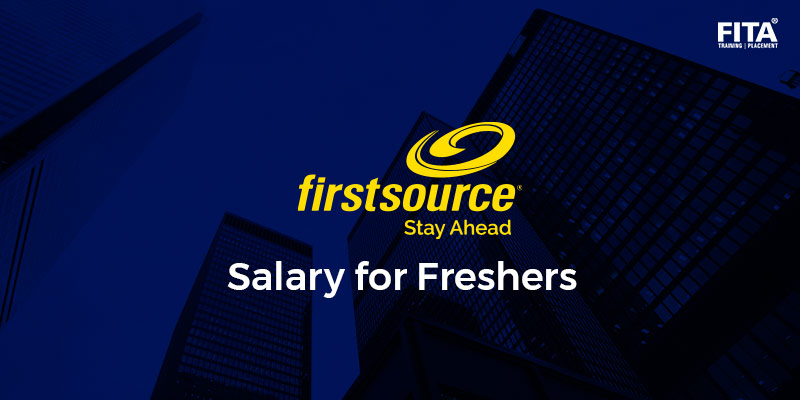 First Source is a prominent provider of business process solutions to over 100 worldwide companies in the banking and financial services, healthcare, communications, media, technology, and a variety of other industries. First Source, a publicly-traded firm on the Indian Stock Exchange (NSE: FSL), employs approximately 28,000 individuals across nations such as the United States, the United Kingdom, India, and the Philippines. The company usually hires newer applicants and freshers to engage themselves to the defining future of softwares technologies for better business solutions. So, the company is willing to hire freshers and young professionals with excellent First Source Salary for Freshers.
In this blog, we are interested to provide an overview of First Source company, availability of various open positions, eligibility criteria for various job roles, application procedures, numerous employment benefits and perks, along with First Source salary package for freshers.
Applicable Candidates for Freshers Works Fresher Jobs
Candidates who are passionate about the software products and applications are greatly appreciated at First Source. Besides, candidates who are enthusiastic, passionate, hard-working, innovative, creative, analytical thinking, and with amazing problem-solving skills are eligible for First Source jobs. Then, flexible candidates who are capable of adapting themselves to the working environment are welcomed at First Source for various job positions. Learn Data Science today to make you highly qualified for any software related job roles through enrolling for a Data Science Course in Chennai. This course may lead to receiving a high First Source Salary for Freshers.
Application Procedure for First Source Fresher Jobs
Candidates or job aspirants willing to join First Source can apply for numerous job positions through two different modes of applications which are
Online Mode – Through this mode, applicants can visit their official site to register and open a free account. Then, the applicant needs to fill all the necessary particulars following submission of application.
Offline Mode – First Source also uses its placement centers to conduct off-campus drives, where the applicant needs to pre-register and get an appointment. The successful applicants can walk-in for direct interview to the placement centers.
Successful submission follows application review, once shortlisting completes, selected candidates will receive an email or phone call from the human-resource representative for further interactions.
Qualification Criteria for First Source Fresher Jobs
Applicants willing to join First Source are required to possess the following qualification criteria for various open positions which are
The candidate must have completed any degree such as MBA or CA from any recognised colleges or universities.
The candidate must not have any running backlogs in the present academic semester.
The candidate should have a minimum score of 60 percentile or 6.5 CGPA (Cumulative Grade Point Average).
In order to make you compete against all the competitors, we suggest you to learn Digital Marketing Course in Chennai. Since the company is concerned with business solutions, digital marketing courses will make the company's business into an ever-demanding market. Further, it may have a probability to increase your fundamental First Source Solutions Salary for Freshers.
Important Documents Need to Be Produced During Interview Process
The candidates are advised to carry the following documents at the time of interview. Some of the significant documents are as follows
The applicant must carry a recent or updated resume.
Any identity document such as Aadhaar along with some passport size photographs.
In addition, the applicant needs to carry any government certified IDs like Voter ID, PAN, and Passport.
Finally, the candidates are advised to carry photocopies of marksheets and other relevant documents.
First Source Application Selection Process
First Source hires new candidates or freshers through four stages of interview selection process which are briefed in the following section.
Online Written Test – First stage of applicants are interviewed with online written tests, where the candidates need to write an online assessment test. Through this stage, the quantitative, knowledge, and other relevant reasoning skills are assessed.
Group Discussion – Candidates who have completed the first stage of the interview process, are allowed to attend the second round. In this round, all the freshers are allowed for a group discussion with the company's representative. Here, the reasoning, verbal, and communication skills are assessed from the applicants.
Technical Interview Round – In this round, the shortlisted candidates are allowed to face the technical interview questions, here most of the disqualified candidates are eliminated. Only qualified and highly skilled professionals are selected.
Human-Resources Round – This is the final stage of the applicant selection process, where the selected candidates are allowed to have a direct interview round with the human-resource manager. Candidates are most likely to get selected in this round followed by roll-out of offer.
Supplemental Skills Considered at First Source
First Source is seeking for affable and engaging recent college graduates. For fresher positions, problem-solving capabilities, quantitative reasoning skills, analytic skills, excellent organizational and communication capabilities, and basic computing or programming competence are all attractive qualities. Applicants who are hardworking, creative, competent, enthusiastic, and versatile and have regular business hours are also more likely to be selected. Apart from these supplementary qualities, we recommend you undertake artificial intelligence certification through FITA Academy's Artificial Intelligence Course in Chennai.
First Source Salary Structure for Freshers
The First Source Salary for Freshers varies from experienced to the non-experienced professionals. Usually, the company provides an average salary of 2.0 to 3.0 Lakhs Per Annum. Based on the estimate, we have shown an average salary package for freshers in the below chart.

Are you worried about the lowest salary structure or package, then it's time to increase the annual salary package by gaining an additional qualification through learning RPA Training in Bangalore.
Fundamental Skills, Job Roles and Responsibilities 
Customer Service Associate
A customer service representative responds to questions about a company's products and services. To give competent assistance, customer service representatives maintain significant company and product information. Freshers seeking to associate job roles with an affordable First Source Salary for Freshers are required to obtain the following skills such as: proficiency in computer operations, customer relationship management, Microsoft Excel and other Products, and Phone Etiquettes. First Source does not expect any kind of experience from freshers, but hands-on experience adds significant merit to the chances of getting selected. As a customer service associate, they are concerned with the following key roles and responsibilities which are as follows
Attending training seminars to expand product knowledge and improve customer service skills.
Answering customer questions by phone, walk-in, mail, facsimile, and email.
Incoming calls are processed and logged into the Customer relationship management system.
Identifying the demands of the customer.
Inquiries are forwarded and escalated to the appropriate people and departments.
Contacting consumers to provide timely updates on the status of their questions.
Customer service that is second to none.
Customer information is updated as needed.
Data confidentiality must be maintained.
If required, perform other responsibilities.
Improve your customer care services experience through gaining additional expertise in consulting services through learning Spoken English Classes in Bangalore at FITA Academy. The institute is famous for the massive placement of students and IT professionals in various information technology companies.
Customer Service Executive
Customer service executives handle a team of customer service agents and help ensure customer satisfaction. They make certain that the workforce is properly trained in order to provide exceptional customer service. Freshers seeking to join this particular job role with an excellent First Source Solutions Salary are required to possess the following skills: excellent verbal and communication skills, spoken english, ability to acquire new skills, and proficiency in customer relationship management. As a Customer Service Executive, they are concerned with the following key roles and responsibilities  which are as follows
Managing a group of customer service personnel.
Taking control of the customer engagement strategy.
Meeting the needs of consumer problems that have been brought to your knowledge.
Putting together policies and procedures.
Training and standardization of service delivery are being planned.
Recruiting and hiring new employees.
Individual and team representatives' work is being monitored.
Conducting customer satisfaction surveys and delivering feedback to employees.
Having a thorough understanding of the product in order to provide better customer service.
Keeping your staff in a pleasant working atmosphere.
Enhance your skill set in handling and communicating with consumers or customers through verbal online english programs through Spoken English Classes in Chennai.
Associate
Associates are always concerned with dealing with clients and restoration of hardware systems in First Source. Freshers seeking an amazing hardware engineer role are required to possess the following key skills: good customer relationship management, proficiency in verbal and communication skills, and fundamentals of hardware networking systems. As an associate, they are concerned with the following key roles and responsibilities which are as follows
Assist instructors and students with the installation and maintenance of operating systems, LANs, and technological equipment, as well as providing advice to customers on how to use and develop multimedia and security.
Extend routine technical support to customers.
Investigate issues and make recommendations for remedies.
Prepare resource estimates and progress reports.
Learn about the complexities of computing and networking.
Customers and technical staff should be contacted to determine information requirements.
Ensure that work is accurate and meets project quality standards.
Participate in training and professional development activities.
On time, document work through entering entries into the call tracker system.
Receive support requests through phone and email.
Complete and follow-up on customer service calls in a thorough and timely manner.
Printer maintenance and repairs
Consult with the customer regarding data archiving and backup.
On weekends and nights, provide on-call support.
Customer issues, communication, problem statements, and resolution should all be documented.
Process Associate
Process Associates supervises and improves production processes for manufacturing companies. In this role, they evaluate the performance of existing process systems, maintain process equipment, diagnose material and mechanical defects, evaluate overall production quality, and compile process reports. Freshers willing to join this job role with an affordable First Source Solutions Salary are required to possess the following skills such as: relevant experience in process associate, knowledge on process software systems, software development,  process simulations, technical skills, excellent verbal and communication skills, and capability to manage high equipment. As a process associate, they are concerned with the following key roles and responsibilities which are as follows
Examining standard operating procedures for delays, roadblocks, and flaws.
Providing recommendations for improved efficiency that would increase production rates and lower costs.
Process orders are indeed being evaluated.
Maintaining and servicing production machines.
Identifying and addressing technical challenges.
Maintaining a supply of machinery.
Notification of production faults to Quality Assurance employees.
Assuring that production procedures are compliant with safety and quality standards.
Ensure that the production area is free of impediments and contamination.
Creating reports on the manufacturing process.
Analyst
Analysts use digital data and computer systems to help companies identify trends, develop business insights, improve processes, reduce costs, and develop business strategies. These professionals may specialize in a particular aspect of the business and vary their topics to reflect their focus. Freshers seeking this job post with a good First Source Salary for Freshers are required to possess the following skills: proficiency in computer applications, analytics software, data science, handling of large data sets, and strong mathematical skills. As an analyst, they are always concerned with the following key roles and responsibilities which are follows
Identifying trends, patterns, anomalies, and other useful information by collecting and analyzing raw data.
Data is used to design and optimize strategies and procedures in order to boost revenues, efficiency, quality, or security while lowering costs.
Collecting data and developing and implementing plans with internal departments.
Finding and confirming new data sources.
Reports and presentations are created to summarize findings and influence company choices.
Establishing project objectives, budgets, and schedules with the management team, as well as monitoring and evaluating performance.
Putting in place policies and procedures that ensure the security of firm data and information while it is collected, analyzed, stored, and discarded.
Analytical procedures, methods, and tools are being reviewed and improved in order to improve efficiency, accuracy, and security.
Automate your analysis process using analytic data gathered from web services through effectuating the Machine Learning Course in Chennai. This course will enrich you with all the machine learning algorithms and approaches to automate your analyzing process.
Employment Benefits at First Source 
Employees at First Source are offered with numerous employment benefits and perks to keep them engaged throughout the years. Some of them are as follows
Employees at First Source are given complimentary transportation from their residences to their workplaces.
Soft skills training is provided to employees during their employment.
First Source has refreshment areas to help employees relax and stay motivated.
The corporation offered work-from-home options in the worst-case situation of a covid pandemic. Employees willing to work from home will continue to benefit from the plan.
For the financial benefit of their employees, First Source provides dependable health, life, and insurance plans to all of their employees.
Every year, the company takes its staff to various tourist places and outings in order to keep their professional interests piqued.
Guaranteed Job trainees and successors' placement assistance
The organization has different gymnastics for their workers and senior employees to benefit from the health advantages of fitness.
First Source provides financial aid to help youngsters with their schooling.
Employees at First Source have access to worldwide chances to work in a variety of locations across the world. Avail all the international benefits and increase the processing speed of your visa application through pursuing the IELTS Coaching in Bangalore. Since, the IELTS score card may increase the chances of getting your application noticed.
All employees are given free meals and snacks during their formal working hours.
They also afford child care centers for their children's engagement in order to support parents in continuing their employment roles.
Job Satisfaction Rate
We have estimated the average job satisfaction rate based on the employee ratings and reviews in this section. Work-life balance, job satisfaction, career advancement, compensation benefits, and job security are all factors taken for calculating the job satisfaction rate. The diagram below depicts the average percentage (which is 72 percent).
This blog discusses First Source's job opportunities, application procedures, multiple job opportunities and responsibilities, compensation and benefits, global opportunities, and fresher benefits. Besides, the company tends to have a higher global reputation, and any employee from First Source has increased demand in the current IT Job Market. Therefore, we recommend freshers as well as experienced professionals to look for various job roles or open positions on the official career page. So that the freshers can establish an exceptional or featured IT career with First Source Salary For Freshers.