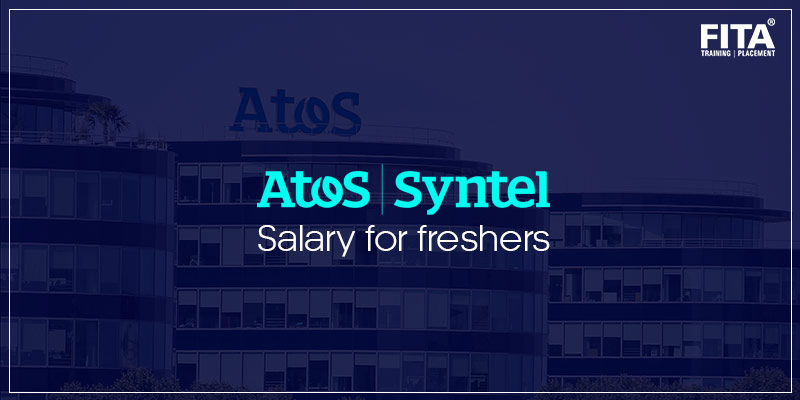 Atos Syntel is a worldwide supplier of integrated technology and business solutions which is a branch of Atos multinational company. The company is popular for providing information technology and consulting services and has been offering wider opportunities for freshers with a reasonable atos syntel fresher salary.
So, in this article, we'll go through the numerous job opportunities, application procedures, interview rounds, and employment benefits offered to freshers. In the next section, we'll go through eligibility and the application process.
Eligible Candidates for Atos Syntel Fresher Jobs
Entrans who are passionate about information technology and IT consulting are encouraged to search for open positions in this company. Candidates interested in digital transformative technologies, Cloud Services, and other related IT services are also encouraged to apply. Furthermore, compared to other IT companies, Atos Syntel Inc offers a superb starting salary package for freshers, thus applicants who expect a high freshers salary should apply for Atos Syntel job openings.
Application Procedure for Atos Syntel Fresher Recruitment
Freshers willing to join Atos Syntel with an amazing atos syntel fresher salary can apply through online mode or their official site. Follow the below mentioned procedure to apply for various open positions.
Go to their careers website and log in.
Register and create an account using your phone number or email address.
Fill out the form with the applicant's basic information and any required papers, as well as a recent or updated résumé.
Following successful submission, the candidate will get an email acknowledging receipt of their application.
Subsequent to successful submission, the application undergoes a series of review processes whereas shortlisted candidates will receive a communication email from the Atos Syntel representative. This process is followed by scheduling of interviews either through online or offline (walk-in interview).
Qualification Criteria for Freshers Jobs at Atos Syntel
Applicants looking for a job role at Atos with an feasible atos syntel salary for freshers must meet the following qualification criteria for various open positions. The criteria's are as follows
Full time graduates with a degree from B.E, B.Tech, BCA, MCA is essential.
Then, any degree with expertise in information technology, computer science, and computer application are eligible to apply.
The candidate must have acquired a minimum percentage of 60% throughout their academic career.
The applicant must not be a holder of any kind of academic backlogs.
An education break or gap of minimum one year is allowed to apply for Atos syntel jobs.
In order to make you an exceptional candidate against all of your competitors, we suggest you to learn Python Training in Chennai, the leading programming course notable for transforming global technologies.
Additional Skills Considered for Atos Syntel Inc Jobs
Atos Syntel is seeking for recent college graduates who are friendly and approachable. Problem-solving capabilities, mathematical thinking skills, analytic qualities, strong organizational and communication skills, and basic computing or programming skills are all attractive qualities for fresher positions. Similarly, hardworking, innovative, competent, ambitious, and adaptable applicants with normal office hours are more likely to be selected. Apart from these supplemental skills, we recommend you to earn certification in artificial intelligence through the Artificial Intelligence Course in Chennai at FITA Academy.
Atos Syntel Salary Structure for Freshers
The Atos Syntel Package for Freshers varies depending on whether the applicant is a fresher or an experienced professional, as well as the number of years of work experience the candidate possesses. However, as shown in the chart below, we have approximated an approximate salary for freshers.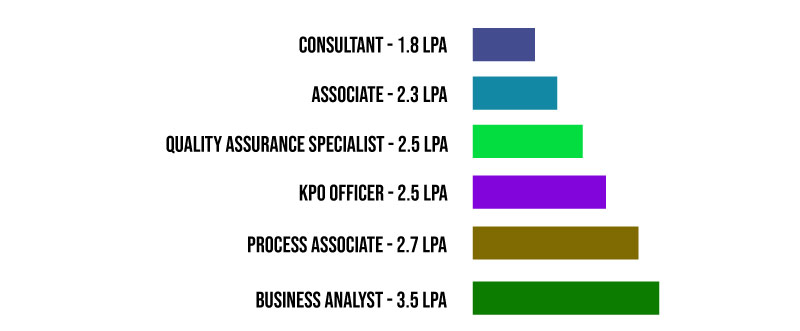 Increase the chances of getting more salary increments through learning Data Science Course in Chennai. As this course is the leading course in the current IT Job Market.
Basic Skills, Roles and Responsibilities
Consultant
Consultants make suggestions in their field of expertise. They formulate and maintain strategic plans for a wide variety of business activities. Freshers or Applicants seeking to this job role with feasible atos syntel salary for freshers must be expertise in data analysis, project management, research methodologies along with excellent verbal and communication skills. As a consultant, they are associated with the following key roles and responsibilities which are as follows
Strategic planning to solve challenges and requirements.
Engaging with management and employees to better understand their needs.
Conducting research about the company and its customers.
Identifying problematic areas through data analysis.
Developing plans to put solutions into reality.
Keeping up with the latest developments in the industry.
In order to enhance your verbal and communication skills, learn Spoken English Classes in Bangalore. It will train you in an effective way to communicate with clients.
Associate
Process associates monitor and enhance manufacturing techniques for production companies. In this role, they investigate the effectiveness of existing technique systems, hold manners, detect material and system defects, verify common manufacturing quality, and collect process reports. Freshers seeking this job role with an excellent Atos Syntel Fresher Salary are required to possess the following skills: relevant experience in process associate, simulations, Robotic processing,  technical and communication skills. As a associate, they are concerned with the following key roles and responsibilities which are as follows
Analysis of the company's processes regarding delays, failures, and weaknesses.
Advice on process upgrades to improve production  and reduce costs.
Evaluation of process orders.
Production plant service and maintenance.
Troubleshooting processing issues.
Machine inventory maintenance.
Notify quality assurance personnel of manufacturing defects.
Become an exceptional associate, enroll and learn robotic based processing techniques through RPA Training in Chennai.
Quality Assurance Specialist
Quality Assurance Specialists are in charge of monitoring, inspecting, and proposing changes to the company's final goods and processes in order to ensure that they fulfill defined quality standards. Applicants willing to join this role with an excellent Atos Syntel Fresher Salary are required to possess the following skills: data collection, data science, data assessment, and knowledge in tools and other suites. As a Quality Assurance Specialist, they are concerned with the following key roles and responsibilities which are as follows
Creating and implementing policies and processes for quality assurance.
Inspections and quality tests are carried out on a regular basis.
Identifying and fixing difficulties with workflow and production.
Assuring that safety requirements and standards are followed.
Addressing and addressing difficulties with superiors, as well as offering remedies.
Creating audit reports and documenting quality assurance actions.
Making suggestions for enhancement.
Creating operating manuals and training materials.
In order to become a perfect Quality Assurance Specialist, learn Artificial Intelligence Course in Bangalore. This course may teach you an artificial method for assuring a company's products.
KPO Officer
The collection of outstanding debts from clients and customers is the responsibility of collections officers. Businesses and collections agencies hire them to notify customers of past-due bills and endeavor to collect payment in order to reduce company losses. Freshers seeking this role with a feasible Atos Syntel Fresher Salary are advised to possess the following skills: relevant in collections officer, excel, aware of debt collection laws, and excellent verbal communication skills. As a KPO Officer, they are concerned with the following key roles and responsibilities which are
Examining the company's list of debtors.
Making contact with consumers and advising them of past-due debts.
Advising customers on their payment options and recommending payment alternatives.
Negotiating reasonable payment schedules.
Keeping track of customer payments.
Creating financial statements for customers for banks and the state credit department.
When payments are not being made, final notice warnings are written to customers.
When clients fail to pay their debts, legal action is taken.
Answering client questions.
To make payments easier, I'm contacting lawyers and insurance companies.
Process Associate
Process associates work for manufacturing organizations to monitor and enhance production processes. They evaluate the efficacy of existing process systems, maintain process equipment, discover material and machine problems, evaluate overall production quality, and compile process reports in this function. Freshers willing to join for this particular role with affordable Atos Syntel Package for Freshers are required to possess the following skills: relevant experience in process associate, process simulations, technical skills, and analytic skills. As a process associate, they are concerned with the following key roles and responsibilities which are as follows
Examining company procedures for delays, roadblocks, and flaws.
Providing recommendations for process improvements that would increase production rates and lower costs.
Process orders are being evaluated.
Maintaining and servicing production machinery.
Identifying and resolving processing problems.
Maintaining a supply of machines.
Notification of production faults to Quality Assurance employees.
Assuring that production procedures are compliant with safety and quality standards.
Ensure that the production area is free of impediments and contamination.
Creating reports on the manufacturing process.
In order to get advanced in processing the products through AI and Robots, learn RPA Training in Bangalore. It will enrich you with all the robotic methods and techniques to process faster and qualitier manner.
Business Analyst
Business analysts have a broad understanding of both business and technology. Their main responsibilities include liaising between IT and the executive branch, improving the quality of IT services, and understanding business demands. Freshers seeking this role with affordable Atos Syntel Salary for Freshers are required to possess the following skills: IT management, analytical skills, technical skills, problem-solving, and good interpersonal skills. As a business analyst, they are concerned with the following key roles and responsibilities which are as follows
Working very closely with the executive branch and the IT department.
Serving as a source of information and a link between company divisions.
Recognizing critical business demands and growth strategies.
Improving the quality of information technology products and services.
Examining the technical systems and commercial concepts that have been designed.
Getting business insights from IT data.
Analyzing the requirements of the company.
Getting new company technology and putting it in place.
Developing technical solutions to meet company needs.
Reporting on the development and implementation of applications.
Performing A/B testing and assessing the results.
Analyzing data in order to make better business decisions.
Learn Digital Marketing Course in Bangalore to know more about various marketing strategies for improving the company's business.
Employment Benefits at Atos Syntel Inc
Employees at Atos Syntel Inc are offered with numerous employment benefits and perks which are as follows
Work from Anywhere (WFA) – Atos Syntel is one of the IT firms that offers the Work from Anywhere (WFA) option. It aided in a new era of new ideas, opportunities, and a distinct workforce. The company has successfully implemented a work-from-home programme to assist employees in achieving a good work-life balance.
Vocational Excursions – To keep its personnel engaged and active, Atos Syntel organizes vocational trips and team activities over a set period of time. Because the I.T. Industry has a profound effect on mental stress and physical health owing to workloads, it helps to keep mental and psychological health in check.
Reliable Life and Health Insurance – The company also provides life and health insurance to its employees. It covers medical expenses, therapy, medications, and the unavoidable deaths that occur as a result of disasters.
Vacation and Vocational Trips – Atos Syntel provides paid time off and vacation trips to their workers. Their monthly payments will not be affected during this time off because the company offers a variety of benefits.
Stunning Bonuses and Salary Packages – Atos Syntel offers financial incentives and salary increases to employees based on their motivation and performance. In addition, the corporation provides additional bonuses during the festival and other ceremonial events.
Refreshment Hotspots – During business hours, employees can have refreshments from the restaurant, which include a variety of refreshing drinks and nibbles.
Complimentary Transportation System – Atos Syntel provides a subsidized transportation system from nearby communities, allowing employees to travel freely between their homes and jobs.
Education Support – Atos Syntel supports the provision of educational support to their employees and children.
Free Child Care Centers – Atos Syntel provides a free daycare center for the children of its employees.
Free food and groceries – During their shifts on site, Atos Syntel staff receive free meals and groceries.
Universal Relocation and Overseas Travel – Atos Syntel is a multinational company with offices all over the world. As a result, employees have the authority to decide on universal relocation. This action is carried out in accordance with particular guidelines and procedures. Once you've completed the course, you'll be able to work at any of Atos Syntel's offices throughout the world. Avail all the international benefits for relocating yourself to various international locations through learning IELTS Coaching in Chennai.
Job Satisfaction Rate
We've estimated an average job satisfaction rate based on employee ratings and reviews in this section. Work-life balance, job satisfaction, career progression, compensation and perks, and job security are all factors that go into calculating the job satisfaction rate. The graph below depicts the average percentile (which is 80 percent ).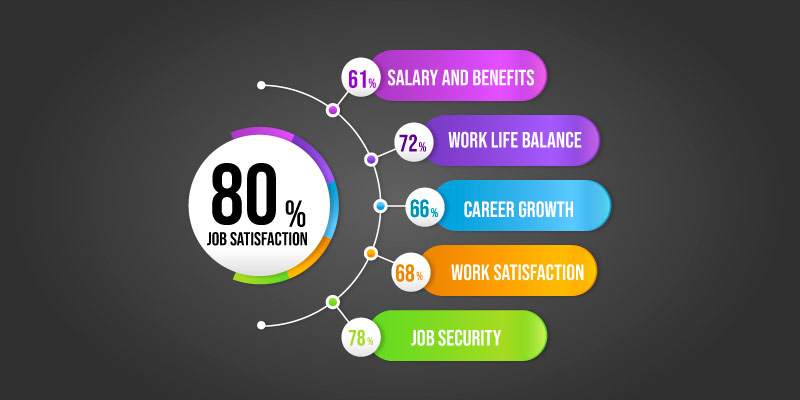 This blog has discussed Atos Syntel's job postings, application procedures, the availability of numerous job roles and their responsibilities, compensation and benefits, global opportunities, and freshers' benefits.
The business has a high international reputation and appears to be a suitable fit for newcomers. Any employee of Atos Syntel has global merit and the ability to work for any international firm or IT market. All Atos Syntel Alumni are in high demand due to the current IT job environment. We recommend you explore numerous job prospects and establish a distinguished IT career with Atos Syntel due to our research and study on Atos Syntel Salary for Freshers.