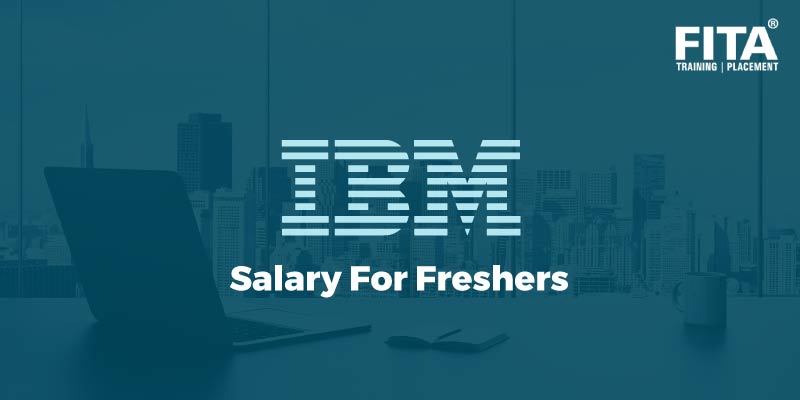 International Business Machines Corporation (IBM) is the top emerging automation, robotic, and information technology popular for cloud and quantum computing. The enterprise accommodates thousands of opportunities and career benefits for both freshers and experienced professionals. Therefore, in order to present the pathway for getting into IBM, we will talk through the company's job roles, vacancies, the procedure for interview applications, IBM fresher salary, and employee perks. 
Besides, the company is best known for computers, laptops, and their hardware since the 70s. So, it will be an amazing platform to kickstart a featured career, let's discuss the eligibility criteria for an employment opportunities at IBM.
Applicable Candidates for IBM Careers
Many of us have been dreaming of getting a job role at the world's top computer company. So, IT Enthusiasts or IBM aspirants who are passionate and willing to begin a new integrated career with a feasible IBM Salary for Freshers are highly appreciated to apply. Further, aspirants who are innovative, diligent, hard-working with superior qualities are welcomed to various job roles at IBM. We will talk through the next section of application procedures for IBM firms. Enroll in FITA Academy's Java Training in Chennai to improve your programming or IT experience and position yourself as the most qualified candidate among competitors.
Application Procedure for Freshers Job Roles at IBM
Applicants can submit their interview or job application to IBM through two different modes which are 
Online Mode

– Through virtual mode, the applicant needs to fill out an online form followed by submission of the application with proper attachments and necessary documents. Subsequent to form submission, the applicant will receive an acknowledgment form followed by HR communication after a few weeks. 

Offline Mode

– Through this mode of application, the applicant just needs to submit their basic details to appear for an interview at their nearest placement centers. After successful submission of the application, the candidates will receive an email with interview dates, location, and reporting time. 
Now, we got an overview to apply for IBM, let's dive into the qualification criteria required for various job roles. Because IBM expects standard qualifications for their newer applicants
Qualification Criteria for IBM Freshers Job Roles
In order to get into this giant tech firm, the applicants must meet certain academic qualifications for successful recruitment. Some of the qualifications criteria are
The candidate must have completed a bachelor's and master's degree in any engineering and computer science are eligible to apply.

The acceptable degrees are bachelor's in engineering, technology; and master's in technology, computer science, science, and computer application (B.E, B.Tech, M.E, M.Tech, M.C.A, M.Sc).

The candidate must have scored 60% or above throughout the academic career in grade schools, and colleges.

The applicant must not possess any kind of backlogs in the past or future academic careers.

Finally, the applicant must possess intermediate coding and computing skills in all the programming languages; and software products, tools, & other utilities.
In order to be considered for various job positions. Increase your Python expertise by taking Python Training in Chennai so that you can communicate effectively during the interview process.
Important Documents Needs to be Produced During Interview 
During the interview, important documents must be produced. Candidates who wish to participate in a walk-in-interview or an off-campus drive must have the following documentation with them. The documents are required for the application to be processed.
The candidate must have a current and up-to-date resume.

Aadhaar Card or any other government-issued identification card, as well as recent passport-size pictures, are required to prove their identity.

In addition, the applicant must have a PAN card, a passport, or a voter ID.

All necessary certifications, consolidated and original mark sheets and other important papers should be photocopied.
IBM Salary Structure 
The IBM Package for Freshers varies from freshers to experienced professionals. It also varies depending on the number of years of practical experience and a suitable skill set the application has. The approximated freshers' pay at IBM Corporation is represented in the chart below.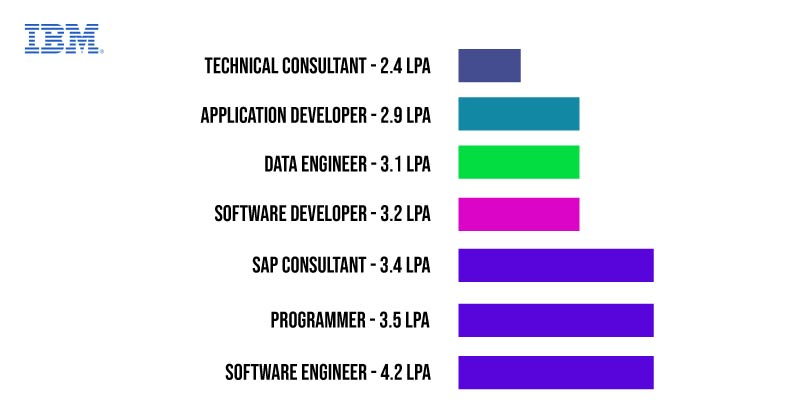 Enroll in the Artificial Intelligence Course in Chennai today to learn and boost your chances of earning higher pay. In all IT sectors, the course attracts higher salary attention.
In the last section, we discussed and presented some salary approximations for freshers job roles at IBM. Lets' brief about the responsive roles, responsibilities, and desired skills.
Fundamental Skills, Roles, and Responsibilities of IBM Job Roles
SAP Consultant
SAP consultants work with businesses to design and implement SAP solutions. They assess clients' business requirements, develop customized SAP solutions, and integrate SAP applications with existing IT infrastructure. SAP consultants can either work for a company or consult on their own. IBM expects high-level skills from newer applicants, such skills involve SAP Certification; expertise in finance and project management; knowledge of SAP systems, deployment, and integration. The SAP Consultant is concerned with the following key roles and responsibilities at the IBM company
Consultation, business analysis, and focused observations are used to determine business needs.

Examining and recommending improvements to existing IT infrastructure.

Creating and configuring SAP solutions that are unique to the client.

Creating user-friendly interfaces and expanded features by writing scripts and programs.

Putting SAP solutions in place and guaranteeing seamless system interaction.

To improve performance, troubleshoot, and resolve issues.

Supporting SAP systems and providing end-user training.

Detailed documenting of SAP processes and the presentation of progress reports.

Ensuring that industry regulations are followed.

Maintaining current knowledge of SAP's latest offerings, upgrades, and advancements.
 Application Developer
Applicants seeking this job role with a good IBM starting salary for freshers must meet the following criteria. An application developer also called a software developer or software architect, is in charge of creating and changing source code for software applications. Customers can use these apps to help them with computer activities or programs. Since it's a major role, IBM expects its applicants to be an expert in Oracle, software programming, designing, and application development. The Application Developer is associated with the following key roles and responsibilities which are
Creating software solutions to fulfill the needs of customers.

Creating and implementing new application source code.

Debugging and testing source code.

Existing applications are being evaluated, and updates and revisions are being made.

Creating technical handbooks to represent new application design and code.
Learn Android Training in Chennai to obtain more experience in Android app development and become an amazing Application Developer.
Software Engineer
Software engineers create, build, and test software applications for computers using engineering, mathematics, and computer science principles and methodologies. IBM expects their new software engineers to have desired skills such as proficiency in Java, Python, Selenium, and other platforms; excellent computing and coding skills; relevant experience in software management, and software engineering. The software engineer is concerned with numerous job roles and responsibilities, they are as follows
Validation and testing methods for software systems are being created and directed.

We are in charge of our software development initiatives.

Taking charge of the document creation process.

Clients and cross-functional departments are kept informed about project statuses and proposals.

The use of data analysis to plan the installation of new systems or the modification of existing ones is common.

The software development life cycle is monitored and controlled.

The system's performance is being monitored.

Providing team members with crucial project data and creating team cohesion.

Developing and executing project plans.

Initiatives that use mathematics and statistics to solve problems.

Standard operating procedures and best practices are used.

Creating innovative products, solutions to meet the company's technical needs.

New software is being evaluated, and problems are being addressed.

The future of our systems is being shaped.
In order to become a superior software engineer, learn Software Testing Course in Bangalore. This course may lead freshers to gain hands-on experience in software testing approaches. 
Software Developer
A software developer's job is predetermined by the needs of the firm, organization, or team they work for which determines their IBM Company Salary for Freshers. Some people create and maintain gadgets and network systems. Others create software that allows users to complete specific jobs using computers, cellphones, or other devices. IBM wants its software developers to possess significant skills such as proficiency in important programming languages, development of software life-cycle, knowledge in full-stack development, and software development projects. As a software developers, they are concerned with the following key roles and responsibilities which are
Bug fixes, program adaptation to new hardware, performance enhancements, and interface upgrades are all instances of software modification.

Controlling the system's testing and validation.

Managing software and documentation development.

Departments or customers are consulted on project status and proposals.

Working with clients or departments on technical issues such as software system design and maintenance.

Analyzing data in order to generate recommendations and plans for the installation of new systems or the modification of existing ones.

Engineering personnel evaluates software-hardware interactions and develop specifications and performance requirements.

When planning and building software systems, scientific analysis and mathematical models are used to forecast and assess results and design effects.

Creating reports on programming project parameters, actions, and status.

Consult project management for information on limitations and capabilities.
Earn additional credits and software development experience through learning Selenium Training in Bangalore. It may lead you to gain additional IT course experience. 
Programmer
Freshers looking for programmer roles with good IBM fresher salary are expected to possess the following skills: expertise in programming languages such as Java, C++, J2EE, XML, and Python; relevant experience in web-based applications such as JSF, GWT, Wicket, and MVC; and good problem-solving skills. As programmer, they are associated to follow the following key roles and responsibilities 
To create software designs, collaborate with business analysts and developers.

Create basic prototypes and software specifications.

Convert software designs and specifications into high-performance code using a suitable programming language.

Individual software solutions should be integrated into higher-level systems.

When possible, construct complex SaaS using web-based tools.

Test code on a regular basis to ensure it provides the desired results, and debug where necessary.

Upgrade software and systems to make them safer and more efficient.

Collaborate with technical writers to generate user support documentation.
Enroll today for RPA Training in Bangalore for gaining additional programming experience in the robotic process and automation industry. It might increase the chances of getting the highest IBM fresher salary.
Data Engineer
A Data Engineer is a data expert that applies their knowledge of data engineering and programming to create systems that collect, handle, and turn raw data into information that business analysts can use. The applicants are expected to have the following desired skills such as Java, Python, Data Modeling, Database Structures, MySQL Database, and Data Mining. As a responsive data engineer, they are concerned with the following key roles and responsibilities to accomplish 
Analyze and organize unstructured data.

Create data pipelines and systems.

Examine the needs and objectives of your firm.

Patterns and trends should be examined.

Conduct thorough data analysis and write a report on the results.

Preparing data for predictive and prescriptive modeling is essential.

Prototypes and algorithms should be created.

Combine raw data from a number of different sources.

Look for ways to make your data more consistent and of higher quality.

Identify data-gathering possibilities.

Create analytical software and tools.

On numerous projects, collaborate with data scientists and architects.
Technical Consultant
Technical consultants help businesses improve their efficiency by assisting them with information technology. Their tasks include implementing hardware and software solutions, enhancing IT systems, and resolving technical issues. They can serve as in-house consultants for a corporation or as independent freelancers. IBM expects their newer applicants to possess the following skills: relevant experience in hardware and software networking; maintaining internal error logs, data protection, and safety. As a technical consultants, they need to fulfill the following key roles and responsibilities which are
Analyzing the capabilities of the hardware, software, and networks.

As needed, consult with management and other departments.

Consultation with end-users and provision of new ideas to improve system efficiency.

Web-based portal performance analysis and improvement.

Taking care of logged faults and guaranteeing system security and encryption.

Processes are being documented, and system performance indicators are being monitored.

Assuring that software updates are compatible with computer hardware.

Using the most up-to-date technological advances and solutions.

Troubleshooting and performing diagnostic tests.

End-users are given instructions on how to use the hardware and software packages.
Learn Spoken English Classes in Bangalore at FITA Academy to enhance your consulting experience as well as excellent communication skills. 
Benefits of Employed Freshers at IBM Corporations
Employees at IBM Corporations are offered numerous benefits and perks. Some of them are as follows 
IBM affords free transportation services for the free movement of employees from the workspace to the home and vice versa.

Before hiring the freshers for critical job roles, the company provides free and soft-skill training to their employees. 

For the employees, who decide to do their work tasks from home, IBM provides work from home opportunities to all of their desired employees.

In order to maintain a healthy workforce, the company provides gyms and sports grounds for physical exercise and health benefits.

At the start of their employment, freshers are given proper work training and soft-skill assessment. In order for freshmen to have more practical experience.

Employees also receive health care for their children as well as educational assistance to help them advance in their careers.

Finally, all employees might choose to work in one of the international offices. To take advantage of this discount and process the visa, enroll in

IELTS Coaching Online

today.
This article has covered all the necessary guidelines and application procedures for freshers to join IBM and earn a decent IBM Salary for Freshers. The organization has a solid international reputation and remains a valuable resource for prospective IT professionals. Candidates will benefit from the environment's inventive and cheerful mood, which will aid in their professional advancement. We strongly suggest freshers approach IBM and apply for various employment openings based on our extensive study. The professional talents and attributes of the applicant will make them well-known in any IT firm throughout the world.