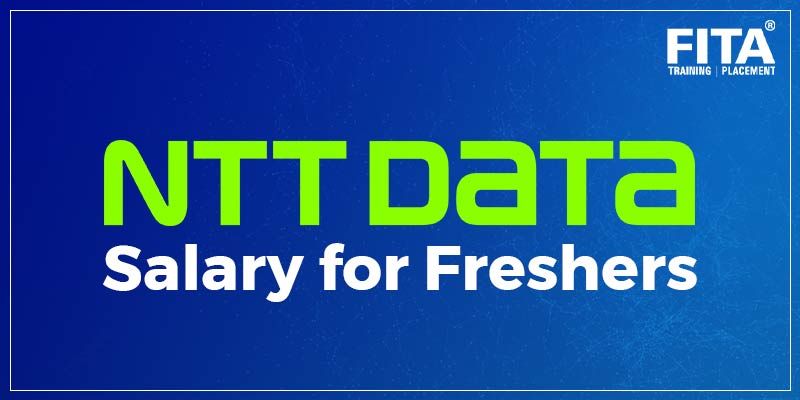 NTT (Nippon Telegraph and Telephone Corporation) DATA is a Japanese international information and technology services company based in Japan. The company tends to offer multiple global opportunities and job postings to younger professionals with a feasible NTT data salary for freshers.
The organization has been transforming digital services and technologies to a worldwide level by applying its newer information technology offerings. This blog will discuss numerous career opportunities, openings, application procedures, advice for being hired, and employment advantages and perks.
Applicable Candidates for NTT DATA Job Roles
NTT Data is an excellent place to start if you want to start a new career in information technology. Candidates interested in disruptive digital technologies, intelligent solutions, 5G networking, and revolution, and other related IT services are also urged to apply. Furthermore, as compared to other IT organizations, NTT offers a wonderful starting NTT Data salary for freshers. Therefore applicants who expect a high freshers income should apply for NTT DATA's job openings.
Take part in Java Training in Chennai at FITA Academy to improve your skillset and programming or IT experience for the best applicable candidate among competitors. 
Application Procedure for NTT Data Freshers Job Roles
Online Mode
Candidates interested in applying for different positions at NTT Data are encouraged to visit careers-inc.nttdata.com and complete the registration process outlined below.
Navigate to the "careers section" in the career section.

Type and search for desired job titles and openings.

Fill in all of the required information to meet the qualification criteria.

If any of the jobs match your qualifications and talents, click "Apply Now" to begin the registration process.

After entering your biographical information and uploading any required documents, click the submit button.
Offline Mode
Besides, NTT Data also offers Walk-in-Interview options for all students. The procedure of offline interview involves
Preliminary Registration for Off-Campus Interview through their official site

Submitting Application through filling in basic details.

Get an acknowledgment receipt for the proper venue, date, and other information.
Fundamental Skills Required for Jobs at NTT Data
Applicants looking for a perfect job role at NTT Data with a good NTT Data salary for freshers are required to possess the following fundamental skills. They are as follows
Capability to interact and collaborate with people from other cultures and social groupings.

Capability to plan ahead of time for activities and projects, considering anticipated changes in circumstances.

Capability to keep a positive attitude at work despite work pressure.

Potentiality to work hard and put in extra hours when necessary.

Capability to use active listening skills such as paraphrasing the message to confirm understanding, questioning for additional relevant information, and refraining from interrupting.

Ability to adapt to the changing circumstances in the work environment.

Capability to put the customer first in all contacts, understand their needs, and provide a pleasant client experience throughout the whole client journey.
In order to get selected for various job roles. Increase the proficiency of English through learning Spoken English Classes in Chennai so that the applicant can communicate effectively during the interview round. 
Qualification Criteria for NTT Data Jobs
Applicants seeking various job roles with good NTT Data Salary for Freshers must meet the following qualification and eligibility criteria.
Bachelor's or Master's Degree from any discipline

The applicant must have scored a 60% or above percentage throughout their academic career.

From a CGPA perspective, the applicant must have a 6.5 GPA as a gross GPA.

The candidate must not have any kind of backlog. 
Additional Criteria for Getting Successful Placement
NTT Data is searching for recent college graduates that are team players. Problem-solving ability, quantitative thinking abilities, analytic abilities, excellent communication, and leadership skills, and basic programming or computing skills are all necessary. Similarly, applicants with working days who are conscientious, creative, knowledgeable, eager, and adaptable are more likely to be selected with excellent NTT Data Salary for Freshers.
Essential Documents for the Interview Process
The candidate should bring a copy of the most recent resume with you.

Three passport-size pictures and an Aadhar card (original and photocopy) are required.

Any government-issued ID proof, such as a PAN, voter ID, or passport, is required.

All necessary educational credentials, as well as xerox copies, should be carried by students.
NTT Data Salary Structure
The NTT Data Package for Freshers varies for different roles and different positions the company assigns. Then, the package also differs from freshers to experienced professionals and depends on the years of hands-on experience the applicant possesses. Here is the salary structure for freshers at NTT Data (refer-the chart below)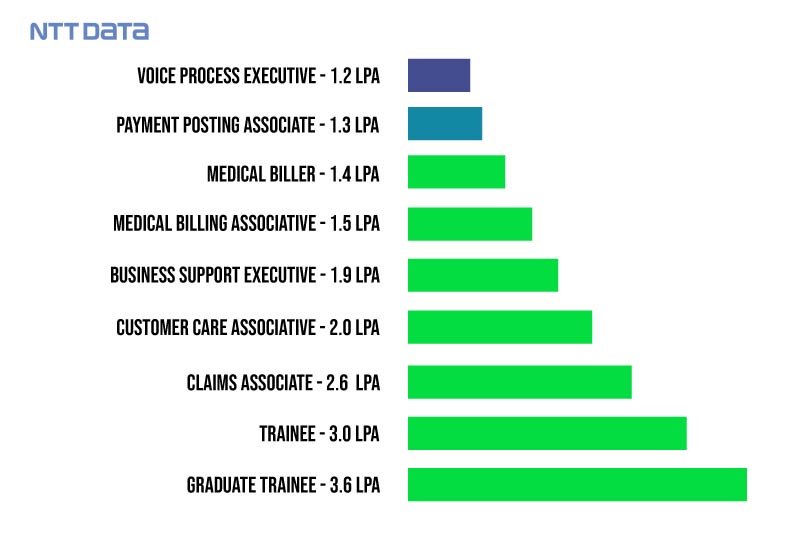 Enroll today to learn and increase the probability of the highest salary increment with the Artificial Intelligence Course in Chennai. The course tends to get more salary attention in all IT sectors. 
Essential Skills, Roles and Responsibilities of Various roles at NTT Data
Voice Process Executive
Identifying new business prospects, preparing weekly progress reports, managing connections with external stakeholders as well as personnel, and responding to all enquiries respectfully and on time are all tasks of the process executive. As a voice process executive, they are responsible for fulfilling the following functions and responsibilities 
Creating new business leads and following upon them.

Creating and presenting proposals to potential clients.

Assuring that all procedures are carried out in compliance with corporate policies and health and safety laws.

Establishing and sustaining connections with coworkers, clients, and vendors.

Answering any inquiries or concerns in a timely and courteous manner.

Staff and operations are being monitored and plans to enhance efficiency and save costs are devised.

Creating sales and performance reports, as well as offering training and direction to employees.

Assisting managers in developing performance-enhancing incentives.

Attending courses and events to broaden one's skill set and network.
Medical Biller
A medical biller is responsible for calculating and collecting fees for medical services and treatments. They are responsible for updating patient information, creating payment arrangements, and producing bills. They work in medical billing departments to guarantee that patients are billed appropriately and swiftly. Applicants seeking job roles with acceptable NTT Data Package for Freshers must possess fundamental skills in computer, excel, billing software, and financial management. During their job role, they are concerned with the following key roles and responsibilities. 
Prepare billing data and medical claims for insurance companies and submit them to them.

Ascertain that the patient's medical information is current and correct.

Prepare bills and invoices, as well as keep track of the money owed for medical procedures and services.

Gather and examine referrals and pre-approvals.

Keep an eye on late payments and keep track of them.

Resolve financial inconsistencies and follow up on missing payments.

Examine patient invoices for correctness and ask for any information that is missing.

Investigate and appeal allegations that have been refused.

Assist patients in creating payment arrangements.

Update rate changes, cash spreadsheets, and current collection reports in the billing software.
In order to become an exceptional medical biller and marketing manager, learn Digital Marketing Courses in Bangalore. Digital marketing helps make business better through online promotion and sales. 
Graduate Trainee
Applicants seeking to join NTT as a graduate trainee with affordable NTT Data Freshers Salary must possess excellent communication skills, flexibility to all work hours, knowledge of servers, storage, backup, security, messaging, and network interface, fundamental understanding of ITIL framework, and familiarity with Microsoft Excel, office and PowerPoint. The graduate trainee is associated with the following crucial roles and responsibilities.
Work with team mates in accordance with business needs and operations.

Acceptability to relocate to any location on business requirements.

Supporting projects and assisting other trainees.

Learn cross-training and other relevant technologies.
Customer Care Associative
A customer service representative answers questions about a company's products and services. To give competent support, customer service representatives retain enough corporate and product expertise. Customer service representative is another name for this position. For NTT Data's customer care executive role with a good ntt data freshers salary are expected to possess the following skills: knowledge in email, fax, attending phone calls, maintaining a healthy customer relationship management, and providing satisfactory customer support. As customer care associates, they are bound to fulfill the following key tasks and responsibilities.
Attending training seminars to expand product knowledge and improve customer service abilities.

Answering customer questions by phone, walk-in, mail, fax, and email.

Incoming calls are processed and logged into the CRM system.

Identifying the demands of the consumer.

Inquiries are forwarded and escalated to the appropriate people and departments.

Contacting consumers to provide timely updates on the status of their questions.

Customer service is second to none.

Customer information is updated as needed.

Information confidentiality must be maintained.

As needed, perform other responsibilities.
Until this section, we have discussed the skills required and the key roles and responsibilities of freshers' jobs at NTT. So, let's continue our discussion of employment benefits and other perks. To be an exceptional customer care associate, learn Data Science Courses in Bangalore for gathering and processing customer resolution data. 
Employment Benefits at NTT Data
NTT offers a range of family care benefits, such as backup care, improved family support, child support, maternity support, fertility benefit, adoption aid, surrogacy help, breast milk transportation, and other outreach services for survival benefits.
Educational and Financial Support:

NTT supports education by donating monies. There is support for education reimbursement, professional development, graduate education, college coaching, and an education savings plan.

International Relocation Package:

NTT offers an international migration package that includes all of the resources employees need to migrate overseas to any country. Purchasing, selling, and renting a house; obtaining a mortgage in the United States; home and auto insurance; transporting items, and temporary housing assistance are just a few of the services offered. Avail of all the international offers and benefits through clearing and learning

IELTS Coaching in Bangalore

. 

Travel Assistance & Services:

NTT workers have access to special travel assistance services in the event of an urgent or emergency circumstance. It also arranges business trips for its highly skilled employees.

Health and Life Insurance:

NTT provides health and life insurance to its employees that is assured, renewable, individually owned, and transferable. It provides additional financial incentives in the event of an emergency or catastrophic situation. 

NTT Work-Life Balance:

Employees Enjoy an Outstanding Work-Life Balance – NTT employees have an excellent work-life balance. To make use of all of the benefits, the employee must update their current situation.
Perks for Freshers at NTT Data
Employees at NTT Data have numerous perks and benefits. Some of them are discussed earlier; this section provides additional benefits, which are
Paid Sick Leave / Paid Vacations / Holidays

Friendly and Innovative Atmosphere / Casual Dress Atmosphere

Physical Disability Insurance / Health Insurance / Life Insurance

Flexible Schedule / Flexible Time and Work Hours

Education/Training/Tuition/Certification Reimbursement

Telecommuting / Working from Home is an option.
This company is an excellent fit for recently graduated students looking for a rewarding and exciting career in information technology with a good NTT Data Fresher Salary. People who are enthusiastic about NTT's businesses and IT services are also encouraged. A notable NTT Data career will open doors to a slew of international opportunities, as well as widespread recognition and clout in the IT employment market. Other information technology businesses are more likely to hire a certified professional or NTT employee. We hope this blog has helped you clarify your future goals and placed you on the path to a successful IT career.