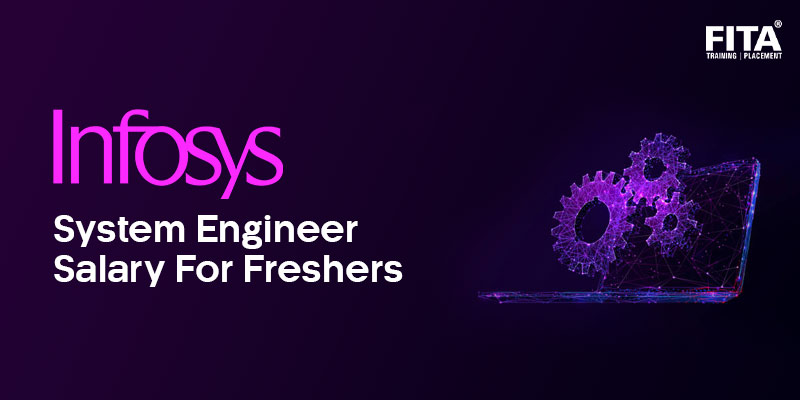 Infosys is a leading business process, information technology, and  digital outsourcing company which tends to pay all of their employees a reasonable infosys system engineer salary. The company's international offices affords wonderful opportunities to freshers to widen their featured career. In this blog, We'll provide you an overview of job opportunities, application procedures, various positions and responsibilities, and career options. If a candidate is interested in business outsourcing, information technology services, or system engineering, Infosys is a great place to start. Let's talk about how to apply for a job at Infosys and what you need to know as a freshers
Eligible Candidates for Infosys System Engineer Post
Infosys wants their system engineer to have the following eligibility criteria before appearing for the interview and application registration.
Candidates with a degree (B.Tech, B.E, M.Tech, M.E) from any discipline are encouraged to apply.

Candidates with science background (MCA, M.Sc) must possess major expertise in computer science, electronics, mathematics, physics, statistics, and information technology.

Like other IT companies, Infosys expects their applicants to have 65% of aggregate marks (either in percentage or CGPA) throughout the academic semesters.

In addition, the candidates must not have attended any Infosys interview or Infosys BPM in the past three months.

The candidate should not possess any kind of backlogs throughout their academic history. 
Boost your eligibility for infosys system engineer role through enrolling in Java Training in Chennai. The language seems to be the leading programming course among all other languages. Hence, it may increase your applicability.
Application Procedure for Infosys System Engineer Roles
Applicants seeking a good system engineer salary in infosys are encouraged to follow the below mentioned guidelines. The applicant can apply through two different modes
Online Application and Virtual Interview

– Applicants can register and submit their application for virtual interview at their official web-page. After successful submission and review, an infosys representative will contact the shortlisted candidate for further information and interview scheduling.

Online Application and In-Person Interview

– Infosys also drives its campus-recruitment cell to the nearby locations and career centers, candidates who are seeking to attend in-person interview can apply and register through online application.
Documents Required During the In-Person Interview
During the interview, candidates should bring the following papers to be validated by the HR-Recruitment cell. 
All original marksheets from 10th and 12th grades

Original Degree Certificate

An updated Resume

Fresh Passport-size photographs

Any original document that serves as proof of their identification.
Supplemental Criteria for Successful Placement
Infosys is looking for younger employees with exceptional interpersonal skills, problem-solving abilities, cognitive intelligence, intellectual talents, great administration, effective communication, and basic scripting or computing skills. Candidates that are industrious, inventive, clever, eager, and adaptable in the job are also more likely to be selected with an affordable infosys system engineer salary.
Enhance your technical and programming skill through learning Python Training in Chennai at FITA Academy. The leading institute best known for successful training and placement. 
Fundamental Skills Required for a System Engineer
Working understanding of UNIX/Linux environments, including how to install, configure, and troubleshoot them.

Solid application stack administration and performance tweaking experience (e.g.,Tomcat, JBoss, Apache, Ruby, NGINX)

Solid cloud expertise, ideally with Amazon Web Services (

AWS

).

Virtualization and containerization expertise (e.g., VMware, Virtual Box)

Working knowledge of monitoring systems

Working knowledge of automation software (e.g., Puppet, cfengine, Chef)

Strong scripting abilities (e.g., shell scripts, Perl, Ruby,

Python

)

Knowledge of networking (OSI network layers, TCP/IP) is essential.
Earn additional credit to your resume for this role through learning AWS Training in Chennai, this course tends to have higher potentiality for web and cloud based applications. 
Infosys System Engineer Salary for Freshers
Fresher workers with no expertise in the Engineer industry are recruited to become assets for the firm, thus they are paid a fair salary of between 5 and 8 LPA, or roughly 45,000 INR/month on average. Freshers at Infosys receive a promotional offer after successfully completing the 1-year probation phase, which is contingent on how well they do throughout the probation period. Based on the individual's performance and the company's earnings, we may anticipate a rise of between 6% and 10%. Monitoring, configuring, testing, and maintaining operating systems are all part of a system engineer's job description. They are in charge of assessing programme performance, keeping backups, identifying security risks, and ensuring that the system runs smoothly. A sample illustration map to visualize the system engineer role salary is shown below

The average compensation for a senior system engineer salary in Infosys is 73,000 per month. You can make 9 to 15 LPA if you have 5 to 10 years of experience. A Infosys senior system engineer salary may earn up to 10 LPA in Delhi, Mumbai, and Chennai, which is the highest income in India. A senior engineer must have good leadership abilities and control over his or her staff to ensure that they comprehend and complete the responsibilities.
Increase the probability of salary increment as a system engineer through gaining knowledge in AI through Artificial Intelligence Course in Bangalore. It may aid you in the automatic machine based system engineering process. 
Description on Infosys System Engineer 
A Systems Engineer is a person who examines the state of a system and determines how to correct it, which may entail creating new solutions from scratch. They are also responsible for advising clients on the proper hardware and/or software to guarantee that their computer system fits their demands.
A systems engineer (IT) is responsible for developing computer systems for clients as well as a system to troubleshoot and debug systems that have glitches or difficulties. Systems engineers (IT) are also in charge of developing the most efficient software for each customer; they may work with robotic machines or computer chips in some circumstances. They're also in charge of all hardware and software maintenance. A systems engineer is also in charge of designing or managing power systems, such as power grid layouts that let businesses and other organizations get electricity.
System engineers (IT) mix complicated components of chemistry and physics, requiring them to have a broad knowledge of science and technology. In most situations, systems engineers must have a bachelor's degree in engineering, computer science, or a related discipline. Certification may also be used to show abilities and certifications in systems engineering and/or information technology. Systems engineers require hands-on experience, therefore college students should enroll in engineering programmes that include lab activities or complete an engineering internship.
General Roles and Responsibilities of an Infosys System Engineer
All of the infrastructure and systems that have been implemented are controlled and monitored.

Operating systems, application software, and system administration tools are installed, configured, tested, and maintained.

Ensure that systems and infrastructure are available at all times.

All installed systems and infrastructure are managed and monitored.

Install, setup, test, and keep operating systems, application software, and system management tools in good working order.

Ensure the greatest levels of system and infrastructure availability ahead of time.

Monitor and evaluate the performance of your application for any bottlenecks, then collaborate with engineers to make changes.

Keep your security, backup, and redundancy strategies up to date.

Create and maintain custom scripts to improve system performance and reduce the amount of time required for human interaction in any process.

Assist in the development of information and operational support systems.

Provide help at the second and third levels.

For problem resolution, communicate with suppliers and other IT staff.
Benefits of Working at Infosys
Paid Sickness Leave – When workers or their families are unwell, Infosys offers paid time off, and a feasible infosys system engineer salary.

Insurance for Accidental Death, Dental Issues, Health Savings, Maternity and Paternity Leaves, Vision, Disability, Health, and Life – Infosys offers dependable insurances for accidental death, dental issues, health savings, maternity and paternity leaves, vision, disability, health, and life.

Inside the Infosys campus, Transportation Support – System Engineers are provided with bicycles. They also provided a business shuttle and transportation allowance.

Cafeteria – During business hours, employees may purchase refreshments from the cafeteria, such as refreshing beverages and snacks.

Infosys gives adoption, fertility, and immigration aid to its workers, as well as other bill allowances.

Employees at Infosys get a monthly stipend or compensation benefits as part of their retirement benefits.
System Engineer Job Roles and their Responsibilities
Technology Analyst

Information Technology Consultant

Technical Consultant
Technology Analyst
Prioritizing user requirements, managing system improvements, and exploring new technologies are all tasks of an IT Analyst. You should be able to comprehend company demands and be extremely analytical in this position. It's crucial to have excellent communication and problem-solving skills. We'd like to meet you if you've also worked on technical projects before. Infosys expects their technology analysts to have the following skills: experience in IT consultant, project management; knowledge on database and structures, system security, and troubleshooting; basic understanding of business practices, excellent verbal and communication skills; analytic thinking and problem-solving skills. As a IT analyst, they are associated with the following key roles and responsibilities
Communicate with stakeholders to learn about their needs.

Create and review functional requirements.

Create effective IT systems to fulfill business and technological requirements.

Develop and execute technology solutions in collaboration with developers.

Multiple systems must be integrated, and the demands of many teams must be reconciled.

Obtain user input on the system's performance.

Plan and manage projects (such as upgrades and software/hardware installs).

Keep up with technological trends and advances by providing guidance and technical training.
To become an exceptional technical analyst, learn RPA Training in Bangalore. So that the robotic process, and automation may help you to process all the analytic processes. 
Technical Consultant
Technical consultants help businesses improve their efficiency by providing information technology assistance. Implementing hardware and software solutions, improving IT systems, and addressing technical challenges are among their responsibilities. They can work for a company as in-house consultants or as independent contractors. A technical consultant must meet the following requirements to join as technical consultant with good infosys system engineer salary: Computer science, information technology, information systems, or computer engineering bachelor's degree; Worked as a technical consultant in a similar field for a long time; advanced understanding of hardware and software solutions, as well as network administration.; capacity to provide in-house training to improve end-user competency.; ability to create, maintain, and offer support for internal error logs; ability to provide effective web-portal assistance; monitoring performance indicators to guarantee optimal system operation; knowledge of data security and software encryption is advanced; the ability to stay current with IT developments and innovations, and interpersonal and communication abilities are exceptional. As a technical consultant, the must fulfill certain roles and responsibilities at Infosys
Analyzing the capabilities of hardware, software,

CCNA

, and networks.

As needed, consult with management and other departments.

Consultation with end-users and provision of new ideas to improve system efficiency.

Web-based portal performance analysis and improvement.

Taking care of recorded faults and guaranteeing system security and encryption.

Processes are being documented, and system performance indicators are being monitored.

Assuring that software upgrades are compatible with computer hardware.

Using the most up-to-date technology advances and solutions.

Troubleshooting and performing diagnostic tests.

End-users are given instructions on how to use the hardware and software packages.
Learn Spoken English Classes in Bangalore for improving the effective way of communicating and consulting with global clients. 
IT Consultant
As an IT consultant, they must work with customers to advise them on the ways to leverage information technology to achieve their corporate goals or solve challenges . They will work in a variety of organizations to improve the structure and efficiency of IT systems. They will give customers strategic advice on technology and IT infrastructures, and they will use technology to facilitate critical business activities. Other activities, including selection and procurement, as well as user training and feedback, may require your assistance and technical skills. They are associated with the following key roles and responsibilities
Collaborate with customers to develop needs and define the scope of a project, as well as the timeframes and resources required.

Explain a client's system requirements, learn about their work routines, and the nature of their business trip to customer locations.

Communicate with employees at all levels of a client's organization.

Determine the software, hardware, and networking requirements.

Analyze IT needs in businesses and provide impartial, independent advice on how to employ technology.

Create and deploy agreed-upon solutions and new systems.

Report your findings in a written or spoken report.

Assistance with change management initiatives for clients.

Purchase systems as needed, then develop, test, install, and monitor new systems.

Organize training for users and other consultants by preparing documentation and presenting progress reports to customers.

Be active in sales and support, and when necessary, maintain touch with customer organizations, identify prospective clients and establish and keep relationships.
Infosys India Private Limited has provided a wide range of job and career possibilities with exponential growth in infosys system engineer salary for young people and professionals since its inception. Infosys has serviced more than 197K Ideapreneurship in fifty-two countries through its global network, research and development labs, and co-innovation labs. As a result, freshers or recent graduates interested in a rewarding career with Infosys India Private Limited and a competitive Infosys system engineer pay can visit their recruiting page.