Course Highlights and Why Power BI Training in Marathahalli at FITA Academy?

The course is up-to-date with the latest curriculum and information on Power BI.

Certification is provided at the end of the course.

Blended learning technique is implemented with students learning the course both theoretically and practically.

Students enrolled in the Power BI Training In Marathahalli will get access to leading-edge labs to learn and apply the concepts practically.

Students have the option of choosing either online or classroom training based on their convenience.

Placement training is provided to help students ace interviews for Power BI related job roles.
Upcoming Batches
09-12-2023
Weekend
Saturday (Saturday - Sunday)
11-12-2023
Weekdays
Monday (Monday - Friday)
14-12-2023
Weekdays
Thursday (Monday - Friday)
16-12-2023
Weekend
Saturday (Saturday - Sunday)

Classroom Training
Get trained by Industry Experts via Classroom Training at any of the at FITA Academy branches near you
Why Wait? Jump Start your Career by taking Power BI Training in Marathahalli!
Instructor-Led Live Online Training
Take-up Instructor-led Live Online Training. Get the Recorded Videos of each session.
Travelling is a Constraint? Jump Start your Career by taking the Power BI Online Course!
Trainer Profile
FITA Academy's trainers are certified Power BI professionals.
Trainers are experienced tutors having guided and trained several students in their career.
Trainers in the Power BI Course In Marathahalli will teach students from scratch to ensure even beginners get a good grasp of the concepts.
Trainers will regularly conduct refresher sessions to make students remember the concepts they have learned.
Trainers conduct regular doubt clearing sessions to clarify any doubts students have about the subject they are learning.
Learn at FITA Academy & Get Your
Dream IT Job in 60 Days
like these Successful Students!

Features of Power BI Training in Marathahalli at FITA Academy
Real-Time Experts as Trainers
At FITA Academy, You will Learn from the Experts from industry who are Passionate in sharing their Knowledge with Learners. Get Personally Mentored by the Experts.
LIVE Project
Get an Opportunity to work in Real-time Projects that will give you a Deep Experience. Showcase your Project Experience & Increase your chance of getting Hired!
Certification
Get Certified by FITA Academy. Also, get Equipped to Clear Global Certifications. 72% FITA Academy Students appear for Global Certifications and 100% of them Clear it.
Affordable Fees
At FITA Academy, Course Fee is not only Affordable, but you have the option to pay it in Installments. Quality Training at an Affordable Price is our Motto.
Flexibility
At FITA Academy, you get Ultimate Flexibility. Classroom or Online Training? Early morning or Late evenings? Weekdays or Weekends? Regular Pace or Fast Track? - Pick whatever suits you the Best.
Placement Support
Tie-up & MOU with more than 1500+ Small & Medium Companies to Support you with Opportunities to Kick-Start & Step-up your Career.
Why Learn Power BI Training in Marathahalli at FITA Academy?
Live Capstone Projects
Real time Industry Experts as Trainers
Placement Support till you get your Dream Job offer!
Free Interview Clearing Workshops
Free Resume Preparation & Aptitude Workshops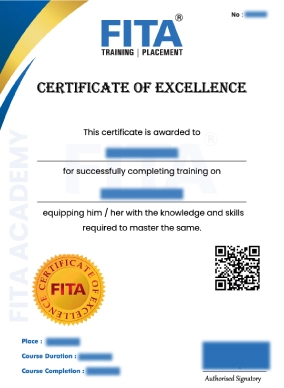 Power BI Certification Course in Marathahalli
Upon successfully completing the Power BI Course in Marathahalli, you'll earn a globally recognized certificate.
Here's why FITA's certificate holds immense value:
Global Recognition: The significance of your certificate knows no borders. It's an internationally acknowledged testament to your proficiency in Power BI. Whether your ambitions take you to the local job market or propel you into the international arena, your FITA Academy certificate is a universal seal of approval.
Competitive Edge: In the fiercely competitive job market, holding a FITA Academy certificate isn't just an advantage; it's a game-changer. Employers are on the lookout for candidates who can showcase their commitment and expertise through reputable certifications. Your FITA certificate tells the world that you're not just prepared; you're exceptionally well-prepared for the role.
Enhanced Job Prospects: FITA Academy's name is synonymous with excellence in Power BI training. With our certificate in your arsenal, your job prospects take a giant leap forward. You become the candidate every employer is eager to hire.
Exposure to Lucrative Offers: Companies treasure professionals who have honed their skills under the guidance of FITA Academy. As a certificate holder, you're the gold standard. This certificate is your passport to a realm of tantalizing job offers and lucrative opportunities.
FITA Academy isn't just an ordinary training institute. It's a place of commitment to excellence and countless success stories of our students. FITA Academy's commitment to excellence has earned it the status of a top Power BI Training Institute in Marathahalli. The certificate acts as a symbol of your readiness to excel in the industry.
At FITA Academy, we don't just give you knowledge but also equip you with the capability to be exceptional. Our Power BI Course not only helps you stay relevant but also gives you an opportunity to construct a future of success. Your FITA Academy certificate will provide you with that security and serve as your first step towards your bright future.
Have Queries? Talk to our Career Counselor for more Guidance on picking the
right Career for you!
Placement Session & Job Opportunities after completing Power BI Training in Marathahalli

In the dynamic landscape of corporate decision-making, Power BI has risen to prominence as the foremost tool, reshaping how companies navigate complex data and fostering exponential growth. As organizations grapple with intricate business operations, the significance of Business Intelligence continues to soar. In this era, real-time data visualization and actionable insights reign supreme, transforming raw information into invaluable decision-making fuel.
This is where Power BI takes center stage, delivering precision and power in one comprehensive package. The demand for Power BI-certified professionals has skyrocketed in major corporations as they recognize the indispensable role of data analytics in their strategic growth. The Power BI Course in Marathahalli is your gateway to this world of limitless potential.
But what makes Power BI the driving force behind many industries? It's a reliable partner across various sectors, from the ever-evolving software industry to the critical realm of healthcare. Whether it's streamlining operations, scrutinizing performance metrics, or enhancing productivity, Power BI provides the tools to meet these demands.
Imagine having the ability to derive valuable insights from a sea of data, or the power to predict trends that steer your business towards the pinnacle of success. This is the promise of Power BI, and it's no wonder that businesses across the globe are investing in this technology.
Now, when you've honed your skills in Power BI, what's next? The doors to a world of career possibilities swing wide open. Companies are eager to welcome professionals who can harness the potential of Power BI. The job market brims with opportunities, whether you're a fresher embarking on your professional journey or an experienced candidate seeking to level up. Some of the coveted job roles in this domain include:
There are various job roles available for those who are skilled in Power BI, with companies ready to offer high Freshers Salary as well as experienced candidates salary. Some of them include
Power BI Project Manager
Power BI Developer
SQL Server Power BI Developer
Power BI Semantic Model Developer
Power BI Administrator
Power BI Manager
Power BI Consultant
With that being said, the Power BI Course In Marathahalli offered by FITA Academy offers a comprehensive placement training program to ensure students land in above mentioned job roles after the completion of the course. Mock interviews are conducted for students and Power BI Interview Questions are discussed. FITA Academy also has tie ups with over 1500 companies, so students are guaranteed to get various opportunities for placement.
Success Story of Power BI Training in Marathahalli
I enrolled in the FITA Academy to upskill myself in Power BI. The trainers were very helpful, explaining each concept with patience and precision. And the hands-on approach they use made me learn concepts practically as well. I now feel confident in using Power BI.
Choosing FITA Academy was a fantastic decision. The course materials for Power BI were well made. The trainers made complex concepts easy to understand. The practical exercises they offered made learning engaging and relevant.
I can't recommend the Power BI course at FITA Academy enough. The curriculum was well-structured, and the instructors were incredibly supportive. The practical projects allowed me to apply what I learned. FITA Academy truly helped me upskill myself.
FITA Academy's Power BI Course In Marathahalli exceeded my expectations. The trainers provided in-depth knowledge and superb guidance. I was offered flexible timings for the course so I was able to balance my studies with my work. Thanks to FITA Academy, I am now a certified Power BI professional and have secured a fantastic job in data analytics.
I enrolled in FITA Academy to upskill, and it was the best decision I made. The course content was spot-on, and the trainers were supportive throughout my learning journey. I loved the emphasis on hands-on experience, and I now feel confident in my Power BI abilities. FITA Academy played a pivotal role in advancing my career.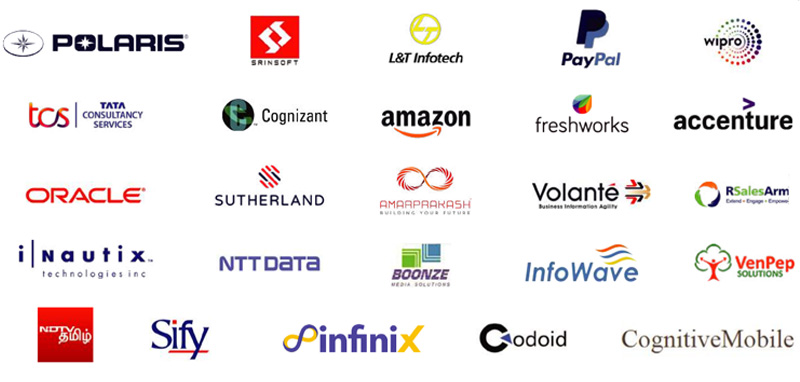 Frequently Asked Question (FAQ) about Power BI Training in Marathahalli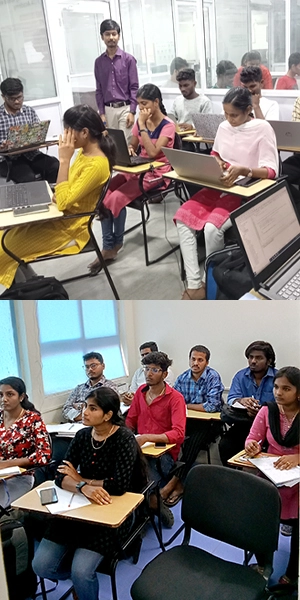 Power BI
Power BI is one of the most commonly used business intelligence platforms. It boasts an intuitive interface seamlessly fused with cutting-edge analytics. This robust tool enables organizations to efficiently gather and analyze data, unveiling significant insights with the assistance of embedded AI capabilities. All of this is achieved without compromising on the security and performance standards upheld by the Power Platform and Azure.
Developed by Microsoft, Power BI takes center stage as an interactive data visualization software primarily geared towards enhancing business intelligence. As an integral component of the Microsoft Power Platform, Power BI encompasses a suite of software services, applications, and connectors, harmoniously collaborating to transform diverse data sources into both static and interactive data visualizations.
Flexibility is paramount, with data inputs sourced directly from databases, webpages, PDFs, or structured files, including spreadsheets, CSV, XML, and JSON. With Power BI, navigating the complex world of data analysis becomes a streamlined and insightful journey.
With that being said,FITA Academy has transformed aspiring data analysts into certified Power BI experts through its Power BI Course In Marathahalli. Join FITA Academy to become one of them.
Features of Power BI
Data Visualization: Power BI's prowess helps organizations craft interactive reports and dashboards that breathe life into data through charts, graphs, and maps.
Collaboration: Power BI fosters seamless teamwork, enabling multiple users to craft reports and dashboards concurrently. This real-time collaboration fuels data sharing and insights exchange.
Data Transformation: Power BI's data alchemy turns raw, unruly data into refined, actionable information. By cleansing and manipulating data, it paves the way for effortless analysis, ensuring that businesses wield pristine, reliable data.
Integration: Power BI seamlessly melds with a spectrum of Microsoft products and applications like Excel, SharePoint, and Teams. This integration streamlines project workflows and enhances productivity.
APIs for Integration: Developers rejoice with Power BI's API offerings, facilitating the embedding of Power BI dashboards into other software products.
Natural Language Query: Data exploration is made intuitive through natural language queries, simplifying the journey to insights.
Hybrid Configuration: Quick deployment and a secure environment characterize Power BI's hybrid configuration, catering to diverse organizational needs.
Community Updates: Power BI keeps pace with evolving needs, regularly enriching its features based on valuable community input.
Pre-built Solutions: For SaaS solutions, Power BI offers a treasure trove of pre-built dashboards and reports, expediting data-driven decision-making.
Power BI components
Power Query: Nestled within Power BI Desktop's Power Query Editor, this feature unites data from diverse sources, transforming them to cater to specific business needs.
Power Pivot: Power Pivot takes the reins of data modeling, facilitating in-memory analytics within Power BI.
Power View: With Power View, visualizing, analyzing, and presenting data in Power BI becomes a breeze, thanks to its drag-and-drop functionality and seamless connection with various data sources.
Power Map: Dive into interactive geographical data visualizations with Power Map, which paints a vivid picture based on country, longitude, and latitude.
Power BI Service: This service empowers users to share data views and workbooks while refreshing data from both on-premises and cloud-based sources.
Power BI Q&A: Harness the potential of natural language queries with Power BI Q&A, promptly answering your data-related questions.
Data Management Gateway: This gateway ensures regular data refreshes, data feed viewing, and table exposure.
Data Catalog: Discover and reuse queries efficiently using Data Catalog, bolstered by metadata capabilities.
Power BI Desktop: This all-encompassing platform integrates Power Pivot, Power Query, Power View, and more, allowing for the creation of dashboards and reports on your PC or laptop.
Power BI App: Available on iOS, Android, and Windows, the Power BI mobile app grants access to reports, query running, report sharing, and personalized notifications, irrespective of data storage location.
The Power BI Training In Marathahalli offered by FITA Academy provides a detailed course on the various concepts of Power BI, including the above-mentioned components.
Power BI Dashboard
A Power BI dashboard is akin to a concise one-page storybook of data, richly illustrated through visualizations. These single-page canvases serve as the stage for highlighting the most critical aspects of your narrative. It's important to note that Power BI is the exclusive realm where these dashboards thrive.
In this one-page visual narrative, you'll find an array of charts and graphs seamlessly woven together, guiding you through the data's journey. Known as a Canvas, this singular page is your canvas to paint the story.
DAX
Data Analysis Expressions (DAX) is a library of functions used in Power BI, used to build formulas and expressions. It's not just for Power BI; it plays well with other BI and visualization tools too. Think of DAX as a language of formulas, neatly tucked inside functions.
In DAX, we deal with two types of data: Numeric (covering integers, currency, and decimals) and Others (like strings and binary objects). With DAX, report designers can flex their analytical muscles, making data analysis and calculations a breeze.
DAX is very reliable for efficient report creation, ensuring a smooth design journey. These expressions are a treasure trove of formulas, functions, operators, and constants. They let you create measures, dimensions, and custom tables, returning values that help untangle data mysteries and establish new relationships between variables.
The Power BI Training In Marathahalli offered by FITA Academy offers a deep dive into DAX. Enrol yourself in the course to have a thorough training of DAX and various other functions of Power BI.
Data Modeling
As your business evolves, so do its data needs. Data modeling steps in as a tool for deciphering and refining those requirements. It's like a puzzle where you figure out how different data types fit together. Think of it as a way to clarify your data needs and usage.
Now, in the realm of BI tools, data modeling takes center stage as the glue that connects multiple data sources. These connections create relationships that enable you to create spectacular data visualizations by seamlessly merging information from numerous sources.
Data modeling allows you to do personalized calculations on existing tables. This means that you can create new metrics and perform specialized calculations on them.
Applications of Power BI
Visualize Details Easily: Power BI empowers you to craft visual dashboards that condense complex data from diverse sources into one easily digestible display.
Real-Time Performance: With Power BI, you can gain real-time insights into your business's performance and monitor active projects, employee contributions, and deadlines effortlessly.
Sales Analysis: Power BI excels at sales analysis. It allows you to create interactive charts that track user activity during online sessions.
Improving Marketing: Power BI helps marketers gather valuable data to fine-tune their marketing efforts, such as tracking product prices, individual sales, and more, enabling them to craft more effective campaigns.
Create Consistent Reporting Standards: Say goodbye to inconsistent reporting formats. Power BI streamlines the process, ensuring that every report follows a standardized format.
Controlling Costs: Keep a close eye on campaign costs with Power BI. It allows you to display the average cost of each campaign, aiding in budget allocation and cost control.
Product Development: For product development, Power BI reveals how much revenue each product generates, helping you decide when it's time to introduce new and improved offerings.
Server-Level Data Management: Manage data from various sources efficiently at the server level, ensuring a comprehensive and unified data system.
Analytics with Internal Software Systems: Seamlessly merge Power BI with your existing software systems, from email management to accounting and CRMs. This integration streamlines data management, reducing the need for multiple dashboards.
Streamline Organizational Processes: Power BI empowers different departments within your organization to streamline their processes with custom data management systems and intuitive dashboards.
Provide Complex Data Within Software and Apps: Power BI takes data from multiple sources and offers it in various contexts, even embedding it within your apps through Microsoft's API.
Enhance the Marketing: Power BI helps track user behavior during online visits, enabling more effective online marketing campaigns.
Real-Time Financial Insights: Power BI helps gain real-time insights into the company's financial performance, allowing analysts to address issues promptly.
Join the Power BI Course In Marathahalli to get a detailed insight into all of these concepts and get skilled in Power BI.
Microsoft Power BI Data Analyst Associate PL-300
The Microsoft Power BI Data Analyst Associate PL-300 is a certification provided by Microsoft for aspiring data and business analysts. Designed for data analysts and business analysts, this certification signifies your ability to master Power BI for data analysis and visualization.
With the PL-300 certification, you showcase your skills in:
Data Transformation: You'll prove your capability to connect with various data sources and transform data into meaningful insights, setting the stage for informed decision-making.
Interactive Reporting: Power BI is all about creating dynamic and interactive reports. This certification demonstrates your ability to craft reports that not only display data but also engage users.
Data Management: Managing and sharing reports efficiently within your organization is crucial. PL-300 validates your competence in these aspects, ensuring your organization's data is in capable hands.
Candidates must attend an exam to obtain the certificate. Questions are asked from 4 domains namely Data Preparation, Data Modeling, Data Visualization & Analysis and Deployment and maintenance of assets. Candidates need to score 700 or above to clear the exam and obtain certification.
FITA Academy helps students prepare for Microsoft Power BI Data Analyst Associate PL-300 besides providing a certificate of its own. Students who wish to clear the PL-300 exam can join the Power BI Course In Marathahalli to get trained and prepare for the exam.