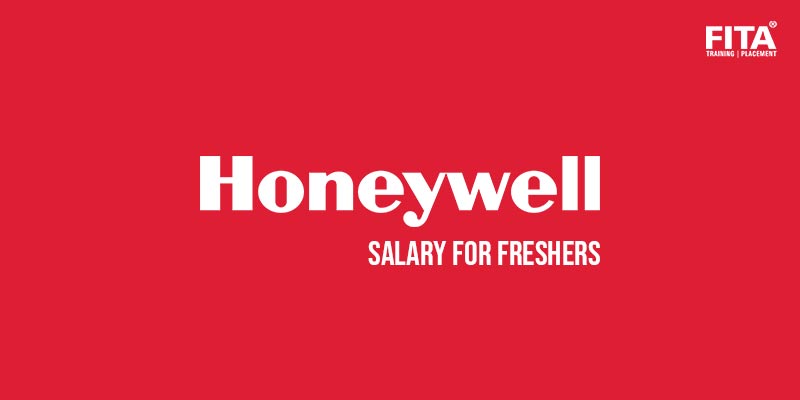 Honeywell is a next-generation automotive and digital technology company working on future technologies. The company is looking for innovative students and aspiring candidates who can help them to create global impact in developing cutting-edge technologies. Now the company has announced numerous job opportunities for freshers and is ready to hire qualified candidates with excellent Honeywell Salary for Freshers. 
Let's discuss the prospect of freshers' careers, job vacancies, and other job benefits along with salary structure in the upcoming section. Before moving to application procedures, we would like to add some company insight on next-generation technology.
About Honeywell International
Honeywell International Inc. is an advanced technology and enterprise-based company located in the United States that produces aircraft and automotive technologies, domestic, corporate, industrial control systems, chemical products, polymers, and engineered materials.
Who can Apply?
The applicability of a candidate can be determined by their curiosity and passion for the automobile and next-generation technologies. In addition to credentials, the following qualities differentiate the right candidate for applying to Honeywell.
Dedicated to the development of innovative technologies for the aerospace and automobile industry.

Particular interest in transformative digital technology.

Interest in developing tools for the future world.
If any of these characteristics match your thoughts or ambitions, Honeywell is the place to dive in. Let's talk about the application process and the platform where you can look for open positions and career opportunities.
How do I look for job openings and apply for fresher positions?
The official career site of Honeywell allows job seekers to search and apply through "search and apply" options. Here in this tab, you can search for the desired job role by typing the keywords in the search box. In addition, you can filter your search results based on work location, experience, and salary packages. So, to complete the procedure, you need to do the following guidelines.
Visit their career page at www.honeywell.com

Explore for various vacant positions based on the job locations, and look for preferred positions.

If any of the job openings hits your interest, proceed further to apply.

Before moving to the application form, we advise you to read the rules and regulations carefully.
Based on the statistics report of Honeywell Technologies, the company reported that, it has numerous open positions for software developers, software testers, and technical engineers. Therefore, if you are looking to begin a new career with any of the above mentioned job positions, then pursue any of the appropriate courses which match your desired job. We suggest enrolling in a Software Testing Course in Bangalore would be meritorious for you.
What Qualification is required for joining Honeywell?
Freshers willing to join Honeywell must meet the following educational Qualification to apply for various vacancies with a reasonable Honeywell Salary for Freshers.
Any bachelor's degree with 60% of aggregate marks in all subjects.

No active academic backlogs at the time of applying. 

Good problem-solving, logical and analytical skills.
Furthermore, we suggest you enroll for a Machine Learning Course in Chennai to add additional credits to your educational Qualification.
What are the basic skills required for Honeywell Recruitment?
Like all IT companies, Honeywell looks for some fundamental skills in freshers which are very essential for industrial tasks. The following are as follows.
Strong problem-solving and technological skills.

Excellent computing and coding skills.

Good verbal, written, and communication skills.

Expertise in computer programming, software testing, and software development. Interns might have the greatest opportunity for successful recruitment.
Every candidate's communication abilities attract the recruiter's interest. So, we suggest enrolling in Spoken English Classes in Chennai could enhance your interactive capabilities. This course will train you a way to talk effectively with customers and purchasers for effective client relationship management.
Honeywell Company Salary for Freshers
The annual Honeywell Package for Freshers varies depending on whether you are a fresher or an experienced employee in a modest way. Perhaps, based on salary information provided by a variety of former and some current employees of the company, we have calculated an average salary for freshers, which can be understood from the below given chart.

If you want to receive a good initial Honeywell Salary for Freshers, you must obtain certain advanced and demanding skills, so we suggest that learning AI through Artificial Intelligence Course in Bangalore would be more advantageous than other IT courses. 
Job Roles and Responsibilities
Graduate Application Engineer
An application engineer is in charge of designing and re-engineering system applications based on customer requirements and sales goals. Application engineers perform diagnostic checks on software programmes, discover areas for improvement, install essential updates, optimize optimization, revise system codes, and provide technical support to customers. They also produce ideas and identify other business prospects by researching current technological market trends that would assist the organization boost sales and profitability. If you are willing to apply for this position with a reasonable Honeywell Salary for Freshers, you need some basic technical skills such as 
A Good command of programming languages.

Knowledge of application methodologies.

Knowledge of OEM hardware, and OS.

Strong skills in HTML, CSS, ASPX, and XML.
As a good application engineer, you are required to complete the following key tasks and responsibilities, which are
Manage new OS release Alpha/Beta sites.

In CRM, you may manage various projects, resources, clients, and tasks, as well as track actions.

Manage and give cost input for OEM hardware quote requests and information requests.

Manage lists, site templates, documents, permission levels, and custom web elements when developing and administering SharePoint.

Identify and develop supply chain management opportunities, as well as coordinate and lead RFI and RFQ responses and establish proposal and price strategies.

Manage and Facilitate the projects and processes involving ASIC integration.

Customize a current website utilizing HTML, ASPX, CSS, and XML to match the needs of the consumer.

Create data analysis scripts, research report issues, and handle user data manipulation requests using vast SQL experience.

Design and re-engineer system applications based on customer requirements and sales goals.

 You need to perform diagnostic checks on software programmes, discover areas for improvement, install essential updates, optimize optimization, revise system codes, and provide technical support to customers.

Implement ideas and identify other business prospects by researching current technological market trends that would assist the organization boost sales and profitability.
If you are seeking a job position as a graduate application engineer,  you need to acquire significant skills in robotic and engineering domains. Therefore, we recommend you to join RPA Training in Bangalore would be advantageous. This course will impart you with all the automation, engineering, and robotic prospects to head your featured IT career.
System Engineer
Systems engineers are in charge of planning and implementing a company's networked computing infrastructure and ensuring that it functions efficiently. They also resolve any technical issues that arise due to faulty hardware. If you are looking for this kind of job role with a feasible Honeywell Salary for Freshers, you must be skilled in domains such as
Computing Skills in Ruby, Perl, Python, and Java.

Knowledge of OSI Networks and TCP/IPs.

Technical skills to install, configure, and debug

Unix

-based systems.

Strong skills to administrate, optimize, and monitor a system and the ability to take care of any problems.

Good verbal, written, and communication skills. 
If you get selected as a system engineer, you need to complete the following key tasks and responsibilities, which are
Maintain structural integrity by monitoring existing systems.

Supervise the creation and deployment of new hardware and software.

Install and configure operating systems and other software.

Test installed software for bugs and other issues regularly.

Provide technical direction to IT, and support workers.

Ensure that technical resources are always available to teams and customers.

Design and Install security solutions and multiple backups for data protection and security.

Reduce the requirement for human involvement by writing custom scripts.
Before applying for the system engineer job position, you need to possess a wide range of technical and non-technical skills. To gain additional technical skills in AI, we suggest joining an Artificial Intelligence Course in Chennai. This course might add an exceptional skill to attract recruiters' interest in hiring you.
Software Engineer
Software engineers use software development methodologies to design and build software. They're also responsible for updating and debugging software to enhance the overall system performance. If you want to work as a software engineer at Honeywell with an affordable Honeywell Salary for Freshers, you need to obtain proficient skills such as
Strong understanding of software packages and technology.

Advanced programming and computational abilities.

Relevant experience in SDLC (Software Development Life Cycle).
If you get selected for this position, you are required to complete the following essential roles and responsibilities, which are
Develop, Test, and Validate numerous software testing methodologies.

Monitor the software and its control programs for an improved software development process.

Reporting the software development progress and statuses to the clients and internal teams.

Inspect and Test new software transformation technologies.

Maintain the state of the software development life cycle.

Implement new programs to enhance the computer software performance.

Utilize the software data to build new and reliable software.

Collaborate with internal teams for the development of error-free software for the clients.
Before moving to the phase of the application procedure for applying for software engineer roles, you must gain and enhance your programming skills. Therefore, obtaining a python certification via Python Training in Chennai at FITA Academy will be excellent. This course will provide you with all of the core programming skills for software development and testing.
Field Engineer
Field engineers supervise the technical functions, test types of equipment, handle repairs, manage engineering projects, conduct site inspections, engage with clients, ensure compliance, do feasibility studies, and manage work schedules. If you are wishing to apply for this job position with affordable Honeywell Salary for Freshers, you need to acquire certain technical skills, which are
Outstanding problem-solving and multitasking skills.

Good Communication and analytical skills.

Good management and computer skills.

Strong logical and interpersonal skills.
As a Field Engineer, you need to accomplish the following key roles and responsibilities, which are
Manage the field operations.

Repair and Restore the problems associated with projects.

Produce reports for a better understanding of project status.

Troubleshoot and Test the site projects and maintain them effectively.

Improve the efficiency and long-term viability of projects.

Develop prototypes for explaining to the clients.

Provide tech support to the internal teams.

Inspect the worksite and manage them effectively.
Communication is an effective way to attract clients and lead a group of people. If you join as a field engineer, you are required to lead a team at the worksite; therefore, if you want to advance your communication skills, we encourage you to join Spoken English Classes in Bangalore would be a plus. This course will impart efficient communication skills and good interpersonal skills.
Technical Support Engineer
Technical Support Engineers provide consumer and client technical support in system management. They are also concerned with systems to upgrade software, debug network server problems, and fix hardware-related concerns. Freshers applying for this job with the expectation of earning a reasonable Honeywell Salary for Freshers must obtain the following essential technical skills
Skill to provide desktop and technical support.

You are familiar with computer hardware and software systems.

Expertise in network management and system security.

Basics include web development services, operating systems, and APIs.

Teamviewer allows you to control remote systems.

Troubleshooting capabilities for sophisticated hardware and software issues.

Ability in Communication, interpersonal relations, and analysis are all beneficial.
If you are willing to apply for this job, you will be accountable for completing the following essential tasks and responsibilities to provide IT support:
Remote access system for troubleshooting client computers.

Configure the system using computer applications and networks.

Troubleshoot and fix computer hardware, network servers, and software applications problems.

Maintain good contacts with overseas customers.

Send in work reports and a history of system troubleshooting.
Fresh Technical support candidates unfamiliar with the profession need to learn additional ideas and gain experience in systems and networking. Join the CCNA Course in Chennai to understand more about advanced networking principles. This course will cover fundamental and cutting-edge networking, network management, and network server constraints.
How are Freshers Benefited at Honeywell Technologies?
Honeywell Technologies provides numerous freshers benefits and perks to engage their workers. Some of the excellent benefits are
The company pays a considerable salary compensation to the onsite workers compared to remote workers.

Honeywell supports retirement plans and ensures the safety of employees.

The company also covers healthcare and life insurance policies in traumatic accidents, surgery, and pharmaceutical circumstances.

The company also provides subsidiaries for maternity and other festive occasions.

The company also arranges team outings to various national and international locations.

You will get paid leaves during emergency or unavoidable circumstances.
Are Freshers Satisfied with their Jobs at Honeywell?
Yes, freshers are incredibly satisfied with their jobs at Honeywell. Based on the review and rating provided by the Honeywell Alumni and current working employees. We have estimated an average job satisfaction percentage, where Honeywell contributes 72% of the Job satisfaction rate overall. In addition, career growth and work satisfaction hold 88%, work-life balance is found to be 80%, and job security is around 78%. You can refer to the below-given chart for more information.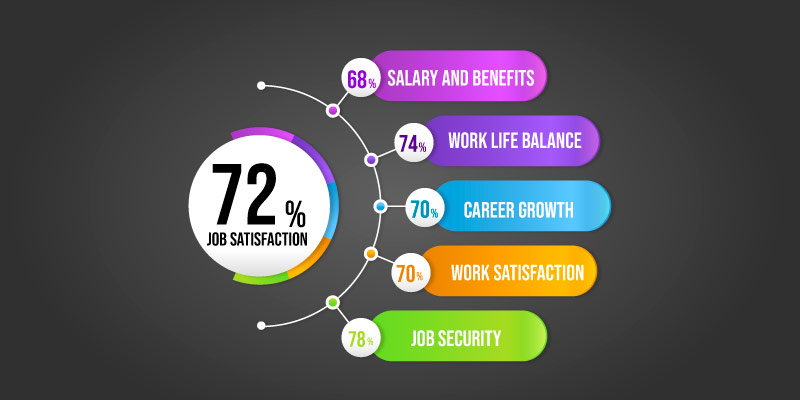 In today's information and technology era, the demand for IT candidates will exponentially grow in the following years. So, choosing a professional IT job with Honeywell would be beneficial because the scope of your work will expand with Honeywell Salary for Freshers. With over 116 years of service, the organization offers excellent perks to freshers and experienced professionals. Similarly, most employees are satisfied with their profession during the working period. Hence, we strongly encourage freshers to look for their ideal careers and take advantage of every opportunity to join this firm.