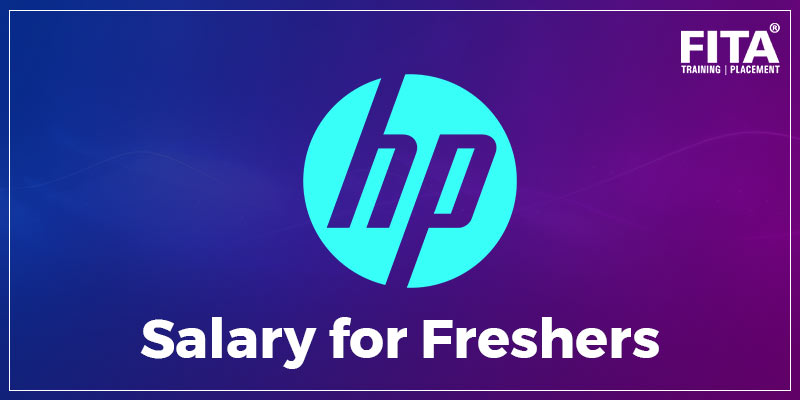 Introduction
HP's sole aim is to create technologies to improve everyone's life. It makes aspirants realize and understand their creative capability and potentiality through providing different jobs and career opportunities. The company has been encouraging students, educators, and other professionals who are looking for a good HP salary for freshers to join their organization for a prospective digital generation. HP pioneered in the design and manufacture of computer, storage systems, and network interfaces, as well as software management and service execution. Desktop computers, corporate and industry-standard servers, associated storage devices, network security products, applications, and a variety of printers and other imaging products are among the company's major products.
So, in this blog, we will explain the incredible career opportunities, application procedures, stages of interviews, and employment benefits with HP salary structure.
Who can Apply for interesting job roles at HP?
Applicants who are eager to accelerate their prospective careers with hp are encouraged to apply for various roles. Also, the applicant must have fundamental exposure and knowledge about HP's computers, products, storage devices, network interfaces, and miscellaneous. In addition, candidates who are passionate about digital products and IT services are appreciated to apply.
How to Apply for HP Role?
HP provides easy apply options for freshers and other experienced professionals through their career page. Follow these steps to get registered.
Fill in all the basic details of the applicant.
Provide the email address, mobile number, and professional social media URLs
Finally, upload the resume and submit the application.
HP recruitment Process
HP selects qualified candidates through 4-5 technical rounds. The following rounds were
Written Test – General Aptitude Test, Verbal Ability Test, and Technical Test are the three primary portions of the written round. The General Aptitude Test includes a section on mathematical thinking, a section on logical reasoning, and a section on verbal abilities.
Technical Interview Round 1-3 – Students who pass the written exam are invited to the Technical Interview. To clear this round, you must have a firm grasp of the fundamentals of technical questions. Data structures, DBMS, algorithms, Operating System, Networking, and OOPs principles should all be familiar to you. Students in areas other than Computer Science should study the other two topics that are relevant to their field. During the interview, students will be requested to write codes. They also quizzed you on your résumé. In this round, you may be required to solve riddles. You may practice puzzles in our Puzzles area to get ready for them.
Human-Resources Round – HR Round is always concerned with an introduction to applicants, the reason for hp roles, career & life prospects.
Qualification Criteria for Job Postings at HP
Freshers or Graduates seeking numerous job roles at HP with excellent hp salary for freshers must possess the following qualification criteria.
Graduation in B.E/B.Tech from computer science, electronics, communications, and information technology.
Post Graduation M.E/M.Tech/MCA in either computer science (CS) and information technology (IT)
The applicant must possess 60% of aggregate marks in their degree and academic schools.
The applicant should not possess any kind of backlogs in their present and past academic career.
Significant Credentials Required During Interview
Updates Resume
SSC and relevant pass-out certificate
Marksheets from both Graduation and Postgraduation
Any Government recognized ID Proofs such as Aadhaar, PAN, Driving License
Passport Size Photograph
Add-On Skills for Increasing the Probability of Getting Placed
HP seeks to hire recent college graduates with strong interpersonal abilities. Problem-solving, quantitative thinking, analytic skills, strong organizational and communication skills, and basic computing or programming abilities. Similarly, applicants with business hours who are conscientious, creative, knowledgeable, eager, and adaptable are more likely to get hired.
Looking for a salary increment to an excellent hp freshers salary, learn Artificial Intelligence Course in Bangalore at FITA Academy.
HP Salary Structure from Freshers to Experts
The salary package for freshers at HP varies for different positions and the years of experience they have. Also it differs from freshers to the experienced. However, we have estimated the basic salary for freshers at HP in the below graph.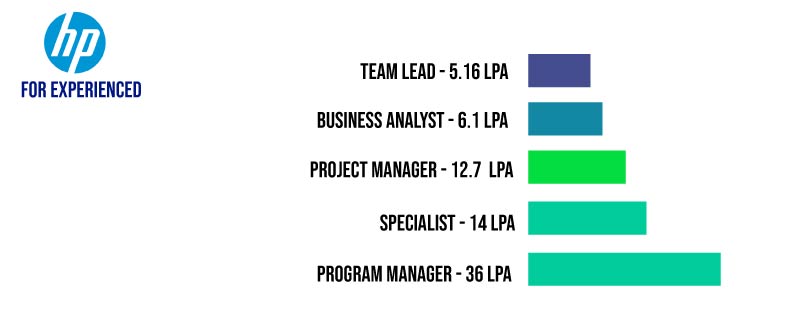 Basic Skills, Job Roles and Responsibilities of Freshers at HP
Process Associate
Process associate is concerned with the Management of software packages, administration, billing, and invoice services. Therefore, HP wants their freshers looking for this role with an excellent HP company package for freshers who are expected to have the following desired skills: generation of reports, IT services, document management, improvement of process, data entry, and Management of software packages. During their post, they have the following key roles and responsibilities to accomplish
Critical analysis of the company's processes for delays, weakness, and any other obstructions.
Supervision of the process to enhance production rates and costs
Assessing the process orders
Repair & Maintenance production equipment
Troubleshoot Issues
Report and Quality assurance information
Technical Support Engineer
HP demands the following relevant skills for the role of Technical support engineer: disaster recovery, incident management, knowledge of Linux, Unix, and other operating systems, presales, remote and technical support, troubleshooting, analytical skills, configuration management, monitoring of technical device performance, and virtualization. A Technical support engineer is associated with certain roles and responsibilities which are
Detect and Identify Consumer complaints
Identify, Diagnose, Troubleshoot, and resolve all the system issues
Report unresolved issues to the appropriate internal core teams
Building an excellent commercial relationship with consumers through prompt and accurate feedback
Enhance the skill set of securing IT services through learning Ethical Hacking course in Bangalore at FITA Academy.
Senior Process Associate
Freshers seeking this role with an excellent HP package for freshers must have desired skills in general accounting and Management; relevant experience in the spreadsheet; balance-sheet; processing invoices, receipts, deposits; knowledge in Microsoft Excel, Outlook, Word, and VLookup based formatting tools. As s senior process associate, they must accomplish the following key tasks and responsibilities, which are
Processing payments and POs
Entry and Generating of Invoices, Checks, and Electronic Transfers
Reconciliations of the bank, credit card, debits, and loans.
Reporting all the balance sheet reconciliations with bank and loan reconciliations.
Generating monthly and simple reports, and schedules.
Basic Skills, Job Roles and Responsibilities of Experts at HP
Team Lead
Team lead plays a significant role in driving freshers and other groups of people. Therefore, HP expects their new team leads to having good skills in computer management, Microsoft Excel, and other performance metrics skills. In addition, they must have good leadership qualities, team players with more outstanding interpersonal and communication skills. As team leads, they are associated with the following key roles and responsibilities.
Set project deadlines and undertake serious tasks
Evaluating the regular performance of freshers and other employees
Communicate, motivate, and guide team members
Identify the training needs and afford better coaching
Organize team-building activities and other tasks
Improve your communication skills with team members through enrolling Spoken English Classes in Bangalore at FITA Academy.
Business Analysts
Entrants seeking for this role at an affordable HP company package for freshers are recommended to show their excellence during their junior roles. Business analysts must possess the following skills to join HP: Consultative and interpersonal abilities, skills in facilitation, problem-solving and analytical thinking, being able to give a high level of precision and being detail-oriented, organizing skills, understanding of the business structure, analysis of stakeholders, engineering requirements, analyze the costs and benefits, modeling of processes, knowledge of networks, databases, and other forms of technology. During their role at the firm, they must complete the following key tasks and responsibilities, which are
Generating a report on detailed business analysis
Outlining problems, business windows, and solutions
Forecasting budget of the company
Monitoring and executing perfect business models
Involvement in the analysis of variance model
Pricing and Reporting the products to the clients
Reporting Business models and its requirement to stakeholders for funding resources.
Drive your company's business to the next level through learning Digital Marketing Courses in Bangalore at FITA Academy.
Project Manager
To join as a project manager at hp, the applicant needs to have the following skills and requirements: hands-on experience in the Management of large, complex, and transformative IT programs, software-development programs, and languages such as Java, Python, Selenium, PHP, and so on. Also, the applicant must have served or led as a project manager in any IT company. The manager is responsible for fulfilling the following key tasks after acquiring this post with a good HP salary structure.
In managing high-performing project teams, facilitate influential project conception, planning, budgeting, scheduling, and resourcing * Manage projects within scope, quality, schedule, and cost limitations Create and carry out project work plans, which you should change as needed to suit changing needs and project expectations.
Lead, coach, and motivate project team members, as well as identify and resolve roadblocks and problems.
Bring together the activities of team members and client teams to form a unified project effort.
Ensure that project documents are comprehensive, up to date, and properly preserved.
Ensure that any modifications to the project's scope are recorded and authorized through a change control process.
Identify project challenges and hazards ahead of time and develop effectively.
Proactively Manage and Set client and project team expectations
Build strong relationships with client teams and develop a deep understanding of their business objectives.
Continually seek opportunities to increase client satisfaction and strengthen relationships.
Take on other duties as assigned action plans for resolving issues and managing risks.
Learn the leading analytic course at the best training and placement center in Chennai through enrolling Data Science Course in Chennai.
Specialist
Specialists are the experts who have achieved this role after years of sustenance and great performance. As a specialist at HP, they must learn and accomplish numerous roles in the following domains. So, they need to acquire knowledge and skills from multiple disciplines.
Security refers to safeguarding against harmful software and outside dangers.
Managing communication infrastructure and providing server support.
Maintaining office systems and archives is part of the administration.
Employee or customer support includes troubleshooting.
Designing applications and innovative technology for smartphones and tablets fall under the category of mobile.
Infrastructure and programming are two aspects of development.
Developing and maintaining online resources over the internet.
Quality assurance and innovative technology are the focus of research.
Learn web hosting and services through AWS Training in Chennai at FITA Academy to enhance your specialist skills.
Program Manager
To board as a program manager, the applicant needs to have the following skills and years of relevant experience: in-depth knowledge on operational policies, processes, and methodologies; understanding the techniques of critical project management; must have served PM professionals; and PMP certified professionals. During their job role, they are concerned with fulfilling the vital roles and responsibilities which are
Budget details may be found in the Impact section. Extremely large/complex/multiple regions/global.
Defining a plan to meet the sponsors' goal of an end-state change is common. High/extremely high risk
Approved budgets are met or exceeded.
Provides Management with accurate financial estimates.
Senior and executive stakeholder management manages complicated multi-function and global connections.
With more than 20 employees from various places, it manages both internal and external resources.
For major contributors, provides extensive performance assessment input and development recommendations.
Mentors others by serving as a role model and offering encouragement for personal growth.
Employment Benefits at HP
Employees at HP are provided with complimentary transportation systems for traveling to workspaces from their homes.
Employees are trained with soft skills throughout their employment period
HP have refreshment spots to relax and motivate workers to sustain their interest
In the case of the worst scenario of the covid pandemic, the company provided work from home opportunities. And the strategy still follows for employees who are willing to work from their homes.
All the employees at HP are provided with reliable health, life, and insurance policies for the financial benefit of their workers.
Each year, the company takes out its employees to any tourist destinations and outings to sustain its work interests.
Guaranteed Job trainee and placement support to successors
For the health benefits to fitness, the company has multiple gymnastics for their workers and senior employees.
HP offers financial assistance for the support of children's education
Employees with HP are endowed with international opportunities to work
All the employees are provided with free meals and snacks during their official working hours.
In order to support parents to continue their work roles, they also afford child care centers for their children's engagement.
Explore, engage, and avail international job benefits of hp across various locations through enrolling and cracking IELTS Coaching in Chennai at FITA Academy.
Conclusion
This article covered HP's overview, job postings, application methods, various duties and responsibilities, employment perks, worldwide opportunities, and fresher's benefits. The organization has a strong international reputation and continues to be a promising platform for IT freshers and hopefuls. Its creative and friendly atmosphere will aid candidates in achieving a distinguished and promising career. As a result of our research, we strongly advise freshers to approach HP and apply for various employment positions. The applicant's professional experience and talents will make them desirable across the world. As a result, visit HP's official careers website to apply for numerous opportunities at HP with an excellent HP salary for freshers.
Frequently Asked Questions
1) What is the basic salary package for freshers at HP?
The hp package for freshers varies for different posts, but usually for applicants with no experience earns 1.9 to 2.8 Lakhs Per Annum.
2) Is HP a good place to join?
Yes, HP is a good and innovative company to join. It affords a great work-life balance along with a good salary package for freshers.
3) Why is the HP workspace considered as a great place to work?
The workspace at HP is considered as a great place to work. Sometimes, the workspace is referred to as Gold Standard due to its diverse culture and recognition.
4) Does HP afford international opportunities for freshers?
Yes, HP has multiple international offices across various nations. So, freshers as well as experienced professionals have a greater possibility to avail international opportunities to work.
5) How secure is my job at HP?
Your job is secured through numerous sorts of health and life care insurances and retirement policies. Therefore, applicants need to worry about job security at HP.