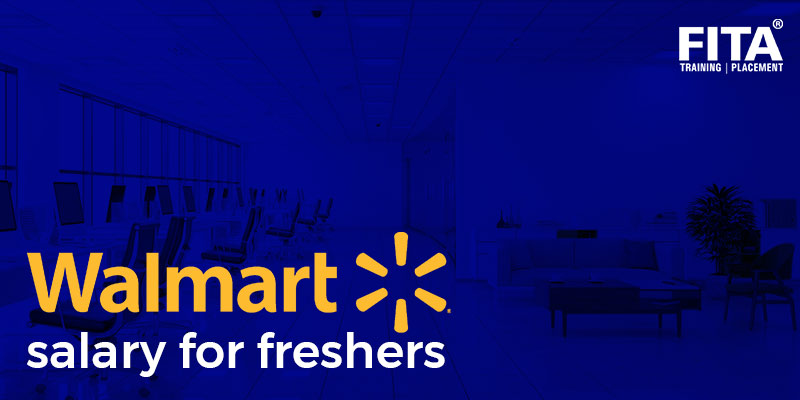 Walmart is an American international retail company responsible for sustaining the blockchain of international markets, grocery stories, and departmental stores. The company is best known for providing multiple freshers opportunities to the younger job seekers with a feasible Walmart Fresher Salary.
This blog will provide you all of the information you'll need to apply for different Walmart jobs. Let's talk about open positions, application procedures, various kinds of work tasks and responsibilities, worker benefits, and salary packages.
Applicable Candidates for Walmart Freshers Jobs
Walmart is currently recruiting youngsters and aspiring candidates who are enthusiastic to contribute to transform digital and retail solutions. Also, candidates who are flexible to the company setting and meet the following conditions for future job and growth prospects. Then, in order to enter Walmart, the applicant must meet certain qualifications. In the following section, we'll talk about it briefly. 
Application Procedure to Get Placed Into Walmart
To get hired at Walmart with a reasonable Walmart Salary for Freshers in India, aspirants must follow these application steps. The steps are as follows:
Application Registration

– Applicants can apply both online and offline, with the online application going through three to four phases of interviewing and the offline application going through a direct walk-in interview.

Reviewing Applicable Candidates

– Following the successful submission of an application, it is reviewed and selected depending on the job requirements.

Schedule and Process of Interviews

– Following candidate shortlisting, qualified candidates will be contacted by a human-resources professional for an interview to gather additional information.

Onboarding of Selected Candidates

– Selected candidates are given an appointment letter and a start date for the position.
Qualification Criteria for Walmart Fresher Jobs
Walmart is looking to hire software developers and other related positions. However, before applying for newer positions, the candidate must meet the following qualifications.
A bachelor's or master's degree in engineering, computer science, or other computer or IT-related subjects is required.

A Bachelor's or Master's degree in Technology, Engineering, Computer Science, Computer Application, or Science is possible.

The candidate must have a 65 percent or higher academic percentile (throughout the academic program).

In the current and previous academic semesters, the candidate should not have any backlogs.
Take Data Science Courses in Bangalore to boost your academic credentials. Because you may identify actual clients for Walmart's marketing services using corporate data.
Supplemental Skills Considered for Walmart Job Roles
Freshmen interested in working at Walmart should have the following capabilities: scientific perspective, critical reasoning, problem-solving, problem assessment, and excellent leadership qualities to deal with a variety of teams and organizations. In terms of work hours and locations, the ideal candidate will be efficient, productive, creative, and versatile. Learn Artificial Intelligence Course in Bangalore to add a new skill set to your resume and make your application stand out against the competitors.
Walmart Salary Structure in India
The Walmart Package for Freshers ranges  between 2.5 and 4.8 lakhs per year. However, the compensation package differs depending on whether the employee is a recent graduate or an experienced veteran. The graph below depicts the average salary package for Walmart's entry-level positions. Furthermore, the salary varies depending on the number of years of job experience.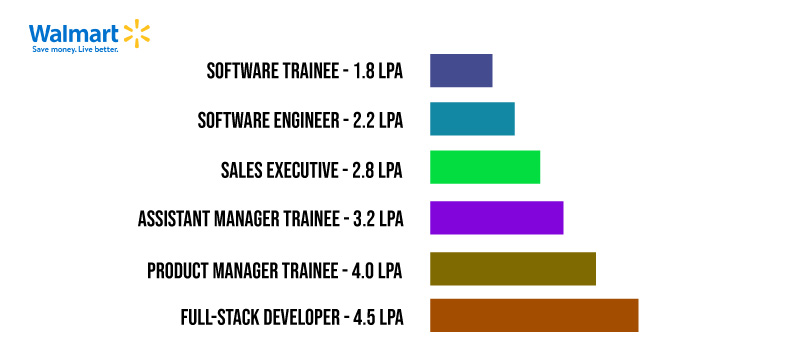 Apply for Java Training in Bangalore, this course will help you increase your chances of gaining a high salary as this course may enrich you with excellent Java tips and tricks.
Job Roles and Responsibilities at Walmart 
Software Trainee
In collaboration with senior software experts, software trainees are involved in the training and development of software applications. To join as a software trainee at Walmart and earn an inexpensive fresher pay, you must have knowledge in the following areas: C/C++, Java, Relational SQL Databases, and Methodologies are all examples of programming languages. The applicant for the position of this software trainee is responsible for the following essential roles and responsibilities
Complete the software development lifecycle from beginning to the end.

Create code that is well-designed, well-tested, and easy to implement.

Create specifications and evaluate the viability of the operation.

Make a complete software system by combining software components.

Through suitable procedures, maintain and document programme functionality.

Develop and implement software tools, methods, and measurements.
Become a recognised Software Trainee by enrolling in Selenium Training in Chennai and learning in-depth and exact grasp of software technology from industry experts.
Software Engineer
A software engineer's job entails collaborating with the technological environment to create and modify software products and other applications. They also meet the needs of the client in terms of diagnostic programming issues and codes. To become a skilled software engineer with a viable career path Salary at Walmart Freshmen must meet certain skill requirements, including knowledge of computer systems, programming languages (Java, Python, and MySQL), and interpersonal skills. A software engineer at Walmart is responsible for the following major duties and responsibilities:
Examine the users' requirements.

Interact with any project programmers and write and test code, updating and rewriting it as needed.

To study, build, and write new software programmes (e.g., commercial applications or computer games) and computer operating systems.

Analyze and find areas for modification in existing programmes by reviewing the software and processes that make computers and hardware work.

Create technical specifications for merging existing software products and allowing incompatible platforms to coexist.

Create procedures that allow humans or remote systems to regulate job scheduling and access.

Work with technical authors to create operational documentation.

To maintain systems working smoothly, identify and fix software faults.

Other members of the team collaborate with project managers, graphic artists, UI UX, other developers, systems analysts, and sales and marketing specialists.

In order to construct or modify existing operating systems, consult with clients and coworkers about software system upkeep and performance.

Look into new technology.

Attending in-house and external courses, reading manuals, and installing new apps can help you keep your technical knowledge and abilities up to date.
Learn AWS Training in Chennai to get your application noticed. This course will teach you the core concepts and web-cloud interfaces used among Amazon Cloud.
Sales Executive
A sales executive is responsible for the sales and marketing of a corporation. It is recommended that you obtain the following important abilities in order to join as a sales professional with a comparable Walmart Fresher Salary: English fluency, Microsoft Office essentials, customer relationship management, and marketing, sales, and service exposure are all required. As a sales executive, you will be responsible for the following important duties and responsibilities:
Conduct market research to identify sales possibilities and evaluate customer needs.

Cold calling, networking, and using social media to locate new sales opportunities are all viable options.

Set up meetings with potential customers and listen to their concerns and needs.

Prepare and deliver product and service presentations that are relevant to your audience.

Create frequent sales with financial data analyses and reports.

Make sure there is enough stock for sales and demonstrations.

Participate in company-sponsored exhibitions or seminars.

Handling of deals and negotiating with clients.

Collaborate with team members to achieve better success.

Collect and share feedback from clients and prospects with internal teams.

Participate in company-sponsored exhibitions or seminars.
Develop a strong understanding of online marketing to become the greatest seller you could be. Learn Digital Marketing Course in Chennai at FITA Academy today to expand your skill set and boost the solutions provided by your company.
Assistant Manager Trainee
Freshmen who wish to be considered for this position must have the following credentials and skills: self-motivation, self-work, and automation. To apply for this position with a great Walmart fresher salary. In order to be considered for this position, the applicant must have the necessary skills and knowledge in management services. As an assistant manager trainee, you will be responsible for the following important functions and responsibilities
Employees' schedules are being created.

Ensure that all safety, security, and health laws are followed.

Disciplinary action is taken when warranted.

Assuring a high level of consistency in client service.

Keeping employees engaged and focused on the goal

In partnership with the shop manager, you will be in charge of employees.

Keeping track of the merchandise at the store.

Assisting consumers whenever possible.

Employees' schedules are being created.

Ensure that all safety, security, and health laws are followed.

Disciplinary action is taken when warranted.

Assuring a high level of consistency in client service.

Keeping employees engaged and focused on the goal

Merchandise and a graphic plan must be updated on a regular basis.

Store requirements, such as stocking and cleanliness, must be adhered to.
Enroll and complete a language course through Spoken English Classes in Chennai to improve your consultancy services and communication skills. To be successful in business, you must be able to communicate with international clients.
Product Manager Trainee
Freshmen who want to work as product managers with a feasible Walmart Package for Freshers should obtain more hands-on experience in product management, product sales, and service. Furthermore, the applicant must possess strong verbal and written communication skills in order to improve interactions with international clients on the company's product sales. As a product manager trainee, they are responsible for completing the following important tasks and responsibilities.
From concept through design, sample manufacturing, testing, forecasting, cost, mass production, promotion, and support, to product end-of-life, manage the whole product life cycle.

Delivers the operating plan, which includes achieving market share, revenue, profit, and return on investment goals for all business channels/categories and key customers.

You'll be in charge of coordinating and implementing marketing activities through research, strategic strategy, and implementation.
Employment Benefits and Walmart Jos
Employees at Walmart have access to a variety of benefits. The following are a few of them:
Walmart pays out an affordable money for accidental death,  health, medical, and other life insurance.

Leaves for maternity, paternity, and other significant events.

Free transportation and cab services are available for free movement between the workplace and home, as well as vice versa.

Work From Home (WFH) options are available for employees who prefer to work from home during unforeseen circumstances.

Financial, Economic, and Retirement Plans for all sustaining employees to give financial help during their retirement years.

Employee credit and discount vouchers are also provided by Walmart for the purchase benefit of employees.

It also provides financial and educational benefits to both children and professionals.

Employees can change their work locations and offices anywhere in the world, thanks to international relocation offers and benefits. Clear and receive certification in IELTS through FITA Academy's

IELTS Coaching in Bangalore

to take advantage of any worldwide offers and speed up  the processing of your visa application.
Job Satisfaction Rate
Based on the experience, working environment, and freshers perks, they have given a job satisfaction rating shown below. This score was calculated through considering the Walmart fresher salary and perks, work-life balance, professional progress, job happiness, and job security. Freshers at Walmart are generally happy with their jobs, with a terrific Walmart Salary for freshers of over 77%. The graph below depicts Walmart's varying rates of newer employment.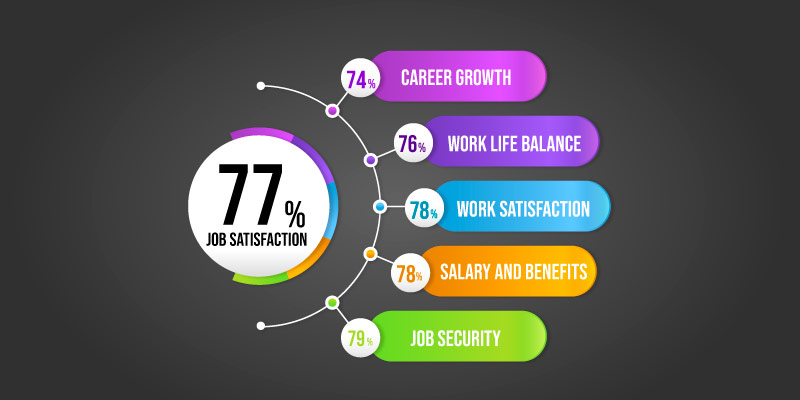 Walmart is a global leader in infrastructure technologies, applications, architectural direction, and other IT services, and has been recognised as one of the top multinational corporations in various fields. Both newbies and seasoned specialists will benefit from the organization. In addition, the firm is looking for people that are energetic, diligent, timely, and capable of leading others. Make the most of the professional opportunities provided on their website if you're one of them. In the coming years, the corporation plans to buy a few more IT firms, with new employees receiving a generous Walmart company wage. As a result, both trainees and employees receive worldwide experience, expanding their options in their chosen IT field. Concerning our study and review on Walmart Job roles, we highly appreciate and encourage freshers to look for various job opportunities and open-positions at Walmart for a prosperous career.