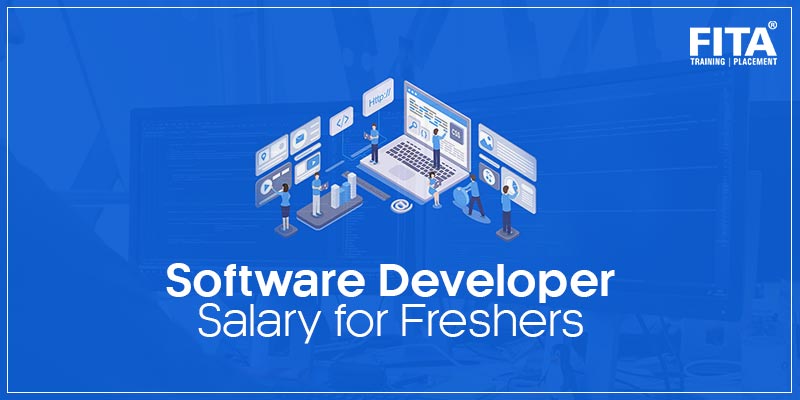 Software Developer roles are emerging now and the leading freshers jobs are digitalizing the IT firms. There is a tremendous growth of IT sectors in the past decades that have expanded and opened widen opportunities for both freshers and young professionals.
If you want to work as a Software Developer, you need to know how much salary you can expect to earn. We'll look at India's average software developer salary in India for freshers in this article.These days, software developers are in high demand, and all IT firms are glad to pay good money for the right candidate with right talent. However, if you are a Software developer who is just starting out, your income may not be as high as you would want. But just don't worry; with some strenuous work and expertise, your pay will improve with time. Because there is such a huge market for software developers, many companies are interested in hiring with more than just the average compensation. Let's discuss the significance, demand, and relevant information of a software developer from the following section.
Synopsis of a Software Developer
Software developers are the brains behind all kinds of software applications. They are innovative, imaginative geniuses. Though some developers focus on a single application or software, millions of other people build massive networks or understand and examine that help trigger and drive other software products. Software Developers are in the process of developing mobile and desktop programs. The core of their work focuses on producing software products for clients. The process involves assessing client needs, developing software solutions, tracking the progress of developed apps, and updating applications if required.
Demand and Specialities of a Software Developer
As you know, the modern world is completely filled with digital products and services beginning from our mobile apps to laptop applications. So, the demand for software developers will keep on increasing through the years and may hike the average salary package. The average software developer salary for freshers in India ranges from 1.6 Lakhs Per Annum to 3.78 Lakhs Per Annum. But, this salary range increases with increase in candidate's experience.
Apart from the demand and salary package, let's discuss some specialties and roles of a software developer in IT firms.
They have global demand in all the IT Job markets
They are always passionate to learn new things and create applications
They are curious about analyzing old software products and finding newer approaches to remodify it.
Innovative to create impactful software programs and android applications.
Involved in creating business & networking applications, and operating systems.
Striding our earlier discussion on freshers salary package, let's dive deeply into the salary structure of a software developer in India.
Software Developer Salary Structure 
The Software Developer Salary in India for Freshers usually ranges between 1.6 to 4.0 LPA. But, the package varies for different companies, work locations, and the years of experience the candidate possesses. So, we are going to provide you with a freshers salary range concerning the four different categories.
1. Salary Based on IT Firms – Different IT companies afford different compensation for their software developers. The average CTC depends on their company stocks and client networks. Below we have shown some approximated freshers salary for software developers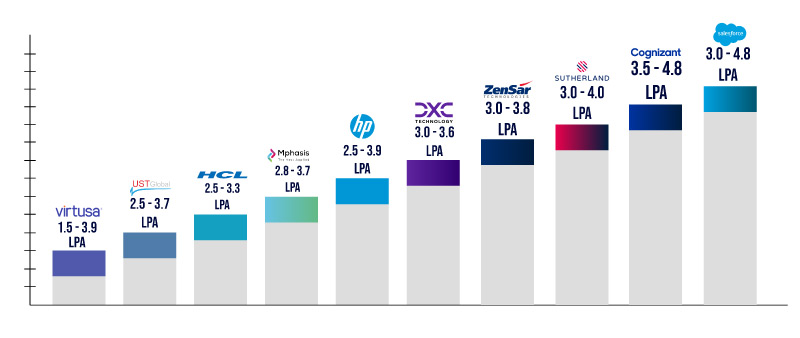 2. Work Locations – Similar to different IT companies, the salary package for freshers also changes with respect to work locations. Because, the salary structure is defined as per the cost of living at respective locations. The following chart signifies the average pay of a software developer at different continental sites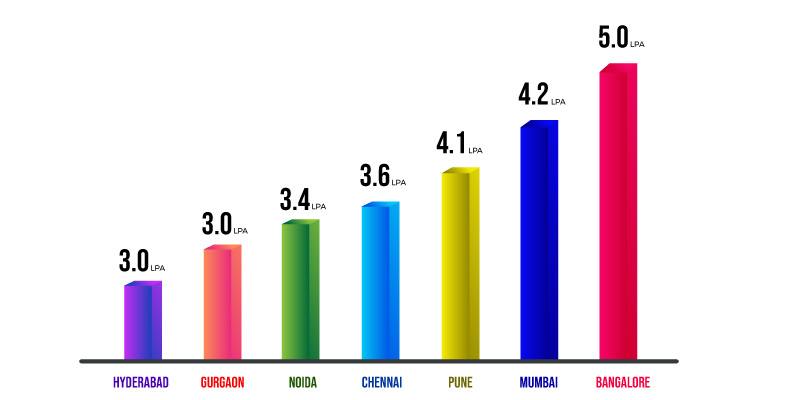 3. Work Experience – Alike companies and locations, the years of experience also pays a high salary package. Based on the employees review and report, we have approximated the average software developer salary for freshers in the below chart.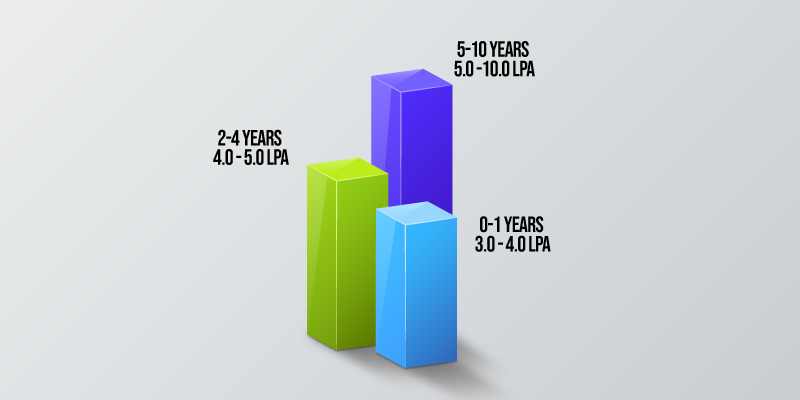 4. Types of Job Roles – Software Developers are concerned with different job roles from application developers to full-stack developers. Herein we have shown the approximated salary package for different software developer roles.

Qualification Criteria for Software Developer Jobs
In order to apply for software developer roles across Indian IT firms, the following fundamental qualifications are essential which are
A Bachelor's degree in either Information Technology or Computer Science
Any Degree in Science from recognized colleges/universities
Certifications in Java, Python, and other programming languages
Knowledge in C/C++, Oracle, and MySQL
Fundamental of networking concepts and related services
Knowledge of mathematics and excellent problem-solving.
Want to make you eligible for the above mentioned qualification, then apply for Java Training in Bangalore. At FITA Academy we ensure that you have a solid knowledge about the concepts of Java and its applications. We are well known for our best Quality Training in chennai and Bangalore  on the basis of JAVA technology.
Skills Required for Software Developer Freshers Job
In addition to qualification criteria, IT firms expects their freshers to have desired skills such as
Skills in Android Development
Web-based languages such as HTML, Javascript, and CSS
Technical skills in Artificial Intelligence
Knowledge on ODD (Object-Oriented Design)
Testing, Troubleshooting, and Debugging Software programs.
Modern coding skills in R, Ruby, and Go.
Earn certifications in Android Application through learning Android Training in Bangalore.
Roles and Responsibilities of Software Developers at Fresher Jobs
Each role of a software developer is associated with different key tasks and responsibilities. Let's discuss the crucial roles of different software developer roles
Application Software Developers
Designing and Developing Software Products to meet client needs
Writing and Implementing new source codes to new software programs
Testing and Evaluating the source and debugging codes.
Analyzing the existing applications and attempting to modify and update.
Documenting technical books, and papers for the newly developed applications.
Mostly, the average application software developer salary in India for freshers per month is around 13,000 INR to 83,000 INR. This salary range is estimated for both freshers and experienced. However, application developers have wider scope in upcoming decades.
System Software Developers
In association with Senior software developers, discussing the client's needs and suggesting solutions to meet their requirements.
Utilizing tools to write codes for the development of applications and solutions.
Documenting user manuals for existing and new applications.
Testing and Ensuring the reliability of a system.
They should train the freshers and other teammates concerning the issues, troubleshooting, and fixing.
System software developers are the second least-paying job roles of a software developer. The salary range varies from entry level to experienced level. The average software developer salary for freshers per month ranges from 38,000 INR to 44,000 INR.
Full-Stack Developers
Full stack developer roles are slightly different from other developer roles. Applicants seeking software developer jobs with excellent software developer salary for freshers are advised to possess the following skills: proficiency in Java, Ruby, PHP, .NET, MySQL, Oracle, MongoDB, JS, React, and Amber. As a full stack developer, they are responsible for the following key tasks
Building the architecture of a front-end website.
Implementing web page user interactions.
Developing website applications for the backend.
Creating servers and databases for better functionality.
Ensuring and Optimizing phone's cross-platforms.
Assuring the application responsiveness.
Collaborating with graphic designers for better designs
Designing and Developing APIs for ease of access.
Providing technical and consumer support based on requirements.
Staying up-to-date with recent applications and programming languages.
Learn Full Stack Developer Course in Bangalore to improve your knowledge for efficient full-stack developers.
DevOps Engineer
Fresh candidates seeking this role must acquire fundamental skills in the following domains: Amazon Web Services, Azure, Google Cloud Platform, Ansible, Chef, Puppet, Git, CI, and CD. DevOps engineers are associated with six different responsibilities. They are as follows
Implementation of DevOps
Ensuring the features and stability of the products
Achieving and Automating the Orchestration Tools
Developing and Testing the Written Codes
Ensuring the quality of the products and its requirements
Monitoring the health and security status of the products.
DevOps role for freshers is challenging but it can be acquired through right preparation and proficiency in development and operations. Learn DevOps Training in Chennai today to achieve this role.
Advantages of a Software Developer Jobs for Freshers
The average software developer salary for freshers is magnificent.
Acquired skills are transferable as the digital world deals with universal codes.
Work from anywhere you want, as the role only requires a system and a stable internet.
Since, the role is very reputed, a software developer is provided with a comfortable working environment.
As a software developer, you can steadily learn and explore new things thereby balancing your learning curve.
Working as a software developer, you will become innovative and creative which may help you in later career.
Preparation Guide to Become Professional Software Developer
Interview Preparation
In this section, we will provide you reliable resources for best interview preparation. Nowadays, we can find many more tutorials and blog posts for interview guides, but each resource has its own flaws in ingenuity. Therefore, considering the significance and demand for software developer roles, we have archived the best questions and answers for freshers. So, the applicants are recommended to refer to Python & Java Interview Questions and Answers. Because they are developed in a basic, accessible manner suitable for both beginners and professionals, these materials will give adequate knowledge. It will also enhance participants' skill set and enthusiasm in preparing for the interview session.
From our research on software developer salary for freshers, we suggest that IT aspirants to initiate their career progress from now onwards through enrolling for Python Training in Chennai for the excellent coaching and guaranteed placement. Since the software developer roles are ever-demanding in the IT job market, freshers are encouraged to start a featured career that has broader scope and applications in the future. Finally, we hope this blog has disclosed all the necessary directions to apply for software developer roles across India.