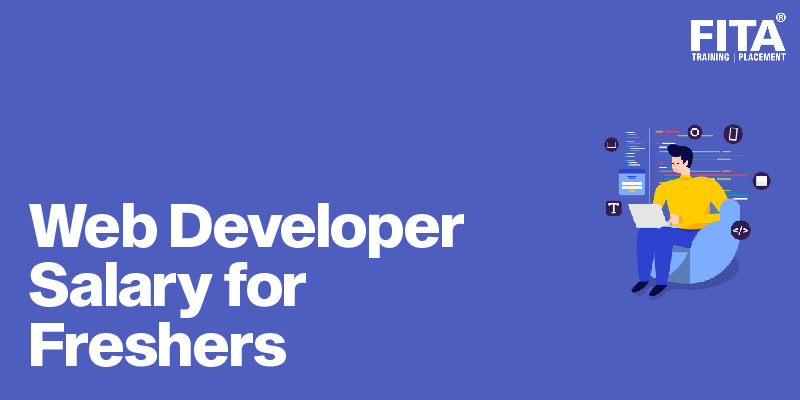 Web development is one of the most in-demand technical talents in today's IT sector. This drastic development is due to the growing popularity of the internet and the growing number of individuals who use it for their everyday tasks and entertainment.
Almost every company or organization has a website these days, which serves as their public face to customers and connects with global people instantly. As a result, web developers are faced with the crucial responsibility of creating and managing these websites. So, in this blog, we shall discuss a web developer fresher salary, the skills required to become a web developer, and a web developer's responsibilities. 
Introduction to Web Development
The process of creating internet-based web applications is known as web development. Web development does not always imply the creation of a website but rather the programming and coding that allows it to work.
The three tiers of web development are as follows:
Frontend – Client-side coding

Backend – Server-side coding

Storage – Database technology
Who is a Web Developer?
Web developers are categorized as Front End developers, Back End developers, and full-stack developers. As the role suggests, backend developers perform with the servers. In contrast, front-end developers work with website design and user interface. For example: If creating a website for a user business, you can create a template by utilizing static and dynamic. 
Moreover, the web developer is responsible for coding and scripting web-based services and websites that perform at the back end. Furthermore, it is complex to find out the responsibility of the web developer and web designer. However, both jobs are demanding career paths. Due to this, the web developer salary for fresher ranges from 2to 3 lakh per year. 
On the other hand, Web developers are more technically minded than their web designers, though they are both responsible for outsourcing innovative ideas; web developers utilize code to create templates for the website. On contract, the designer uses the tools to communicate visually. Moreover, Web developers work on various projects, each with its level of difficulty. They might be required to work on simple web pages and multi-layered e-commerce web apps.

Now, we shall discuss technology utilized by web developers, skills, responsibility and web development salary for freshers
Technologies used by a Web Developer
Hypertext Markup Language is utilized for tags, elements, and images. 

Cascading Style Sheets define how Hypertext Markup Language elements should be displayed on the screen. It is a powerful tool for web designers.

ReactJS

is a frontend development framework written in JavaScript.

NodeJS is a server-side development framework based on JavaScript. If you have a comprehensive understanding of Node JS, you can join

 Node JS Training In Chennai

and acquire the knowledge of

Hypertext Transfer Protocol

, Data Sources, MongoDB, and SQLite.

MongoDB is a database solution for web applications that stores data.

Angular is another TypeScript-based frontend development framework.
Web developers use various additional technologies such as PHP, Java, Ruby, and others.
Responsibility of the Web Developer
Web developers are responsible for creating user-friendly websites and web applications.

Wen developers are specialized in frontend and backend. Full-stack developers are more responsible for

designing user interactions on websites

.

Turns a website design developed by a client or a design team into a live website.

Interacts with clients and designers.

Using conventional HTML/CSS principles, create a website layout and user interface.

Focus on effective communication with your employees for a rapid solution and stress-free working environment.

Be in charge of the website's maintenance, development, and scaling.

Work with web designers to ensure that the visual design purpose is met.

Test  that your code runs smoothly across all browsers and devices

Always be on the lookout for client feedback and focus on the issues and solutions required to achieve meaningful results.

To identify user demands, stay updated on developing technology and industry trends.

Make a backup copy of your website to a local directory for emergency recovery.
Web Developer Skill Set
As a web developer, you must have acquired front and backend technology skills, but skills merely depend on the role. Now, let we look at the few essential skills that are required for a web developer:
A markup language

– for creating web page layouts

CSS

– Element in a HTML website.  

JavaScript

– Scripting language aids them in building an interactive and user-friendly website. 

Frontend Frameworks:

React, Angular, Vue, Svelte, Preact, and Ember. These frameworks aid in improving the appearance of client-side applications and accelerating development
To have in-depth understanding of AngularJS, you can join  AngularJS Training In Chennai which would help you head your career as web developer. 
The skills that are required for backend developer:
PHP

– It is a backend language that aids in maintaining all the performance that occurs behind the web application. 

Python

– It is a programming language utilized for various development purposes. It is mainly used to manage server-side work in web development.

Java-

One of the most powerful programming languages for sorfte=ware development. Due to its flexibility, it is used by the developer for backend development. If you are intending to learn java, you can join

Java Training in Bangalore

which helps you have a comprehensive profound understanding of java coding, libraries, tools and frameworks. 

Database Management

– MySQL, NoSQL, etc., help store data for a web application. 
If you are a Full Stack developer, you need to have complete knowledge of both frontend and backend development of a web application. That is a complete workflow of web application development. If you want to learn python, you can join Python Training in Bangalore at FITA Academy and learn the libraries of python, tools, frameworks, and features of python. 
Soft Skills
Good communication skills

Logical thinking skills

Problem-solving skills

Curious about learning new technology

Logical reasoning skills. 
Web Developer Salary for Fresher
Web developer salary for freshers merely depends on the skill. If you want to become a developer, acquiring complete knowledge of web development would help you get high compensation.  
Like other IT jobs, a web developer's pay scale depends on location, qualification, and skills. So, freshers who intend to begin their career as web developers must complete a certified degree. The average pay scale of web developers based on the company is given above. 
Web Developers Fresher Salary based On Job Positions
Web developer fresher salary depends on the position that we tend to obtain. The average pay sale is illustrated visually:

Web Developer Fresher Salary Based on Experience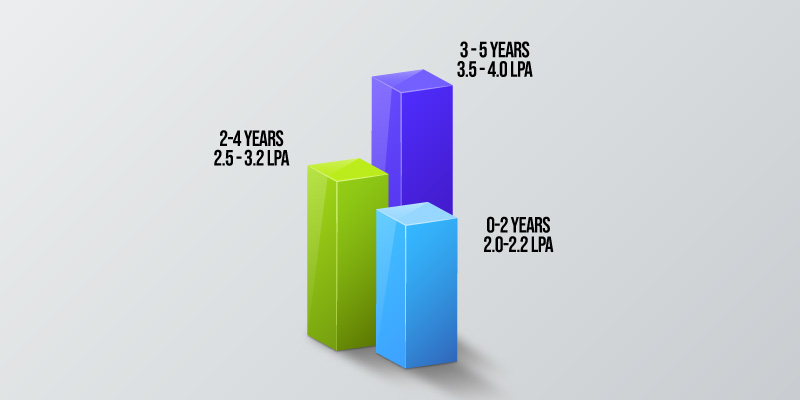 Now, we shall discuss a few tips for becoming a web developer.
Begin Learning from Fundamentals
If you are freshers, start to learn from the basics. So, learn CSS and HTML, which are essential and the backbone of the internet. Further, moving on to web development tools, master these programming languages. 
Later, you can start learning SQL, MySQL, and PHP, JavaScript, which will help you manage applications on a website.
 Web Development-based software
Being familiar with the numerous software programs that are often used in this sector, it is also crucial to have a comprehensive understanding of the nuance of the web development process. Adobe Illustrator and Photoshop, as well as Dreamweaver and Fireworks, are examples of these—all four will surely be helpful in your web development career. 
Master SEO
One of the numerous jobs and obligations of a web development professional is to manage website content, which means you'll need to learn about SEO or Search Engine Optimization.
SEO refers to tactics, strategies, and methods frequently utilized to make a website's content more searchable—and hence more valuable to its visitors. Ideally, good content should be keyword-rich, 100% unique, well-written, and chock-full helpful information.
If you want to learn the SEO strategies, you can join SEO Training in Chennai and understand Digital Marketing, Content Writing, Graphic Designing and learn core concepts. 
Focus on gaining Practice knowledge Rather Than Theory
Most of us focus only on acquiring theoretical knowledge. Moreover, many of us concentrate on reading books. Though focusing on theories provides in-depth understanding, practical knowledge would help you put them in reality. So, joining the course would give you practical knowledge. So, you can join MySQL and PHP courses, which is a fundamental skill for web developers. 
After mastering these two skills, you should have UX and AJAX skills to help you create a dynamic website. 
You can use a variety of flash or other interactive online programs to improve the website's aesthetics, usability, performance, and ranking. Finally, numerous applications and systems, such as Joomla or Drupal, can be used to practice your coding skills.
Take your software knowledge to the next level with these tips
The final step in becoming a professional web developer is to enrol in one of the many web development programs available to assist you in advancing your software talents. These courses usually offer technical and non-technical knowledge and in-depth training in jQuery, HTML5, CSS3, XHTML, and other programming languages. Moreover, you will learn the most widely used programming languages, updated features, functions, etc.
Now, you would have understood the web developer salary for fresher, the skills required to become a developer, and five essential tips that aid you in building a career. So, acquiring the right skill would help you explore your career opportunities in top companies. so, you can take up any course. If you are intending to learn javascript, you can join JavaScript Training In Bangalore and learn the core concepts such as JavaScript Fundamentals, functions, functions As Data and Design Patterns & Architecture.