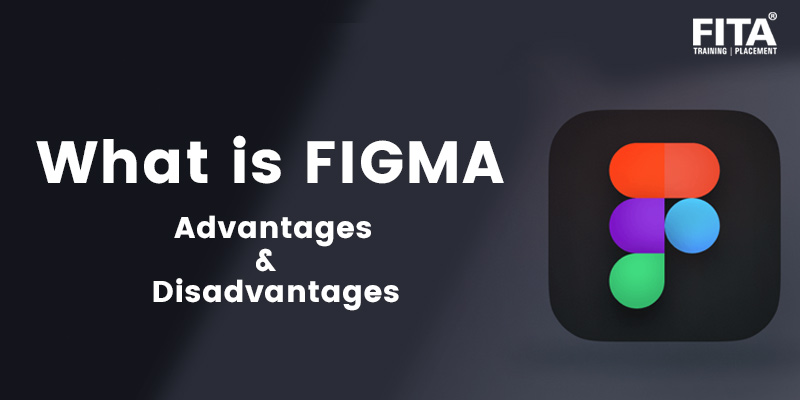 Figma is an awesome tool for interface designers. It helps you create beautiful interfaces. You can design your own icons, create layouts, add animations, and test out designs before publishing them. One thing We really like about Figma is that it allows you to drag and drop images directly into your document. If you're working with a team, Figma also gives you the ability to collaborate easily. You can share documents with others and comment on changes made by others.
Figma has many features but there are some downsides too. The biggest downside of Figma is that it's not free. However, if you need a great web designer tool, then this might be worth checking out. FITA Academy has Designed this UI UX Design Course in Chennai keeping in mind the current needs of the market. So, it's time to start learning the best way to design and develop a beautiful responsive website.
In this article, we'll take a look at what makes Figma so special and why it's a good option for anyone looking for a powerful web design tool. We'll also go over with how to use Figma with 10 easy steps, to make your life easier as a designer.
What is FIGMA?
Figma is a web-based application designed specifically for designing user interfaces (UI). It was created in 2015 by a small team of developers from Google who wanted to build a better way to work together on UI projects. They were frustrated with existing tools such as Photoshop and Sketch that they felt weren't flexible enough. So they set out to create something new that would help people get more done faster.
The result was Figma which launched publicly in 2016. Since then, it has been downloaded millions of times and used by thousands of professional designers. Its popularity has grown rapidly because it offers users a unique combination of features that other software simply doesn't have.
What is the difference between photoshop and Figma
Photoshop is a professional photo editing software which has been around for years. Photoshop is used by designers and photographers to make changes to pictures, such as cropping, resizing, and adjusting colors.
Figma is a new web-based app that was released in 2016. It's designed to help users create wireframes, prototypes, and mockups for web pages and other digital products.
3 reasons of using Figma over Photoshop:
Easy to Use-

One of the biggest benefits of Figma is that it's simple to use. There are no complicated menus or toolbars to get lost in. Instead, you just need to select what you want from the main menu bar at the top of the screen.

No Need for Experience-

Unlike Photoshop, Figma doesn't require any experience to learn. Anyone can pick it up quickly and start working right away.

Great for Designers-

Unlike Photoshop, Figma isn't meant to replace Photoshop. It's more like a companion app that helps designers create better websites.
How to Use Figma with 10 easy steps?
Step 1- Create a New Project: When you open up Figma, you'll notice there are two tabs at the top of the screen: Home and Projects. Click on the Projects tab to start working on a project.
Step 2- Import Files: Once you've created a new project, click the plus sign (+) icon next to the File menu. This will bring up the file browser where you can find all the files you have stored locally on your computer. If you don't see any files, make sure you've opened the correct folder.
Step 3- Start Working: Now that you've imported your files, you can begin designing! Just like other prototyping software, Figma offers many different ways to design. Whether you prefer sketching out your idea on paper, drawing it directly within Figma, or typing it up directly in code, Figma has got you covered.
Step 4- Publish Your Work: After you're done designing, you can publish your work to share with others. To do this, simply select "Publish" from the File menu.
Step 5- Export Files: At any point during your design process, you can export your final design as either PNGs or PDFs. These files can be shared online or printed off.
Step 6- Collaborate: Figma also supports collaborative editing so multiple people can work together on one document simultaneously. Simply click on the pencil icon next to the name of the file to invite collaborators to join you.
Step 7- Share Designs: If you need to show someone else what you've designed, you can easily send them a link to your work. Just click on the sharing icon next to the name on the file.
Step 8- Save Changes: If you want to save changes to your design while collaborating, you can easily do so by clicking on the green check mark button next to the name of your file.
Step 9- Preview Designs: When you're ready to preview your designs, just click on the magnifying glass icon next to the name. The preview window will appear allowing you to view your design as if it were already published.
Step 10- Download Files: If you want to download your files, you can do so by clicking on "Download" next to the name of each file.
Start using Figma to create better user interfaces for your websites, apps and other digital products. Learn from the UI UX Online Course which provides an excellent opportunity to learn from some of the best experts in this field and equip yourself with the skills required to design effective user interfaces for both web and app projects.
Advantages and Disadvantages of FIGMA
FIGMA is a digital platform that allows users to create, share and manage their designs more efficiently. The platform offers a variety of features that can be used to improve design productivity. Some of the advantages and disadvantages of using FIGMA are listed below.
Key Advantages of Figma
Would you like to create beautiful, professional designs faster and easier than ever before? If so, Figma might be the perfect app for you! Figma is a user-friendly design software that allows users to create stunning graphics and illustrations with relative ease. Here are some of the advantages Figma: 
Easily Create Website Mockup-

The most obvious advantage of Figma is that you don't need to know how to code. You simply drag and drop objects onto the canvas to build your prototype.

Simple Interface-

If you've ever tried to use Photoshop before, you probably found it difficult to navigate through the interface. However, Figma is much easier to use because it only requires one click to add an object.

Supports Both Desktop Computers and Mobile Devices-

You don't need to worry about compatibility issues if you choose Figma. Since it supports both desktop computers and mobile phones, you can easily access your files from anywhere.

Responsive Designs-

When you're creating a website, you'll often need to resize elements on your page. If you're not careful, these elements may end up looking messy when viewed on a smaller screen. That's why responsive design is so important. But with Figma, you don't need to worry. The program automatically adjusts your layout according to the size of the screen.

Support Multiple Platforms-

Figma is compatible with multiple platforms including Windows, Mac OS X, iOS, Android, and Linux. So there's no need to worry about compatibility problems.

Share Files Quickly-

Once you finish designing your project, you can share it directly from the browser window. This makes it easy to send your designs to clients without having to save them first.

Customizable Templates-

With Figma, you can customize templates based on your needs. For example, you can change colors, fonts, and backgrounds to make your own unique style.

Export as PDF-

Figma allows you to export your projects as PDF documents. This means that you can print out your designs and hand them to clients.

Collaborate With Others-

Since Figma is cloud-based, you can work together with others by sharing your files online.
Easy To Learn-

While some people find Photoshop intimidating, Figma is very easy to learn. Even beginners will be able to use it within minutes.

Powerful Tools-

One of the best features of Figma is that it comes with several powerful tools. These include the Pen tool, Shape tool, Text tool, and Magic Wand tool.

No Need to Save Your Work-

In addition to being simple to use, another great feature of Figma is that there's no need to save your work. Once you're done editing, you can immediately preview your changes in real-time.

Works Well On All Devices-

Unlike other programs, Figma works well on all devices including desktops, laptops, tablets, smartphones, and more.

Fast Loading Speed-

Another reason why Figma is such a popular choice among designers is that it loads quickly. It takes less than two seconds to open a new file.

Cross-Browser Compatible-

The last thing you want when working on a project is to have to deal with bugs. Fortunately, Figma has been tested thoroughly across different browsers. So you won't experience any glitches while using it.

User-Friendly Interface-

The interface of Figma is extremely user friendly. You don't even need to know how to code to create something amazing.

Easily Accessible-

Even though Figma is relatively new, it already has over million of users. And this continues to grow every day.

Great Customer Service-

If you ever run into issues or have questions, their customer service team is always available to help.

Highly Recommendable-

When it comes to choosing between Adobe Creative Cloud and Figma, we highly recommend Figma. Not only does it come with many useful features, but it's also much easier to use. 
UI UX Developer is a growing field and with many advantages over other career options, learning this trade can be a great decision. According to recent surveys, UI UX Developers salary for freshers depends on the experience and tools that have been used in learning the job.
Disadvantages of Figma
From What is Figma we will see there are several disadvantages of Figma, the most notable of which is its steep learning curve. While it does have some great features, such as its ability to export files for use in other programs, its overall complexity can be a major deterrent for those new to designing software. Here are some disadvantages of FIGMA listed below:
No Version Control-

Tracking all of the changes that have been made is difficult because version control is pretty lacking.

Limited Customization Options-

Although Figma offers a lot of customization options, it still lacks certain ones. For instance, you cannot add custom shapes, gradients, or patterns.

Cannot Work Offline-

Like most desktop applications, Figma requires an internet connection. This makes it impossible for you to work offline.

Lacks Collaboration Capabilities-

Because Figma is not compatible with other software like Sketch, you'll have to share your files online. This could cause problems if you're collaborating with someone who uses a different program.

Prototyping process-

Some people prefer to see what they're creating before actually starting to make it. Unfortunately, Figma does not offer video tutorials or animation capabilities.

Default settings-

Since Figma was designed primarily as a prototyping tool, it comes with default settings that may not be suitable for everyone.

App restart is required-

There are times when the application will crash or freeze. To avoid these situations, you should close the application and reopen it later.

View options-

For a casual user, Figma's view options need to be improved so that users can easily understand it and use it to their advantage.

Usability issues-

Some of the usability issues can be seen from time to time. Some of the tools in Figma aren't easy to discover in the first place. Furthermore, in some cases, interface changes are not notified of these changes so you are forced to figure out how the changes work as they are implemented.

Text capabilities-

The text capabilities of Figma are lacking. There needs to be a way to search for text in the application.
What can you create with Figma?
Figma has been used by designers, developers, marketers, and business owners alike. Here are just a few examples of things you can create with Figma.
Product Design
You can use Figma to create wireframes, mockups, prototypes, and interactive designs. With Figma, you can build out your entire website or app right inside the app. You can even import Photoshop PSD files directly into Figma.
Marketing Materials
If you're looking to create marketing materials, then Figma is definitely worth checking out. Using Figma, you can create flyers, brochures, posters, presentations, infographics, and much more.
User Experience
User experience (UX) refers to the overall impression users get from interacting with a product or service. UX includes both the look and feel of an app or website and how intuitively it works. A good UX makes products easier to use and less frustrating to interact with.
If you're looking to improve your user experience, then Figma is the perfect tool for you. From creating wireframes and mockups to building fully functional websites, Figma allows you to quickly prototype ideas and iterate on new concepts. To become an expert this UI UX Course Bangalore will give you the required training to become a professional. This course is designed to be an online and interactive learning experience. 
End Summary
From this blog, you will have a clear picture of what is FIGMA with its key advantages and disadvantages. FIGMA is an open-source, collaborative software development platform for designing and building web applications. It has a rich text editor, a code editor, and a testing tool. FIGMA is based on the Model-View-Controller (MVC) design pattern. Even though it has some disadvantages, its advantages can help you easily learn Figma with the 10 easy steps given above. FITA Academy UI UX course can give you a great start to build your first UI, and you can start using it as a software development tool from day one.