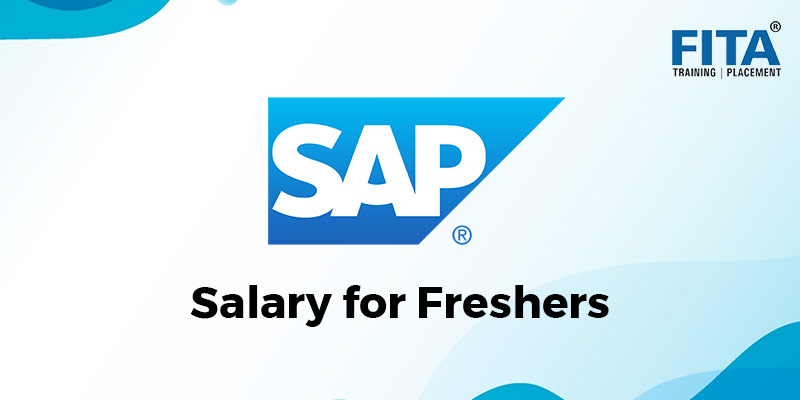 SAP is a multinational and corporate industry based in Wittenberg, Germany. It is well-known for employing young professionals with competitive SAP salary for freshers who want to use ERP (enterprise resource planning) software for consultancy services.We'll provide you a synopsis of job openings, application methods, varied jobs and duties, and career alternatives in this blog. SAP is a wonderful place to start if a candidate is concerned in ERP software solutions and cloud computing. Let us discuss how to apply for a job at SAP Solutions and what you need to know as a fresher.
Applicable Candidates for SAP Freshers Job Positions
Applicants who are enthusiastic to develop their careers with SAP are invited to apply for a wide range of positions. In addition, the applicant must have a basic understanding of SAP software, ERP solutions, cloud technology, and IT services. Candidates with an interest for Enterprise, Business, and Consulting Services are also recommended to apply.
Application Procedure to Apply for SAP Jobs
Interested candidates who are willing to choose an inspiring IT career at a German based company can apply through the following procedures.
Visit the official web-page of SAP at jobs.sap.com

Check out matching jobs and their roles

Click "Apply Now" to your desired job roles followed by entering of primary details

Upon successful submission of application, candidate will receive an acknowledgement mail.
Python Training in Bangalore can help you improve your technical and programming skills. The most well-known institute for effective training and placement.
Additional Skills to Get Selected for SAP
SAP Solutions is searching for young people who have strong interpersonal skills, problem-solving ability, cognitive intelligence, intellectual abilities, excellent administration, good communication, and basic scripting or programming capabilities. In addition, candidates that are hardworking, imaginative, bright, enthusiastic, and adaptive in the workplace are more likely to get the job with a feasible SAP salary for freshers.
Qualification Criteria for Freshers Jobs at SAP
Applicants looking for good SAP Fresher Salary must possess the following eligibility criteria for various job roles
BE/ B.Tech/ ME/ M.Tech/ MCA from any recognised institution in India in any field.

There should be no educational gap. If not, only one year is allowed.

Should have a grade point average of 60% or above in 10th and Intermediate school.

A total of 60% in graduation or post-graduation is required.

Candidates with backlogs are not eligible to participate in the SAP Off Campus Drive. While filling out the application form, aspirants must provide information regarding their academics.

The candidate must not possess any academic backlogs.
Learn Java Training in Bangalore to add to your portfolio for this profession; this course has a better potential for online and cloud-based applications.
SAP Interview Process and Selection
SAP's recruitment cell afford two ways for recruiting talented candidates, they are
Online Interview Mode
Online Test –

In the SAP recruiting procedure, the online test consists of 25 aptitude questions and 2-3 code problems. The online exam is only a preliminary assessment. Quantitative ability and logical thinking questions, as well as coding problems, are all included in the test.

Technical Interview Panel – There are two technical interview stages in the SAP hiring process. SQL, C C++, Java, Data Structures, Operating Systems, and other areas are covered in technical interview questions.
Managerial Interview Session –

In the SAP Recruitment Process, there will be one management interview round. The questions in the management round are personal comments on current events. The interviewer is attempting to analyze your thought process in this round, so you must answer carefully.

Interview with Human-Resource Manager

– The HR interview is the final step in the SAP Recruitment Process. This interview is used to determine if the candidate is a good match for the company's culture. You will be given general HR questions to assess your communication skills and work ethics.
Offline or Off-Campus Recruitment Mode
SAP Solutions drive their recruitment cell to conduct various off-campus drives to hire new candidates for their desired roles. The off-campus recruitment drive takes place in three testing rounds which are
Online Test

– An online exam round is part of the SAP Off-Campus Recruitment Process. The online test comprises multiple-choice questions and technical questions based on verbal abilities. There are also 23 coding questions.

Technical Interview Panels

–  The technical interview for the SAP Off-Campus Recruitment Process will include subjects such as Java, Operating System, Coding, and so on.

Managerial Interview Panels

-The SAP Off-Campus Recruitment Process Managerial Interview is likewise technical in nature. For example, the applicant may be asked to develop an algorithm based on a set of parameters.
SAP Salary Structure 
The SAP Package for Freshers varies from freshers to the experienced, however we have approximated the average salary package for different roles at SAP Solutions which is shown in the below graph.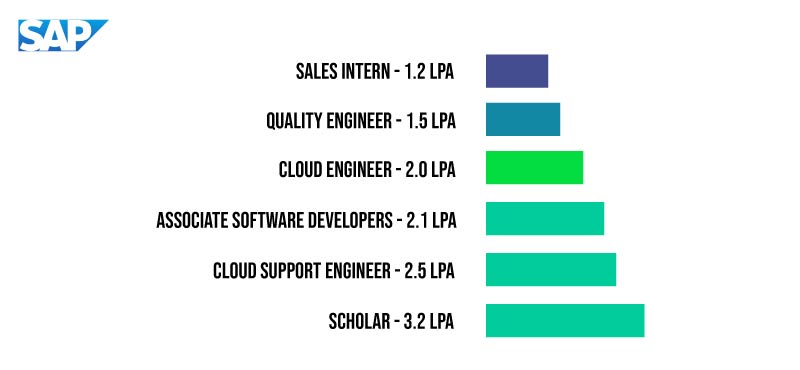 The above mentioned salary structure is estimated and can vary in accordance with real salary and the applicant's experience. Now, let's discuss the fundamental skills required, the key roles and responsibilities of each job role.
Gaining an understanding of AI through an Artificial Intelligence Course in Bangalore would increase your chances of getting a high pay. Because AI seems to increase the SAP Salary in India for fresher in the next few years.
Sales Intern
Interns in sales work as part of the sales team. While gaining experience, they may support the management and senior employees by completing administrative and entry-level jobs. Sales interns, among other things, conduct research, make calls and send emails, update records, attend meetings, and assist in the maintenance of customer connections. As a Sales intern, they are concerned with the following key roles and responsibilities
Working closely with the manager or other designated staff members and performing all responsibilities.

Conducting desktop research or gathering data through surveys or interviews with clients and employees.

Meetings, workshops, events, and exhibitions are attended and participated in.

On behalf of the company's managers, communicate with clients, vendors, and suppliers.

Documents and sales data are being updated.

Reviewing sales results concerning sales objectives.

Observing and executing sales procedures.

Identifying possible flaws and making ideas for improvement.

Assisting with negotiations for managers.

Keep a journal of what the applicant learned and give presentations to your coworkers and other stakeholders.
As a sales intern, enroll and learn Digital Marketing Course in Chennai to create an exceptional strategy for the company's sales and services. 
Quality Engineer
Designing quality standards, checking materials, equipment, processes, and products, building quality control systems, and identifying remedial measures are all tasks of the quality engineer, so the applicant needs to possess these variant skills for getting this job role with an affordable SAP salary for freshers. You'll also collaborate with managers and supervisors to put quality control measures in place. A good quality engineer should be able to troubleshoot effectively and ensure that processes and products satisfy set quality standards on a consistent basis. Further, SAP expects their applicants to have skills such as ASQ certification, QA software tools, and analytical skills. During their role, they have the following key roles and responsibilities
Creating and enforcing quality standards.

Creating and putting in place quality control systems.

Monitoring and assessing the quality performance.

Material, equipment, processes, and products are inspected and tested to verify that quality criteria are satisfied.

Developing and implementing controls and enhancements in collaboration with operations managers.

Ensure that workflows, processes, and products adhere to safety standards.

Investigating and resolving product or production-related problems.

Creating remedial measures, remedies, and enhancements.

Codes, standards, and methods are all being examined.
Cloud Engineer
An IT expert who designs and maintains cloud infrastructure is known as a cloud engineer. Cloud engineers can work in a variety of jobs, including cloud architecting (creating cloud solutions for businesses), development (cloud coding), and administration (working with cloud networks). SAP expects their new applicants to develop the following skills such as knowledge on cloud platforms, data storage and security, networking, programming, and other operating systems. As a cloud engineer, they must accomplish the following key roles and responsibilities at SAP which are
Working with engineering and development teams to assess and select the best cloud options.

Existing systems are being modified and improved.

Providing training to teams on how to deploy new cloud technologies and projects.

Creating, developing, and deploying cloud-based modular systems.

Developing and sustaining cloud systems in a best-practices manner.

Assuring that data storage and processing processes run smoothly in compliance with enterprise security policies and cloud security best practises.

Identifying, assessing, and addressing infrastructure and application deployment vulnerabilities.

Reviewing existing systems on a regular basis and offering recommendations for enhancements.

Interacting with clients, offering cloud support, and making suggestions based on their needs are all part of my job.
Enhance and Improve your cloud experience through enrolling in for AWS Training in Chennai, So that the training can make web-based interfaces and cloud-based services easier. 
Associate Software Developers
As an associate software developer, they help their senior software developers with computer software programming and development. Writing software code in various programming languages, resolving software application bugs, and doing unit testing of software components are all part of your work responsibilities. SAP wants their new applicants to have skills in software development life cycle, testing of code components, expertise in full stack developer, software engineering, and programming language such as Java, Python, Selenium, and miscellaneous, so that the applicant gets their satisfactory SAP fresher salary. As a associate software developer, they are concerned with the following crucial roles and responsibilities 
Fixing bugs, adapting software to new hardware, improving performance, and upgrading interfaces are all examples of software modification.

Controlling the testing and validation of the system.

Managing the development of software and documentation.

Project progress and proposals are discussed with departments or consumers.

Working on technical difficulties with clients or departments, such as software system design and maintenance.

Analyzing data to make recommendations and plans for the installation of new systems or changes to current systems.

Evaluation of software hardware interfaces and development of specifications and performance criteria with engineering personnel.

Using scientific analysis and mathematical models to anticipate and assess results and design effects while designing and building software systems.

Creating reports on the requirements, actions, and progress of programming projects.

Conferring with project managers to obtain information on limitations or capabilities.
Cloud Support Engineer
A Cloud Support Engineer works at the leading edge of cloud technology, assisting a growing number of companies who are using an increasing collection of services and technologies to run mission-critical applications. They deal with some of the industry's most prominent clients and directly with engineering teams. Cloud Assistance Engineers further provides technical support to many clients across the world who are creating mission-critical applications on top of various Cloud services. Applicants seeking to this job role at good SAP salary for freshers are advised to possess the following skills: knowledge of SQL, NoSQL, HBase, Hadoop, ETL; expertise in troubleshooting issues through TCP, IP, HTTP, HTTPS, SDN, DNS; experience in distributed systems such as HBase, Hadoop, Spark; scripting skills in Java, Python, Scala, Bash; relevant experience in cloud security, and visualization technologies. As a cloud support engineer, they are concerned with the accomplishment of the following key roles and responsibilities,
System evaluation to discover possible flaws or issues

Using powerful apps to solve consumer problems

When there is an issue with the cloud, recovering data that has been lost or corrupted is a must.

Building successful solutions and giving knowledge in one or more cloud and virtualization products, such as Amazon Web Services (AWS) or CloudStack

Identifying and utilizing cloud services that provide suitable support

Identifying possible performance issues with the program and managing network-related tasks, such as DNS and firewalls

Keeping the cloud service offerings in good health and up to date

Providing documented designs and documentation for cloud installations that are being considered or are already in place.
To become an exceptional cloud support engineer, learn Python Training in Chennai. As the language seems to have wider scope in near future. 
Employment Benefits at SAP
Family Care Services

– SAP provides a variety of family care advantages, including backup care, better family support, child support, maternity support, fertility benefit, adoption aid, surrogacy assistance, breast milk transportation, and other outreach services for survival benefits.

Educational & Financial Support

– SAP contributes to education through providing funds. Education reimbursement, professional development, graduate education, college coaching, and an education savings plan are all supported.

International Relocation Offer

– SAP has an international migration package that provides employees with all of the resources they need to relocate internationally in any country. Buying, selling, and renting a property; obtaining a mortgage in the United States; home and car insurance; shipping goods; and temporary housing help are just some of the services available.

Travel Support and Services

– SAP employees get exclusive travel support services during urgent or emergency situations. Furthermore, it provides business travel arrangements for their highly qualified staff.

Health and Life Insurance –

SAP provides guaranteed, renewable, individually owned, and portable health and life insurance to their workers. During an emergency or catastrophic crisis, it offers additional cash rewards.

Work & Life Balance at SAP

– SAP Employees Enjoy a Great Work-Life Balance – SAP employees have an outstanding work-life balance. To make use of all of the perks, the employee must update their present circumstances.
This organization is a good choice for newly graduated students who want a prosperous and amazing information technology profession with a good SAP salary for freshers. Also encouraged to apply are people that are passionate about SAP enterprises and their IT services. A prominent SAP career will open doors to a plethora of worldwide chances, as well as standard recognition and strong influence in the IT job market. A certified professional or SAP employee has a greater chance of being hired by other information technology industries. We hope that this blog has clarified your future vision and set you on the way to a successful IT career.
To take advantage of all of SAP's global opportunities, enroll in and pass IELTS Coaching in Chennai at FITA Academy. Thousands of information technology students have been trained and placed by the premier institute throughout the world's largest tech companies.