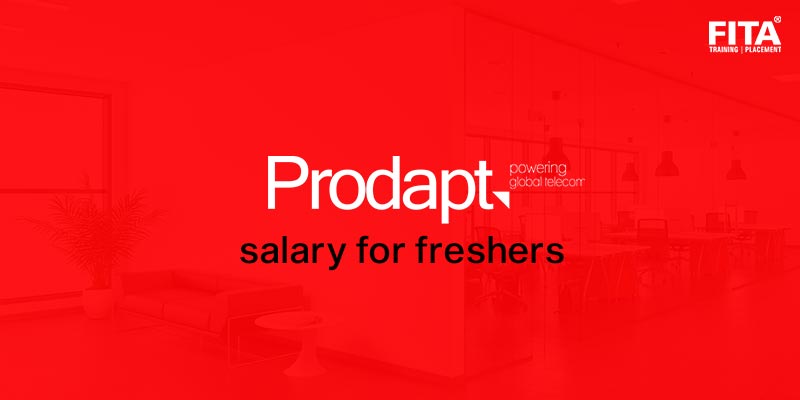 Prodapt is an Indian-based multinational company that provides software services and has its delivery centers in India, the United States, the Netherlands, and South Africa. Prodapt focuses on providing product and digital-based services to customers worldwide. Services include O/BSS, SDN/NFV, robotic process automation (RPA), business process services, infrastructure management, AI/ML, and product lifecycle services. 
Clients who trust them
Prodapt creates, integrates, and manages next-generation technology and innovative solutions. AT&T, Verizon, CenturyLink, Adtran, Vodafone, Liberty Worldwide, Windstream, Virgin Media, Rogers, and Deutsche Telekom are the global leaders Prodapt serves. More than a billion people and five billion gadgets are now connected owing to Prodapt's clients. Moreover, they recruit more than 3500 freshers, and they are part of Jhaver Group, with over 25,000 employees in 63 sites throughout the world.
This blog will discuss the Prodapt salary for freshers, roles and responsibilities, types of services, and job opportunities. 
Types of Services
This year, Prodapt plans to hire more than 60,000 freshers and professionals. They mainly focus on providing wider opportunities in various fields such as Robotic Process Automation, Software process, Consulting, Telco Services, Software-Intensive Networks, Digital Customer Experience, Operational Excellence, IT Agility, Product Engineering, Salesforce, Cloud, Media & Entertainment, DevOps & Remote Infrastructure Management, Intelligent Automation and many more. 
If you are interested in beginning your career as devOps engineer, you can join DevOps Training in Chennai to have a comprehensive understanding of Basic concepts of Operating System, Linux Versions and important Linux Operating Systems concepts. 
There are enormous job opportunities for freshers and professionals who intend to begin their career in Prodapt technology in the above services. If you are a fresher, then Prodapt Salary for freshers ranges from 2.5 to 3.5 lakhs per year. Prominently, the pay scale depends on the role they need to obtain. Now, we shall discuss the types of job opportunities in Prodapt. 
Types of job opportunities
Prodapt offers various job opportunities for freshers and professionals. Moreover, they offer both technical and non-technical job opportunities for freshers. We shall discuss it in general. 
There are various job opportunities such as Process Associate, AWS Cloud Support, Assistant Process Manager, Non-Voice freshers – Telecom, Automation Engineer, BUSINESS ANALYST, Non-Voice Process Professional, Siebel Lead, Security Test Lead, Angular Developer, Java Developer, 5G Network Testing – SSE, Automation Test Lead, Operations Executive, Global Mobility Associate, Delivery Lead/PM/Scrum and many more. 
Moreover, there are various job opportunities such as Lead Java Developer, Data Pipeline Engineer, Java Spring Frame Developer, Network Design Engineer, BlockChain – Lead Engineer, Spark Developer, and Quality Analyst; there are a plethora of job opportunities for freshers, and there is no end of jobs. 
If you want to head your career in cloud computing, then you can join AWS Training in Chennai and learn its key services such as Databases, AWS Products and major Services, Virtual Machine, and AWS Management Console. 
Prodapt Salary Structure for Freshers
The salary structure for freshers depends on the role that we tend to obtain. If you choose a technical role, your salary ranges from 3.5 to 4.5 lakhs per year; if you decide to take a non-technical job, the salary depends on the role we choose. 

Essential Skills, Job Roles, and Responsibilities of Freshers at Prodapt
Quality Analyst
End-to-end testing of different applications is understood.

Application testing for CRM (Sales/Service Cloud) is required.

Experience with SoapUI for testing Web Services

Knowledge of how to plan and implement a test data management strategy

Data processing, data evaluation, and problem-solving skills are required

Good at listening, communication, and interpersonal skills, as well as meticulous attention to detail

Examine the design specs to ensure that you understand the project.

Determine testing requirements and plan to test to guarantee that the project is covered.

Create, document, and keep track of test cases, including data and scripts.

Run and assess human or automated test cases and report on the results.

Report any probable quality issues to the management right away.
Java Full Stack
Knowledge of several backend languages (e.g., Hypertext Markup Language/ Cascading Style Sheets,

JavaScript

, Extensible Markup Language, jQuery)

The candidate must know JavaScript frameworks. 

Programming language skills in C#, Java, Python

Knowledge of database management systems (e.g., Angular, React, Node.js)

A better understanding of WebLogic (Apache) and

Kubernetes

Excellent teamwork and communication skills
If want to become a Java developer, you can join Java Training in Chennai to have an in-depth understanding of the core concepts of java, frameworks, tools, Data Types Operators, and Variables
Java Spring Frame Developer
Excellent knowledge of Core Java, including Collections, I/O, Multi-threading, and Generics 

Proven experience designing and delivering projects using Core Java, Java EE, and SQL server technologies

Closely work with BAs and convert requirements to technical design 

Good analysis and troubleshooting abilities 

Good understanding of database principles 

Good communication skills 

Well educated with the whole SDLC cycle and release management concepts 

Must be a good team player Experience with RPA solutions such as Microsoft Power Automate and Automation Anywhere is required.
If you want to become an RPA developer, you can join RPA Training in Bangalore and learn the Rules-based Exception Handling, Debugging, and building and deploying software robots that mimic human interaction. 
Network Python Developer
Strong understanding of networking protocols such as Transmission Control Protocol/Internet Protocol, File Transfer Protocol, HTTP/Secure Sockets Layer, and Hypertext Transfer Protocol.

Experience automating test cases using PyATS,

PyTest

, or Robot Framework is preferred.

 knowledge of

Jenkins

,

Jira, Bamboo, or other continuous integration orchestration systems is preferred

knowledge of Java and backend SQL is preferred

 Knowledge of Web security or web gateway product domain experience is preferred.
Join Python Training in Bangalore and equip yourself with the core concepts of python coding as well List, Ranges & Tuples In Python,  Python Dictionaries And Sets, and Input And Output In Python. 
Business Development Manager
Establish rapport with future clients.

The candidate must plan and monitor the strategies of the new marketing project. 

Find new chances by researching organizations and individuals.

Increase the value of existing and prospective clients while also recruiting new ones.

Develop and expand new markets, as well as increase sales.

Attend industry events, conferences, and meetings.

Develop client quotations and proposals.

Personnel training and development assistance for team members
There are plenty of job opportunities in Prodapt—moreover, they focus on recruiting freshers both in a technical and non-technical fields. If you choose a technical role, you need to obtain the skill required for the role. As we face challenges in the competitive world, imparting job-based skills would help you stand out. Further, before applying for the job role, you need to read the job description. So, be focused and concentrate on gaining skills. 
Freshers might have lots of questions regarding the job satisfaction of previous employees, and we think of benefits that we can get as freshers. Now, we shall look at the job satisfaction rate: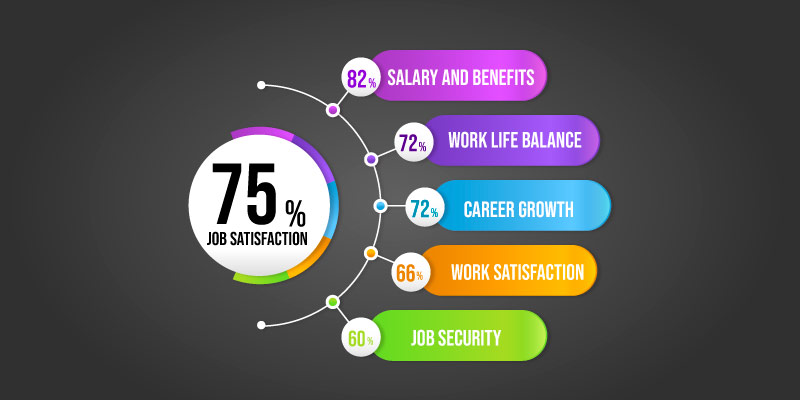 Qualification Criteria
Bachelor of Technology/ Master of Technology/ Master of Technology/Bachelor of Engineering/ MCA- Information Technology, Electronics & Communication Engineer, Electronics Telecommunication Engineering, Computer Science and Engineering, Information Science, Computer Science, and Engineering, Software Engineering, Bachelor of Science, or other IT-related degree. 
Candidate must have more than 60% in academic career path

At the time of the interview, the candidate should not have any backlogs 

Candidates who applies for the recent job alert must have acquired the skill required for the job role. 
Basic skills
Programming language skills

C/C++

, Java, Oracle, SQL..etc

Automation testing skills like selenium

Strong interpersonal skills  

Networking skills

Marketing skills

Good communication skills

Teamwork skills
If you want to become a selenium developer, you can join Selenium Training in Bangalore and learn Selenium Testing Framework tools which are the Selenium IDE, Selenium RC, WebDriver, and Selenium Grid
The above-mentioned skills would help you stand out from applicants. You should possess strong communication skills among all these skills because it would help you communicate with clients or colleagues more efficiently. So, acquiring the skill relevant to your job role or academic degree would help you obtain the role you intended to obtain. 
Interview Process
Prodapt interview process and rounds depend on the role and industry we choose. IF you choose the technical role, you will be facing three to four rounds. Now, we shall discuss in detail:
Online test- In this round, you might be asked general English grammar questions, Compound Interest, Decimal Fractions, Heights & Distances, Logarithms, Operations on Numbers, Partnership, Percentage, etc. 
Technical round- In this round, you can expect questions from Algorithms, database management systems, Operating systems, Networking, Object-oriented programming, data structure, and many more. 
HR round-  In this round, the recruiter focuses on your CV. So, the candidate selected for the HR round can prepare questions from the details mentioned in your CV. Prominently, the last two rounds take place in Microsoft teams.
How to apply
Aspirants can visit the official website of Prodapt https://www.prodapt.com/

Click the career at the top of the page.

Click on it; the homepage will redirect you to another new page, then choose the job you need to apply for.

Before applying for the job role, read out the description carefully 

Then select a country/ region or location to get location-based job opportunities. 

Choose from a range of roles based on your qualifications.

Fill out all required details. 

Check out whether you have entered all the necessary details

Upload all relevant information, such as a resume, required photography size, and signature, among other things.

Submit the form by clicking the submit button.

Finally, make a printout for future reference.
Prodapt Salary for Freshers
Prodapt solutions salary for freshers depends on the role that we apply for. Prodapt package for freshers ranges from 3.5 to 4 lakhs per year if we apply for a technical job role such as software engineer, java developer. Moreover, if you apply for a non-technical job role such as Salesforce Technical or Non-Voice Process Professional, Prodapt salary for freshers ranges from  ₹1.7 to 2 Lakhs per year. 
Now, you would have understood Prodapt solutions salary for freshers, types of services they offer, job opportunities, job roles, Job Satisfaction Rate, qualification criteria, interview process, and application process. So, to head your career in Prodapt solution, you can take up additional programming language courses, cloud computing courses, or any other on-demand courses.