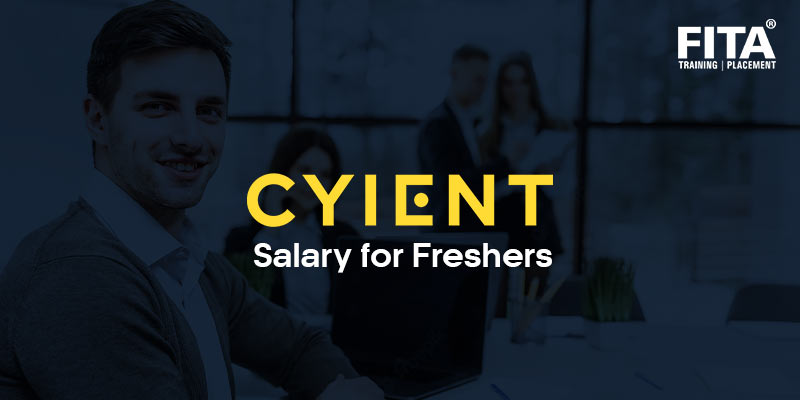 Cyient is a multinational company delivering excellent services in manufacturing, networks, and digital operations. The company is one of the leading outsourcing companies in the world. Now that company is looking for freshers who can lead the industrial services to the next-level in providing satisfactory services. Further, the company is best known for compensating fresh graduates with excellent Cyient Salary.
In contrast to the job demand and fresher interest in joining Cyient, we will explain the company overview, availability of open positions, application procedure and eligibility criteria to apply, roles and responsibilities of each job position, benefits to freshers, and information on work satisfaction. Let us begin by discussing who and how can apply.
Who can apply for Cyient Jobs?
Candidates interested in a career in digital services and data analysis can apply for a variety of opportunities at Cyient. Before moving to the discussion on eligibility criteria for applying, we are going to define some preliminary characteristics for freshers. Some of them are as follows.
Interest in pursuing a digital services and analytics career.

Keen to know more about manufacturing engineering.

Aspiration to explore and transform networking services, and networks.
These characteristics will well-define your application for Cyient jobs. Therefore, we advise freshers to develop these qualities before proceeding for application. In addition, you need to show some academic qualifications as eligibility criteria. Therefore, the list of eligibility criteria are as follows
Any degree in engineering and technology such as B.E and B.Tech.

Good verbal and communication skills in English.

Excellent problem-solving and analytical skills.

Good programming skills in Java and SQL Queries.

Background in Computer Science or Engineering.
Since, the company is looking for data analytics and data driven technology posts, we suggest you join the Data Science Course in Chennai. This course will help you to acquire the most proficient skills in data structures, database management, and data analytics.
How to Apply for Cyient Jobs?
In order to provide a user-friendly platform for searching and applying jobs for freshers. The company has hosted a separate website. You can visit their site to apply. Follow the below mentioned instructions to apply for Cyient jobs.
Visit Cyient's Official Career site at (https://www.cyient.careers/)

Search for available vacant positions based on your experience, location, and domains.

If you find any matching jobs which meet your qualification standard and skills.

Click on it to apply. Make sure to read all the instructions carefully before applying.
Cyient Salary for Freshers 
The Salary structure is defined for freshers based on their skills, relevant work experience, work location, and other significant criteria. But the salary structure varies for different job roles. We have estimated an average salary of freshers based on the salary data given by previous employees in the chart below.

Were you worried about your basic salary package and wanna improve it? Join Artificial Intelligence Courses in Bangalore. Enrolling for this course would be more advantageous than you think, due to its global demand, candidates with these skills are likely to get successful placement. 
What are the Job Roles and their essential skills and responsibilities?
Apprentice Trainee
Apprentice trainees are students who have just obtained a degree and are preparing to enter the job market. The tasks of graduate trainees vary depending on their field, but they are often supervised by a senior staff member while they educate, learn, and meet with clients. If you to join Cyient's Apprentice with a reasonable Cyient Salary for Freshers, you need to acquire significant skills which are
Possess a valid driving license.

Excellent verbal, written, and communication skills.

Positive attitude and an interest to grow in their domain.
If you join as apprentice trainees, you will be required to accomplish the following key roles and responsibilities, which are
Attending meetings, workshops, and team-building activities.

Taking notes on events and keeping a learning journal.

Report compilation and presentation to other staff members.

Analyzing current systems and suggesting new ways to enhance them.

Bringing good energy into the organization and developing long-term professional ties with employees.

Conducting research and aiding the Manager or Supervisor in any way that is possible.

Completing fieldwork or visiting various job sites as needed.

Maintaining the company's excellent name at all times.

At the completion of the graduate programme, you will be required to write an exam or submit to some other type of evaluation.
Apprentice trainees must develop their skills before joining a company. They must ensure their skills to clear all the technical rounds of the interview. In order to enhance your technical skills, we suggest you joining RPA Training in Chennai would be more beneficial in terms of supplemental skills.
Manufacturing Engineer
Manufacturing engineers are responsible for analyzing, designing, and developing new products and production methods in the manufacturing industry. Before applying for this positions, we suggest you to acquire necessary skills for getting an excellent Cyient Salary, the skills are
Knowledge and experience in analyzing and fixing problems with manufacturing processes and equipment.

Knowledge and experience with computer-aided design (CAD), computer-aided manufacturing (CAM), data analysis systems, and other software that is relevant.

Excellent verbal and written communication skills are required.

Capacity for organization and management at a high level.

Experience of working with Microsoft Office.

Superior knowledge and skill in the relevant technological areas.

Strong ability to analyze and reason.
As a manufacturing engineer, you will be assigned with certain job roles and responsibilities to fulfill, which are as follows.
Identifying and improving existing production processes.

Problem-solving and improvement.

Equipment, process, and workflow layouts.

New procedures, equipment, and products.

Elaboration of cost-saving and quality control procedures.

Ensuring manufacturing methods, equipment, and products are safe and lawful.

Reporting on research and activities.
As a manufacturing engineer, you need to be skilled and familiar with robotic-based processing and automation. So that you can enhance the speed of the manufacturing process, in order to acquire skills in that, we recommend joining RPA Training in Bangalore. After completing this course, you will be expertise in robotics, and automation strategies.
Junior Network Engineer
The work of junior network engineers has a considerable influence on computer network administration. If you are a Fresher and want to join these roles with a competitive Cyient Salary for Freshers, you must have the following basic networking and technology skills:
Knowledge as well as hands-on experience in areas of relevance to the fundamentals of networking.

A working knowledge of local area networks (LANs), networking, and the hardware that makes up networks.

Outstanding competence for diagnosing issues and the ability to implement solutions to those issues.

A comprehensive understanding of the programmes and applications that are relevant to networking.
A network engineer is accountable for a wide range of different tasks and duties. The following is a list of some of the most important obligations that must be fulfilled:
Maintain a close eye on how effectively the networks and their servers are functioning.

While configuring the appropriate settings, you need first establish internal and external network connections.

Carry out a detailed investigation of the network's underlying systems as well as its IP addresses.

Fixing issues and making improvements to the network will result in a faster overall performance.

Enhancements to the network will be developed through collaborative efforts with network architects.
Are you interested in learning more about networking principles? Then enrolling in the CCNA Course in Chennai will be beneficial. This course will teach in-depth understanding of cutting-edge networking technology, network servers and systems, as well as network administration.
Junior Digital Marketer
Managers of digital marketing are responsible for developing and managing marketing initiatives that are intended to promote the company's brand and its goods and services. Their responsibilities consist of, among other things, organizing campaigns, evaluating analytics, and spotting patterns. In most cases, they have previous expertise in art direction and social media. If you want to become a digital marketer in Cyient with good Cyient Salary for Freshers, you need to acquire significant skills in digital marketing, which are
Expertise in social media platforms, best practices, and online analytics.

Good coding skills in

HTML5

, CSS, and

JavaScript

.

Good Creative and analytical skills.

Excellent interpersonal and communication abilities.

Knowledge of digital marketing trends and technology.
If you join as a digital marketer in Cyient, you need to accomplish the following key roles and responsibilities, which are
Create and manage our digital marketing department parts, including our marketing database, email campaigns, and display advertising campaigns.

Create and track campaign budgets.

Our social media channels must be planned and managed.

Prepare accurate reports on the overall performance of our marketing strategy.

To increase marketing results, collaborate with advertising and media specialists.

Determine the most recent trends and technology influencing our industry.

Analyze key parameters affecting our website traffic, service quotas, and target audience.

Collaborate with your team to develop new and inventive growth methods.

Manage all competitions, freebies, and other digital projects.
If you are new to this domain and want to enhance your skills in digital marketing, we suggest joining the best digital marketing coaching institute called FITA Academy with Digital Marketing Course in Bangalore. This course will help to secure significant skills in promoting products.
Data Engineer
Data engineers employ a wide range of tools and methodologies to create frameworks that prepare information for use by data scientists. Python, Java, R, and C++ are some of the most common coding languages used by data engineers today. if you want to join this company as a data engineer with an excellent Cyient Salary for Freshers, you need to acquire significant skills such as
Expertise in the programming languages

Python

, C++,

R Programming

, and SQL.

Working knowledge of Hadoop or an appropriate alternative.

Excellent capabilities in both analysis and finding solutions to problems.

A talent for both working independently and in groups.

Methodical attitude to one's responsibilities.

Ability to properly manage a pipeline of activities with minimum oversight and oversight only when necessary
If you join as a data engineer, you will be assigned specific job roles and responsibilities, which you need to accomplish during your onboarding period. Some of the key responsibilities are as follows.
Creating and conceptualizing infrastructure for extensive data access and analysis.

Reformulating current frameworks to improve their performance.

Such structures are tested to verify that they are fit for usage.

Getting raw data ready for data scientists to manipulate.

Identifying and addressing flaws in your work.

Ensure that your work is backed up and readily available to relevant teammates.

Maintaining industry standards and technical improvements to increase the quality of your outputs.
If you want to become an exceptional data engineer, you need to expertise your data science skills. In order to enhance, we suggest joining Data Science Courses in Bangalore would be more advantageous than in any other location because Bangalore is considered one of India's leading IT capital. 
Big Data Engineer
Big data engineers are primarily intended for developing, testing, and maintaining a company's big data solutions. They have to gather vast volumes of data from various sources and then make it possible for users farther down the chain to access the data quickly and effectively. Big data engineers are essentially responsible for ensuring that the data pipelines within the firm are scalable, safe, and able to service various consumers. Suppose you are interested in joining this job position with an affordable Cyient Salary Package for Freshers. In that case, you need to acquire essential skills, which are
Expertise with the frameworks of Hadoop, Spark, and others like them.

Good knowledge of NoSQL and RDBMS database systems, including Redis and MongoDB.

Familiarity with the tools used by Mesos,

AWS

, and Docker.

Excellent project management capabilities.

Competence in the art of communication.

Capacity to resolve complex problems involving data, software, and networking.
As a Big Data Engineer, you are required to fulfill the following essential tasks and responsibilities, which are
Design and Develop Hadoop systems.

Load and Process a variety of data sets and the performance of pre-processing services using Hive or Pig.

Put the finishing touches on the system's breadth and give solutions for big data.

Control the flow of information between the company's internal system and the external provider that conducted the survey.

Work in concert with the teams responsible for the research and development of software.

Develop corporate apps on cloud platforms built from the ground up.

Keep the production systems in good working order.
If you are interested in gaining additional skills related to big data and data science, we recommend you sign-up for a Big Data Online Course. This course will train you to use Hadoop and its ecosystems, such as HDFS, Yarn, Pig, Hive, MapReduce, Spark, and Flume, to make you a professional Big Data Hadoop developer.  
How are freshers benefited from the Cyient Company?
Cyient affords many employee benefits and perks to the freshers and experts. Some of them are enlisted as follows.
Work from Home (WFH)

– Through the Work From Home (WFH) option, Cyient maintained its work-life balance amid the covid pandemic conditions. This choice has opened up countless prospects for both new and seasoned workers. It ushered in a new era of ideas, possibilities, and powerful labor forces.

Vocational Trips

– Cyient also offers worldwide and national vacations that Cyient fully sponsors. The tours were intended to engage firm employees in ordinary professional responsibilities.

Health Care, Life, and Other Insurances

– The corporation also offers life and health insurance to employees in an emergency or urgent scenario.

Cyient Salary Hike

– Cyient can afford salary increases for their workers depending on their love for work and performance.

Cafeteria for Refreshments

– Cyient employees have access to a cafe for refreshments and refueling during work hours.

Complimentary Transportation Facility

– Cyient, like other I.T. organizations, provides gratis transportation solutions for their workers to get from work to home and vice versa.

Education and Study Assistance

– Cyient is recognized as a global education booster. As a result, for Cyient staff. It offers and grants complete educational support to their children.

Children Care Centers

– Cyient offers childcare services to their employees' children.

Overseas Relocation

– As we all know, Cyient is one of the world's most essential I.T. industries, with several international offices worldwide. As a result, any Cyient employee can choose to transfer their employment location.
If you want to clear IELTS and avail all the international benefits offered by Cyient, you need to grasp more communication and foregin language skills. Therefore, we suggest joining IELTS Coaching in Chennai would be meritorious. This course will enrich you with good communication and interpersonal capabilities. 
How are Freshers satisfied with their jobs at Cyient?
Cyient's freshers are pretty delighted with their jobs. Based on the feedback and ratings supplied by Cyient alumni and current employees. We calculated an average job satisfaction percentage, with Cyient accounting for 62 percent of the entire employment satisfaction rating. Furthermore, work-life balance and job security are 70 and 82 percent, respectively; work satisfaction is 58 percent, and career advancement and income benefits are 70 and 48 percent. For further details, please see the table below.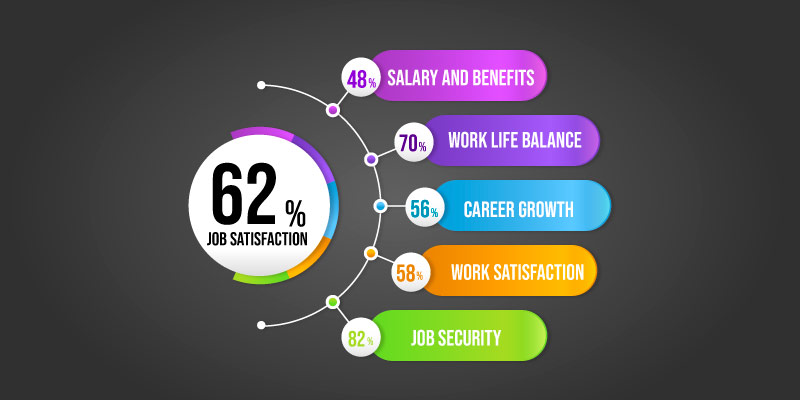 Cyient Solutions is unique from other IT firms in that it prioritizes youthful professionals. This explains the high Cyient Salary for Freshers and the extensive work advantages. It always focuses on and considers each employee's perspective and assists them in their personal and professional progress. If you begin your career with Cyient, you will be renowned across the IT industry. Furthermore, the company contributes to higher job satisfaction; thus, we advise freshers to explore numerous vacant opportunities and seize every chance for their career and professional advancement. Finally, before we conclude, we believe that taking advantage of development operations through DevOps Training in Bangalore is the most pleasing way to begin your highlighted IT Career.