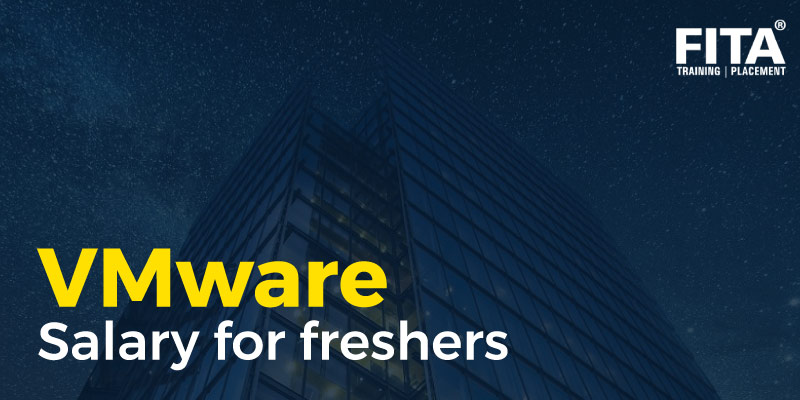 VMware Inc is a cloud computing-based virtualization tech company that provides 86-bit software architectures. The company's main headquarters is located in California, United States. The company's rapid growth increased the employee demand, which led to the opening of numerous freshers jobs with a reasonable Vmware Salary for Freshers.
This blog will provide you a thorough and brief description of Vmware Inc, covering diverse workspaces, recruiting and eligibility requirements for freshers, as well as a variety of employment advantages and salary structures.
Who can Apply for VMware Tech Jobs?
Freshers seeking to various open positions with a feasible Vmware Salaries are required to meet certain educational as well as technical qualification, which are
Freshers with a graduation degree in engineering, technology, science & commerce, and computer application are eligible to apply.

Further, the company also accepts candidates with any discipline for both technical and non-technical jobs.

In addition, the candidate must have an academic percentile of 60% or above in all subjects without backlogs.
Besides, the candidate needs to acquire the following interpersonal skills to get selected for freshers jobs at VMware Technologies. Some of the significant skills are
Good verbal and communication skills for efficient communication.

Strong programming skills with an understanding in languages such as Python, Java, PHP, CSS, Javascript, and HTML.

Basic networking and object-oriented programming skills.
Do you possess less qualification standards? Were you worried about your job application? To make you eligible for VMware Jobs, enroll for PHP Training in Chennai at FITA Academy. This course will teach your basic introduction to PHP, MySQL, and their applications in web-development.
How to search for freshers vacant positions?
If you want to look for various open positions applicable for freshers, then you need to visit their official career page. Follow the below given instructions for effective search.
Visit the official career page at (https://www.vmware.com/in/company.html)

Click over the Career tab to look for various vacant positions.

You can filter your job search results based on work location, experience, and so on.

When you find your desired job role, click on it and apply.

Make sure to read all the necessary instructions and prepare essential documents before applying.

After filling all the basic particulars, click on the submit button to send your application.
Give additional support to your academic qualification by obtaining a certification in java programming and related concepts through joining Java Training in Bangalore. You will be well-trained with Java, Javascript, and Oops concepts through this course.
Now, you have completed your job application. Let's explore the interview and selection process in the following section. 
Interview and Selection Process
VMware conducts five interview rounds to select qualified candidates. So, the first interview round begins with an online assessment test, 
Online Assessment Test

– In this interview phase, you can expect a wide range of technical reasoning questions from the following subjects.

Technical Interview Round 1

– Candidates who have successfully completed their first will be allowed to participate in the second round. Here, your skill will be assessed based on your technical skills in Java.

Technical Interview Round 2

– Second round qualifiers are further allowed to take a second-round technical assessment test. You can expect questions from Multithread variables, Object-oriented programming, and other programming languages.

Technical Interview Round 3

– This is the final technical round. You can expect questions from concepts like Telnet, SSH differentiation, terminals, SDLC (Software Development Life Cycle), cloud computing, and networking concepts.

Human-Resources Interview Panel

– Here, the candidates will be assessed by HR with basic communication skills, decision-making skills, and questions from the resume.
Finally, candidates who have qualified and cleared all the interview rounds will be contacted by the HR Manager on the date of appointment.
Vmware Package for Freshers
The average salary package for freshers at VMware ranges from 2.0 to 5.0 Lakhs Per Annum. But, usually, this package varies from freshers to experienced professionals. However, based on the salary review provided by the company's alumni, we have estimated an average Vmware Salary For Freshers in the below-mentioned chart.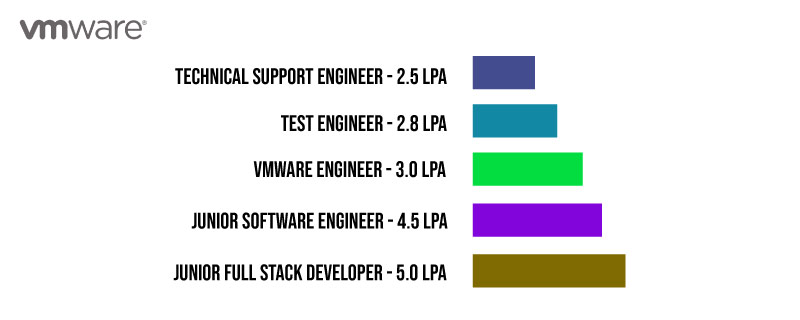 Were you worried about low compensation packages at Vmware Inc? Want to see a salary hike within years? Then, learn Data Science Course in Chennai because the course is leading and has a competent reputation parallel to Machine Learning and Artificial Intelligence. So, if you gain this additional certification, there are many possibilities to see a salary hike within a year of work at Vmware, which may lead to excellent Vmware Salaries.
What are the types of Job roles and their responsibilities?
VMware accommodates a wide range of job positions with competitive Vmware salaries. So, let's discuss the top five job roles opted for freshers along with their required skills and job responsibilities.
Junior Full-Stack Developer
Full-Stack Developers are professionals with multiple capabilities to design user interfaces and websites. They are expertised professionals in both front-end and back-end coding. Also, they develop network servers, website databases, and coding for mobile platforms. If you want to apply for this role, you need to possess certain skills which are
Strong skills in front-end languages such as CSS, HTML, and

Javascript

.

Relevant experience in Javascript Frameworks, React, Angular JS, and Amber.

Good programming skills in Python, Ruby, PHP, Java, and

Dot Net

.

Knowledge of database technology such as Oracle, MySQL, and MongoDB.

Good verbal and problem-solving skills.
If you join as a full-stack developer at Vmware, you need to accomplish the certain crucial job responsibilities, which are
Develop both front-end and back-end architecture for websites.

Develop functional databases and servers for web applications.

Ensure optimization of cross-platforms for mobile phones and applications.

Collaborate with graphic designers to create interactive web designs.

Design, Develop and Validate APIs and Android Applications.
In order to become a unique and exceptional full-stack developer, you need to acquire considerable skills in both front-end and back-end architectures. So, obtaining an additional certification in Full-Stack development would be advantageous. Hence, we recommend taking part in the Full Stack Developer Course in Bangalore. Experts and Trainers here will enrich you with all the fundamental skills required to become an expert in full-stack development.
Junior Software Enginee
r
Junior Software Engineers are concerned with engineering and modifying the existing applications or software. They also do the documentation process, making flowcharts and diagrams based on the software developer's instructions. This is an exciting job role compared to other software developer roles, so if you were looking forward to joining for this position with a competitive Vmware Fresher Salary, then you need to acquire the following key skills
Strong numerical and problem-solving skills.

Basic knowledge in computation algorithms and data structures.

Good reasoning and analytical skills.

Skills in troubleshooting software issues and code debugging.

Good collaborative and communication skills.
As a junior software engineer, you are required to undertake the following essential tasks and responsibilities, which are
Detect and Enhance the software issues by identifying common patterns.

Improve and Implement new strategies for increased software performance.

Review and Maintain the existing coding databases, and update them.

Collaborate with design teams to implement new technologies.

Develop high-quality automation tools and frameworks.
If you want to become an exceptional and experienced software engineer, we encourage you to complete a certification course in software testing through Software Testing Training in Chennai. This course will enrich you with basic SDLC and numerous software testing techniques.
Technical Support Engineer
Technical Support Engineers provide technical support to consumers and clients. They also work with systems to upgrade software, resolve hardware-related issues, and troubleshoot errors in network servers. Freshers seeking to join for this role are required to acquire basic technical skills such as
Desktop and Technical Support Skills.

Knowledge of computer hardware and software systems.

Skills in network management and network security.

Strong expertise in web services, operating systems, and APIs.

Skills in managing remote computers through Teamviewer.

Troubleshooting skills in complex hardware and software-related problems.

Good communication, interpersonal, and analytic skills.
If you get selected for this role, you are required to undertake the following critical tasks and responsibilities to provide IT support, which are
Resolve issues associated with clients' computers through remote access.

Configure new hardware, software, and computer networks.

Diagnose and fix computer hardware, network servers, and software applications problems.

Maintain a good relationship with global clients.

Submit job reports and records of the history of system troubleshoots.
Fresh Technical support engineers need to learn more concepts and advance their experience throughout the job role. Apart from the workspace, if you want to learn more about advanced networking concepts, join CCNA Course in Chennai. This course will teach all the fundamental and advanced concepts in networking, network management, and network servers.
Test Engineer
Test Engineers are responsible for testing and validating the quality of products. They perform a series of quality checks such as durability, safety, speed, and functionality. Freshers seeking this job role with Vmware Salary for Freshers are required to obtain fundamental technical skills such as
Relevant experience in testing products.

Skills in implementing a variety of testing techniques.

Good skills in Quality Management systems (QMS).

Ability to maintain the quality standard as per the regulations.

Strong troubleshooting and analytical skills.
As a Test Engineer, you are required to accomplish the following key tasks and duties, which are
Inspect and Improve the speed and functionalities of a system.

Conduct quality control checks to ensure error-free products.

Analyze and Keep track of test results for future troubleshooting applications.

Diagnose and Fix the issues associated with the existing systems.

Develop automated testing programs for periodic checks.

Excellent problem-solving and management skills.
As a test engineer, you need to process the work manually. But, the modern world needs more integrated machines which can process and work faster for better results. Therefore, we suggest you learn more about the automation process and employ it in your professional tasks to automate the process. Therefore, join RPA Training in Bangalore. 
VMware Engineer
VMware Engineers integrate windows servers to cloud networks through VMware software. They are also associated with tasks such as implementing VMware solutions, troubleshooting the VMware environment, and providing technical support. If you want to apply for this specialized job role, you need to possess certain technical and non-technical skills before applying. The skills are as follows
Certified skills in Virtual Cloud PC.

Good programming skills in Windows servers, MS IIS, SAN architecture,

Citrix

, C++, and Websphere.

Fundamental knowledge in VMware ESX and related products.

Excellent verbal and communication skills.

Good analytical and technical skills.
If you join a VMware Engineer, you need to fulfill the following key roles and responsibilities, which are
Evaluate the current network infrastructures and systems to meet the business-standard.

Optimize the network hardware and software for enabling VMware integration.

Develop and Execute VMware customized solutions.

Create multiple virtual machine servers within a single host machine.

Connect and Integrate windows servers to clouds and networks.

Develop and Implement virtual desktop infrastructure.

Install and Configure operating systems for security protection and bug fix.

Document the VMware processes in an effective manner.

Provide technical support to the consumers and clients.

Keep updated with VMware products and technologies.
Usually, VMware engineers are well-equipped with all the fundamental and advanced skills to fulfill their roles. However, if you are interested to know more about the emerging IT sector "Artificial Intelligence," we suggest taking part in a certification course through Artificial Intelligence Course in Chennai. This course may enrich you with AI algorithms to automate and integrate engineering processes with advanced AI bots. Furthermore, AI Certification might increase the chances of receiving a high Vmware Salary for Freshers.
What are the freshers benefits at VMware Inc?
Compared to all IT companies, VMware provides excellent employment benefits and perks. Some of them are as follows.
The company Covers the life and health insurance policies of their workers.

The firm increases the annual salary of all employees as per their efficiency and work nature.

Affords a dedicated FSA (Flexible Spending Account) Account to use discounted purchases and emergency expenditures.

Apart from health insurance, the company covers insurance policies for accidental death, physical disability, dental, vision, and vehicles.

The company provides paid leave off during the circumstance of maternity and paternity.

Allows freshers to avail of international relocation opportunities to become immigrants.

This IT firm provides financial, and retirement plans to benefit old-aged employees.

Employees get benefits from numerous perks and discounts on purchase orders.

Finally, the company provides professional support for enhancing workers' career and education growth.
Like all companies, VMware also offers worldwide relocation opportunities. Suppose you are interested in becoming an immigrant and flying abroad. Then, enroll for IELTS Coaching in Bangalore. The coaching center will provide you with additional certification and scorecards, which may help fast-process your visa application process. 
How far are freshers satisfied with this company?
In order to encourage students to get more information about the workspace, we have estimated an average job satisfaction rate. This rate determines the job satisfaction percentage of previous VMware employees. Our estimate shows that the average job satisfaction percentage at VMware is 80%. The percentage rate of each category is shown in the below chart.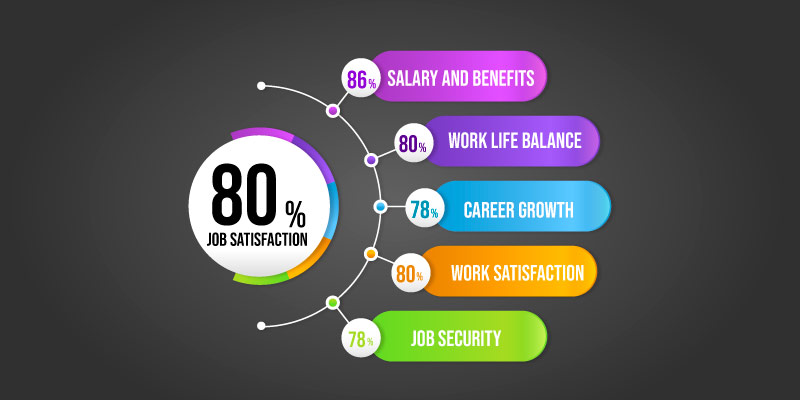 So far, we have covered all the necessary information required to apply for Vmware jobs. The company seems to afford great benefits for freshers in career and salary perks. Therefore, we highly appreciate freshers searching and applying for various job positions at VMware based on their qualifications because the company affords an excellent Vmware Salary For Freshers. After successful work at VMware, you will be recognized by all the IT firms worldwide. Further, the work experience and reputation you have gained at VMware will open wider career opportunities. Therefore, it would be great to kick-start a featured IT career at VMware with a certification in Python programming through Python Training in Chennai.