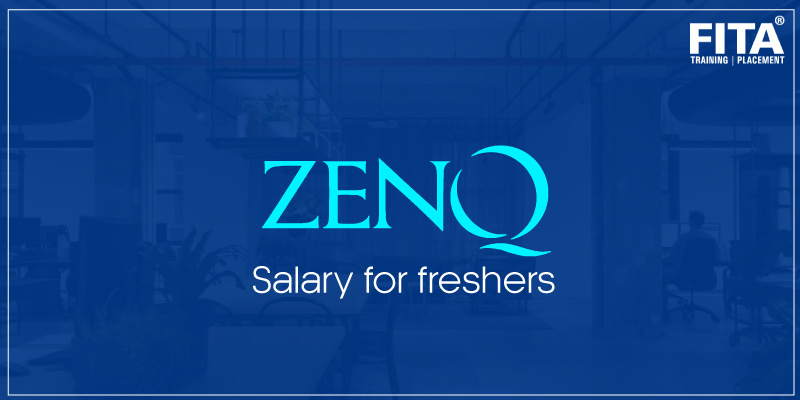 ZenQ is specialized in Software Testing Services and has been serving globally through its Centers of Excellence, Accelerators, and Test Labs. The company has spread across international countries such as India and the United States with more than 500 skilled employees and Quality Assurance Professionals. Since its successful establishment, the company has been offering numerous job opportunities with excellent Zenq Salary for Freshers.
This blog will provide you with all of the information you will need to apply for various roles at Zenq Company. Let's discuss job vacancies, application procedures, various work roles and responsibilities, employee benefits, and Zenq compensation packages.
Applicable Candidates for ZenQ Job Roles
Freshers seeking various job roles at ZenQ must meet certain criteria to join. The candidate must be passionate and enthusiastic to transform and revolutionize the software testing technologies and strategies are highly appreciated to apply. Besides, any candidates who want to advance their information technology career are also eligible to apply. Further, the candidate must meet certain qualification standards before applying for ZenQ Job Roles.
Application Procedure for ZenQ Jobs
ZenQ aspirants and IT Job seekers have two different ways to apply for ZenQ. They are as follows
Online Mode – In this mode, the applicant can go to their official website's employment page. Search for numerous positions and apply for them by submitting a résumé. Shortlisted candidates will receive an email with information about the next steps in the interview process after submitting their application.
Offline Mode – Candidates can go for an off-campus drive in addition to the online mode. Applicants must schedule an appointment in advance through their official page. The human-resource executive will then email the location, eligibility details, interview date, and other pertinent information.
FITA Academy offers Python Training in Bangalore to assist you develop your technical and programming skills. The most well-known training and placement academy in the country.
Supplemental Skills Required For ZenQ Jobs
ZenQ is looking for young people with strong interpersonal skills, problem-solving talents, cognitive intelligence, intellectual abilities, excellent administration, effective communication, and basic scripting or programming abilities. Furthermore, individuals that are hardworking, creative, brilliant, eager, and adaptable in the workplace are more likely to get hired with a reasonable ZenQ Salary for Freshers.
Qualification Criteria for ZenQ Freshers Jobs
Freshers who are willing to join Zenq Software Testing company must meet the following educational criteria for different job positions.
The applicant must hold a bachelor's or master's degree in computer science, information technology, electrical & communication engineering, and mechanical engineering.
The appropriate degree must be CSE, IT, ECE, EEE, MCA, and others.
The applicant must have acquired 65% of aggregate marks throughout the academic program.
The candidate must be interested in Microsoft Dot Net with no current active backlogs.
Finally, the candidate must possess enough technical skills and problem-solving skills.
In addition to qualifications, the candidate must possess some expertise or specialization in any of the programming languages or skills. Let's discuss the essential skills required for the freshers' jobs at ZenQ.
Technical Skills for ZenQ Job Roles
Apart from fundamental skills, freshers seeking various job roles are highly encouraged if the applicant possess desired skills in the following domains: windows application development (C#); ASP.NET, MVC, APIs, CI-CD Tools, and so on.
ZenQ Interview Process and Selection
ZenQ hires freshers through four stages of interview application process which are as follows (explained below)
Interview Phase 1 – In this phase, all the applicants are allowed to write technical aptitude questions. Most of the questions will be asked from C/C++, and Programming.
Interview Phase 2 – First interview round follows, second written test, where advanced technical aptitude questions are given to the candidate to test the quantitative and problem-solving assessment.
Interview Phase 3 – Subsequent to first and second writing phase, in this round, all the qualified candidates are assessed with programming and computing skills. Most of the disqualified candidates get filtered through this phase.
Interview Phase 4 – This is the final interview round, where all the shortlisted candidates are interviewed with human-resources representatives. Here the verbal and communication skills are assessed.
ZenQ Salary Structure
The ZenQ Salary structure varies from freshers to experienced professionals. But, there are numerous factors that affect the salary structure of various job roles. Nevertheless, we have estimated an average Zenq salary for freshers is represented in the below chart.

Freshers who want to hike their annual Zenq package for Freshers, can pursue additional courses and earn extra credits to improvise their academic and professional qualification. So, we recommend learning Java Training in Bangalore, which affords strategic ways for easy understanding and learning.
Basic Skills, Roles, and Responsibilities of ZenQ Job Roles
Test Engineer
Test Engineers play a significant role in designing and testing the compi;led codes to assure the quality and functionality of the product. Freshers seeking to join as a test engineer with good Zenq Salary for Freshers are advised to possess the following skills apart from academic qualification discussed earlier: Apache, JMeter, Selenium, LabVIEW, Gliffy, AutoCAD, Microsoft Viso, and Problem-solving skills. As a test engineer, they are concerned with the below mentioned key roles and responsibilities which are as follows
Determining the quality and coding standard to meet the client's requirement.
Creating test cases and developing test plans for the software products.
Performing quality assurance tests and testing procedures.
Troubleshooting issues and attempting to refix through proper procedures.
Writing and Developing test codes for assessing the quality of software products.
Ensuring the safety and standard procedures for executing the quality assurance tests.
Preparing and Documenting test procedures and reports for management.
Automation Test Engineer
Automation test engineers are responsible for the development and deployment of automation test programs for the reliable software products. Despite their years of experience, they used to follow some standard procedures to write automation scripts. Freshly graduated students or IT aspirants who seek this job role with an excellent Zenq salary for freshers must possess the following technical skills such as C/C++, C#, Java, and other software programs. As a automation test engineer, they are associated with certain roles and responsibilities which are as follows
Creating test automation scripts and designing them.
Guidelines for using test automation.
Testing flaws in software to find out what's wrong with it.
Developing solutions in collaboration with Quality Assurance Analysts and Software Developers.
Keeping up with the latest advancements in the appropriate field.
Increase the process of automating the software testing programs through learning Selenium Training in Chennai. This course will enrich you with advanced knowledge in Selenium and its testing plans.
Software Testing Engineer
Software test engineers are in charge of creating and executing test procedures to guarantee that software programmes perform as expected. They are typically recruited by software development companies to guarantee that products meet standards before they are published to the general public. Youngsters who want to join as software testing engineers are advised to acquire the following skills such as program testing software, Bugzilla, HP LoadRunner, debugging codes, software development languages; and proficiency in Linux and Windows operating systems. As a software testing engineer, they are concerned with the following key roles and responsibilities which are as follows
Discussing software specs and controls with development managers.
Analyzing the software's functional properties as planned.
Creating manual and automated testing techniques for each software product.
Creating, creating, and putting into action software assessment test programmes.
Using test programmes to ensure that testing processes are accurately evaluating the software.
Software testing systems are being fine-tuned for maximum performance.
Testing techniques are being finalized and documented.
Creating test reports and completing final tests.
Providing management with test reports and making software recommendations.
Become an exceptional software test engineer through enhancing knowledge in software testing through pursuing Software Testing Course in Bangalore. This course will teach you with all the essential strategies for testing new and older software products and applications.
Software Developer
Software developers play a dominant role in all the information technology (IT) companies. They are responsible for developing all kinds of applications, softwares, and web-based apps. Freshers always dream of becoming a software developer and also expect a feasible Zenq salary for freshers. So, they are advised to acquire the following skills: Agile, C/C++, Javascript, Frameworks, AngularJS, Git, ORM (Object-Oriented mapping), Hibernate Frameworks, and advanced troubleshooting skills. As a software developer they are associated with the following skills and responsibilities which are as follows
Collaborate with developers for developing algorithms and flowcharts.
Create clean, assured, and efficient codes based on client's needs.
Integrating third-party softwares with other software platforms.
Develop, Deploy, and validate the Software Programs.
Detect, Troubleshoot, Debug, and Upgrades existing Software Programs.
Gather user information and evaluate the feedback.
Recommend and improvise software development programs.
Create, Develop, and Manage technical documentation reports for further reference.
Improvise your specialization and skill set through DevOps Training in Chennai. Since the course deals with development and operations, it may enhance the skill set to improve the development of any kind of softwares.
Automation Test Analyst
Test analysts are responsible for evaluating the hardware and softwares at the stage of development through automation techniques. The tests are to ensure the system standard to meet technical requirements. They also identify and rectify errors in the development phase. Freshers seeking this job role with a good Zenq package for freshers are requested to acquire knowledge in the following skills: software development, issue diagnostics, technical assessments, software coding and analysis. As a automation test analyst, they are concerned with the certain roles and responsibilities to accomplish which are as follows
In the software review process, identifying goods to be evaluated.
Identifying the right test to conduct, as well as the data to be used in the test.
Managing test data and identifying problems by documenting the findings of each test cycle.
Working closely with the software development team.
Conducting diagnostic and system testing, as well as communicating the results to the appropriate stakeholders.
Interacting and coordinating with the development and validation teams, as well as maintaining good communication.
Identifying and removing redundant components and functionalities.
Knowledge of business applications, as well as user demands and expectations, is improving.
Understanding and putting industry protocols and standards into practice.
Try integrating the robotic, process, and automation methods with real time software testing through learning RPA Training in Chennai. This might increase the efficiency of testing and assuring software products within a short interval of time.
Employment Benefits for ZenQ Job Roles
Employees at ZenQ are offered with multiple employment benefits and perks. These bonuses are to encourage their employees for the sustenance and continuous development. However, some of the benefits are listed below.
ZenQ offers free foods and snacks through Cafeteria where all the employees from interns to experienced professionals can have their everyday meals.
It covers health, life, and all medical insurances and policies.
It also provides free transportation services to all employees for relative movement between homes and offices.
ZenQ also provides training and internship periods before hiring as permanent employees and assigning significant job roles.
The company also affords Work From Home opportunity to desiring employees based on their requirement and comfortness.
 It also provides financial assistance to the employees and their childrens for educational support and covers financial compensation.
Finally, it also established child care centers to take care of employees' children during work hours.
ZenQ has spreaded across nations with multiple international offices. Therefore, freshers willing to relocate and avail all the international benefits. We urge you to enroll and complete IELTS Coaching in Chennai. So, that scorecard may enhance your visa processing process.
Job Satisfaction Rate
Based on their work experience and working environment, freshers have given a job satisfaction rating. This score was calculated by taking into account ZenQ fresher income and benefits, work-life balance, professional progress, job happiness, and job security. Freshers at Walmart are generally happy with their jobs, with a terrific Walmart Salary for freshers of over 76%. The graph below depicts ZenQ's fluctuating rates of new hire employment.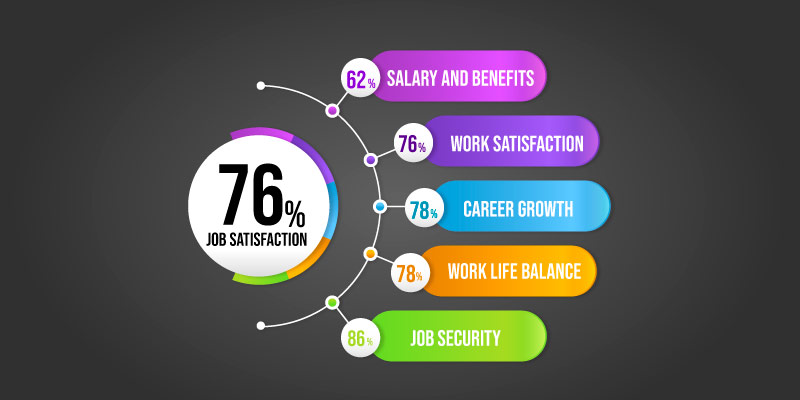 The company holds a global recognition and is popular for offering numerous opportunities to freshers and newly graduated professionals with a good Zenq Salary For Freshers. Then, candidates who are passionate about software testing and software development are also encouraged to apply. As discussed earlier, the demand for software testing might rise in upcoming years.. Therefore, we greatly appreciate freshers looking or checking out for various job roles at ZenQ. A recognised work experience from ZenQ open-up tremendous amounts of IT Job Market with incremented salary compared to Zenq company salary for freshers. We hope that this blog has clarified the vision for the future and to stand unique against all competitors.