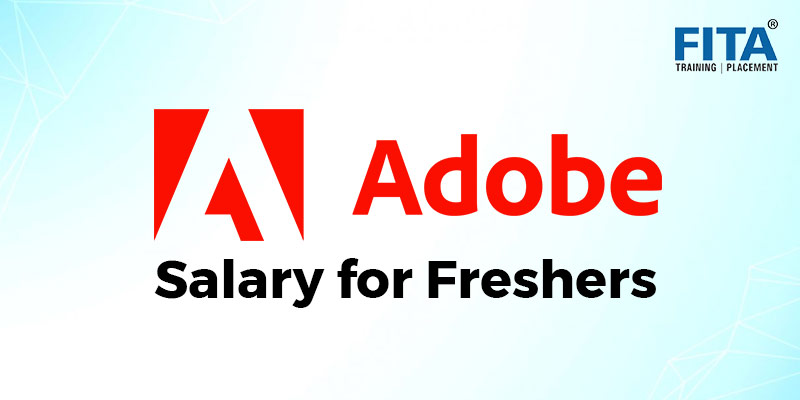 Adobe is one of the leading vintage multinational companies which synchronizes data and contents to innovate novel technologies for the purpose of digitalization to provide creativity and shape for the next-gen storytelling experiences. The company is best known for its specialization in various content such as photography, graphics, illustration, animation, content, multimedia, video graphics, motion pictures, and digital prints. We are familiar with Adobe Products and Services. So, for entrants interested in creating a digital life with Adobe Inc, this article will track and guide you to get recruited on an excellent Adobe salary for freshers.
Who Can Apply for Distinct Roles at Adobe Inc?
Candidates with creative and imaginative skills, especially graphics and art designers, are encouraged to apply. Besides, entrants wishing to create a digital career with multimedia products and services are eligible to apply at Adobe Inc. Apart from interest and passion, entrants must have desired skills from all the Adobe products and services for increased chances to get recruited.
How to Apply for Various Job Roles at Adobe Inc
Interested entrants can apply for Adobe Inc through two different modes of application. They are as follows
Online Mode – The applicants are encouraged to apply for various roles at Adobe through the official career page of their website.
Offline Mode – Adobe drives its off-campus placement centre for freshers recruitment for 2021-2023 batches. So, any applicants can go to their official site and register for an off-campus interview. During the application registration process, the entrants need to upload their updated resume, photos, aadhaar card, all academic marksheets, and any relevant certifications.
Candidate Recruitment Process and Selection
The company, Adobe Inc, usually conducts five to six rounds of the interview process to recruit freshers with a good Adobe salary for freshers. The freshers are recruited as members of Technical Staff and SDE equivalent members. Adobe Inc usually maintains a standard to recruit freshers with perfect qualifications and intelligence. Some fundamental interview round processes were
Online Interview Round – The candidates were examined and filtered through this round and aptitude round. Major disqualified entrants get filtered through this round.
Multiple Technical Round – Qualified entrants from the first online interview round are exposed to multiple stages of technical rounds for critical tests and selection. Primarily, the best professionals get selected and sent to the final human-resources round.
HR Round – This is the final stage of the interview process where the top applicants were interviewed through human-resource experts. Then, qualified freshers were offered the best job roles with an excellent Adobe package for freshers.
Qualification Criteria for Job roles at Adobe Inc
Freshers or Entrants who graduate during 2021, 2022, 2023 are eligible for applying. The applicant must possess a UG or PG degree in the following disciplines B.E, B.Tech, M.E, M.Tech, or degree in any discipline. Besides, candidates with B.Sc, B.A, B.C.A, B.Com, and M.C.A are eligible for the off-drive recruitment drive. In addition to this, the entrants must obtain 60% of aggregate marks in their academic careers (including 10th grade and 12th grade). Further, the candidate should not hold any backlogs during their past or present academic career. Moreover, applicants with three or fewer years of work experience have special attention during recruitment looking for Adobe fresher salary.
Want to make you eligible for all IT Jobs. Learn the most leading course Python Training in Chennai at FITA Academy.
Additional Fresher Criteria to Increase the Chances of Getting Hired
Adobe Inc aspires to recruit fresh university grads with excellent interpersonal skills. Problem-solving qualities, quantitative reasoning, analytic skills, excellent organization and communication skills, and basic computing or programming skills are required. Likewise, diligent, creative, competent, enthusiastic, and versatile applicants with business hours are more likely to be hired.
Adobe Salary Structure
The Adobe package for freshers changes for various roles, but some approximations have been estimated and shown below. Adobe encourages and welcomes freshers across the globe regardless of any diversity, disability, and veteran status.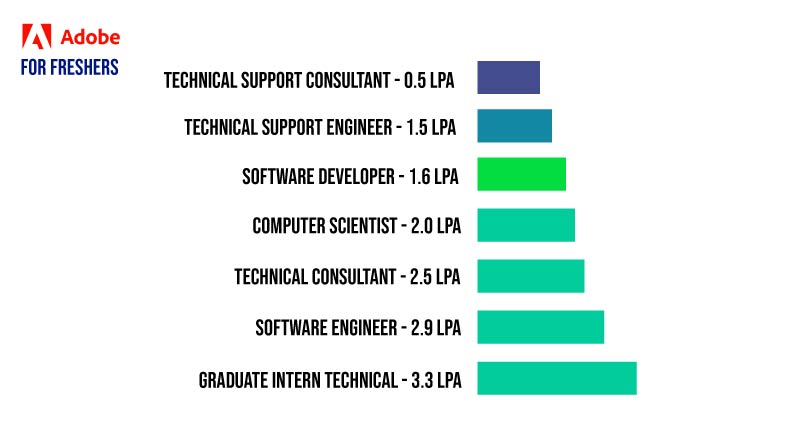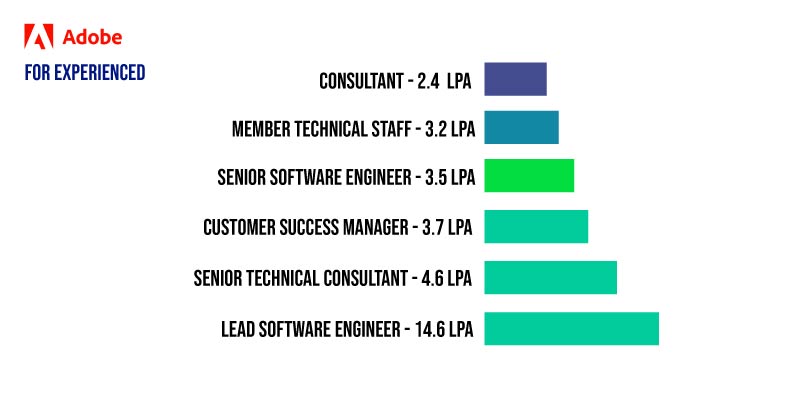 Adobe Inc affords an excellent package for beginners or freshers. The salary package from freshers to experienced professionals mentioned above is approximations estimated from the salary package rated by the Adobe employees.
To increase the chances of salary increment at Adobe, learn and improve your skillset through Full Stack Developer Course in Chennai at FITA Academy.
Fundamental Skills, Crucial Roles and Responsibilities of Freshers at Adobe Inc
Adobe Inc has multiple posts and job roles. Each role is associated with its distinct duties and responsibilities. Here is the list of roles and their responsibilities to fulfill
Technical Support Consultant
Adobe Inc expects their fresh technical support consultants to have more substantial knowledge or expertise in Troubleshooting, Microsoft SQL Server, System Query Language (SQL), Technical analysis, and product support. Also, any relevant work experience is appreciable for this role. After job selection, the candidate would have the following key roles and responsibilities.
Troubleshoot and fix technical issues while keeping track of ticket actions and results.
Classify, escalate, and organize the resolution of problems.
Communicate with users, attempt to resolve issues quickly, and provide training.
Examine current services and infrastructure, and make technical suggestions.
Technical Support Engineer
Freshers looking for a good Adobe package for freshers can go for technical support engineer, as the company affords an excellent salary package at an initial stage. The candidate is expected to have desired skills in the following areas: computer science, hands-on experience in enterprise technical support, IT support, vital analytic skills, client governance skills, and excellent verbal and communication skills. As a technical support engineers, they possess the following vital roles and responsibilities
Undertake responsibility for customer complaints and keep them up to resolution.
To resolve customer issues, undertake an investigation, analyze, troubleshoot, and come up with solutions.
Commit to appropriate standards for reporting unresolved problems to the appropriate internal teams.
Provide consumers with rapid and reliable responses.
Ensure that all complaints are accurately documented and resolved.
Prepare prompt and effective reports.
Knowledge should be recorded in the form of technical reports and papers.
For concerns of varying degrees of severity, consult SLA.
Technical Consultant
Applicants for this role with a good Adobe salary structure must possess a bachelor's degree in computer science, information systems, information technology, and computer engineering. Besides, the candidates appreciated if they have any relevant experience as a technical consultant; strong knowledge in computer hardware, software, and network support; potentiality to conduct training to the candidates for increased proficiency; ability to maintain intel error logs; and afford technical support. During their roles, they have the following key roles and responsibilities to fulfill
Assessing the capabilities of the hardware, software, and networks.
As considered necessary, consult with management and other departments.
Consultation with end-users and provision of innovative ideas to enhance organizational efficiency.
Analysis and optimization of web-based portals or interfaces.
Taking care of reported errors and ensuring system security and encryption.
Processing and Evaluating the system performance
Assuring that software upgrades are compatible with computer hardware.
Using the most up-to-date technological advances and solutions.
Troubleshooting and performing diagnostic tests.
End-users are given instructions on how to use the hardware and software packages.
Software Engineer
For a fresher software engineer role, the entrants need to complete their bachelor's degree in computer science, software engineering, and other relevant disciplines. In addition to qualification, Adobe Inc expects its software engineers to have relevant hands-on experience in software engineering, application development, software tools, agile methodologies, and programming languages. As software engineers, they have their respective vital roles and responsibilities.
Developing and Directing the test and validation of system software and other methodologies for testing.
Handling of software programming projects.
Documentation and Management Process
Consulting the project and proposal status with clients and cross-functional departments.
Modify and Analyse the installation procedures for new systems or existing ones.
Management of Software Development LifecycleLifecycle
Monitoring the performance of the system software.
Providing critical project data to team members and fostering team cohesiveness.
Creating and carrying out project plans.
Undertaking problem-solving projects that include mathematics and statistics.
Following best practices and standard operating procedures are used.
Developing novel solutions to fulfill our company's technological requirements.
Testing new software and its concerned issues and attempting for software prospects.
To become an optimistic software engineer, learn Java Training in Chennai at FITA Academy.
Computer Scientist
Entrants or Freshers are encouraged to apply for Computer Scientist roles at Adobe with a good Adobe salary for freshers. The applicant must possess a degree from B.Tech, M.Tech, and MCA. Also with expertise in software development, product development, programming skills, C C++, design & analysis algorithm, data structure design, documentation, software testing & implementation methodologies, and fundamental knowledge of computer architecture, design, development, and optimization. Computer scientists are concerned with numerous key roles and responsibilities, they are as follows
Developing complex features and algorithms for digital transformations.
Significantly contribute to the analysis, design, prototype, and implementation of new features and the improvement of current ones.
Providing strategic direction in assessing new technologies through addressing broad architectural and design challenges of existing/future technologies.
Analyzing and Identifying new features to be included and communicating with product management/marketing clients.
Should be a self-starter and quick learner with the ability to diverse methods, procedures, and assessment criteria for getting outcomes.
Provide leadership within the particular division and act as a mentor to engineers.
Software Developer
Adobe wants their software developers to have expertise in Loadrunner, Jmeter, Java, XSL, HTML, Javascript, and relevant programming skills. Besides, the applicant needs to have a degree from B.E, B.Tech, M.Tech, and MCA. They must have adhered to the following key roles and responsibilities during their job role.
Build and execute test scripts, and test cases
The ability for undertaking corner assessment tests, and customer workflows
Undertake ownership of end-to-end technical aspects of products or services
Ensure performance and quality of Adobe connect server
Detect metric performance and its limitations
Become an exceptional software developer through learning Data Science Course in Chennai at FITA Academy. Fundamental Skills, Crucial Roles and Responsibilities of Experts at Adobe Inc

Senior Software Engineer

For a Seniority role at Adobe Inc, the applicant must possess a bachelor's degree in computer science or a related master's field along with continuous work experience and enhanced performance. Besides, additional desired skills are preferred for this role are expertise in Unicode, CFF, CFF2, Font Tech, Font tools, Text Rasterization, True Type Instruction Set, OpenType Standard, Web Service, and Font related productions. As Senior software engineers, they hold specific roles and responsibilities, and they are as follows
Develop new functionalist services and APIs for Adobe
Develop new scalable, reliable, secure, and cloud services
Associate with global architects to manage products, technical vision, and pathways for the team.
Design, Develop, and Testing of low-latency services raised by millions of customers
Create a prototype and presentations to communicate ideas.
Collaborate with other professionals for better experience and software development.
Guide and Mentor Junior Software Engineers
To become an expertised senior software developer, learn DevOps Training in Bangalore at FITA Academy.
Customer Success Manager
This role is significant and requires high intelligence, diligence, and years of professional experience to undertake. They must have a UG degree with custom work experience in software services and digital marketing. In addition, other preferred skills such as DSP, programmed advertising, strong communication skills, advisory expertise, and the ability to establish client relationships at international levels. The Custom Success Manager is associated with the below mentioned key roles
Manage Digital Advertising, and Client Services
Deliver an excellent customer experience to accomplish business goals
Led Adobe Ad Cloud integrations across DX and made it a reality with Adobe Campaigns
Analyze customer metrics to understand better account health, potential risks, and customer conversations.
Manage cross-functional CP, Integrations, and Sales
Actively interact with customers and global clients to make them satisfied with Adobe Services
Have an Insight into customer feedback, awareness, and production teams.
Consultant
Highly qualified freshers or professionals with a strong background in SQL, Java, Javascript, VB, C#, PHP, PostSQL, HTML, and DOM are likely to get recruited for an excellent Adobe salary for freshers. As a consultant, they need to fulfill the following roles during their working hours
Collaborate with clients to determine their needs.
Understanding the customer's database architecture and setting up ETL and data-flows can help configure and design Adobe Campaign to match their business needs.
Configure the Adobe Campaign solution to meet the needs of consumers, including campaign setups and web page creation utilizing Scripting.
Develop and record customer-specific solutions as needed.
Diagnosis, troubleshooting, and resolution of problems in a proactive manner
Make plans for new and existing clients' implementation.
Customers receive knowledge transfer and training on the solution that has been installed.
Installations, upgrades, and configurations of products
Project Management and other stakeholders should be informed of the project's progress. In smaller projects without specialized Project Managers, they can manage projects independently.
Develop positive working relationships with onshore consulting teams, and learn from and adopt best practices from such groups throughout the world.
Collaborate with the Quality Assurance team to ensure that technical implementations are delivered professionally.
Assist in the development of digital marketing consultants as a point of contact.
Provide multi-product Enablement and Integration solutions to strategic clients by learning different Adobe Digital Marketing Solutions.
Work with Digital Marketing Consultants to offer suggestions for technical implementations of the Digital Marketing Suite.
Mentor and instruct new team members to help them succeed.
Work together with the Quality Assurance team to guarantee that their clients receive a competent Business Consulting Service.
Enhance your skills to become a professional consultant at Adobe through learning PHP Training in Bangalore at FITA Academy.
Member Technical Staff
Candidates aspiring for Member Technical Staff must possess programming skills in Java, Microservices, Big plus, ReactJS, NodeJS, and architecting & implementing microservices at scale. Member Technical Staff are responsible for the following roles at Adobe
Design and Develop global rank and high-quality product
Maintaining punctuality in project schedules
Conceptualizing design, debug, development of risk analysis project, features, and services
Collaborate with Product Management Team and define a roadmap
Preparing a high influencing report for the design, architecture, and standardization of Adobe products
Collaborate with both internal and external groups for the company's success.
Senior Technical Consultant
A bachelor's degree in computer science, information systems, information technology, or computer engineering is required for this position and they need to have properly accomplished the junior roles . Furthermore, candidates with relevant experience as a technical consultant, strong knowledge of computer hardware, software, and network support, the ability to conduct training for increased proficiency, the ability to maintain intel error logs, and the ability to afford technical support were considered for this role. They have the following prominent key roles to fulfil during their active period.
Examining the hardware, software, and network capabilities.
Consult with upper management and other departments as needed.
End-user consultation and offering of unique ideas to improve organizational efficiency.
Web-based portals or interfaces enhancement.
Taking care of faults that have been reported and guaranteeing system security and encryption.
Analyzing and assessing the system's performance
Assuring that software upgrades are compatible with the hardware of the machine.
Using cutting-edge technology advancements and solutions.
Performing diagnostic tests and troubleshooting
Instructions for using the hardware and software packages are provided to end-users.
Guide and Mentor Juniors and other interns.
Lead Software Engineer
Adobe expects their applicants to have a degree in computer science or its related domains with relevant hands-on experience. Then, additional desired skills such as Java, Scripting, Junit, Selenium, Nunit, Web Automation Testing tools, SDK's, and programming related-skills. As a Lead, they need to fulfil some certain key responsibilities.
Deliver the feature in the best possible way.
Developing and implementing test techniques to assure product quality are among the responsibilities.
Design, create and maintain the automation as the lead.
Collaborate with the development, and design team and provide the essential elements of the product.
Create and maintain automation scripts. Ensure that test automation is tightly integrated with CI/CD activities.
Maintain high development standards, particularly in terms of performance, reliability, and testing.
Specification, execution, and reporting of functional and non-functional tests
As needed, learn new languages, libraries, and platforms proactively. Quickly adapt to changing demand.
Ability to execute complicated system testing and troubleshoot equipment faults.
Step into a high-level professional software lead with an Artificial Intelligence Course in Bangalore at FITA Academy.
Employment Benefits for Freshers at Adobe Inc
Family Care Services – Adobe offers a tremendous amount of family care benefits, they are as follows: backup care, improved family support, support for children, maternity support, fertility benefit, adoption assistance, surrogacy assistance, transportation of breast milk, and other outreach services for survival benefits.
Flexible Spending Account – For children and other flexible expenses, Adobe offers a pay of 5000 USD per calendar year.
Educational & Financial Support – Adobe supports education through funding. It supports education reimbursement, professional development, graduate education, coaching in colleges, and 529 education savings plan.
Commuter Benefits – Employees from some regions of the United States, such as Arden hills, Austin, Chicago, Denver, Detroit, Emeryville, Lehi, McLean, New York, etc., are provided with unique commuter benefits.
International Relocation Offer – Adobe offers Altair Global's Affinity Program, through which the employees can find all the necessary aids for international relocation in all countries. Aids such as buying, selling, and renting a home; obtaining a mortgage in the US, home and auto insurance, shipping materials, and temporary housing support.
Travel Support and Services – Employees of Adobe have unique benefits of travel support services during critical or emergencies. Besides, it also affords business travel plans for their expert employees.
Health and Life Insurance – Adobe covers guaranteed, renewable, individually owned, and portable life insurances for their employees. It affords additional financial benefits during an emergency and critical situation.
Work & Life Balance at Adobe – Employees working with Adobe have an excellent balance in their work and life. To avail all the benefits, the employee needs to update their current situations.
Types of Industries Served Through Adobe Inc
Adobe Inc serves multinational companies across the world. It is digital, and entertainment services have driven the attention of top firms of the nations. Besides, Adobe supports banking and financial services; media and entertainment; store and retail shops; travel, support, and logistics; hospitality; health care and management; high-tech companies; government and private sectors; telecommunication and internet services; consumer goods for commercial benefits; education support; and manufacturing services.
Synopsis on Freshers Benefits at Adobe Inc
A great place to start a creative and featured career with an excellent mental and psychological health balance
Lots of international opportunities with full education support
Recognizable work experiences and guidance from experts or seniors
A fantastic platform to begin a professional career with a good Adobe package for freshers
Complementary health, life, and policy insurances with travel and food benefits
Creates a significant impact on life experience
Opens-up hundreds of opportunities and a global market for your work and experience.
Freshers or Fresh Graduates looking for a great and enhanced career at a creative and graphics firm can approach Adobe Inc. Like all IT companies; Adobe holds global merit and recognizable position for all freshers with a good Adobe salary for freshers.
Candidates/Professionals with complete hands-on experience from Adobe Inc are internationally recognized and likely to get hired through numerous international IT firms. Therefore, without missing any golden chance, go and discover numerous job posts and vacancies at Adobe's Careers page.
Frequently Asked Questions
1) How difficult is the Interview at Adobe Inc?
Adobe Inc's method of interview is slightly distinct from other organizations. It has both easy and challenging questions throughout the interview.
2) How many interview rounds are there in Adobe?
Adobe usually conducts 5-6 rounds of interviews for freshers. These six interview stages are for filtering disqualified professionals for maintaining the company's standard.
3) What makes Adobe Inc Unique from all IT Companies?
Adobe Inc is best known for its products like Photoshop, PostScript, Illustrator, and Premiere, which transformed the era of modern visual design.
4) What is the basic Adobe salary for freshers?
Adobe Salary for freshers varies for different job posts, ranging from 0.5 to 6.5 Lakhs Per Annum. However, the salary gets incremented after experience and performance.
5) Does Adobe afford International opportunities for Freshers?
Adobe Inc has a total of 68 international offices across 26 countries. So, freshers seeking international relocation and job postings in their desired countries can apply through proper procedures.