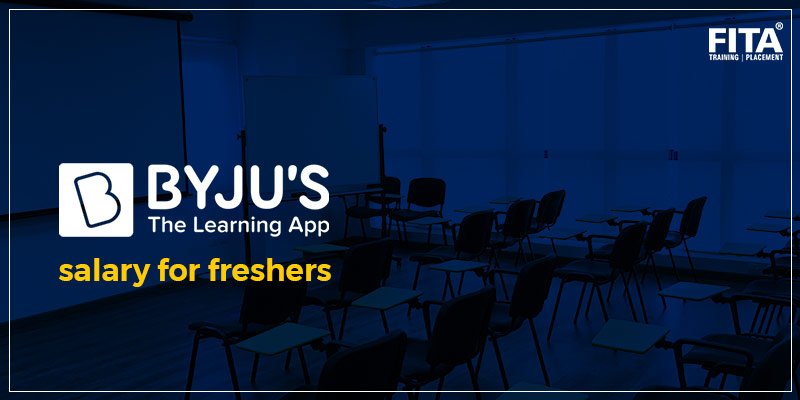 BYJU'S is an emerging multinational education-based company headquartered in Bangalore. The company is popular for outsourcing technologies for the ease of education throughout the nation. Since its foundation, it has been providing lots of career opportunities for freshers with a reasonable Byju's Salary for Freshers.
The company is rapidly progressing against other information technology companies. So, we have decided to provide an overview of BYJU's company, its fresher's career opportunities, benefits, along with salary packages in this blog. Let's begin our discussion on eligibility criteria and application procedures from the following section.
Eligible Candidates for BYJU'S Fresher Jobs
Freshers seeking numerous open positions at BYJU's with affordable byju's salary for freshers must be passionate about the information technology, software development, content management, teaching profession, consulting, and the ability to plan for business solutions. Candidates from these backgrounds are eligible to apply. In addition, BYJU's also hires content writers and content development specialists, so applicants aspiring to begin a content writing career are also eligible to apply for BYJU's Fresher Jobs. Earn a software testing certification through Software Testing Course in Bangalore, which will provide you additional eligibility for Byju's Jobs.
Application Procedure for BYJU'S Fresher Jobs
Applicants are advised to follow the below mentioned procedures for applying for job positions at BYJU's. The procedures are as follows
Login to their careers page at www.byjus.com/careers-at-byjus
Register and open an account with the mobile or email address.
Fill in the form with the applicant's basic details, and attach necessary documents along with the recent or updated resume.
After successful submission, the candidate will receive an acknowledgement mail concerning successful submission of application.
After this process, shortlisted candidates will receive an online interview schedule, where the candidate's ability and communication skills are assessed through two or more BYJU's representatives. Candidates who clear the first interview round are allowed to participate in the second interview round with the human-resource manager.
Qualification Criteria for Freshers Jobs at BYJU's
Candidates seeking a job role at BYJU's with a feasible byju's salary for freshers  must meet the following qualification criteria before applying for job roles. The criterias are as follows
The candidate must have completed any degree from any recognised colleges or universities.
The degree may be bachelor's in engineering, technology, commerce, management, arts, business administration, or any other disciplines.
The degree in terms of B.E, B.Tech, B.Com, B.Sc, B.A, BCA, M.E, M.Tech, M.C.A, M.B.A or any degree.
Applicants should not possess any kind of academic backlogs throughout their academic career.
The candidate must have good verbal and communications skills parallel to good customer relationship management.
The applicant must able to relocate to any Indian destinations to fulfill their job roles PAN India)
Finally, the applicant must have good interpersonal and communication skills for the management of customers, students, and other significant clients.
Earn an additional qualification to support your recruitment process through learning Digital Marketing Course in Chennai. This course will teach you with all the necessary strategies for improvement of a company's business.
BYJU's Salary Structure
The Byju's salary package for freshers varies from freshers to experienced professionals. However, we have estimated an average salary package for freshers in the below chart.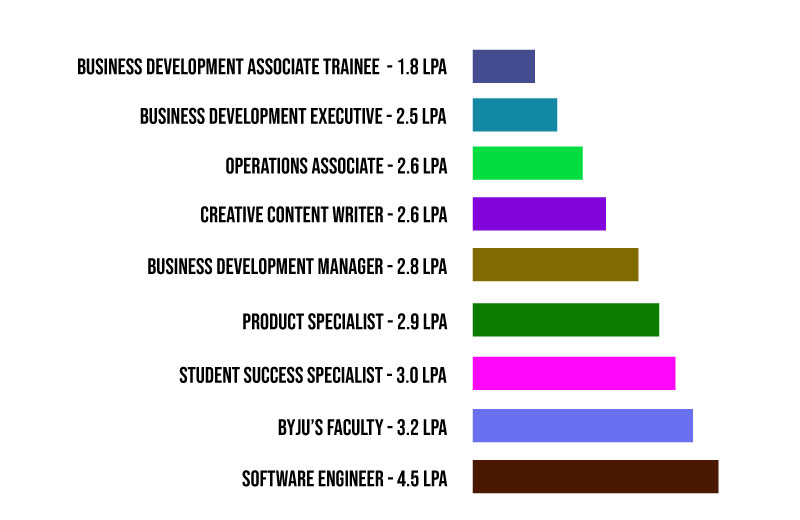 Freshers willing to hike their basic salary package can learn Artificial Intelligence Course in Chennai at FITTA Academy so that they can utilize AI strategy to grow their company business.
Basic Skills, Roles and Responsibilities
Business Development Associate Trainee
A business development associate supports Byju's in improving their growth in the market. They perform market research, develop company plans, manage client relationships, and discover business opportunities. Business development associates work in a wide range of fields, including marketing and information technology. Freshers seeking this role with an affordable byju's salary for freshers must have good communication skills, project management, Microsoft Office, and relevant business development experience. As a Business Development Trainee, they are associated with the below mentioned roles and responsibilities which are
Conducting marketing study and identifying potential clients in the IT market.
Managing a strong relationship with global clients for better business prospects.
Maintenance of client's information through customer relationship management database.
Collaborating with internal teams for the growth of business and implementing new strategies.
Analyzing sales data for improving current business plans.
Drafting of business plans, sales pitches, doing presentations, and creating reference materials through proper documentations.
Managing multiple projects to meet client's deadlines.
Finding new business opportunities and new clients.
Demonstrating strong verbal and interpersonal skills for the management of company's staff, and other clients.
In order to become a Business Development Associate Trainee, pursue Corporate Training in Chennai. This course will provide you additional training required for various business positions.
Business Development Executive
Business Development executives also play a similar role to business associates and managers. Freshers willing to join Byju's with an affordable byju's salary package for freshers must be proficient in greater interpersonal and communication skills. They are concerned with certain key tasks and responsibilities to accomplish during their job role which are
Oversee the sales process in order to bring in new customers.
Identify and manage risks in collaboration with senior team members.
Maintain successful customer connections and efficiently handle their demands.
Find new market prospects by conducting research.
Make pitches to potential investors and deliver them.
Create a collaborative atmosphere inside the company.
Become an exceptional Business Development Executive through finest consulting services with Spoken English Classes In Bangalore. This course will enrich you with excellent communication skills required for customer relationship management.
Business Development Manager
The business development manager is concerned with identifying new potential clients for business improvements. They seek information on Byju's products and services and introduce them to the clients. Freshers seeking to this role with a good byju's salary for freshers must specialize in IT related field. Also they must be proficient in management of complex projects, ability to provide guidance to team members along with knowledge in Microsoft word, excel, outlook, and powerpoint. As a Business Development Manager, they are associated with the following key roles and responsibilities which are as follows
Making contact with potential clients in order to create a connection and set up meetings.
Planning and Evaluating new marketing strategies.
In order to uncover new chances, they do research on businesses and individuals.
Increasing the worth of existing consumers parallel to recruiting new individuals.
Identifying and expanding new markets, as well as providing newer strategies to increase the company's revenue.
Participating in industry conferences, meetings, and industrial events.
Creating and Managing business development goals and ensuring the growth of business.
Providing training support to the team members and improving their skills.
Operations Associate
Operations associates aid in the effectiveness of achieving business goals and objectives by performing a variety of jobs, including administrative functions. Freshers seeking to join this job with an affordable byju's salary for freshers must possess the following skills: relevant experience in business administration, excellent organizational and analytical skills, good verbal and communication skills, and a strong understanding of computer and database management. As an operation associate, they are concerned with the following key roles and responsibilities which are as follows
Answering phones, arranging appointments, and other administrative tasks are all part of the process.
Assisting human resources with hiring and work schedule preparation.
Assisting the operations manager in implementing business policies and procedures.
As required, assisting with accounting and payments.
Keeping track of the stock and generating orders for suppliers.
Monitoring and reporting on daily operations, as well as resolving issues.
Keeping track of computer databases.
Product Specialist
Product specialists collaborate as part of a team to achieve high-quality delivery of the product. They have extensive knowledge of a product or service, as well as the ability to analyze market trends, design sales, price, and profitability strategies, offer suggestions, identify opportunities, and increase profits. Freshers seeking to join this job with reasonable byju's salary for freshers must possess skills in customer service, retail management, product and sales along with good verbal and communication skills. As a Product Specialist, they are associated with certain duties and responsibilities which are as follows
Conducting good market research, which may comprise collecting surveys, conducting computer research, sending an email and making a phone call, and even visiting competing companies' product premieres.
Answering relevant product-related inquiries in a professional manner and quickly responding to enquiries.
Working with the business and engineering teams to collaborate and innovate.
Attending sales and marketing training and refresher courses.
Organizing and assisting with the introduction of new products and events.
Showcasing products to customers, workers, and other stakeholders.
Providing assistance with the creation of business concepts.
Attending meetings and scheduling training sessions as appropriate.
Identifying new market prospects and updating the Manager and other related stakeholders.
To maximize revenue, provide good product suggestions and recommendations.
Learn Digital Marketing Courses In Bangalore to improve the company's business solutions. It may drive many customers to the company's digital site.
Student Success Specialist
Student Success Specialists play a significant role in developing and placing a student into new heights. They tend to serve as a mentor or tutor to effectuate a student's featured career. Freshers who have excellent communication skills from a motivational perspective are encouraged to apply for this role. Byjus compensates freshers with a good byju's salary package for freshers. As a student success specialist, they are concerned with the following key roles and responsibilities which are
Coordinate with relevant campus departments to plan, create, and implement a complete student services system that includes customized outreach, achievement monitoring, and appropriate interventions and accommodations.
Working with high-risk, underprivileged, and special student populations to ensure that they can participate in Byju's educational programmes and activities.
Ensure that the student services system is designed in accordance with federal rules and industry best practices in the post-secondary educational and technical training environment.
Provide continuing training and assistance to professors and staff in order to ensure that services are delivered effectively.
Using Byju's criteria, develop and maintain an online and peer tutoring service. In accordance with the project curriculum, identify, train, and oversee peer tutors.
Using a success-coaching approach based on best practices to provide academic advising, on- and off-campus resource referrals for student needs, and accommodative services to support student growth, academic accomplishment, and student success.
BYJU's Faculty Position
Byju's faculty are responsible for taking offline classes across Byju's centers. This is the permanent job position with excellent byju's salary for freshers. Freshers willing to join as a tutor or faculty can apply for this post, even no-experienced candidates are also eligible for this role. For this particular position, the candidate needs to have excellent teaching capability, scheduled time management skills, and ability to teach students in an effective manner. As a Byju's faculty, they need to fulfill the following key roles and responsibilities which are as follows
Teach students according to the curriculum and timeframe.
Improve student satisfaction through resolving in-class doubts.
Improve parent satisfaction through attending parent-teacher meetings.
Evaluate and keep track of your students' progress.
Maintain student discipline when filling out the portal's required information.
Assign homework, assignments, and tests according to the schedule.
Creative Content Writer
Freshers seeking to become a creative content writer at Byju's with an affordable byju's salary for freshers are required to possess the following skills: proficiency in academic content writing, web-content writing, and academic book writing. As a content writer, they are concerned with certain responsibilities such as
Scriptwriting — Byju's writes a well-researched script for every video and book they produce. Their scriptwriters integrate compelling themes and storylines around basic academic subjects, creating an engaging and efficient learning environment for students.
Copywriting – For advertising material, Byju's copywriters develop fresh and unique content. To visualize storyboards for the material the content writers write, they collaborate closely with topic experts, editors, and designers.
To become an effective content writer, enroll and learn various writing methodologies through Content Writing Course in Bangalore.
Software Engineer
Byju's software programs and applications are created and implemented through software engineers. For a better user experience, they improve, upgrade, and add new features to the current Byju's learning app. Software testing, software tools, suites, software development life-cycle, and delivering timely projects are essential for freshers seeking this career role with a reasonable Byju's Salary for Freshers. As software engineers, they are concerned with the following crucial job roles and responsibilities.
Developing and spreading innovative software applications.
Validation systems and testing techniques are implemented for software applications and tools.
Documentation for software development and programming efforts.
Analyzing current software data so that systems may be integrated and distributed.
Existing systems are modified to improve better user experience.
If you want to become a well-known software engineer, participate in a Software Testing Training in Chennai now. This course will show you how to test and validate software applications using the most popular software testing methodologies and techniques.
Employment Benefits at BYJU's Fresher Jobs
Employees at Byju's are offered with numerous employment benefits and perks. Some of them are as follows
The company covers medical, health, and life insurances and policies.
Byju's affords work from home opportunities to some appropriate job roles. However, workers who are willing to avail this option are welcomed.
Free Laptops, Academic Kits are provided to all Byju's employees.
It also affords financial and retirement plans for permanent employees.
Affords family and parenting support to the employees children and adults.
To engage their workers, the company provides vacations and time-off periods without any kind of loss-of-pays.
It also provides professional training support to grow the applicant's career parallel to the education.
Job Satisfaction Rate
We've estimated an average work satisfaction rate based on employee ratings and reviews in this section. Work-life balance, job satisfaction, advancement opportunities, salary and benefits, and job security are all factors that go into calculating the job satisfaction rate. The graph below depicts the average percentile which is 70%.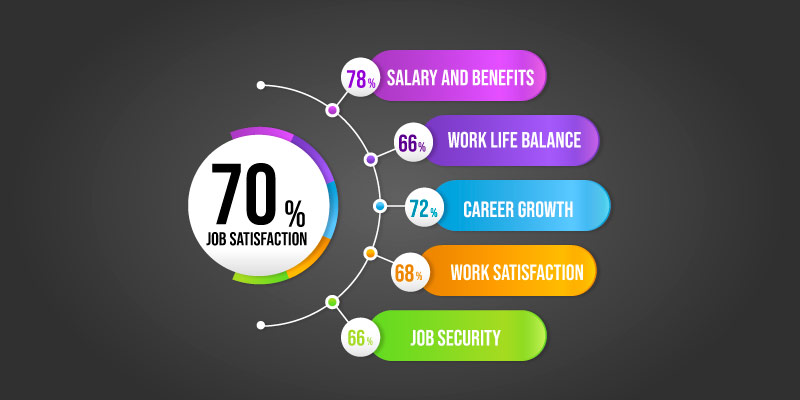 This blog article has covered Byju's overview, job postings, application processes, many jobs and duties, employment perks, and Byju's salary for freshers. This academic organization is popular across the world and continues to be a valuable asset for aspiring IT professionals and Online Educators. We strongly advise freshers to approach Byju's and apply for a variety of employment positions. Since it is an academic IT firm, freshers have numerous opportunities to grow and enhance themselves.