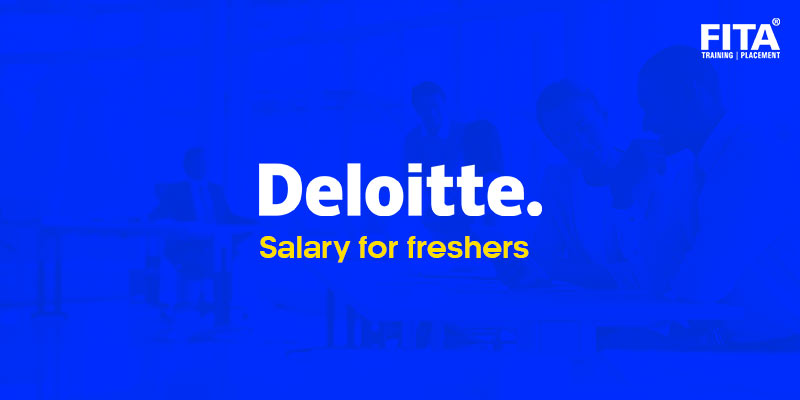 Deloitte is a britain-based consulting company providing leading-audit services to world's most admired brands. The company plays a key role in developing consulting-based startups through providing financial and management services. Due to its exceptional growth, the company has occupied a remarkable position in Fortune 500. Further, after serving for more than 175 years of service across 150 countries, the company is demanding for younger talents to transform their services. 
Besides, the Deloitte Salary for Freshers at entry-level is excellent compared to other technical IT or non-technical companies. Therefore, we are interested in providing you with useful resources concerning the job applications, salary benefits, and various work benefits in this company. Let's begin our discussion with the candidate's eligibility to apply.
Who can apply for this company?
Before discussing the academic qualification criteria, let us discuss some of the preliminary qualities or interests which you need to possess to drive your career with Deloitte. Some of the unique qualities are
Interest in beginning a featured career in consulting services.

Core interest in auditing and management consulting services.

Enthusiastic about undertaking financial and risking advisory roles.

Knowledge of industrial tax and legal affairs.
So, if any of these qualities match your interest, then you have landed on the right platform to learn more about this company for further job applications. In addition, the qualities as mentioned above won't define your recruitment progress, and you need to acquire a few academic and technical qualification standards to apply. Some of them are as follows.
Any graduates are eligible to apply.

Good technical skills in computer hardware and software.

Excellent written and communication skills.

Essential knowledge in networks, the internet, and operating systems.

Expert in Microsoft Office and Outlook.
Throughout the interview process, most of the recruiters look for candidates with excellent communication skills, which is essential to sustain the client's relationship with the company for better business. Therefore, acquiring a good communication standard would be advantageous. Thus, joining Spoken English Classes in Bangalore will help you to improve your communication standard.
How do Deloitte conduct the recruitment process?
Every candidate is keen to know more about the recruitment process and selection. Therefore, in order to provide a clear understanding of the Deloitte recruitment process, we have discussed the stages of the candidate selection. Deloitte has three sets of the assessment process, which are
Initial Screening of Application

– In this process, the candidate's eligibility, qualification, and skills are all screened before allowing them to participate in the interview round.

Interview and Selection Process

– Without conducting a series of interview assessments, Deloitte intakes candidates with a single direct interview round. Here, the candidate's skills such as communication, subject knowledge, and passion for learning are all assessed.

Offer roll-out and Appointment

– Candidates who are qualified in both the interview rounds are offered an appointment letter. Now, they can initiate an excellent IT career with Deloitte.
Are you worried about participating in direct interviews with HR representatives? No need to bother; we have collected a set of Best Interview Tips for both freshers and experienced professionals. Utilize these resources to make you prepared for any IT interviews.
The Structure of Deloitte Fresher Salary 
Deloitte pays different salary packages for freshers and experts based on their work experience. But, to represent the average salary for freshers, we have sorted out the top five job roles. The average salaries of respective job roles are shown in the below figure.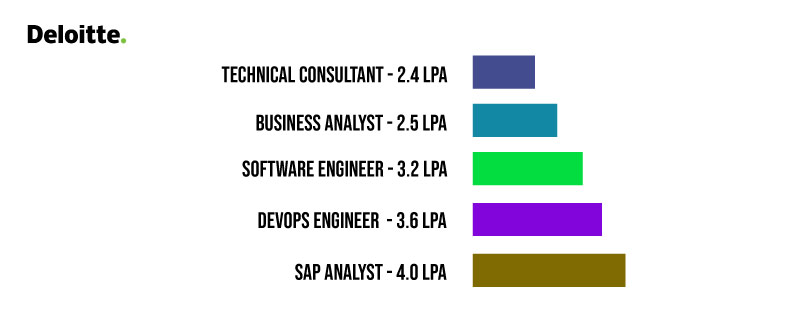 The salary data shown here is an estimate. If you wish to maximize your Deloitte Starting Salary for Freshers, We recommend enrolling in a Data Science Course in Chennai would be advantageous. Due to the increased demand for data science qualifications, you may be considered for a salary hike within years.
What are the key responsibilities of working at Deloitte?
Each job role is associated with different vital responsibilities. In the following section, let us define some of the significant job tasks and their required skills.
Technical Consultant
Technical consultants are IT support engineers. They provide technical support to implement hardware and software solutions. In addition, they resolve all the technical issues associated with IT systems. If you are seeking a technical job position, a technical consultant is best with an affordable Deloitte Salary for Freshers. Before applying for this job, you need to acquire specific technical skills that are
Advanced skills in computer hardware and software monitoring.

Strong skills in detecting internal log errors and the ability to fix them.

Knowledge of software encryption and data protection.

Good communication and interpersonal skills.
As a technical consultant, you need to fulfill the following key roles and responsibilities at Deloitte; some the essential tasks are
Analyze the capabilities of the hardware, software, and networks.

Improve system efficiency with innovative solutions.

Improve the performance of web-based portals.

Detect and Resolve issues associated with security and encryption.

Document the process of system performance and metrics.
In order to become an exceptional technical consultant, we suggest you acquire advanced skills in software testing methodologies through Software Testing Course in Chennai. Obtaining additional credit prior to the application would be beneficial during successful recruitment selection.
Business Analyst
Advisory analysts are also known as consultants for planning and executing business strategies. They also ensure the operational and financial management of the business. Their additional tasks are performing risk analysis, preparing budgets, and project planning. If you want to apply for this role, you can enhance your management skills for better career prospects. Before applying, you need to acquire fundamental skills such as 
Good Knowledge of business operations and strategic planning.

Analyzing skills in sorting company budgets and preparing financial documents.

Good understanding of marketing strategies, brands, and consumers.

Excellent communication and leadership skills.
As Business analysts, you need to fulfill the following key roles and responsibilities, which are
Analyze the records of the company for preparing budgets.

Enhance the company sales, branding, and

digital marketing

strategy.

Identify new business opportunities for company growth.

Perform risk and mitigation analysis for problem-free solutions.

Monitor the behavior of consumers and competitors.
Freshers willing to join as Business analysts, we advise you to learn Digital Marketing Courses in Bangalore so that you can perform well in implementing new marketing strategies for business growth.
Software Engineer
Software engineers use various software development methodologies to design and construct software. They're also responsible for optimizing software quality through updating and debugging programs. If you want to work at Deloitte as a software engineer, you must obtain a set of professional skills, which include the following.
Expertise of software packages and technologies at a basic level.

Extraordinary coding and computing skills.

Expertise of the SDLC (Software Development Life Cycle).
As a software engineer, you need to accomplish the following key duties and tasks,
Create, Test, and Validate the software testing methods.

Control software programs and produce records for the software development process.

Convey the software development progress to the consumers and interior project crews.

Study, Examine and Execute new software transformation technologies.

Maintain the status of the software development life cycle.

Observe and assess the performance of computer software.

Transfer software data to the internal units for a more profitable software product.
In order to become a skilled software engineer, you need to enhance your skill set in advanced programming. Therefore, obtaining a certification in python through Python Training in Chennai would be great. This course will enrich you with all the fundamental skills in software development programming.
DevOps Engineer
DevOps Engineers are concerned with integrated solutions and specialized IT operations. DevOps engineers are in increased demand in all the emerging IT companies. So, as a fresher, if you like to enter this job with a competitive Deloitte Salary for Freshers, you must acquire some basic skills before applying. Some of the technical skills, such as
Excellent knowledge of CI, CD, KPIs, and Pipeline concepts.

Expertise in

DevOps

,

Cybersecurity

, and tool configuration.

Good communication and collaboration skills.

IT and technical support experience is an advantage.
If you get recruited as a DevOps Engineer, you are required to perform the following essential duties.
Develop KPIs based on the needs of business clients.

For business growth, deploy various automated screening methodologies.

Ability to lead a team and other colleagues with strong management capabilities.

Maintain strong client and stakeholder partnerships.

Carefully consider the dates for the release of new software and upgrades.

Examine and validate the software programs.
Suppose you are keen to acquire supplementary skills in development operations before applying for this position. We suggest joining DevOps Training in Chennai at FITA Academy. This course will help you learn Linux principles and source control using Git, Puppet, Docker, Ansible, Nagios, Kubernetes, and AWS Cloud.
SAP Analyst
SAP consultants work with businesses to design and deploy SAP solutions. They evaluate clients' business needs, develop customized SAP solutions, and combine SAP applications with network Infrastructure. Freshers looking to apply for this position with a reasonable Deloitte Fresher Salary are required to possess the following fundamental skills.
Good project and business management skills.

Strong problem-solving and analytical skills.

Excellent time-management and organizational skills. 

Relevant experience as an SAP analyst.
Usually, SAP analysts are associated with certain roles and responsibilities. Some of the significant tasks are as follows.
Analyze the business needs through existing infrastructures.

Configure the customized SAP Solutions.

Integrate SAP solutions to the systems for improved performance.

Troubleshoot and fix the problems associated with SAP systems.

Report the progress of the SAP process through compiled documents.
SAP Analyst is a critical role in which you need to perform qualified tasks. So, to learn and acquire more knowledge in analyzing techniques, we suggest joining the CCNA Course in Bangalore. This course will help you to learn advanced networking concepts required for SAP infrastructures.
What are the benefits of joining Deloitte?
Deloitte offers numerous employment benefits to both freshers and experts. Besides, freshers have more advantages to joining this company. You will gain strong skills and work experience. Let's discuss some of the fresher benefits and perks at this company.
Deloitte provides comprehensive insurance, including medical insurance with a corporate discount for families, life and insurance coverage, and travel insurance.

The company provides additional payment for sick leaves.

The company affords a wide range of technical and soft-skill development programs.

The firm provides excellent opportunities for work-life balance.

Allowances for mobiles, recharges, children benefits, health screening, and international travel benefits.

Deloitte's open, informal, collaborative, and entertaining culture is well-known in the marketplace. So, joining this company would be more beneficial compared to other international companies.
Similar to all the international IT companies, Deloitte offers to work from various international offices. Therefore, to avail all the opportunities to become an immigrant, you need to clear the IELTS Exam. Learn exam tips and simplified procedures to crack the exam by joining IELTS Coaching in Chennai. This course will help you develop more interpersonal and communication skills.
Does Deloitte provide good job satisfaction?
Yes, Deloitte provides a more significant job satisfaction rate of 78%. This percentile is presented here to drive your interest in applying to this company. In order to calculate this rate, we have considered several factors and employee ratings. The factors include Job security, work satisfaction, career growth, work-life balance, and Deloitte Company Salary for Freshers. The average percentile of each category can be seen below.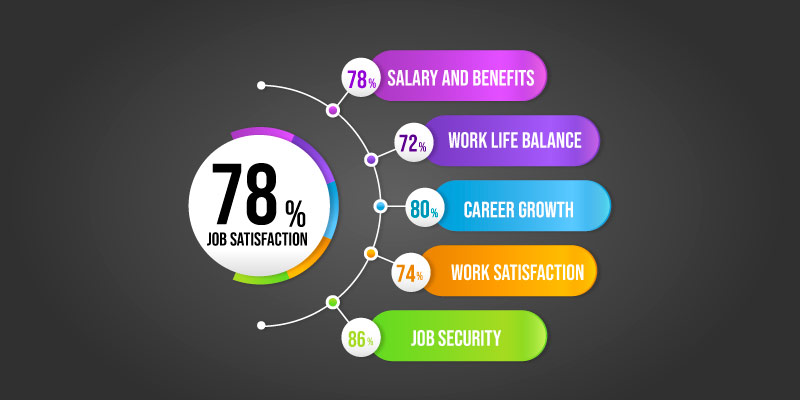 In this current world of information and technology, the demand for IT candidates will grow enormously in a few years. Therefore, choosing a professional IT career at Deloitte would be meritorious because their scope will increase with Deloitte Fresher Salary. With more than 175+ years of excellence in serving, the company is affording great benefits for both freshers and experts. Similarly, most employees are satisfied with their work during the boarding period. Hence, we highly encourage freshers to search for their desired role and use every opportunity to get into this firm. Finally, concluding our discussion, we suggest kick-starting a featured career at Deloitte by pursuing Artificial Intelligence Course in Bangalore. This course will give you a high reputation and help you make your application unique against competitors.