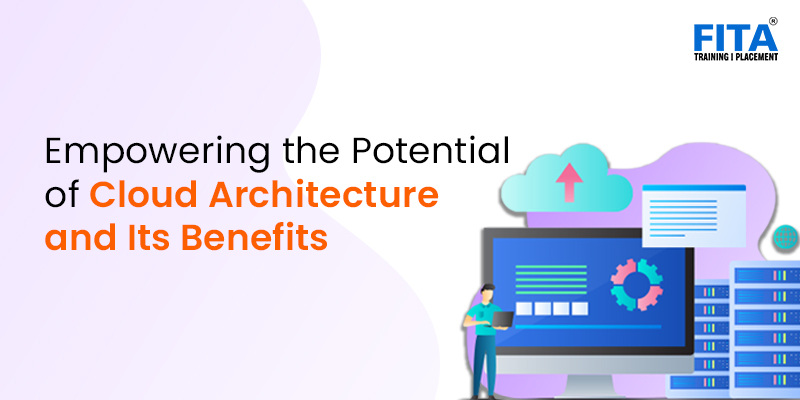 Cloud architecture refers to the manner in which various technological elements come together to construct a cloud infrastructure. Within this framework, virtualisation technology is employed to pool resources, which are subsequently shared across a network. The key constituents of cloud architecture encompass a front-end platform (the client or device enabling cloud access), a back-end platform (consisting of servers and storage), a cloud-based delivery model, and a network. These combined elements establish a cloud computing architecture that facilitates the operation of applications, enabling end-users to harness the potential of cloud resources. Join Cloud Computing Training in Chennai and know more about the Cloud Deployment Models and their uses
What are the Benefits of Cloud Architecture?

Cloud computing architecture allows organizations to reduce or eliminate their dependence on an on-premises infrastructure consisting of servers, storage, and networking. The adoption of cloud architecture often involves the transfer of IT resources to the public cloud, which eliminates the requirement for local servers and storage, reduces the need for physical data center space, cooling, and power, and replaces these with a monthly operational expenditure.
This transition from a capital-intensive investment to an ongoing operational cost is a significant factor contributing to the widespread popularity of cloud computing today.
The adoption of cloud architecture is driven by three primary models, each offering distinct advantages and notable features.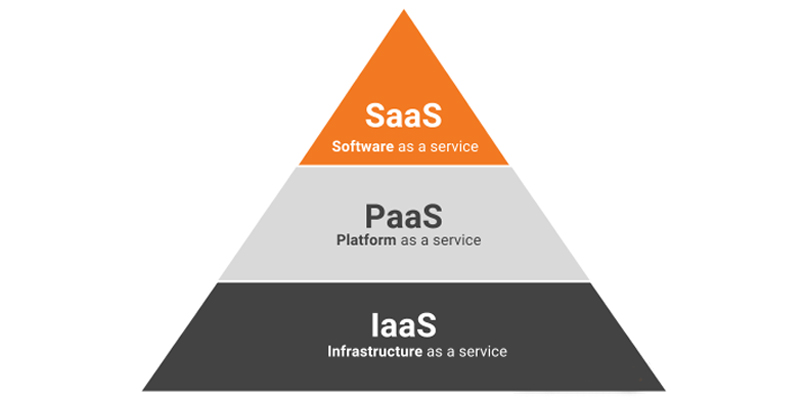 Software as a Service (SaaS)
Providers of SaaS architecture deliver and manage applications and software to organizations via the Internet, eliminating the need for end users to install the software locally. SaaS applications are typically accessed through a web interface and are compatible with various devices and operating systems.
Platform as a Service (PaaS)
In this cloud model, the service provider offers a complete computing platform and solution stack, which often includes middleware, as a service. Organizations can leverage this platform to develop their own applications or services. The cloud service provider handles the provision of networks, servers, and storage required for hosting the application, while the end user is responsible for deploying and configuring the software.
Infrastructure as a Service (IaaS)
 In its simplest form, IaaS entails a third-party provider supplying the necessary infrastructure, thereby obviating the need for organizations to procure servers, networks, or storage devices. Organizations retain control over their software and applications and only pay for the capacity they require at any given time.
Why Adopt Cloud Architecture?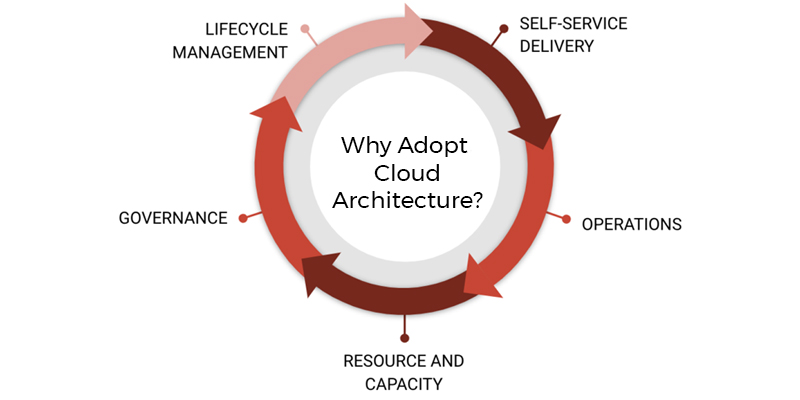 Organisations have various motivations for embracing cloud architecture, primarily aiming to achieve the following:
 Expedite the deployment of new applications, enabling swift delivery to end-users.

 Capitalize on cloud-native architecture, such as Kubernetes, to modernize applications and drive the acceleration of digital transformation initiatives.

 Ensure compliance with the latest regulations by leveraging the capabilities provided by cloud architecture.

 Enhance transparency regarding resource utilization, reducing costs, and mitigating the risk of data breaches.

 Enable rapid provisioning of resources to facilitate agile operations and meet evolving business demands.

 Harness hybrid cloud architecture to support real-time scalability, enabling applications to adjust dynamically as organizational needs fluctuate.

 Consistently meet service targets, ensuring reliable performance and user satisfaction.

 Leverage cloud reference architecture to gain valuable insights into patterns of IT spending and optimize cloud utilization for maximum efficiency.
Enrol in AWS Training in Chennai and understand about AWS Services and resource management in AWS from our experienced trainers 
How does Cloud Architecture Work?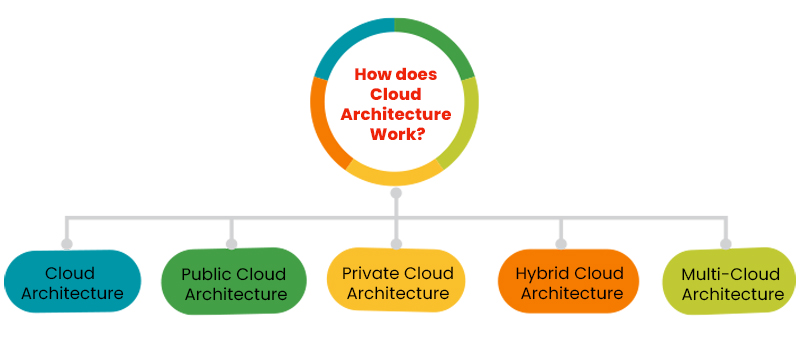 Cloud architecture encompasses several common models, including public, private, hybrid, and multi-cloud architectures. While each cloud is unique, they share similarities in their fundamental structures. 
Public cloud architecture involves computing resources owned and operated by a cloud services provider, which are shared among multiple tenants via the Internet. It offers benefits such as cost reduction, scalability, and minimal maintenance requirements. 
Private cloud architecture, on the other hand, refers to a privately owned and managed cloud, typically hosted in the company's own on-premises data center or across multiple locations. While it may be more expensive than public cloud solutions, private cloud architecture offers greater customization and robust data security and compliance options. 
Hybrid cloud architecture combines the efficiency of the public cloud with the security capabilities of the private cloud. It allows organizations to consolidate IT resources and migrate workloads between environments based on their specific requirements for IT and data security. 
In a multi-cloud architecture, multiple public cloud services are utilized. This approach provides flexibility in choosing and deploying cloud services that best suit an organization's needs. It also reduces reliance on a single vendor, resulting in cost savings and mitigating the risk of vendor lock-in. Multi-cloud architecture services is particularly relevant for supporting microservices-based containerized applications that span multiple clouds. 
The fundamental components of cloud architecture services including virtualization, which enables the efficient utilization of servers, storage, and networks by abstracting physical resources into virtual representations. Cloud infrastructure encompasses servers, storage, and networking equipment similar to traditional data centers. Middleware facilitates communication between networked computers, applications, and software. Management tools enable continuous monitoring, app deployment, data integration, and disaster recovery. Automation software streamlines IT workloads, allows scalability, application deployment, and ensures governance across the cloud environment.
Why use VMware cloud architecture?
VMware offers a comprehensive solution for building, running, and managing applications, regardless of whether they are traditional or modern, and regardless of the cloud environment. Their unified platform operates seamlessly across various applications and multiple cloud environments, enabling organizations to effortlessly migrate and run applications.
With VMware, enterprises gain the ability to develop application modernization strategies and implement multi-cloud approaches that support operations across diverse cloud landscapes. This includes both hybrid cloud architectures, which combine on-premises infrastructure with public cloud services, and public cloud native architectures. Organizations can design their multi-cloud environments in a way that best suits their specific applications, allowing VMware developers to build, deploy, and manage applications seamlessly from the data center to the cloud to the edge.
One significant benefit of VMware is the provision of real-time visibility into cloud security and compliance. This is achieved through continuous monitoring of cloud resource configuration and adherence to industry standards, components of cloud computing security architectures, and regulatory compliance requirements. By ensuring ongoing compliance monitoring, organizations can maintain a strong security posture in the cloud environment while meeting the necessary regulatory obligations. Check out FITA Academy's VMware Course in Chennai and start learning from VMware Fundamentals with our experienced trainers
What are Cloud Architecture Best Practices?
Implementing a well-architected framework for the cloud extends beyond being a mere technological requirement; it serves as a means to achieve cost savings, high-performance applications, and satisfied end users. By adhering to cloud architecture principles and adopting best practices, organizations can unlock tangible business value from their cloud investments and establish a future-proof IT environment.
Thorough upfront planning is crucial to understand capacity requirements when designing a cloud architecture. It is essential to continually test performance during the architecture building phase to prevent unexpected issues during production.
Emphasizing security is paramount to safeguarding cloud infrastructures from hackers and unauthorized access. This involves implementing measures such as data encryption, patch management, and robust policies to protect all layers of the cloud infrastructure. Exploring zero-trust security models can further enhance security levels, particularly in hybrid and multi-cloud environments.
Ensuring effective disaster recovery is vital for minimizing downtime and swiftly recovering from service disruptions. Automating recovery processes and regularly monitoring capacity can contribute to maintaining a highly available architecture. Employing a redundant network can further enhance resilience.
Maximising performance entails efficiently leveraging and managing appropriate computing resources. Continuous monitoring of business demands and technology needs enables organisations to optimise resource allocation accordingly.
To optimise cost efficiency, organisations should leverage automated processes, consider managed service providers, and track resource utilisation. These strategies help eliminate unnecessary expenses associated with components of cloud computing.
Now that you have understood the concepts of Cloud Architecture, types of Cloud Architecture, Why Adopt Cloud Architecture and how cloud architecture works, why use VMware cloud architecture and best practices. So, if you want to become a Cloud engineer, you can join Cloud Computing Training in Bangalore and learn about different cloud service models and how it works.