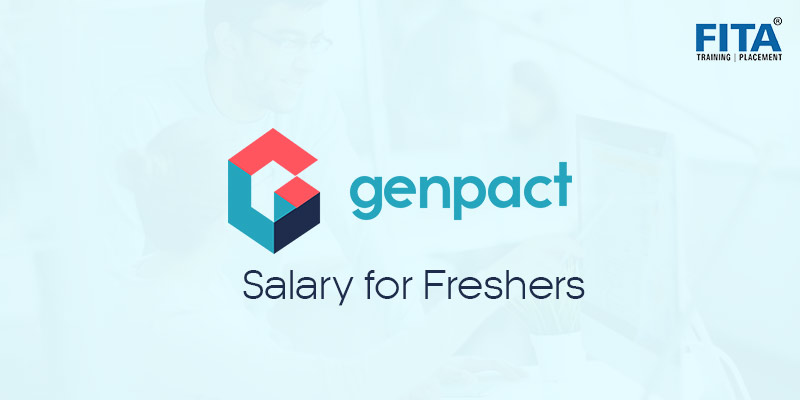 Genpact is a multinational professional services corporation that helps companies transform into an emerging industry for IT services. The firm drives digital-led innovation and digitally-enabled intelligent operations to satisfy its clients and customers worldwide. The company has occupied the most prestigious position among Fortune500. Now, the firm is looking for young professionals who can lead the company to the next level. Further, the freshers are well compensated with a feasible Genpact Salary for Freshers.
In this blog, we will provide you with all of the information necessary to apply for this organization. We will talk about the qualification requirements, application procedures, salary structure, benefits offered to freshers, and how satisfied they are with their work. Before moving into the brief discussion, let us define some qualifications and skills criteria required for applying for various open positions.
Who can Apply for Genpact Freshers Jobs?
Before we go into qualification requirements, we'd like to discuss some unique characteristics for freshers that will decide their desire and passion for working for an intelligence firm like Genpact. Based on the comments of hundreds of Genpact employees, we have identified three characteristics for you.
Enthusiastic about the Genpact Industry and am eager to begin an outstanding career with this firm.

Basic knowledge of Genpact's Software applications and products.

Desire to succeed in enterprise, business, and consultancy services.
If you have these characteristics, you should explore Genpact careers. If you want to increase their additional skill criteria, you can join Android Training in Chennai to improve your skills.
The students interested in applying for vacant positions at Genpact need to fulfill specific qualifications and skill criteria. The following is an overview of some essential skills and qualification standards.
Strong interpersonal and problem-solving skills.

Cognitive intelligence and intellectual skills.

Strong skills in both communication and management.

Excellent computing skills together with a strong knowledge of current mainstream scripting languages.

Good creative skills together with a strong interest in researching modern technology.
Candidates who are new to the field but have the additional skills have a better possibility of being selected during the interview round because these skills will characterize the fresher's capabilities and their potential to accomplish any task given at Genpact. In addition, these skills are important for Genpact to reward them with a competitive Genpact Salary For Freshers. Further, the candidate must hold a degree from an accredited institution to be considered for employment with Genpact. The qualification requirements are as follows.
Any degree in engineering, technology, or computer science (BE/ B.Tech/ ME/ M.Tech/ MCA) is acceptable.

When applying, the applicant shouldn't have any academic gaps or backlogs.

Applicants with an academic score of 60% or higher are given preference for high positions.
Do you have any problems regarding your qualifications? Have you ever felt like you were wasting time in college? You still have time to improve your academic performance and your skills. Joining Python Training in Chennai will be advantageous to you if you want to boost that; we propose that you do so. This academic institution is equipped with experts in information technology who coach their students through practical examples drawn from actual-world scenarios. You will get the opportunity to improve your skills in this atmosphere in preparation for a thriving campus placement.
How to Apply?
It is the easiest method to look for jobs and submit applications. If you are fresher to their website, you should follow the steps described below to apply for desired positions on their site.
To apply for a position, visit the official career website (www.genpact.com).

In the search console, enter your search criteria and click "Find Jobs."

You can filter your job search on the website based on employment location, experience, and expertise fields, among other criteria.

If you locate a position that seems to be a good fit for you, click on it to apply for it.

After submitting your application successfully, you will be contacted by an HR representative within a week or two.
Genpact Salary for Freshers
We've approximated the midrange salary package for various positions at Genpact Solutions, which is displayed below. The Genpact Package for Freshers ranges from 1.2 to 3.2 LPA and varies based on whether you're a fresher or an experienced professional.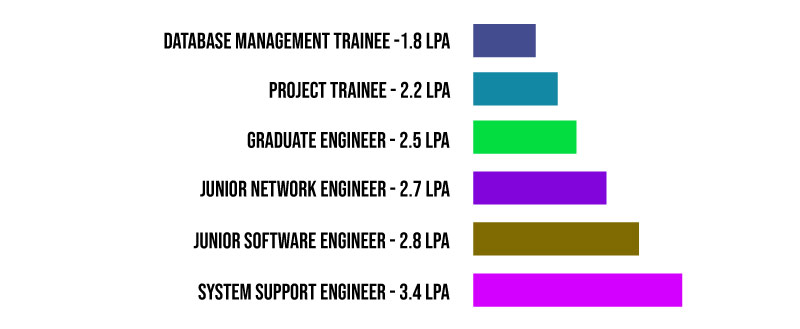 The salary listed above is an estimate, and it is subject to change depending on the actual compensation. In the next section, we will now discuss the essential skills that are required as well as the primary roles and responsibilities associated with each job role.
Suppose you want to get a job with a high salary package. In that case, we recommend acquiring an advanced understanding of AI through an Artificial Intelligence Course in Bangalore would be helpful. This course qualification would raise your skill standard, which might lead to an increase in your total salary package.
What are the key skills for each employment position, and what are their responsibilities?
Database Management Trainee
Database Management Trainees are concerned with entering all the company's data into online or computer databases. They also keep the records and firm files to gather information for future applications. The Freshers who desire to earn a decent first Genpact Fresher Salary might attempt for this position. Before that, you need to obtain considerable IT and professional abilities to enroll. Some of the critical talents are
Relevant experience in data entry and database management.

Knowledge and experience with Data Management Tools and Microsoft Office.

Capability to protect the confidentiality of sensitive information.

Strong organizational abilities and experience managing projects.

Completing a computer training certification course will be a nice beneficial perk.
In addition, a Database Management Trainee is accountable for carrying out the following responsibilities, which are as follows:
Establish and Manage New Customer Accounts in Our Database Here at the Company.

Check and ensure that the database contains the correct information by validating it.

Examine every set of data for any inaccuracies or mistakes.

Develop and Administer Reports, in addition to Carrying Out Backup Procedures.

Scan, print, and manage documents that are considered confidential.

Prompt response to client's inquiries and coworkers.

Ensure that there are no faults in the operation of the office equipment.
We strongly recommend that you enroll in a Data Science Courses in Bangalore so that you may get the knowledge and skills necessary to handle databases effectively and become an expert in data structures. If you apply for a position as a data entry operator, this will be an additional asset you bring to the table. 
Project Trainee
Project trainees are newly hired employees who must participate in a sequence of soft-skills training programs to promote their employment position within an organization. To obtain information and experience pertinent to their chosen sector, they must work together with senior employees and other job specialists. If you join the team as a project trainee, you could be required to give presentations about your work. In addition, the average Genpact Salary for Freshers is acceptable for this position, and you may anticipate a significant increase in your payment after a few years. Therefore, if you are interested in applying for these opportunities, you must have fundamental abilities in vital software packages, which include:
Working knowledge of Microsoft Office and any other relevant software.

Capacity for learning and acquiring new skills and methods for completing projects.

Strong leadership and interpersonal communication abilities.
As a trainee for the project, you will be expected to complete a wide range of tasks regarding specific essential responsibilities, which are as follows:
Work on the assignments that have been allocated to you and turn them in on time.

Conduct research, make an evaluation, and purchase additional educational resources.

Work in concert with the Senior staff and the Leads.

Demonstrate sufficient improvement in accordance with your ability.
Project trainees are the initial position of freshers in the information technology industry. Therefore, if you are interested in becoming qualified for this profession, we strongly suggest that you enroll in Java Training in Chennai. This certification course will allow you to gain and develop your fundamental programming abilities and other technical skills.
Graduate Engineer
In most cases, graduate engineers join the company to obtain different job experiences in the relevant industry. They are responsible for supporting staff members, working on existing projects, conducting fundamental research, and producing reports. The starting salary for new employees at Genpact, particularly trainee engineers, might vary from 1.8 to 2.4 lakhs per annum. If you are a fresher, this could be an excellent package for you; but, to be considered for this position, you need to have specific abilities, including the following:
Expertise in Logical Reasoning and Analytical Thinking.

Skill to collaborate effectively within groups.

Powerful interpersonal and communication abilities are required.

It would be helpful to have some fundamental technical knowledge of the software.
Graduate Engineers are associated with the following tasks and responsibilities.
Carry out successfully each of the duties that have been assigned.

Become familiar with their working methods and procedures.

Carry out investigations and gather relevant data.

Participate in seminars as well as meetings with clients to develop experience.

During the traineeship, provide all of the required documentation.
To qualify for positions as Graduate Engineers, newly graduated students need to gain abilities in engineering and fundamental computer programming skills. As a result, we strongly recommend enrolling in Python Training in Bangalore. During the interview, the personnel will prioritize your abilities because Python is the most popular programming language.
Junior Network Engineer
Junior Network engineers play a significant role in computer network administration. Freshers who wish to join these roles with a competitive Genpact Salary for Freshers must have the following core abilities in the technical and networking fields:
Knowledge and practical expertise pertinent to the principles of networking.

Familiarity with Local Area Networks (LANs), networking, and hardware components of networks.

Excellent capability for troubleshooting and the capacity to fix the problem.

Solid knowledge of the software and applications related to networking.
A network engineer is responsible for a diverse variety of responsibilities. The following is a list of some of the most significant responsibilities:
Monitor how well the networks and their servers are performing.

Establish internal and external network connections while configuring the necessary settings.

Conduct a thorough examination of the network systems and IP addresses.

Fixing problems and improving the network will make it run more quickly.

Working together with network architects to make enhancements to the network.
Are you interested in learning more about the principles of networking? Then it would help if you enrolled in the CCNA Course in Chennai. In-depth knowledge of progressive ideas in networking technologies, network servers, and systems, as well as network management, will be provided in this course.
Junior Software Engineer
Junior software engineers are often recent college graduates interested in creating software and the corresponding source codes. They work together with other teams to obtain practical expertise in coding, the elimination of bugs, and other relevant activities. It is recommended that fresh applicants interested in becoming software engineers at Genpact and receiving a Genpact Salary for Freshers learn the following vital abilities before applying for a position there.
Proficient in Python, Java, and

R Programming

.

Management skills and knowledge of Microsoft Office and email systems.

Strong time management and collaboration skills.
In order to qualify for a position with Genpact as a junior software engineer, you will need to demonstrate proficiency in the following essential tasks and responsibilities:
Offer support in the process of developing the design of software and the codings for it.

Gain knowledge of database coding and improve your existing abilities.

The programming codes need to be written and reviewed, and small errors fixed.

Conduct an analysis of the technological capabilities of the systems.

Request comments and suggestions from end-users about the operation of software products.
We strongly suggest getting a certification in software testing if you want to become a top-notch software engineer; this will help you demonstrate your expertise in the field. Therefore, you should enroll in a Software Testing Course in Bangalore since this course will teach you all of the foundations and methodologies necessary to test and verify software. It may assist you in developing apps or software solutions that are devoid of errors.
System Support Engineer
System Support Engineers are essential in providing clients with various types of technical support. In addition to this, they set up the systems with the most recent versions of the software and network systems. In most cases, experts in their fields are selected for this function. However, recent graduates are interested in applying for this job post and receiving a fair salary from Genpact. Before applying, freshers are required to obtain fundamental technical skills. The following is a list of some of the most important technical skills:
Skills in WSUS, SMS, and SCCM

Knowledge and experience with the Microsoft Intune and DNS Management System platforms.

Having a solid grasp of

MySQL

, network protocols, and network devices.

Knowledge of operating systems as well as management of mobile devices.

The fundamentals of Microsoft 365 and any other programs that are relevant.
System Support Engineers are often assigned with complex and time-consuming technical responsibilities, including the following:
Offer technical support in response to the comments and questions of customers.

The new hardware, software, and networking system must be installed and configured.

Determine the cause of problems, troubleshoot, and make necessary repairs to hardware and networks.

Suggest practical answers to complicated situations.

Junior employees and other interns should receive software training from you.
RPA Training in Chennai will significantly benefit you if you are interested in acquiring further knowledge regarding automation-based technologies and the system itself. This class may enrich you with robotic and automated testing technologies that you may use in your future IT job for system support.
How are freshers benefited at Genpact?
Genpact offers a wide range of advantages and incentives to its employees. The following is a list of benefits.
Genpact undertakes the responsibility to cover life and health insurance policies. It also provides financial assistance to meet medical expenses.

The company also provides work-from-home opportunities during the pre and post-pandemic periods.

Paid leave offs during maternity and paternity. Also, you can take additional leaves based on your requirements.

The company also provides salary incentives and bonuses during festive occasions.

You can avail of international relocation opportunities anytime as the company has numerous global offices worldwide.
Genpact also has offices in several overseas locations. Cracking the IELTS with IELTS Coaching in Bangalore is recommended since this course will offer extra credits to your immigration application.
How are employees satisfied at Genpact?
We have calculated an average work satisfaction rate at Genpact based on previous employee opinions and ratings. The fresher job satisfaction rate is 75%, where 66% percent contribute to salary and benefits, 78% to work-life balance, 72% to career progression, 74% to work satisfaction, and 86% to job security. The graph below depicts the average work satisfaction rate.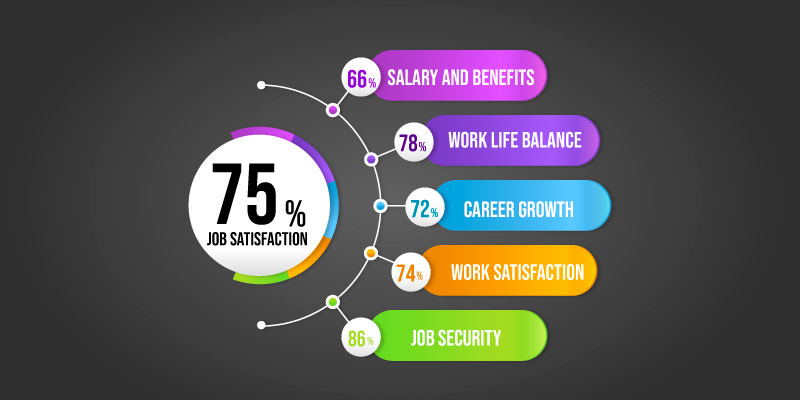 Nowadays, creating an IT profession has become the goal of all IT aspirants. So, to give appropriate information on Genpact and their available employment opportunities, we have done thorough research on application methods, freshers' advantages, the demand for practical academic and technical skills, and the Genpact wage package for freshers. The average fresher satisfaction is excellent compared to comparable IT organizations. Therefore, we recommend that all IT hopefuls contact and be selected for this fantastic tech organization. Finally, ending our piece, we propose that to begin an outstanding IT career with an Artificial Intelligence Course in Chennai would be meritorious.