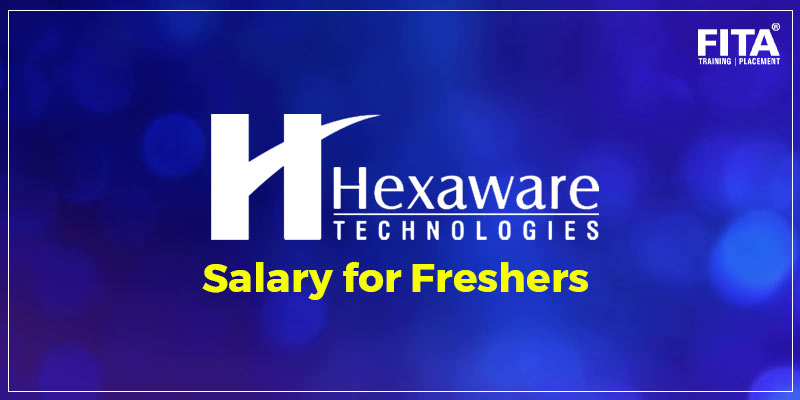 Hexaware is a leading provider of BPO and information technology services through human and machine interaction. The strategy has been popularizing in the fat-track management of complex business solutions and algorithms. After a tremendous growth of the company, it has opened a gateway for freshers with numerous open positions and Hexaware Salary for Freshers.
This blog will provide you with a reliable and brief discussion on overview of Hexaware Technologies, work locations, application and eligibility criteria for freshers, along with various employment benefits and salary structures.
Applicable Candidates for Hexaware Job Roles
Candidates with background from information technology and management are eligible to apply for Hexaware Technologies. In addition to this candidates who are passionate about IT services, innovative, diligence, and hardworking are applicable for Hexaware Fresher job roles. Apart from these, freshers with some hands-on experience in IT related fields have higher probability to get hired. In order to become more applicable for Hexaware Technologies, we suggest you enroll for Python Training in Chennai as the course is becoming more advanced in the current technological era.
Application Procedure for Freshers Job roles at Hexaware
Candidates willing to join Hexaware with feasible Hexaware salary for freshers are required to follow the following steps for a successful application or registration
Login to the official website of Hexaware at hexaware.com
Then,navigate to the careers section and look for various job opportunities.
Once you find your desired job role, then click and apply for that position.
For applying, fill all the basic particulars and upload necessary documents.
Finally, for a virtual interview, the applicable candidate will receive an email and joining link. Whereas for walk-in interview, the candidate will receive an acknowledgement mail reporting the date, time and venue of interview location.
Get your application noticed and unique against all the competitors, pursue Java Training in Bangalore. Because, this course stands as the second-most and emerging programming language in information and technology.
Candidate Selection and Interview Process
Hexaware Technologies hire freshers with an excellent hexaware salary through the series of recruitment process which are as follows
Written or Aptitude Tests – In this round, the applicants are provided or asked with numerous sorts of aptitude questions to test their basic knowledge base.
Technical Interview Round – In this round, the applicants are assessed  with technical interview questions. Here the quality of technical, logical reasoning, and critical problem-solving skills are assessed.
Human-Resources Round – This is the final interview round of Hexaware Technologies, in this round, a human-resources representative will assess the verbal and communication skills, along with the leadership skills. Usually after this round, applicants are likely to get an interview schedule with the HR Manager followed by offer roll-out.
Qualification Criteria for Freshers Jobs at Hexaware Technologies
Freshers seeking various job roles with excellent Hexaware Salary must meet the following educational qualification criteria for successful application consideration.
The candidate must possess a bachelor or master degree in engineering, computer science, information technology, and electrical, communication engineering.
The degree must be BE, CSE, ECE, IT, and EEE from any recognised university or colleges.
The candidate must possess 60% of above marks throughout the academic semester.
Besides, a year or two time duration is acceptable for fresher jobs, but beyond that no candidates are eligible to appear for the interview.
The candidate should not p;oseess any kind of backlogs in their past and current academic semester.
You can advance your educational career by earning Selenium Certification and enrolling in Selenium Training in Bangalore at FITA Academy. In the world of information and technology, this is the most demanding IT course.
Supplemental Skills Required for Hexaware Technologies
Hexaware is searching for recent college grads who have greater interpersonal skills. Besides, skills such as problem-solving abilities, quantitative thinking abilities, analytic abilities, solid organizational and communication skills, and basic computing or programming abilities are all desirable skills considered for freshers' jobs. Similarly, applicants with business hours who are conscientious, innovative, skilled, eager, and adaptable are more likely to get hired.
Study Artificial Intelligence Course in Chennai for freshers who want to boost their hp freshers earnings significantly. This course may assist you in enhancing your ability to perform efficiently at Hexaware.
Hexaware Salary Structure for Freshers
The salary structure at Hexaware differs from freshers to the experienced professional, it also varies with respect to the years of work experience the candidate possesses. However, we have estimated an approximate salary for freshers shown in the below chart.

Freshers worried about lower salary packages at Hexaware should register for a Data Science Course in Bangalore and receive outstanding credit for their education. This course may boost your chances of receiving a decent Hexaware Package for Freshers.
Basic Skills, Roles and Responsibilities
Graduate Engineer Trainee
Graduate Trainees are always concerned with practical gaining of experience through the CAD Software, Projects, and Documenting Reports. Freshers seeking this job roles with a feasible hexaware salary for freshers must possess strong mathematical and analytical skills, excellent verbal and communication skills, and ability to accept criticism. Then, proficiency in Java, Python, Selenium, and so on. As a graduate engineer, they are concerned with following key roles and responsibilities which are as follows
Understanding the project's needs and executing all of the Supervisor's tasks.
Observing and questioning senior staff members, as well as assisting where possible.
Raising concerns and, if appropriate, giving ideas for change.
Conducting research and visiting various locations.
At all times, health and safety laws must be followed.
Attending the meetings and taking effective steps to start new initiatives.
Creating and Studying the reports based on the analytical data.
Keeping track of your findings and sharing them with your supervisor and other relevant parties.
Developing professional relationships with employees.
Maintaining a high level of professionalism and attention to detail.
Executive 
An executive is concerned with the duties such as answering phone calls, attending visitors, preparation of travels, and arrangements, preparing reports, and comiping & filing documents. Freshers seeking this role with an excellent Hexaware Technologies Salary for Freshers must acquire the following desired skills such as Microsoft Azure, Office, data management, office and file management. As an executive, they are associated with the following key roles and responsibilities to fulfill at Hexaware which are as follows
Financial statements, reports, memos, invoices, letters, and other papers must all be prepared.
Answering the phone and directing calls to the appropriate party or taking messages.
Taking care of basic bookkeeping duties.
Corporate records, documents, and reports are filed and retrieved.
Preparing documents for examination and presentation by boards of directors, committees, and executives by conducting research and gathering data.
Aiding for preparing meetings and conferences.
Recording and Management of meetings.
Attending and welcoming visitors and fulfilling their needs.
Ability to use word processing documents, spreadsheets, databases, and other presentation softwares.
Analyzing and reporting the memos and other purchase bills, orders, and invoices.
Making all the necessary arrangements for international travel for clients.
Serve as a virtual assistant and to provide administrative support.
Analyst
Analysts use numerical data and computer systems to discover trends, establish business insights, and assist firms with process optimization, cost reduction, and strategy development. Freshers who want to join this job role with an excellent Hexaware Salary for Freshers are advised to possess the following skills: Microsoft office, programming languages such as Java, Python, C/C++, ability to manage large datasets, and critical problem-solving skills. As a analyst, they are associated with the following key roles and responsibilities which are follows
Identifying trends, patterns, anomalies, and other useful information by collecting and analyzing raw data.
Data is used to design and optimize strategies and procedures in order to boost revenues, efficiency, quality, or security while lowering costs.
Collecting data and developing and implementing plans with internal departments.
Finding and confirming new data sources.
Reports and presentations are created to summarize findings and influence company choices.
Closely working with internal and external teams for collaborative projects.
Implementing various procedures and policies to safeguard the data and information of the company.
Enhancing and evaluating the analytic process, methods, and tools to increase the accuracy, efficiency,m and security.
System Analyst
System analysts are responsible for analyzing the effectiveness and efficiency of any IT organization. Freshers seeking this job roles with an amazing hexaware salary are required to possess skills such as system analyzing, troubleshooting, strong analytical, and communication skills, As a System analyst, they have the following key roles and responsibility to accomplish in Hexaware Tech
Examining current IT infrastructure, including hardware, software, and networking capabilities.
Communicate with management and staff to determine system requirements.
Developing new systems to address any flaws in the current ones.
All suggested upgrades will be the subject of cost-benefit analysis reports.
Working with the IT staff to implement your strategy.
To guarantee that the new systems are working properly, they must be tested.
All gains, as well as any losses, will be documented.
To teach others how to use new systems, create documentation and training programmes.
Following the latest developments in the field of information systems.
Ascertain that all budget and timing constraints are met.
Software Engineer
Software engineers are in charge of creating and implementing new software programmes. They also change existing software applications to meet the needs of the client. Freshers seeking this job role with an affordable hexaware technologies salary for freshers need to possess the following skills: Software testing, software tools, suites, software development life-cycle, and delivering timely projects . They are concerned with the following important tasks and responsibilities as a software engineer.
Creating and distributing new software applications.
For software applications and tools, validation systems and testing procedures are used.
Software development and programming initiatives documentation.
Analyzing current software data in order to coordinate and deploy new systems.
Existing systems are modified to meet the needs of the client.
Enroll in a Software Testing Course in Chennai today if you want to become a well-known software developer. This course will teach you how to test and validate software applications using all of the basic software testing methodologies and approaches.
Employment Benefits for Freshsers at Hexaware Technologies
Employees at Hexaware Technologies are offered with numerous employment benefits and perks. Some of the featured benefits of freshers are as follows
Freshers are provided with free snacks and energy drinks at Cafeteria to re-energize and improve the workers engagement at workspace.
Freshers are provided with free soft-skill training and apprenticeship training before entering into the main workspace or area.
The company also offers work from home opportunity to the desired employee who wishes to work from their comfort zones.
The company covers health, life, and accidental death insurances and brings compensation benefits to the worker's family.
It also affords free or complimentary transportation system for free movement between workspace and offices, and vice versa.
It also affords free childcare centers and educational support to employees' children.
Finally, the company also provides international relocation opportunities to all their employees. Any employee can switch their work location.
Avail all the international benefits of getting IELTS Score card through enrolling IELTS Coaching in Chennai. This course may enhance the processing of your visa application at a faster stage.
Job Satisfaction Rate
In this section, we have calculated an average job satisfaction rate based on the employees rating and review. Here, the job satisfaction rate is calculated concerning the work-life balance, job satisfaction, career growth, salary and benefits, and job security. The average percentile is shown in the below graph (which is 80%).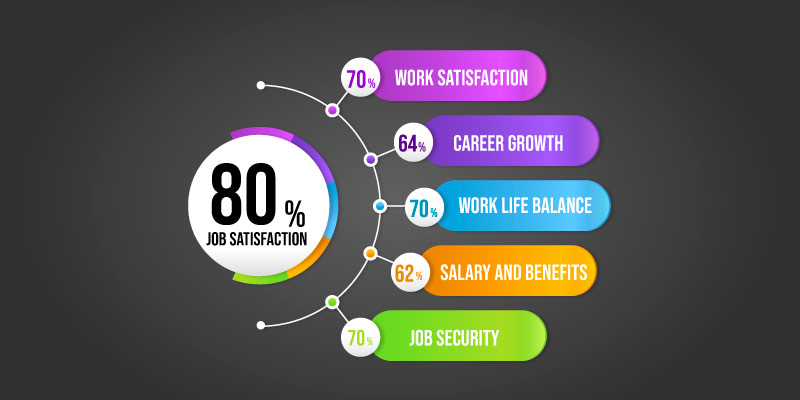 We've discussed Hexaware's job postings, application procedures, the availability of numerous job roles and their responsibilities, compensation, and benefits, global opportunities, and freshers' benefits in this blog. The company has an excellent international reputation and appears to be a good fit for entrants. Any Hexaware Technologies employee has global merit and the opportunity to work for any international firm or IT market. The present IT job market also creates a significant demand for all the Hexaware Alumni. As a result of our research and study on Hexaware Salary for Freshers, we recommend that you search for a variety of work opportunities and develop a distinguished IT career with Hexaware.