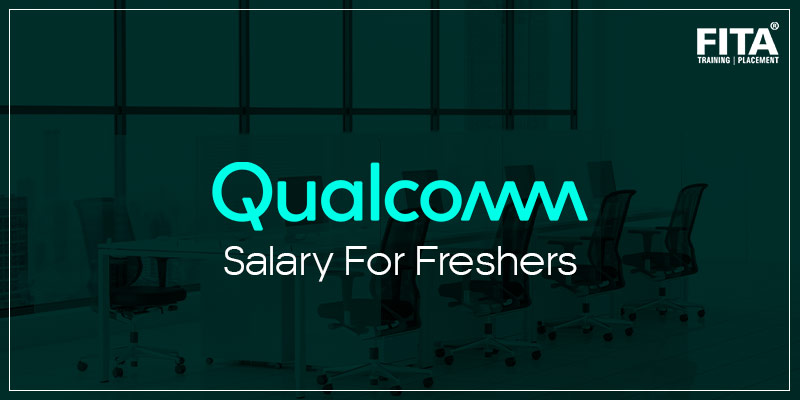 Qualcomm is an american multinational company headquartered in California, United States. The company is popularized in wireless satellite communication technologies covering all the nations. Since the establishment of the company, it has been offering numerous opportunities for freshers with feasible Qualcomm Salary for Freshers.
In this blog, we intend to deliver end-to-end information on various open positions, the application procedures, application selection process, stages of interviews, freshers benefits, and salary packages. So, the applicant can get engaged with the Qualcomm application process. Let's discuss the applicability and selection procedure in the upcoming section.
Applicable Candidates for Qualcomm Fresher Jobs
Since the Qualcomm company is mainly focused on wireless communication technologies, applicants who are passionate about wireless communication and satellite communication systems are greatly appreciated to approach Qualcomm careers. In addition, applicants who are interested in semiconductor devices, laptops, watches, Wi-Fi adapters, smartphones, and softwares are encouraged to apply. So, candidates with these skills are advised to look for a Qualcomm careers site. Make you an exceptional candidate through learning Python Training in Bangalore.
Application Procedure for Qualcomm Jobs
Freshers looking for various job positions at Qualcomm with a feasible Qualcomm fresher salary must visit their official career page to look for all open positions.
Navigate to the site and create an account 

Fill all the necessary particulars followed by upload of necessary documents

Check all the particulars and submit the application
In order to make your application considered, earn an additional credit through pursuing Selenium Training in Chennai. It will enrich your most emerging application testing strategy. In addition, this course has the probability of increasing your basic Qualcomm Fresher Salary.
Application Process and Selection Procedure
After applying, there are three stages to the recruitment process (on and off campus).
Round 1: Technical Interview Round

Round 2: Written Round (off-campus candidates may have more than 1 round of technical interview)

Round 3: Round of Human Resources
The written round is divided into three sections, each with 20 multiple-choice questions and 30 minutes to complete them. The applicant will be given 0.25 negative marks for each incorrect answer they attempt during the technical written round.. The number of questions and time permitted may differ based on time,, but the general sections of the questions will remain the same.
In addition to this, a brief on interview assessment are as follows 
Time, Speed, and Distance, Ratio and Proportion, Percentages, Profit and Loss, Seating Arrangement, and Other Quantitative Aptitude Topics

Syntax, algorithms, OOP ideas, MS-DOS, output questions based on pseudo-code, C and

C/C++

, and other topics covered in the programming section.

Computer science or electronics are examples of core specializations.
The technical interview is a one-on-one meeting, and candidates claim Qualcomm covers their travel and lodging expenses.
Depending on the issue, one must be clear on the fundamentals during the technical interview round.

Previous projects and anything you mention in your resume will be brought up as topics for discussion.

Some theoretical questions on operating systems, structural padding, networking, and other topics may also be posed.

Students studying computer science will be required to code. Cover topics such as data structures, arrays, and strings, among others.

A logical reasoning question or an analytical or puzzle question may also be included.
Qualification Criteria for Qualcomm Freshers Jobs
Freshers interested in various job roles at Qualcomm with good Qualcomm freshers salaries must meet the following freshers job qualification standards. The list is as follows:
It is required to have a bachelor's degree in computer science, electronics, communications, or information technology.

Students with an M.E/M.Tech/MCA in computer science (CS) or information technology (IT) as a postgraduate degree are eligible to apply.

In their degrees and academic schools, the applicant must have a (CGPA) cumulative grade point average of 60%.

The applicant should not have any backlogs in their present or former academic careers.
Earning Java Certification and enrolling in Java Training in Bangalore would help you further your educational career. The most popular programming course in the field of information and technology.
Additional Skills Considered for Qualcomm Freshers Jobs
Qualcomm is searching for recent college grads that are friendly and outgoing. Problem-solving abilities, quantitative thinking abilities, analytic abilities, solid organizational and communication skills, and basic computing or programming abilities are all desirable attributes. Similarly, applicants with business hours who are conscientious, innovative, skilled, eager, and adaptable are more likely to get hired.
Learn Artificial Intelligence Course in Chennai for freshers who are looking for a huge income increase for hp freshers salaries. This course may help you improve your ability to work productively at Qualcomm.
Qualcomm Salary Structure 
The Qualcomm Package for Freshers varies from freshers to experienced professionals. Also, the salary packages vary in accordance to the years of experience the applicant possesses. However, we have estimated an average salary for freshers in the below chart.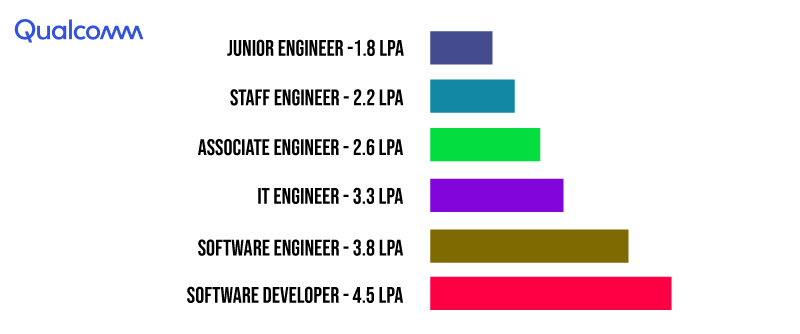 Freshers who are worried about less salary packages in Qualcomm, pursue Data Science Course in Bangalore and earn exceptional credit to your qualification. This might increase the chances of getting a decent salary increment.
Basic Skills, Roles and Responsibilities
Junior Engineer
Junior Engineer is the primary job role in Qualcomm. Freshers seeking a good starting Qualcomm salary for freshers are encouraged to apply for this post. For this role, the candidate needs to possess fundamental skills in Java, Python, Selenium, and other significant programming languages. As a Junior Engineer, they are responsible for accomplishing the following key roles and responsibilities at Qualcomm
Cooperating with senior engineers in software development programs.

Develop, Modify, and Implement new software programs with senior engineers.

Interact with global clients for better business solutions.

Undertaking basic soft-skill training programs to enhance their skill sets.
Software Engineer
Software Engineers are concerned with the development and implementation of new software programs. Also, they tend to modify the existing software applications based on the client's needs.  Freshers seeking this job role with a feasible Qualcomm salary for freshers are advised to possess the following skills such as software testing, software tools, suites, software development life-cycle, and delivering timely projects. As a software engineer, they are concerned with the following key roles and responsibilities
Developing and delivering new software programs.

Validating systems and testing methods for software applications and tools.

Documentation on software developments and programming initiatives.

Analyzing the existing software data for the coordination and installation of new systems.

Modification of existing systems based on the client needs.
In order to become a notable software developer, enroll today for a Software Testing Course in Chennai. This course will enrich you with all the fundamental software testing strategies and approaches to test and validate software programs.
Software Developer 
The role of a software developer is determined by the needs of the company, organization, or team for which they work. Some people design and maintain electronic devices and computer networks. Freshers seeking a good Qualcomm fresher salary need to possess the desired skills such as software development lifecycle, fast-paced environment, computing codes, full-stack development, and software development. As a software developer, they are associated with the following key roles and responsibilities which are as follows 
Bug fixes, programme adaptation to new hardware, performance improvements, and interface upgrades are all works of software developers.

Controlling the system and testing and validating the software programs.

Managing the softwares and documenting the development progress.

Consulting with customers regarding project proposals and statuses.

Designing and Maintaining the software systems.

Resolving issues with concern to clients or customer complaints.
Staff Engineer
Staff engineers tend to build, design, test structures, systems and services. Freshers seeking this role with an excellent Qualcomm fresher salary are advised to possess the following skills: structural design, system optimization, management, and project management. As a staff engineer,they are concerned with the following key roles and responsibilities which are as follows
Examining current processes and procedures to discover areas that could be improved.

evaluating the effectiveness of technologies, instruments, and equipment

System, procedure, and equipment development, implementation, and improvement.

Working on prototype development with the engineering team.

Using softwares to plan, design, and develop in a more efficient manner.

Projecting project costs and timelines, as well as developing work plans and deadlines.

Throughout the implementation stages, performing quality control and resolving structural design and other concerns.

Obtaining, evaluating, and compiling analytical and performance data, as well as progress reports.

Assuring that industry standards and safety laws are followed.
Associate Engineer
Assistant engineers tend to report to the senior engineer and work on a variety of engineering tasks. They work in sectors such as civil, chemical, electrical, and manufacturing engineering, and they help with the design, development, and testing of processes and products. Freshers willing to join as associate engineer with a good Qualcomm package for freshers need to possess the desired skills such as CAD, analytical skills, troubleshooting, problem-solving, with excellent verbal and communication skills. As a associate engineer, they are concerned with the following key roles and responsibilities which are as follows
Supervising all the designs, constructions of various rural projects and documenting it.

Designing drawing and sketches of construction projects and coordinating with managers through proper document preparation.

Evaluate and Validate the design products to put forth appropriate recommendations to site engineers.

Providing assistance in preparing plans, design sheets, and technical support to all the internal and external core teams.

Analyze projects, estimating all requirements and project costs, comparing them to all infrastructure funding grants, and preparing financial reports for all projects.

Prepare engineering reports and analyze all sanitation and health-care facility engineering projects.

Analyze and offer improvements to all processes, as well as lower project costs and start improving performance.

Maintain a manufacturing database and use lean approaches to design new products.
To become an exceptional associate engineer with automation and processing skills, we suggest you pursue RPA Training in Bangalore at FITA Academy. This course will teach you additional skills to automate your design strategy and integrate with CAD suites.
IT Engineer
IT Engineers play a significant role in the installation, maintenance of computer systems. Newly graduated students or freshers willing to join IT engineers with an excellent Qualcomm salary for freshers need to possess the following desired skills: computer hardware systems, operating systems, enterprise, programming languages, CCNA,  LAN, and Wireless networks. As a IT Engineer, they need to fulfill the following key roles and responsibilities which are
Meeting with the IT manager to talk about system requirements.

Computer hardware configurations are designed and installed.

Putting software and networking systems in place.

Identifying and resolving network and software problems.

High-level software security solutions are being installed.

Staff education on newly installed gear and software.
Enhance your skill set in network troubleshooting and resolving network servers through learning CCNA Training in Chennai. This course provides additional add-on strategies to improve your troubleshooting and network fixing skills.
Employment Benefits for Freshers at Qualcomm
Employees at Qualcomm have access to a variety of benefits and incentives. We've included a list of extra benefits and bonuses.
Employees have free access to transportation from their residences to their workplaces and vice versa.

Freshers are given free soft-training programmes to familiarize them with the company's standard skills and processes.

Workplace refreshment areas or cafeterias to calm and re-energize employees for increased sustenance.

Flexible work-from-home options for employees who prefer to work from home rather than in an office. This option improves both comfort and productivity.

Qualcomm is responsible for accidental death, health, and medical care insurance and coverage.

Annual Vocational Trips and Team Outings help keep employees engaged in their jobs.

To keep their personnel active and healthy, they use gymnastics and sports grounds.

During break times, all employees receive free meals, snacks, and energy drinks.

To support child care services, child care centers will house workers' children.

Employees who desire to work in any place around the world might take advantage of global or international relocation options.
Learn about IELTS Scores, engage with, and take advantage of Qualcomm's international career perks in a range of locations across the world by enrolling in and completing IELTS Coaching in Bangalore.
Job Satisfaction Rate
We calculated an average job satisfaction rate for freshers at Qualcomm based on the review, work experience, and employee feedback. This job satisfaction rate is calculated by taking into account the Qualcomm fresher salary, perks, career advancement, and job security. Furthermore, Qualcomm alumni have reported an average job satisfaction percentage of around 80%. The graph below depicts the average salary estimations.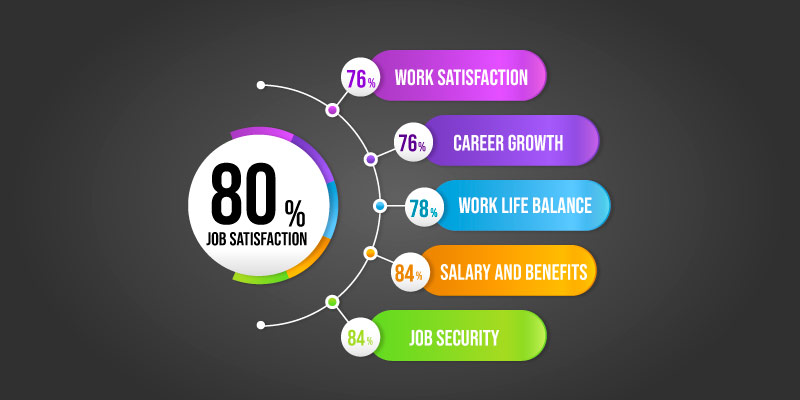 In this blog, we have elaborated on Qualcomm's job postings, application procedures, availability of multiple job roles and their responsibilities, employment perks, global opportunities, and freshers' benefits. The company has a strong international reputation and seems to be a perfect environment for freshers. Any employee from Qualcomm has global merit and the advantage of getting hired into any international firm or IT market. It also creates a significant demand in the current IT job market. Therefore, based on the research and study on Qualcomm Salary for Freshers, we urge you to look for various job positions and build a featured IT career with Qualcomm.