Course Highlights and Why IELTS Coaching in Anna Nagar at FITA Academy?

Best and Experienced professionals to train students and enhance their competency and industry knowledge.

FITA Academy has its own syllabus to teach students, which is designed by FITA Academy's IELTS professional experts.

A One-on-One approach is followed to assess students' strengths and weaknesses.

Instructor-led interactive classes are conducted to enrich students' knowledge to meet the industry requirements.

Mainly trainers are selected from the top universities and schools and colleges to make students proficient in the Language.

Placement guidance programs like mock interviews, group discussions are conducted for students to assist them in their career establishment.

Developing LSRW (Listening, Speaking, Reading, Writing) skills of students.

Well-maintained labs to enhance students' practical knowledge.

First-hand training by professional experts to make students attain the expertise in Writing and Speaking English.

Professional and Real-time training at an affordable cost.
Upcoming Batches
09-12-2023
Weekend
Saturday (Saturday - Sunday)
11-12-2023
Weekdays
Monday (Monday - Friday)
14-12-2023
Weekdays
Thursday (Monday - Friday)
16-12-2023
Weekend
Saturday (Saturday - Sunday)

Classroom Training
Get trained by Industry Experts via Classroom Training at any of the FITA Academy branches near you
Why Wait? Jump Start your Career by taking the IELTS Coaching in Anna Nagar!
Instructor-Led Live Online Training
Take-up Instructor-led Live Online Training. Get the Recorded Videos of each session.
Travelling is a Constraint? Jump Start your Career by taking the IELTS Online Course!
Trainer Profile
The IELTS trainers of FITA Academy are industry professionals having a maximum work experience of 12 years.
They are dedicated professionals having a vast knowledge of the English Language.
They provide training for both Academic as well as the Grammar part of the Langauge.
The IELTS Experts provide training according to the British Council, IDP: IELTS Australia and Cambridge Assessment English Standards and Degrees.
The IELTS training experts have individually completed training for more than 25 batches of students.
Learn at FITA Academy & Get Your
Dream IT Job in 60 Days
like these Successful Students!

Features of IELTS Coaching in Anna Nagar at FITA Academy
Real-Time Experts as Trainers
At FITA Academy, You will Learn from the Experts from industry who are Passionate in sharing their Knowledge with Learners. Get Personally Mentored by the Experts.
LIVE Project
Get an Opportunity to work in Real-time Projects that will give you a Deep Experience. Showcase your Project Experience & Increase your chance of getting Hired!
Certification
Get Certified by FITA Academy. Also, get Equipped to Clear Global Certifications. 72% FITA Academy Students appear for Global Certifications and 100% of them Clear it.
Affordable Fees
At FITA Academy, Course Fee is not only Affordable, but you have the option to pay it in Installments. Quality Training at an Affordable Price is our Motto.
Flexibility
At FITA Academy, you get Ultimate Flexibility. Classroom or Online Training? Early morning or Late evenings? Weekdays or Weekends? Regular Pace or Fast Track? - Pick whatever suits you the Best.
Placement Support
Tie-up & MOU with more than 1500+ Small & Medium Companies to Support you with Opportunities to Kick-Start & Step-up your Career.
Why Learn IELTS Coaching in Anna Nagar at FITA Academy?
Live Capstone Projects
Real time Industry Experts as Trainers
Placement Support till you get your Dream Job offer!
Free Interview Clearing Workshops
Free Resume Preparation & Aptitude Workshops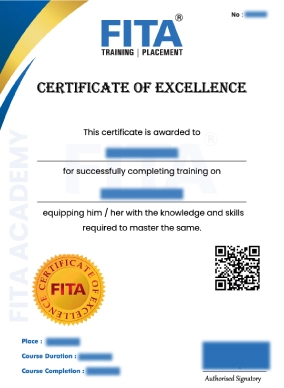 IELTS Certification Coaching Centre in Anna Nagar
The IELTS Coaching in Anna Nagar conducted by FITA Academy will inculcate students the habit of making English, a part of their life. The training consist of conducting everyday practice tests which include tests for Listening, Speaking, Reading, and Writing. We will help them understand the test format, be aware of the exam time constraints, develop their English Language skills and IELTS strategies. Moreover, our training will help you to multi-task, develop a wide range of reading skills, help you to speak with fluency and coherence. FITA Academy has the best set of IELTS training experts who will be able to profusely help you in making your dreams come true.
Have Queries? Talk to our Career Counselor for more Guidance on picking the
right Career for you!
Success Story of IELTS Coaching in Anna Nagar
I am planning to do my MS in the US. So I have to give my IELTS exam for joining a US university. So when I was searching for a good training institute to learn IELTS, I found FITA Academy online. It had good reviews for the course. To talk about the training, it is neat and professional. The way my trainer delivered the training was quite astounding because it was professional, effortless, and also simple to understand. I would like to thank my trainer for all the efforts that she put into the training to make us proficient in the language.
I am a Software Programmer by profession but I am looking to move to the UK for personal reasons. So was thinking to give my IELTS exams. That's when I found FITA Academy online. Their training was precise and detailed. My trainer was very knowledgeable and taught each concept in an understanding manner. It was due to her training that I was able to get a band score of 8 in my IELTS exam. She gave projects, assignments, and tasks to understand more about the English language and her one-on-one approach was also helped me in analyzing my strengths and weaknesses.
I am one of the students who enrolled in the IELTS Coaching in Anna Nagar at FITA Academy. I am glad that I joined the training because it absolutely helped me in understanding all the topics related to the English language. Precise hands-on practices were also given for all the important topics that helped me to understand them better. Our trainer also taught the complex topics in a simple way for us to understand. Moreover, she gave us tasks, assignments, and projects that helped in the understanding of the Language better. Thank you FITA Academy and to my trainer for the precise training and support.
After attending the IELTS Coaching Centre in Anna Nagar at FITA Academy, I have gained extensive knowledge of the English Langauge. It was their continuous training and guidance that helped me to get a band score of 8 in my IELTS exam. We were given vast training for all the imperative topics in the English Langauge and all the levels such as Listening, Reading, Speaking, and Writing was also precisely taught through real-time examples. I am really satisfied and content with the training. I recommend FITA Academy for all the IELTS aspirants who want to achieve a high band score.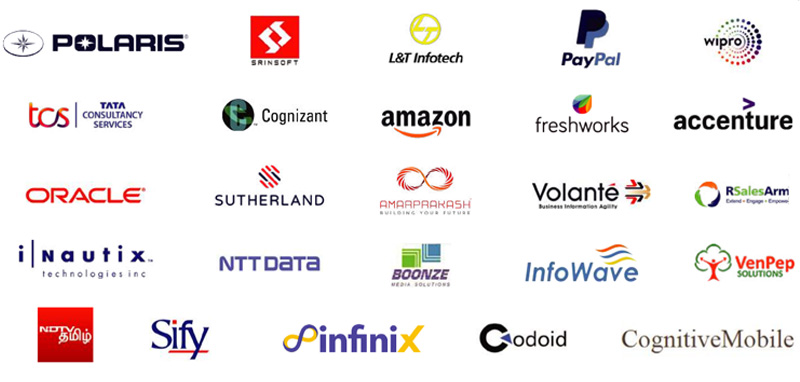 Frequently Asked Question (FAQ) about IELTS Coaching in Anna Nagar
Additional Information of IELTS Coaching in Anna Nagar
IELTS
IELTS is the abbreviation for International English Language Testing System developed jointly by British Council, IELTS Australia and Cambridge Assessment English. The testing system is designed to help the people who wish to study, work or migrate to any English-speaking country such as the UK, USA, Australia, Canada and Newzealand.
Why IELTS
IELTS is the popular exam pattern helping candidates achieve their dreams of settling abroad or specifically say in English-speaking countries. The IELTS exam tests their English proficiency skills through four levels which are Listening, Reading, Speaking and Writing. Since the IELTS Score is accepted in 140 countries worldwide, taking the IELTS exam is a big advantage of being accepted by any of the 11,000 universities in English-speaking countries.
Types of IELTS
There are two types of IELTS tests. One is IELTS Academic and the other is IELTS General.
IELTS Academic
IELTS Academic is for the ones who wish to do their higher education in an English-speaking country. But the IELTS official website says that the IELTS Academic exam can be taken for professional registrations also.
IELTS General
The IELTS General can be taken by anyone wishing to do their undergraduate studies in English-speaking countries. The IELTS General test can also be taken by people wishing to work in and migrate to English-speaking countries.
Best Ways to Prepare for The IELTS Exam
Give Practice Tests Regularly
Take practice tests more regularly and concentrate more on transforming your weaknesses into strengths. This will be the first stage of your preparation and it has to be done regularly to check where you stand in terms of scores and knowledge. If you are unable to do it alone, enroll in an institute, like FITA Academy where experts will be there to assist you by your side.
Comprehend the Test Format
Before practicing, students need to be aware of the test format so that they can know what to expect from the test. So it is wise to know the test format and be familiar with it before preparing for the exam. FITA Academy completely prepares you for the test by helping you practice more tests and making you aware of the test pattern.
Know the Exam Time Constraints
As you start preparing for the exam, prepare according to the exam time constraints. It is very important to prepare in this way so that you can finish the exam as per the time schedule.
Build your English Skills, Capabilities and IELTS Strategies
Remember that preparing for the IELTS exam is a process. It is a process of preparing for the English test so that you can proficiently give your best. Some people just focus on the exam pattern and forget that it is an English proficiency test. IELTS is basically testing your English proficiency at a higher level so that you can get accustomed to living in English-speaking countries. So when you prepare for IELTS remember that you are preparing for giving an English proficiency test.
We all know that the IELTS test is demanding and it requires a lot of practice to amp up our skills to get a high band score. So when preparing we also should practice to multi-task so that we can concentrate on all sections equally. It is also natural to get lost during a recorded conversation is happening so it is up to us to get back on track and concentrate on the conversation and answer the questions.
Develop your Reading skills
Students have to develop their reading habits so they can understand what information is given in the question paper just by reading once. Because there will be no time to read the information again and again and students have to concentrate on the other sections too. So when students inculcate their reading habits it will be easy for them to skim the information, focus on the important details and answer the questions appropriately.
Learn to Use appropriate English Terms when Writing
Writing Module is as difficult as Listening Module. So students have to start practicing writing also and should practice completing their writing tasks within the allotted time. There are some tasks in the writing module that requires a certain type of appropriate language and the use of different types of charts to represent the data. So students should be prepared for all kinds of test patterns and should equip themselves with proper English knowledge.
Learn to Speak with Fluency
This section mainly tests the proficiency of your English, not your English knowledge. So it is necessary you need to practice well your speaking as per exam conditions. Speaking about a random topic for about two minutes is not a joke, so you may need to prepare well for the speaking module to talk about any random topic proficiently for two minutes.
Make English a Part of Your Everyday Life
It is important you practice English a lot. You have to give importance to all four sections of the test pattern ie Listening, Speaking, Reading and Writing so that you score well in all four sections of the test. It is also best advisable if you find a suitable partner to practice for the exams so that you can analyze your mistakes, find where you lag and eventually overcome your shortcomings. If you are unable to do that, join an institution like FITA Academy where IELTS experts will be there to guide you always and help you with your preparation. Join FITA Academy's IELTS Coaching in Anna Nagar to attain proficiency in the English Language and also to amp up your English Language Skills with respect to the demands of the IELTS exam.