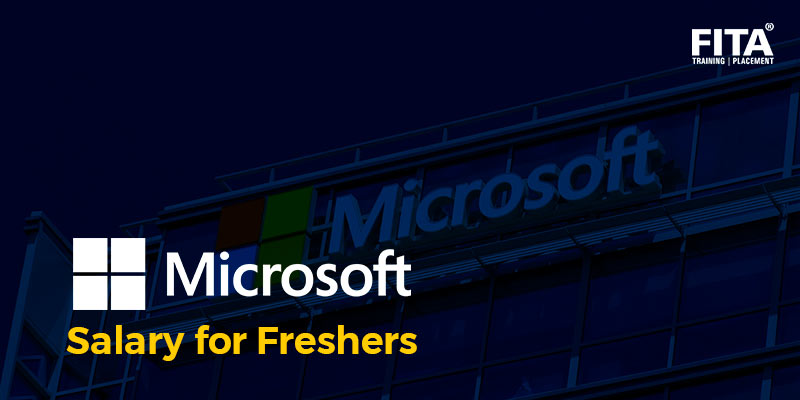 Microsoft Corporation is an American-based multinational company, which provides product-based services such as personal computers, consumer electronics, computer software, and cloud-based applications. The company has sustained a leading position among fortune 500 rankings for years. The firm is best noted for being the world's largest producer of software products; it competes against Google, Apple, Amazon, and Meta. The excellence of younger minds and talented personnel remains the key to the company's steady reputation. Therefore, Microsoft has wider career opportunities. Microsoft Salary for Freshers is affordable compared to competent technical firms. 
In this blog, we have discussed the overview of Microsoft company, availability of various job roles, eligibility criteria for various job roles, application procedures, numerous employment benefits and perks, along with Microsoft salary package for freshers.
Who can apply for Microsoft Fresher Jobs?
Applicants who are enthusiastic about Microsoft products such as Windows operating systems, Azure, Xbox, and Microsoft 365 can choose the field that they need perceive. Furthermore, candidates who are interested in work in  the world's largest software provider company are encouraged to apply for various open positions at Microsoft technology because it provides various job opportunities for freshers and professionals. Additionally, the firm offers a variety of job opportunities in cloud computing, software, and gaming. Candidates who want to start their career in a technical field can apply for Microsoft Freshers Jobs.
In order to make you eligible for various job roles, we recommend looking for Microsoft Dynamics CRM Training in Chennai to gain additional credits for your applicability.
How to Apply for Microsoft Open Positions?
Microsoft provides a user-friendly web-based platform to search and apply for various open positions. Their official career page has dual tabs – graduates and experts. So in this tab, you can search positions for both freshers and experienced professionals. Some of the primary application procedures are as follows 
Navigate to the careers page of Microsoft Corporation.

Search for jobs that match your qualifications.

Click and enter the tab to fill out the application for further submission.

Once you have entered all the essential details, upload your recently updated resume and click the submit button.
Interview and Candidate Selection Process
Microsoft hires applicants through a series of technical and non-technical rounds. Some of the preliminary rounds are as follows 
Online Interview Round

– Through this round, applicants are allowed to attend a face-to-face interview with the company's representative.

Technical Interview Round

– In this round, applicants are assessed with a variety of technical interview questions, aptitude questions, and quantitative assessments. Besides, the questions will be asked on subjects like Algorithms, Data Structures, Operating systems, Databases, and Management. 

Technical System Design Round

– In this round, candidates are assessed with system design skills, and all the questions will be based on Dropbox, Microsoft Azure, Cloud Computing, and Microsoft Technology-Driven Engines.
Qualification Criteria for Microsoft Fresher Jobs
Microsoft expects its applicants to meet the following qualification criteria
The applicant must have obtained a minimum academic percentile of 70% or above throughout the academic semesters.

Similarly, a scoring percentage of 70% in 10th and 12th grades is appreciable for Microsoft roles.

There should not be any academic gap, but two or one year of educational gaps are acceptable.

Microsoft does not consider applications with any backlogs at the time of the interview process.
In addition to essential qualification criteria, Fundamental Skills such as excellent communication skills, subject knowledge, technical oriented skills, and excellent interpersonal skills are all necessary for the candidate who apply for Microsoft Open Career. Increase your skill  standard through learning CCNA Course in Bangalore.
Freshers Salary at Microsoft
The Microsoft Fresher Salary varies from non-experienced to experienced professionals. Microsoft offers more than 67+ job roles for freshers from Engineers to the Developers. But, we have sorted some significant job roles along with their estimated salary package and represented it as a chart in the figure below.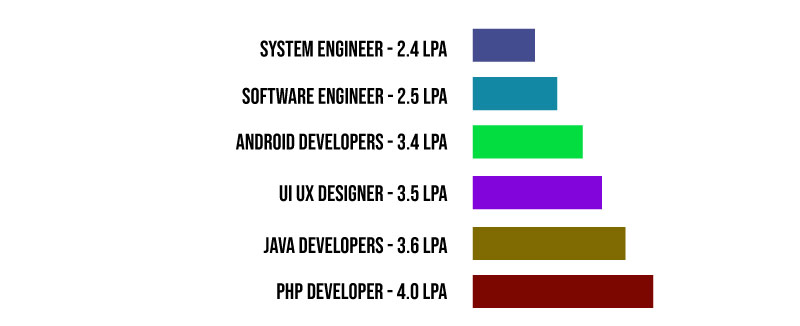 Required Skills, Job Roles and Responsibilities at Microsoft 
As mentioned earlier, among 67+ job positions, we have shortlisted six significant job positions and have discussed their importance,  required skills, job roles and responsibilities in the upcoming section.
Software Engineer 
Software Engineers play a crucial role in building newer applications. They apply various techniques of mathematics, software modifying, computer science, design & development of softwares, and software testing for better software productions. So, the Microsoft Salary for Freshers always remains on a hike. As a result, freshers applying for this position must have competence in software programming languages, understanding of software tools and suites, outstanding coding abilities, and knowledge of the software development life-cycle. The software engineers are concerned with the following key roles and responsibilities.
Develop software validation testing methodologies.

Control software programs and involve in software documentation.

Report the project status and proposals to the clients and project internal teams.

Do data analysis and figure out various installation processes and modifications of systems.

Track the life-cycle of software and manage them effectively.

Monitor the system software and its performance.

Provide software data, sharing with internal teams for better software development solutions.
In order to become an exceptional software engineer, we suggest you take a Software Testing Course in Chennai. This course will impart you with the necessary techniques to test and evaluate software applications.
System Engineer
System engineers are concerned with managing systems and their performances. They make sure that everything flows efficiently, integrate network computing, and construct network infrastructure. Because there is always a significant need for system engineers in all IT areas, the average Microsoft Salary for Freshers is outstanding at the beginning. So, freshers willing to join as a Microsoft System Engineer must have these essential skills such as Perl, Python, and Ruby, moreover knowledge is required in OSI networking technologies, TCP/IP sector, and configuring or troubleshooting the Unix-based operating systems. System Engineers are confined to the following key roles and responsibilities.
Check and Install the new network server and computing infrastructures.

Monitor the existing network infrastructure and attempt to improve it.

Install and Configure newer applications and computer operating systems.

Execute best approaches for increased network security and data backups.

Detect and Resolve potential issues associated with computers or systems.

Communicate and get IT support from the staff and other seniors.
Increase your skillset to become an unique system engineer through learning RPA Training in Bangalore at FITA Academy. This may improve your skills in automation and processing programs.
UI UX Designer
UI UX Designers ensure the web-application design along with its user experience. They gather and implement best practices on all the digital platforms. Freshers who are expecting a feasible Microsoft Salary for Freshers are advised to possess skills in specific domains. The domains include JQuery, Visual Design, Photoshop & Illustrator, Web-Designing, and Graphic Design. In addition, CSS, HTML, and Adobe Illustrator are essential for UI and UX Designer. As a UI UX Designer, they are concerned with various job roles and responsibilities, which are
Suggest and Review the design requirements for better user experience.

Develop and Design effective brand strategies.

The candidate must create high-quality charts, graphic designs, storyboards, sitemaps, and data-flow diagrams.

Test the modules, pages, advertisements, screen layout, and page hyperlinks.

Work with both internal and external teams for better design and digital user experience.

Develop and Implement new research methodologies for UI and UX research.
To become a certified UI UX Designer, join UI UX Design Course in Chennai to have a comprehensive understanding of Stakeholder Interviews, Meetings Business & Product Goals Competitor Analysis, Analysis of Market segment, User profile Critical Success Factors Group Analysis – User Usability Criteria. This course will enrich you with fundamentals and advanced courses in user experience and interface.
The average salary for UI UX Designers in India ranges from 1.6 to 4.2 LPA for Freshers. Check out salary details and job demands in our blog UI/UX Developer Salary For Freshers. 
Java Developers
Java developers write powerful codes for the development of softwares, applications and android apps. They work with front and back-end integration systems such as Microsoft Products, Adobe PDFs, and Mobile Applications. Freshers with no-experience are also compensated with good Microsoft Fresher Salary, which ranges from 2.0 to 3.0 LPA.So, candidates are advised to possess some fundamental skills such as Javascript, HTML, MySQL, SQL, Java 8, and other access servers. In such cases, Java developers are associated with the following key roles and responsibilities. 
Write and Modify the existing applications through Javascripting.

Detect and Debug softwares for external clients and consumers.

Test and Validate softwares for client business.

Document every test phase of software applications.

Work closely with Oops, Algorithms, and Data Structures
In order to become a skilled Java developer, we recommend joining and learning Java Training in Bangalore at FITA Academy which will impart you java fundamentals and advanced concepts such as  Software Architecture best practices, Loose Coupling & Maintainability, Avoid collisions SOLID principles, DRY Namespacing IIFE (Immediately Invoked Function Expressions), Closures Modules.
PHP Developer
PHP Developers are responsible for scripting the languages for developing server-based web applications. They are also concerned with coding front and back-ends for integrating apps and online services. Freshers looking for this job roles with an affordable or reasonable Microsoft Fresher Salary are advised to obtain required skills: The skills HTML, JQuery, Javascript, CSS3, SVN, Git, MySQL and Web Frameworks. Conventionally, a PHP Developer is associated with key roles and responsibilities such as 
Analyze and Report the requirements for websites and applications.

Create PHP Modules and write the Backend codes.

Detect and Resolve the problems associated with applications.

Finalize all the back-end functionalities and Test the web-based applications.

Update and Modify the existing applications for better performance.
Become an evergreen and ever-demanding PHP developer through obtaining a certification in PHP through PHP Training in Chennai.
The initial fresher salary of a PHP Developer in India varies from 2.2 to 4.2 LPA across Indian IT Firms. However, it also varies due to numerous factors. Are you interested in exploring the PHP Job Vacancies and Salary Details, Walk-through PHP Developer Salary For Freshers.
Android Developers
Android developers are concerned with building apps and android applications for the android-based operating system. They also update and remodify the errors associated with various android versions. Freshers wishing to join as android developers in Microsoft, there are possibilities to get a high Microsoft Fresher Salary. If you want to head into this career, we suggest freshers acquire new skills such as SQLite, CSS, Python, iOS, HTML 5, Java, Android Operating System Development, Android Development Kit, Mobile and Application Development. Android Developers are associated with certain key roles and responsibilities which are 
Create, Develop, and Modify various android applications.

Secure consumer's data through implementing security measures.

Proofread and Refix all the code errors prior to application launch.

Collaborate with UI and UX Designers for best user application experience.

Test and validate android applications and operating systems.

Create and Develop application updates for fixing bugs and introducing new features. 
Increase the chances of getting your application noticed through gaining additional credits by joining Android Training in Bangalore.
Employment Benefits at Microsoft Corporation
Employees at Microsoft are offered with numerous employment benefits and job perks.
Microsoft empowers employees' dreams and aid in achieving their featured career and goals.

Microsoft believes that the company's success lies in the success of the company's employees. Microsoft community allows users and workers to build a community for knowledge exchange and career guidance.

The company takes care of the family and children for a flexible and enjoyable life.

It allows all employees to grow personally as well as professionally through their work environment.

It covers all the health, life, and vehicle insurances and policies.

The company also affords international relocation opportunities to both freshers and experts to become immigrants across the world. So, to fast-process your visa application process and to Avail all the international benefits, complete a language course through

IELTS Coaching in Chennai

.
Job Satisfaction Rate
Microsoft alumni and freshers have provided a job satisfaction rate of 83%. This rate is estimated as an average of Salary and Benefits, Work-Life Balance, Career growth, work satisfaction, and Job security. The estimated rate is shown in the below chart.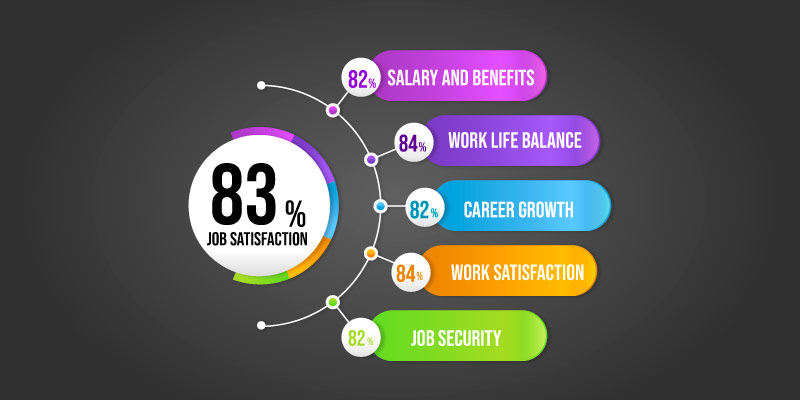 This article has elaborated on the significance and job opportunities for freshers at Microsoft. Besides that, we've gone over the basic application methods for applying for various available roles and necessary qualifications for joining Microsoft. We then discussed the roles and responsibilities of each job position, Microsoft Salary package for Freshers and other employment advantages.  We hope that this blog has provided you with valuable information for getting jobs.