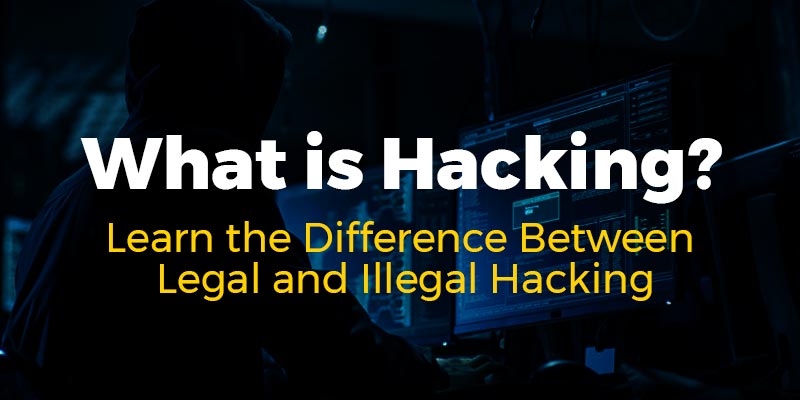 If you are intrigued by cybersecurity or IT technology, hacking can be a valid professional career path in the real world. Cybersecurity is a thriving industry and exciting career path with several career possibilities. Many organizations need ethical hackers to examine the protection systems to confirm that they are less accessible to black hat hackers.
Hacking is a proficient skill in the cybersecurity industry because it can make you a sought-after applicant for jobs in IT. So, you can begin your job as an expert hacker at a reputed organization. Ethical hackers are recruited by tech organizations like Google and Facebook to test their systems.
To learn Hacking, enroll in the Ethical Hacking Online Course which provides comprehensive instruction in ethical hacking tools, strategies, and procedures for the student, who cannot attain classroom training can make use of this opportunity and can learn from their comfort zone.
Globally, there are more than 4 Million Vacant Jobs in cybersecurity. According to the report, in India, there will be a 25% increase in demand, which is more than 1.5 million unfulfilled job vacancies in cybersecurity by 2025. In India, the salary of cybersecurity starts from 6 to 7 lakhs per annum. But for the Certified experts with notable industry experience can make more than Rs 14 lakh per annum.
Hacking is the act of locating a network or machine to which you are not intended to have access. 'Hacking' can be referred A network or software that you are not intended to have access to. For example, if we are logging into an email account when we have no authority to have access to that account.
Furthermore, Hacking is also defined as obtaining access to a computer that you are not permitted to use. Even if we read any information from a computer or database that we aren't meant to have access to, let alone reading is also called Hacking. Overall, hacking is finding vulnerabilities in a system's security to gain access to a target system.
For better understanding join Ethical Hacking Course in Chennai at FITA Academy which provides theoretical and practical knowledge of Cybersecurity under expert trainers.
Now, let us have a discussion on whether Hacking is Legal or Illegal.
Is Hacking Illegal?
At present, hacking is a skill like coding. Hacking can be done in both legal and illegal methods but it depends on the hackers and their purpose for hacking. There are three kinds of Hackers, they are:
Black Hat Hackers
White Hat Hackers
Grey Hat Hackers
Black Hat Hackers
Black hat hackers refer to the hackers who hack the computer system with malicious intent to steal private data or money to commit identity theft or for shutting a website or network. This kind of hacking is prohibited. They may profit from security flaws and sell these exploits to other criminal enterprises.
To commit theft or for personal benefit, black hat hackers find a large organization's system and acquire massive amounts of data, including identities, addresses, security numbers, and other personally identifiable information. They even suggest phishing, which means sending messages that appear to be from trustworthy businesses to persuade people to disclose personal details like credentials and credit card information.
They are the hackers who are recognized for their malicious and notorious hacking motives. Now, we will review a few federal laws that label hacking:
The Computer Fraud and Abuse Act (CFAA)
The Stored Communications Act (SCA)
The Electronic Communications Privacy Act (ECPA)
The Defend Trade Secrets Act (DTSA).
White Hat Hackers
White hat hackers and black hat hackers both hack using the same tactics, however, white hat hackers are allowed to hack the system. And they are called ethical hackers, pen testers, or penetration testers. Many organizations are purposely hiring professional ethical hackers to conduct penetration tests on their systems to boost their security defenses.
This testing helps to prevent the security of the system and resist black hat hackers from gaining access. Additionally, you can employ a lock-picking specialist to assess your lock's strength. And penetration tester attempts to get into the network or device to reveal flaws and enhance the computer's security system's deficiencies. Sometimes they will also directly alert the relevant vendors so that an update can be deployed to address the issues. As a result, white hat hackers are referred to as legal hackers.
Gray Hat Hackers
Gray hat hackers lie between ethical hackers and Black Hat hackers because they do not hack to cause any loss(money) and damage to any organization or people's private information or data. But actually, they are hired by an organization to hack into their computer system to notify the administration of vulnerabilities. But it is illegal because they are testing the security system without having permission to test. Most technology companies employ these hackers and hacking techniques to protect their systems.
These are the three types of Hackers that can hack a security system. Now we Here we shall discuss some of the software that people working from home face:
To acquire in-depth knowledge of Ethical Hacking join Ethical Hacking Course in Bangalore at FITA Academy gives equal attention to every learner and provides comprehensive hands-on practices on hacking
Skills required for Ethical Hacker
To perform hacking efficiently, the ethical hacker should know about all the systems, security, program codes, networks, etc.
Ethical Hackers should know the programming knowledge of the Software Development Life Cycle (SDLC).
Scripting knowledge helps to understand the network and host-based attacks.
Ethical Hackers should learn Networking skills and database management systems. for example SQL
Finally, Knowledge of servers, search engines, and hacking tools help you to startups your career as skilled professionals
These are the skills are required for ethical hackers. Now, we shall discuss some of the software that people use for hacking:
Malware
Malware refers to computer viruses, trojan horses, ransomware, and other malicious software. Malware steal data, damage data reports, and block access to records, Malware also make damage to a personal device or a whole machine network.
cybersecurity experts renew to generate new security methods to prevent malware but illegal hackers are continually inventing new types of malware to overwhelm or destroy existing security models.
Two chief types of malware are machine viruses and worms. A virus is a code that harms the device and spread the virus to other devices or in the network.
A worm is a malicious software program that quickly destroys an entire network of computers and machines will become unusable. Usually, hackers send an email in the form of clicking a link to install the malware. Hackers might also utilize pop-up windows, which display on particular websites and invite users to click on them, enabling the malware to be installed.
Ransomware
Ransomware is a selected sort of malware mainly created to encrypt facts on a tool to secure this data and maintain it for a monetary ransom. The aim of ransomware is to damage a business or an individual from obtaining proprietary, sensitive, or in any other case vital facts till they pay a ransom to the criminal hacker.
Trojan Horse
Trojan horses are malware inside the software that appears reliable or valuable. Trojans are used by cyberattacks to make their software more appealing to consumers and motivate them to load it on their systems. The malware or virus hidden inside the trojan application will be immediately loaded on the device after it is downloaded.
So, you need to download software that is trustable. Sometimes companies may have systems in a location that save you personnel from putting in software programs without permission from the IT department. This aids to decrease the risk of an employee unintentionally installing malware that then infects the entire network.
Phishing
Hackers sometimes depend on human error. These hackers rent social engineering techniques and try to trick or con personnel into taking steps that could compromise their protection or proportion records or get the right of entry to an agency network.
Phishing is a system, which a hacker attempts to coax someone into willingly sharing touchy records. Sometimes, the hacker might fix a fraudulent email account and forward an email to operators, pretending as an administrator from the organization or a professional from a bank or some other department. It also gives essential information such as a password, VPN login statistics, or credentials to get the right of entry to a device. In this way, the hacker can locate the network.
Enroll in Ethical Hacking Course in Pune to get a thorough understanding of the procedures used in the field of ethical hacking
Hackers use many special varieties of equipment to hack right into a software program system. A few of that equipment are:
Wireshark – It is an analysis tool, which captures network traffic and stores that data for offline analysis.
John The Ripper (JTR) – This software helps hackers to decode complex passwords and a dictionary assault is a sort of brute power in which the hacker enters several passwords.
Sn1per – It is an automated scanner adopted by hackers to identify vulnerabilities in a system or network.
Metasploit – It is a Penetration hacking framework examining Software applied to install payloads into vulnerabilities. It presents information about the defects in software.
These are the tools used by hackers to hack software programming systems. Now, we shall see frequent hacking strategies utilized by hackers are:
Distributed Denial–of–Service (DDoS) – A distributed denial-of-service (DDoS) occurs when various devices are working collectively to undertake the whole target.
SQL Injection Attack – Structured Query Language is a programming language formerly designed to handle and maintain data in software or databases.
Keylogger – It's a piece of software that saves crucial information on a computer, including private email addresses and passwords. The hacker aims to collect this private information, that is why banks offer the choice of the usage of their digital keyboard to their customers.
cybersecurity has increased concern among many companies as malicious hackers find newer ways to break networks, the act of ethical hackers has become increasingly demanded in all most all sectors.
Now you would have understood the need for ethical hackers and cybersecurity specialists to test the strengthen the security of businesses and networks. Ethical Hacking is a demanding area of learning because it requires knowledge of operating a system or network. So, to have access to wider opportunities, you can enroll in the Ethical Hacking Course in Delhi at FITA Academy which provides comprehensive learning of Ethical Hacking concepts.