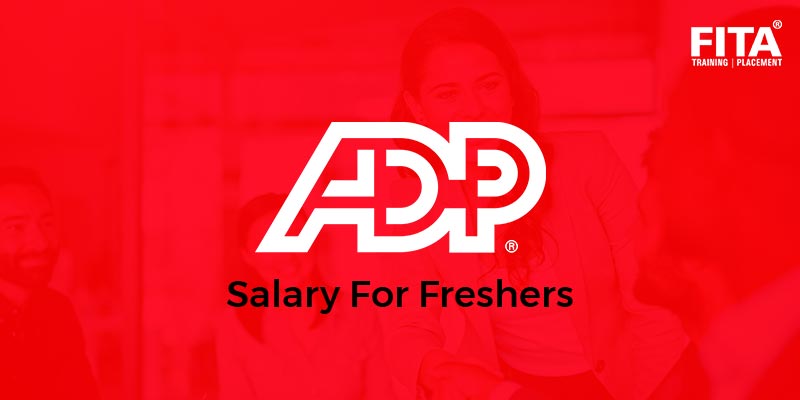 ADP is a great multinational company with a reputation for empowering new employees to demonstrate their capabilities. And ADP has started to hire freshers across India, reflecting a fantastic opportunity for candidates wishing to begin a new IT Career. All interested and qualified candidates can now read all the information discussed in this blog and start applying for ADP jobs that offer an excellent ADP Company Salary.
This writing will provide comprehensive information on various open positions, eligibility requirements, freshers' benefits, and ADP company salary for freshers. We'll discuss the application process and salary in the subsequent section.
Who can Apply?
The applicability of a candidate can be determined by their interest in and passion for human-resource and administrative technologies. In addition to qualifications, the following qualities determine the right candidate for applying to ADP.
Dedicated to the development of payroll and tax payment systems.

Particular interest in Human-Resources.

Interest in developing tools for effective administration and management.
If any of these characteristics match your thoughts or ambitions, ADP is the place to dive in. Let's talk about the application process and the platform where you can look for open positions and career opportunities.
How do I look for job openings and apply for fresher positions?
ADP delivers "search and explore" options for looking for open positions nationally and worldwide. To do so, follow the steps as instructed below.
Visit their career page at www.adp.com/en/careers.

Search for various open positions based on the job locations, and look for preferred positions.

If any of the job openings strikes your interest, proceed further to apply.
According to ADP statistics, the role of software tester and developer has a high demand. Henceforth, we recommend enrolling in a Software Testing Course in Chennai to prepare yourself for various ADP Jobs.
How to apply for ADP Vacant Positions?
Interested applicants can apply for both virtual interview mode and off-campus mode. This interview follows two steps, as instructed below.
Virtual Interview Process:

The candidate needs to register and submit the application for the further interview process. In this process, the ADP's HR will assess the candidates through online assessment tests or virtual interviews.

Walk-in-Interview Process:

ADP also conducts off-campus drives or recruitment. In this mode, the candidate is required to file a preliminary application for the interview consideration and followed by a direct face-to-face interview with various company representatives.
Don't let an opportunity miss to join ADP. So keep tuned for the official career site for changes, updates, and announcements.
What is the essential Qualification required for joining ADP?
Freshers willing to join ADP must meet the following education and skill Qualification to apply for various open positions with a reasonable ADPl Salary for Freshers.
Any bachelor's degree with good marks (60% or above)

No active academic backlogs. 

Good problem-solving and analytical skills.

Skills in primary programming languages such as Java and Python.

Knowledge of human resources, tax, and retail payments.
Furthermore, we recommend that you enroll in a Digital Marketing Course in Chennai to add extra credits to your academic Qualification.
What are the other essential skills required for ADP Recruitment?
Like all IT companies, ADP looks for some basic knowledge in freshers necessary for important IT tasks. The following are a few of them.
Good problem-solving and technological skills.

Basic computing and coding skills.

Strong verbal and communication skills.

Expertise in HR management, commercial taxes, payments, and other related transactions.
Every candidate's communication abilities attract the recruiter's curiosity. So, we recommend enrolling in Spoken English Classes in Chennai would improve your interactive skills. This course will teach you how to communicate effectively with clients and consumers for effective customer relationship management.
ADP Company Salary for Freshers
The annual salary package at ADP varies depending on whether you are a fresher or an experienced employee. Perhaps, based on salary information provided by former and current employees of the organization. We've calculated an average salary for freshers, which is understood from the chart below.

What are the basic skills, roles, and responsibilities of ADP Jobs?
Junior System Engineer
The company's networking infrastructure is designed and configured by a junior system engineer. They ensure that network servers are running sufficiently without any problems. Freshers looking for an excellent ADP Fresher Salary should apply for this position. Before that, students must gain essential abilities such as
Knowledge of

Unix

-based system troubleshooting.

Experience in Perl,

Python

, and Ruby scripting.

Understanding of networking technologies and network layers.

Excellent knowledge of performance tuning and system configuration.

Excellent communication and writing skills.
Junior System Engineers must do the following critical roles as part of their job:
New networking infrastructure should be installed and configured.

Keep an eye on the current networks for any issues.

Installing and configuring operating systems.

Ensure that the system is secure and all the backup options are enabled.

Identify potential problems and implement possible solutions.

Improve the configuration process by collaborating with IT support teams.

Report the network or network-development progress to the clients and ADP Consumers.
Technical Consultant
IT support engineers are technical advisors. They help in the implementation of hardware and software solutions into the industry. They also deal with all technical problems that arise with IT systems. A technical consultant is the most acceptable option for freshers who are expecting a good ADP Salary for Freshers if you're looking for this role. You must obtain specified technical skills before applying for this position.
Advanced knowledge of computer hardware and software.

Strong abilities in detecting and correcting internal log issues.

Understanding of software encryption and data security.

Good interpersonal and communication skills.
At ADP, you must accomplish the following significant responsibilities as a technical consultant; some of the most important tasks are:
Examine the hardware, software, and network statuses.

Execute innovative solutions to improve the efficiency of your system.

Enhance the functionality of web-based portals.

Detect and resolve security and encryption-related issues.

Document the system's performance and metrics.
In order to become a brilliant Technical consultant, we recommend doing a Software Testing Course in Bangalore that would advance skills in software testing methodologies. Obtaining additional credit before applying would be advantageous throughout the recruitment process.
Software Engineer
To design and build software, software engineers employ a variety of software development approaches. They're also in charge of improving software quality by updating and debugging applications. If you want to work as a software engineer at ADP with an affordable ADP Company Salary, you'll need professional skills, including those listed below.
Basic understanding of software packages and technology.

Exceptional coding and computational abilities.

The SDLC's expertise (Software Development Life Cycle).
You must perform the following primary duties and tasks as a software engineer:
Methods for software testing should be developed, tested, and validated.

Control software programs and keep track of the software development process with these tools.

Inform clients and internal project teams about the software development progress.

Investigate, test, and implement novel software transformation technologies.

Maintain the software development life cycle's status.

Observe and improve the performance of computer software.

For developing a more profitable software product, transfer software data to internal teams for improvements.
Before applying for the software engineer roles, you must improve and advance your programming skills. Therefore, getting a python certification through Python Training in Chennai at FITA Academy will be unique. This course will provide you with all of the core programming capabilities for software development.
Analyst
Analysts utilize the statistical data to detect the business trends and develop insights for making the company a success. They create a cost-effective model for preparing an improved revenue model. Freshers willing to join as analysts with excellent ADP Salary for Freshers must acquire the following skills.
Basics of Microsoft Office, Analytic Tools, and Programming.

Skills in implementing various analyzing techniques.

Strong mathematical and problem-solving skills.
If you join as an analyst, you need to fulfill the following key roles and responsibilities described below.
Gather and perform the analytic process for identifying business trends.

Collaborate with internal teams for data collection and data assessment.

Detect and Validate new data resources.

Produce analytical reports and new business procedures.
Before joining this role, it is important to acquire advanced skills in data or data science; therefore, we recommend you join the Data Science Course in Chennai to improve your basic and advanced skills in data handling.
Software Developer
Software Developers work based on clients' requirements. They build the main systems and ensure the smoothness of running devices and networks. If you like to join this role at this company with a good ADP Company Salary, you need to acquire critical skills, which are 
Understanding of Software Development Life Cycle.

Skills in

Full-Stack

Development.

Deep coding and programming skills in

Python

, PHP, Java, and C/C++.
As a software developer, you are required to fulfill the following key roles and responsibilities, which are
Modify and Improve the software performance, and upgrade their interfaces.

Test and Validate the software development procedures.

Document the software programming methodologies.

Consult and Collaborate with IT staff to develop better software products and applications.

Develop and Deploy software for the application of scientific analysis and to design mathematical models.
To join as a software developer, you need to acquire a wide variety of skills. Therefore, acquiring skills in selenium would be incredible. Therefore, we recommend joining Selenium Training in Bangalore will help acquire more software developing and testing methodologies.
How are freshers benefited at ADP?
Freshers are benefited from numerous advantages and benefits. Based on the employee review, some of the benefits are as follows. 
The company organizes team outings to various national and international sites.

Before being assigned to a job, freshers are given proper soft-skill training. Freshers can improve their skills by participating in this soft-skill training.

The company also provides health and life insurance for the family's protection.

During break times, the company also gives free snacks and beverages to staff.

An employee can shift their work location anywhere in the world through the international transit program.

The corporation spends for the children of employees to receive a good education.
To enjoy the benefits of the ADP's international immigration option, you must pass the IELTS Exam; therefore, join IELTS Coaching in Bangalore for more preparation guidance. This course will enhance communication and interpersonal skills, which are essential for all international careers.
How are freshers satisfied with their jobs at ADP?
Freshers are greatly satisfied with their jobs at ADP. According to our research, we have found that the ADP contributes 80% of the job satisfaction rate, where 80% goes to salary and benefits; 82% of the credit goes to work-life-balance; 74% goes to career growth; 78% goes to work satisfaction, and 86% goes to job security.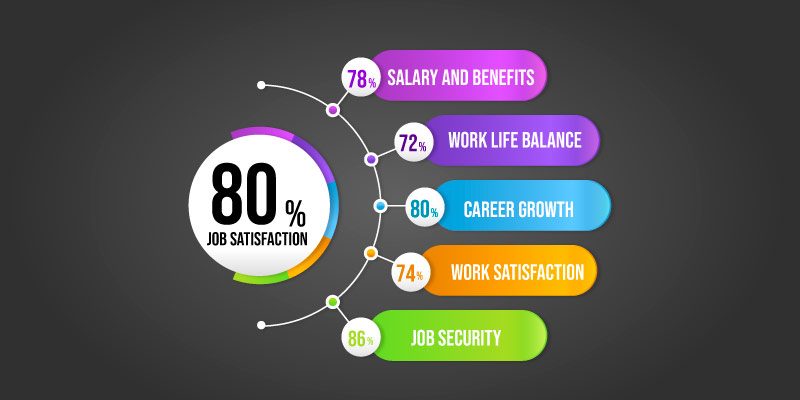 Modern technologies have been transforming the world with intelligent software and applications. Similarly, the retail and marketing sectors have also started migrating their tasks to digital technologies. So, freshers willing to get a high initial ADP Company Salary are advised to acquire essential skills applicable to applying for various ADP job Roles. Further, successful recruitment readily relies on the skills and knowledge you possess. So, continue to knowledge acquiring capability consistently through an advanced course in AI by enrolling in an Artificial Intelligence Course in Bangalore. Finally, we wish you all the best to kick-start a featured career with ADP Company.