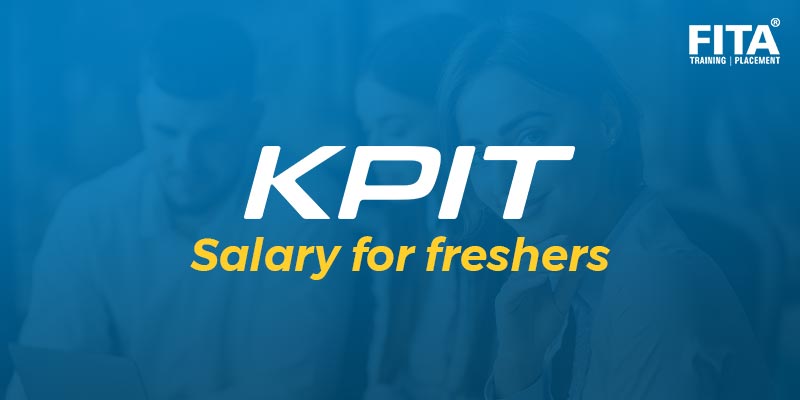 KPIT Technologies Limited is a global multinational company headquartered in Pune, Maharashtra. The company maintains development centers throughout the world, including Europe, the United States, Japan, China, Thailand, and India.
Furthermore, the corporation is well-known as the world's largest engineering manufacturer. A dedicated team of younger brains and intelligent people remains the key to the company's consistent reputation. And now the company has started to hire freshers with an affordable KPIT Salary for Freshers. Let's discuss the applicant's eligibility to apply.
Who can Apply for KPIT Freshers Jobs?
KPIT is an innovative engineering company. So, before we go into the qualification requirements, we'd like to deliver some of our observations on the applicant's interests. These qualities will determine whether or not you are eligible to apply for KPIT positions. Therefore, some of the distinguishing characteristics are
Interest in autonomous driving and connected vehicles.

Passionate to work with vehicle diagnostics, autosar, and mechatronics.

Interest in beginning a mechatronic career.
Candidates that possess these characteristics have a better chance of being hired during the HR interview stage. As a result, we recommend freshers possess these skills before attending an interview. Furthermore, KPIT considers younger applicants with any bachelor's or master's degree. Candidates will be chosen based on their abilities and performance during the interview process.
How to Apply?
Candidates can apply and be recruited into this firm in two ways. Either through the virtual interview or an off-campus drive. Follow the outlined steps below to apply for this company
Virtual Mode:

This mode requires the candidate to go to their official career page (https://www.kpit.com/careers/) and look for open openings. If you locate a position that interests you, click the tab and apply.

Walk-in-interview mode:

This mode requires an initial online registration. After completing the application process, the applicant will receive the data, time, and location for a direct interview.
What Qualifications do I need to possess for applying?
Freshers who want to apply for a variety of job roles with a reasonable Zensar Salary for Freshers must meet the following academic requirements:
Any degree from centralized universities or colleges is applicable for this recruitment.

The applicant must hold a degree in engineering, computer science, or information technology.

The applicant must have obtained a 60 percent average of marks in all subjects with no active backlogs.
Apart from qualification standards, acquiring additional skills in development operations would help you to gain more credit to your resume. Therefore, we suggest joining DevOps Training in Bangalore will help to fulfill your credit.
KPIT Salary for Freshers
KPIT Technologies Salary for Freshers varies for both freshers and experienced professionals. Additionally, candidates who have completed internships or industrial apprenticeships have a greater probability of earning a competitive salary package. We calculated an average package based on salary feedback provided by the company's workers, as shown in the chart below.

Are you seeking a better entry-level salary package? Join FITA Academy to pursue Artificial Intelligence Course in Chennai if you want to improve your skills and get a salary hike. This training and placement institute has placed hundreds of IT candidates in reputable organizations across India. Furthermore, due to global demand, a certification in AI may attract your recruiters to boost your annual salary package.
The average salary structure presented here may vary in accordance with the actual salary. Let's talk about the essential tasks and responsibilities of each job that each employee needs to accomplish at KPIT Technologies.
What are the Basic Skills, Roles, and Responsibilities of Employees at KPIT?
Data Entry Operator
The job of a data entry operator is to enter all of the company's data into online or computer databases. They also keep track of documents and company files in order to compile data for future applications. Freshers interested in earning an excellent first KPIT Fresher Salary may apply for this position. To enter, you must first gain considerable IT and professional skills. Some of the most essential skills are:
Experience in data entry and database management.

Knowledge of Microsoft Office and Data Management Tool .

Ability to protect confidential information.

Project management and good organizational skills.

Certification in computer training will be advantageous.
Furthermore, a data entry operator is accountable for the completing the following responsibilities:
In the company database, create and manage customer accounts.

Check and double-check the data in the database for reliable data management.

Examine all data for inconsistencies and errors.

Create and manage reports, as well as backup procedures.

Scan, print, and manage sensitive documents.

Prompt responses to client and coworker inquiries.

Verify that all hardwares is working properly.
Before applying for this job, we recommend you to enroll in a Data Science Course in Chennai if you want to gain skills about how to manage databases properly and retain excellent skills in data structures. In this course, experienced mentors will assist you in gaining the necessary data science and advanced database management capabilities.
Junior Full-Stack Developer
Full-Stack Developers are multi-talented people who develop user interfaces for websites. They have extensive experience with both front-end and back-end coding. They also create network servers, online databases, and codings for mobile platforms. If you wish to apply for this position with a good KPIT Salary for Freshers, you must acquire the following skills.
Skill in Front-end languages such as CSS, HTML, and

Javascript

.

Excellent skills in Javascript Frameworks, React, Angular JS, and Amber.

Knowledge of technologies such as Oracle, MySQL, and MongoDB.

Good communication and problem-solving abilities.
If you join KPIT as a full-stack developer, you must complete the following critical job responsibilities:
Develop website architecture from both the front-end and back-end systems.

Create web application databases and servers.

Ensure cross-platform optimization for mobile phones and applications.

Create dynamic web designs in collaboration with graphic designers.

Develop, Validate the APIs and Android applications.
To become an exceptional full-stack developer, you must acquire extensive knowledge of both front-end and back-end architectures. So, obtaining a Full-Stack development certification would be beneficial. Therefore, we suggest enrolling in Full Stack Developer Course in Bangalore would be helpful. Experts and trainers will provide you with all the core skills needed to become a full-stack developer expert.
Trainee Engineer
In most cases, Freshers join as Trainee Engineers to acquire more job experience in the appropriate area. They are responsible for assisting employees, working on ongoing projects, conducting fundamental research, and furnishing reports. KPIT Salary for Freshers, particularly for Trainee engineers, ranging from 1.8 to 2.6 lakhs per annum. But, this is a good package for beginners; thus, if you want to apply for this position, you must have the following skills.
Excellent logical and analytical capabilities.

Capability to work in a group with good collaboration skills.

Exceptional interpersonal and communication skills.

The basic software and technical skills would be valuable.
The following tasks and responsibilities are assigned to trainee engineers by their seniors or mentors.
Complete and Submit all the assigned tasks.

Observe and improve their working techniques and approaches.

Conduct data collection and analysis.

To gain experience, attend workshops and client meetings.

During the traineeship, submit all required reports.
Freshers who want to work as Trainee Engineers must have engineering skills and fundamental software skills. Therefore in order to acquire these skills, we recommend that you enroll in Python Training in Bangalore. Because Python is the most popular programming language, recruiters will appreciate your talents in getting successful recruitment.
Technical Support Engineer
Technical Support Engineers provide consumer and client technical assets. They also deal with systems to upgrade software, debug network server failures, and fix hardware-related problems. Freshers applying for this position with the expectation to earn a reasonable KPIT Fresher Salary must acquire the following essential technical skills:
Skills in desktop and technical support.

Knowledgeable of computer hardware and software systems.

Skills in network management and system security.

Basic understanding of

web-development

services, operating systems, and APIs.

Teamviewer skills for controlling remote systems.

Troubleshooting capabilities for sophisticated hardware and software issues.

Practical skills in communication, interpersonal, and analytics.
If you are willing to apply for this position, you will be responsible for performing the following essential duties and responsibilities to provide IT support:
Remotely access system to resolve problems with clients' computers.

Do system configuration with computer software and networks.

Troubleshoot and repair issues with computer hardware, network servers, and software applications.

Maintain positive relationships with international clients.

Submit work reports and records of the system troubleshooting history.
Fresh Technical support aspirants who are unknown to the profession need to study additional concepts and gain experience in systems and networking. Join the CCNA Course in Chennai to learn more about advanced networking principles. This course will cover basic and advanced networking, network management, and network server regulations.
System Engineer
System engineers supervise the system's performance and ensure its reliability. They provide system effectiveness and network integration before constructing network infrastructure. Freshers can apply for this ever-demanding position as every IT organization wants system engineers. If you're going to be a brilliant system engineer with a good KPIT Salary for Freshers, you'll need to learn and acquire skills.
Knowledge of OSI networking technologies.

Strong TCP/IP expertise, including troubleshooting and technology configuration.
A system engineer is typically responsible for a variety of activities and commitments. The following were some of the most critical tasks:
Install and configure the computing and networking infrastructure.

For better connectivity, monitor and improve the current network infrastructures.

Adding newly updated programs and operating systems to the computers.

Implement best procedures to ensure backup options.

Collaborate with IT personnel to improve IT assistance.
As a system engineer, you'll need to improve your technical skills to handle computer systems more effectively. So, if you want to enhance your robotics-based system management skills, we recommend enrolling in RPA Training in Bangalore would be helpful. This training has the potential to increase your automation and management capabilities.
What are the Freshers Benefits at KPIT?
Joining KPIT would be more advantageous to freshers in career growth and employment benefits. The company offers a variety of perks and benefits, some of which are as follows.
The organization encourages you to pursue your dreams and assists you in achieving your goals.

KPIT integrates ideas and innovations for business growth with employees. It helps you improve your ideas by providing motivation and support.

The company takes care of families and children, allowing them to receive an education and insurance benefits.

You can improve your professional and personal capabilities by working in this company's environment.

The organization also gives you the choice of relocating to various international destinations.

Permanent employees receive regular salary hikes. In addition, they receive bonuses and perks.
In order to avail the international reclamation opportunity provided by the KPIT, you need to clear the IELTS Exam, so to gain more preparation tips, join IELTS Coaching in Chennai. This Course will develop good interpersonal and communication capability required for all international tips.
Job Satisfaction Rate
Working with KPIT is a fantastic experience for Freshers. Based on feedback from previous workers and KPIT alumni, our average job satisfaction rating demonstrates that the company contributes to a 62% satisfaction rate, comparable to competitive companies.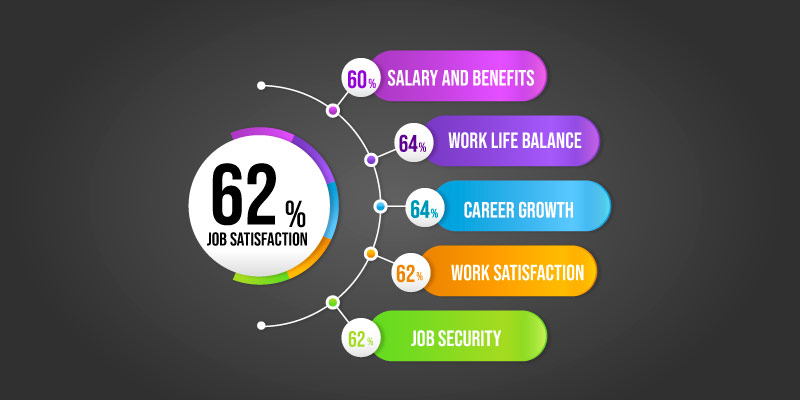 In contrast to other IT firms, KPIT offers a better work environment with more opportunities for improvement. Furthermore, retired employees are satisfied with their jobs, as you can find from the average job satisfaction rating explained earlier. As a result, we strongly encourage freshers to look for various open positions and apply for them. Furthermore, the average KPIT Salary for Freshers appears affordable at an early stage, and all aspirants can apply without concern about the salary structure. It will rise dramatically with your experience and performance improvement. Finally, we hope that we have given you the essential information you need to find KPIT jobs.