Course Highlights and Why Artificial Intelligence Course In Velachery at FITA Academy?

Our AI course modules are designed to cater to the needs of the global industry and ensure you receive top-notch training.

Our courseware is curated by industry experts and provides a thorough understanding of AI and its various implementations.

Our experienced AI trainers will provide you with effective and hands-on training backed by a decade of experience in the field.

Our intensive AI training covers essential concepts such as Artificial Neural Networks, TensorFlow, and Deep Learning, providing in-depth knowledge and skills.

Our instructor-led AI training sessions are interactive, allowing for an engaging learning experience.

Regular recap sessions of previous classes help reinforce your skills and ensure a strong grasp of course material.

Our Smart Classrooms incorporate blended learning techniques, ensuring a deep understanding and engaging learning experience.

After successfully completing the course, you will receive a certification in Artificial Intelligence at an affordable cost.

AI Courses In Velachery offer flexible batch timings, including weekend, weekday, AI Courses In Velachery, allowing you to choose a schedule that suits you best.

Our active placement cell provides 100% placement assistance, ensuring you have the support you need to secure your dream job and achieve your career goals.
Upcoming Batches
04-12-2023
Weekdays
Monday (Monday - Friday)
07-12-2023
Weekdays
Thursday (Monday - Friday)
09-12-2023
Weekend
Saturday (Saturday - Sunday)
16-12-2023
Weekend
Saturday (Saturday - Sunday)

Classroom Training
Get trained by Industry Experts via Classroom Training at any of the FITA Academy branches near you
Why Wait? Jump Start your Career by taking Artificial Intelligence Course in Velachery!
Instructor-Led Live Online Training
Take-up Instructor-led Live Online Training. Get the Recorded Videos of each session.
Travelling is a Constraint? Jump Start your Career by taking the Artificial Intelligence Online Course!
Trainer Profile
Our Artificial Intelligence course is designed for the needs of students with no knowledge in the field of artificial intelligence
The trainers assist students in comprehending the real-world uses of artificial intelligence.
Our AI trainers are not only experts in their field, but they are also passionate about teaching and dedicated to providing an engaging and stimulating learning experience.
Trainers provide a lot of help to students, including career counselling, one-on-one mentoring, and sessions for clearing up doubts.
The trainer provides a range of industry-specific applications and tools, preparing students for success in their chosen fields.
The trainer provides a supportive and collaborative learning environment where students can interact and learn from their peers.
We provide access to the latest tools and technologies in Artificial Intelligence, ensuring that our students are continually informed of the most recent business trends.
Trainers are available for a variety of batch times, giving students the freedom to establish a schedule that works for them.
Our placement cell provides comprehensive support to students, connecting them with top employers in the industry and helping them land their dream job.
Learn at FITA Academy & Get Your
Dream IT Job in 60 Days
like these Successful Students!

Features of Artificial Intelligence Course In Velachery at FITA Academy
Real-Time Experts as Trainers
At FITA Academy, You will Learn from the Experts from industry who are Passionate in sharing their Knowledge with Learners. Get Personally Mentored by the Experts.
LIVE Project
Get an Opportunity to work in Real-time Projects that will give you a Deep Experience. Showcase your Project Experience & Increase your chance of getting Hired!
Certification
Get Certified by FITA Academy. Also, get Equipped to Clear Global Certifications. 72% FITA Academy Students appear for Global Certifications and 100% of them Clear it.
Affordable Fees
At FITA Academy, Course Fee is not only Affordable, but you have the option to pay it in Installments. Quality Training at an Affordable Price is our Motto.
Flexibility
At FITA Academy, you get Ultimate Flexibility. Classroom or Online Training? Early morning or Late evenings? Weekdays or Weekends? Regular Pace or Fast Track? - Pick whatever suits you the Best.
Placement Support
Tie-up & MOU with more than 1500+ Small & Medium Companies to Support you with Opportunities to Kick-Start & Step-up your Career.
Why Learn Artificial Intelligence Course In Velachery at FITA Academy?
Live Capstone Projects
Real time Industry Experts as Trainers
Placement Support till you get your Dream Job offer!
Free Interview Clearing Workshops
Free Resume Preparation & Aptitude Workshops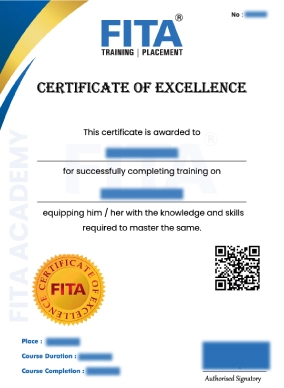 Artificial Intelligence Certification Course in Velachery
Artificial intelligence has transformed various industries, from healthcare to finance, and the demand for professionals with a deep understanding of AI is only growing. To stay competitive in your career and improve your job prospects, obtaining AI certifications can be of great help. These certificates not only provide a deeper understanding of AI but also demonstrate your credibility to potential employers.
FITA Academy, located in Velachery, offers exceptional AI training that equips learners with the skills and techniques required to manage AI applications. And also provide one of the best Artificial Intelligence Course Fee In Velachery. After successfully completing their Artificial Intelligence Training, learners receive a course completion certificate recognised by most companies as proof of their proficiency in AI. This certificate validates the skills and concepts acquired during the course and attests to the successful completion of assignments and projects.
While the FITA Academy certificate is sufficient to demonstrate proficiency in AI, its mentors encourage learners to earn global certifications through certification-specific training to stand out from other candidates. This additional certification not only increases your knowledge but also provides a competitive edge in the job market.
This certification holds substantial value and increases learners' brand value and professional prospects. Learners who complete this course and obtain the AI certification will be better prepared to secure their dream careers in well-known sectors. In addition to a deeper understanding of AI, FITA Academy's AI training program also provides hands-on experience with real-time projects and guidance from experienced AI trainers. The trainers stay up-to-date with the latest industry trends and practices to provide learners with relevant and up-to-date training.
Have Queries? Talk to our Career Counselor for more Guidance on picking the
right Career for you!
Placement Session & Job Opportunities after completing Artificial Intelligence Course In Velachery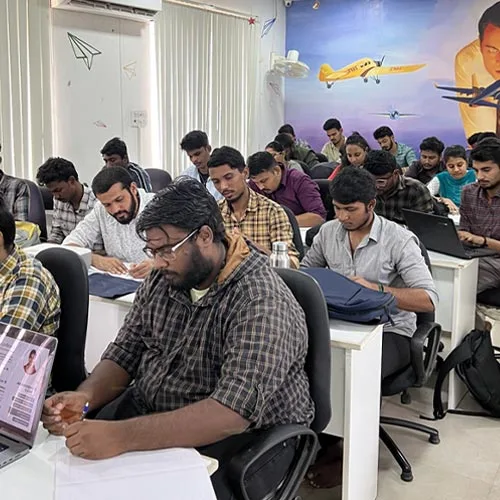 Artificial Intelligence is one of the fastest-growing fields in technology, offering a vast range of job positions with unique and rewarding opportunities for growth and development. Among the most important and sought-after roles in AI is that of a Big Data Engineer. These professionals are responsible for developing ecosystems for business systems to communicate and interact efficiently within organisations. They build and manage the big data of an organisation, as well as derive profitable outcomes from confidential data efficiently. With their work being critical to the success of an organisation, companies offer competitive salary packages to candidates who can meet the high expectations of this role.
Apart from Big Data Engineers, there are other prominent job positions available in AI. These include BI Developers, Business Analysts, and Data Scientists, each with unique responsibilities and requirements. BI Developers, for example, identify different business trends by critically evaluating complex sets of data. Business analysts compile and analyze data from diverse sources to offer firms insightful information.
Data Scientists, on the other hand, gather relevant data from various resources to procure constructive inferences. They play a crucial role in helping organisations understand their customers, improve their products and services, and drive growth and innovation. As such, they are highly sought after by a wide range of industries and are frequently offered highly competitive salary packages as a result.
In today's competitive job market, having an AI certification can significantly increase your chances of landing an interview and advancing in your career. FITA Academy's Artificial Intelligence Training provides learners with a comprehensive understanding of AI and helps them develop the necessary skills to excel in this field. The training program offers practical and theoretical knowledge and prepares learners for their dream careers in well-known sectors.
FITA Academy offers Artificial Intelligence Interview Questions and Answers, enabling learners to prepare for the competitive job market. After successful completion of their Artificial Intelligence Training, learners are awarded a course completion certificate. This certificate is recognised by most companies as proof of the candidate's proficiency in AI. It validates the skills and concepts they have acquired during the course and attests to their successful completion of assignments and projects.
The field of AI offers a wealth of opportunities for those looking to pursue a career in technology. Whether you are interested in Big Data Engineering, Business Analysis, or Data Science, there is a wide range of job positions available that offer exciting challenges and opportunities for growth and development. As the field continues to expand, this is the best time to explore the possibilities of a career in AI.
Success Story of Artificial Intelligence Course In Velachery
I am so glad I enrolled in FITA Academy's Artificial Intelligence Course In Velachery. The trainers were extremely knowledgeable and provided hands-on experience, which helped me understand the concepts better. The course content was well-structured, and the assignments and projects were challenging and helped me improve my skills. Thanks to the certification, I was able to land a job as an AI Engineer at a well-known company in the city. I highly recommend FITA Academy to anyone looking to pursue a career in AI.
I was sceptical about enrolling in an online AI course, but FITA Academy proved me wrong. The instructors were excellent and provided timely feedback, which helped me stay on track. The course materials were informative, and the practical sessions were invaluable in giving me a better understanding of AI concepts. The career guidance provided by FITA Academy helped me land a job as a Data Scientist in a reputed company in the USA. I would definitely recommend FITA Academy to anyone looking for a quality AI course.
I had no prior experience in AI, but FITA Academy has one of the Best Artificial Intelligence Training In Velachery, which gave me a solid foundation in the subject. The trainers were patient and explained complex concepts in simple terms. The practical sessions were engaging, and the projects gave me the opportunity to apply what I had learned. The certification from FITA Academy helped me secure a job as an AI Developer, and I am grateful for the knowledge and skills that I acquired through this course.
FITA Academy's AI course in velachery was exceptional. The instructors were experienced and went above and beyond to provide us with in-depth knowledge of the subject. The course structure was well-planned, and the assessments were challenging, which helped me learn and grow. The career support provided by FITA Academy was also instrumental in helping me secure a job as an AI Analyst in a leading IT company. I would highly recommend FITA Academy to anyone who wants to pursue a career in AI.
I have taken several courses from different institutions, but FITA Academy has the Best Artificial Intelligence Training In Velachery. The course was engaging, and the trainers were knowledgeable and supportive. The practical sessions were the highlight of the course, and the feedback provided by the trainers helped me improve my skills. The certification from FITA Academy helped me land a job as an AI Researcher at a renowned university in the UK. I am grateful for the education and career opportunities that FITA Academy has provided me.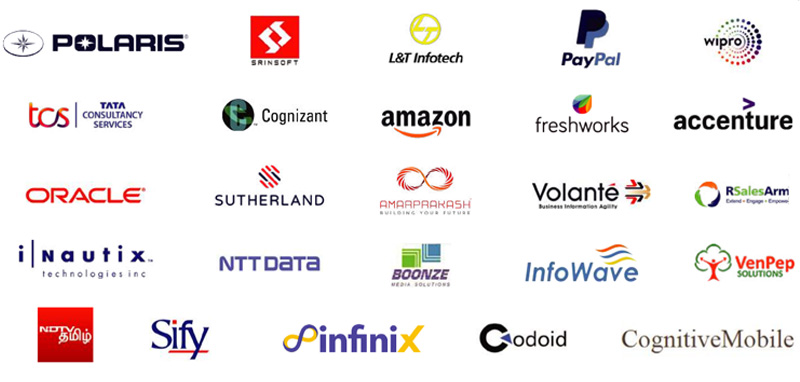 Frequently Asked Question (FAQ) about Artificial Intelligence Course In Velachery
Additional Information of Artificial Intelligence Course In Velachery
One of the most revolutionary technologies nowadays is artificial intelligence (AI). and dynamic fields of computer science. Its main goal is to create intelligent machines that can perform tasks and solve problems with the same level of efficiency and accuracy as humans. By deploying a plethora of algorithms, AI is capable of emulating human-like behaviors and thought processes, transforming the way we live and work.
AI technology has become ubiquitous in our lives, often without our awareness. From email auto-reply features to personalised product recommendations, AI is making our daily tasks more efficient and convenient. Voice-activated assistants like Alexa and Siri, which have become commonplace in many households, are a direct result of AI's capabilities.
Beyond consumer applications, AI has also proven to be invaluable in industries such as healthcare and finance. AI is being used in healthcare to diagnose patients by analysing massive volumes of data and finding patterns that human doctors might not immediately see. In finance, AI algorithms are utilised to detect and prevent fraudulent activity, safeguarding consumers and businesses alike.
AI is also revolutionising the automotive industry through the development of self-driving cars. These vehicles rely on AI-powered autopilot features to navigate roads and make decisions in real-time. AI's ability to process natural language is being leveraged in chatbots that can communicate with humans efficiently and naturally, offering a range of benefits to businesses automating their processes.
As AI technology continues to expand, it is set to become the skill of the century. While some fear that AI may replace human workers, the reality is that it will create millions of new job roles across a wide range of sectors. According to a recent survey, AI is expected to create over 130 million new jobs, accounting for 18% of all new job roles. The potential of AI is vast and far-reaching.It has the ability to drastically change practically every area of our life, including healthcare and transportation. While some may view AI as a threat to human employment, the reality is that it will create countless new job opportunities.
However, the use of AI also raises ethical and social concerns that need to be addressed. The quality of AI systems depends on the data they are fed.. Biased data sets can lead to discriminatory outcomes, perpetuating existing societal biases. Therefore, it is essential to ensure that AI is developed with fairness and equity in mind, and that it is continuously monitored and updated to prevent unintended consequences.
In conclusion, AI is transforming the world we live in and will continue to do so in the future. Its potential for innovation and growth is unparalleled, and its impact on society is undeniable. While there are concerns about its impact on employment and ethics, the benefits of AI outweigh the risks. It is essential to approach AI with a responsible and ethical mentality as we continue to develop and use it., ensuring that it serves humanity in the best possible way.
Reasons to learn Artificial Intelligence Course In Velachery at FITA Academy
Concepts are discussed in an understandable way during the entire course.
Students will engage in projects and real-world settings throughout the AI Training in velachery.
The emphasis of this course is on practical application.
We have specialists who are certified as trainers.
Our team of specialists will give you the direction and help you require to guarantee that you can comprehend the course in the proper manner.
The main ideas of the subject are covered via lectures from subject-matter experts, debates, and exercises that are pertinent to the material.
We have highly qualified AI lecturers with years of expertise in developing AI systems for big corporations.
At FITA Academy, we have a wealth of learning resources available.
We provide state-of-the-art AI training modules.
We provide assignments that are centred on the business world to help students build their portfolios.
We also urge students to look for jobs as part of our career support.