Course Highlights & Why German Classes in Tambaram at FITA Academy?
Learning about the Significance of the German Language, learning to speak, think, self-introduce in German, communicate efficiently in German, etc.
Understanding the German Language, Culture, Language Changes, Connection with other areas of Study, enhancing their Language Competence, etc.
Comprehending the purpose of learning the German Language and understanding it through Perceptions, Pictures, and Changes in the language.
Developing the Listening, Speaking, Reading, and Writing skills of the students.
Apprehending the Cultural reflection of the German language in other Countries and Culture.
Gaining the first level of knowledge of the German language through Language Interactivity, example topics, Phonetics, Orthography, Lexis, and Grammar.
Acquiring Second level of Knowledge through Langauge Interactivity, example topics, grammar, etc.
Developing Third level of knowledge through Language Interactivity, example topics, Competencies such as Listening comprehension, Reading comprehension, Spoken Interaction, and Written Production.
Conducting Didactic and Methodological Principles of German Language.
Conducting Evaluation and Assessment Tests of the German Language.
Upcoming Batches
| | | | |
| --- | --- | --- | --- |
| 05-10-2023 | Weekdays | Thursday (Monday - Friday) | |
| 07-10-2023 | Weekend | Saturday (Saturday - Sunday) | |
| 09-10-2023 | Weekdays | Monday (Monday - Friday) | |
| 14-10-2023 | Weekend | Saturday (Saturday - Sunday) | |

Classroom Training
Get trained by Industry Experts via Classroom Training at any of the FITA Academy branches near you
Why Wait? Jump Start your Career by taking the German Classes in Tambaram!
Instructor-Led Live Online Training
Take-up Instructor-led Live Online Training. Get the Recorded Videos of each session.
Travelling is a Constraint? Jump Start your Career by taking the German Online Course!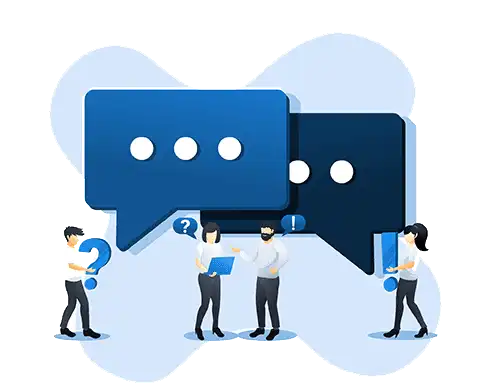 Have Queries? Talk to our Career Counselor
for more Guidance on picking the right Career for you!
Trainer Profile
The German trainers of FITA Academy are professional experts in the German Language having excellent German language skills.
They have profound teaching experience and teach students as per the companies' requirements and needs.
They possess extensive knowledge and understanding of the language and can transform the same to students through their distinct training.
The German trainers of FITA Academy have maximum working experience of more than 10 years.
They also assist and guide students to have a concise career path and also help them in developing their soft skills.
Features
Real-Time Experts as Trainers
At FITA Academy, You will Learn from the Experts from industry who are Passionate in sharing their Knowledge with Learners. Get Personally Mentored by the Experts.
LIVE Project
Get an Opportunity to work in Real-time Projects that will give you a Deep Experience. Showcase your Project Experience & Increase your chance of getting Hired!
Certification
Get Certified by FITA Academy. Also, get Equipped to Clear Global Certifications. 72% FITA Academy Students appear for Global Certifications and 100% of them Clear it.
Affordable Fees
At FITA Academy, Course Fee is not only Affordable, but you have the option to pay it in Installments. Quality Training at an Affordable Price is our Motto.
Flexibility
At FITA Academy, you get Ultimate Flexibility. Classroom or Online Training? Early morning or Late evenings? Weekdays or Weekends? Regular Pace or Fast Track? - Pick whatever suits you the Best.
Placement Support
Tie-up & MOU with more than 1500+ Small & Medium Companies to Support you with Opportunities to Kick-Start & Step-up your Career.
German Language Certification Course in Tambaram
About German Language Certification Course in Tambaram at FITA Academy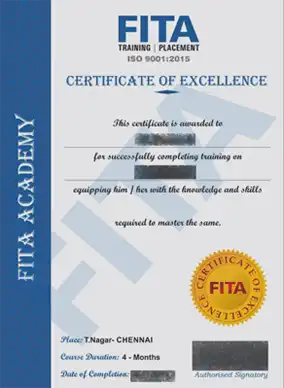 German Language Certification Course in Tambaram
German Language is one of the orthodox and esteemed languages of the world and learning it has great benefits for everyone wishing to have a lucrative career. The language also stands tall among foreign languages such as English and French in providing more than modest salaries to its aspirants and learners. FITA Academy's German Certification Course will be particularly helpful for German language aspirants who want to learn the language fluently and achieve their career goals. Besides, it is open for everyone who wants to get proficient in the language and utilize it for their personal or professional purposes. The syllabus of the German language is drafted by our German language experts so that all the key concepts are covered and are enough to impart efficient knowledge to students that will benefit them by helping them to land in eminent jobs. Moreover, FITA Academy provides all the facilities for students to successfully complete their German certification by arranging them with the best trainers, best lab support, helpful support team, and many more. By joining FITA Academy's German Classes in Tambaram, one can attain eloquence and deep knowledge of the German language which will help them to use the language in a more professional and proficient way.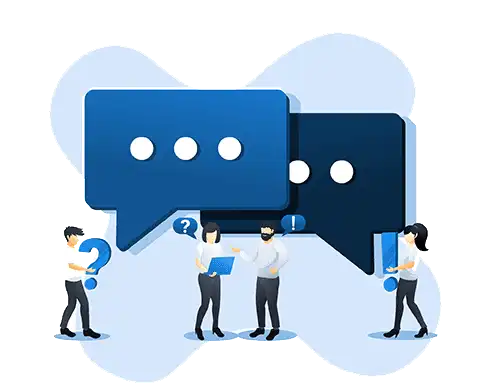 Have Queries? Talk to our Career Counselor
for more Guidance on picking the right Career for you!
Job Opportunities After Completing German Classes in Tambaram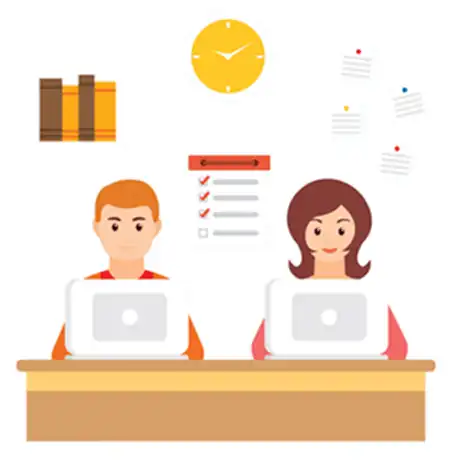 The German Language has become one of the significant languages in the modern world. The language has attained the position of eminence as it became the third-most learned foreign language next to only English and French. People all around the world have started to show a significant interest in the language due to many factors. The first reason is the Country itself, Germany that has proved in many aspects. It is one of the wealthiest countries in the world ranking third in trade, next to only the US and China. The second reason being, the country has contributed to the growth of many fields such as Science, Education, Mathematics, Arts, Music, Philosophy, and more. Third, the Country is almost providing free education to its students as well as immigrants. This is one of the biggest reasons, huge number of students all over the world started showing interest in learning German and started to flock to Germany either to continue their higher education or to continue their career in Germany. The country is increasingly becoming famous for providing high-end salaries to its citizens and also immigrants from all over the world.
The country has contributed so much to the rise of the language in terms of eminence, significance and has also become an influential language that has impressed people to learn it as their third language for both their personal and professional purposes. So by learning it as a foreign language aspirants can land in many prominent job roles such as German Language Teacher/Trainer, Translator/Interpreter, Tourist Guide, Hospitality Manager, Media Personnel, Journalist, Public Relation Manager, Advertising Manager. FITA Academy conducts the best German Classes in Tambaram and by joining it students can achieve their German Language proficiency and Skills that will place them in a better position Career-Wise.
Student Testimonials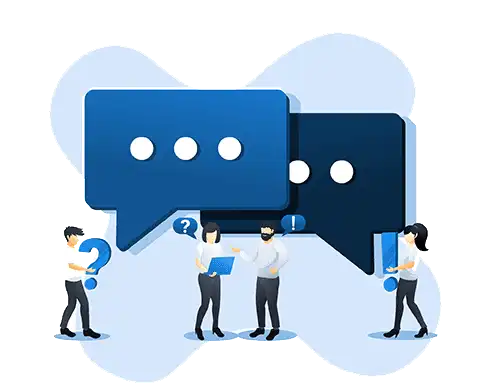 Have Queries? Talk to our Career Counselor
for more Guidance on picking the right Career for you!
Addition Information
Why Learn German?
We recognize that for most persons learning a second or third language, German is not their first language. The accents are harsh, the culture is distinct, and you can't imagine how often you'll use German if you live in the United States.
It's a global force to be reckoned with, with over 230 million speakers. But that's only the beginning. Here are 11 significant advantages of studying German.
German is the Most Spoken Language in Europe
The majority of people believe that Germany is the only country where German is spoken. The facts are that German is Europe's most widely spoken language. Austria, Switzerland, Luxembourg, and Liechtenstein all speak it as their official language. Furthermore, many other parts of Europe, including Romania, Russia, eastern France, and others, speak German as a non-official language.
Some have said that Italian is a fast-growing language that could overtake German in the next decade, but this would be underestimating German dominance. Whether you want to go to Europe, live there, or do business there, German should be at the top of your list of languages to learn.
English and German both come from the Same Language family
Both English and German share the same language roots, the Germanic language family. While they eventually diverge, most people are astonished to learn that German is closer to English than French or Spanish.
What exactly does that imply?
It means that for English speakers like you, learning German should be relatively simple. So don't think it is a difficult task to learn German by recognizing its various accents. It is simple to learn German as both English and German share many of the same terms, which can help you learn faster.
The Most Demanded Language in the Modern Times
If you consider yourself to be intelligent in any way, learning German should be at the top of your priority list. Not only are some of the world's finest innovators are Germans, but it's also the second most widely used language in Science. Who are some of the world's most brilliant innovators?
Albert Einstein, Sigmund Freud, and Max Planck are the first three names that come to mind. There are other renowned composers who spoke and composed in German, such as Mozart and Bach. Learning German would be the first step toward appreciating these inventors' work in its original form.
Get Paid for Your Fluent German Skills
Audi, Porsche, BMW, Volkswagen and Mercedes-Benz are only a few examples of internationally known German brands. As Germany is the world's economic powerhouse, the country is seeing an increase in job prospects.
Perhaps more importantly, as they strive to expand their imprint in Germany and Europe, firms in the United States are clamoring to hire and promote German speakers. Therefore, it's one of the best abilities you can develop to set yourself out in a congested job market.
To back up this claim with data, the Economist conducted research comparing how much more money one may earn depending on whatever language they learn. It's no surprise that German came in first, with expected bonus earnings of 125,000 euros.
Access a Whole New Internet
Apart from English and Russian, German is the third most often used language on the Internet. Germany makes for about 6% of the Internet's total content. Sure, you could just stick to English, but knowing German opens up a whole other world for you to explore.
Broaden Your Career Opportunities
As previously stated, new career opportunities are opening up in Germany and around the world. Who wouldn't want to service customers who have money and resources to spend in a country with one of the highest GDPs in the world? This is why you'll see a lot of offices or divisions dedicated to serving European consumers moving internationally. Speaking this popular language will give you an advantage in a world where people can buy or consume almost anything online.
You want to improve the quality of your life now or in the future, right? It's no surprise that Germany is one of the best locations to live in the world when you consider its diversity, affordability, and a strong economy. You may find art, creativity, business, technology, and more in one location.
Also keep in mind that Switzerland, another German-speaking country, is recognized as one of the best places to live in the world. Join FITA Academy's German Language Course in Tambaram to fulfill all your career goals by getting trained under the skilled German Language Experts of FITA Academy.