Course Highlights & Why German Language Classes in Velachery at FITA Academy?
The teaching of the A1 level includes everyday expressions, simple sentences, introduction, their livelihood, their whereabouts, responding to the questions, starting simple conversations, etc.
Learning of A2 level for conversing about their present circumstances, information about their family, shopping, and work. Can talk about their immediate surroundings, routine situations, exchanging information on familiar and common topics.
Comprehending B1 level to talk about familiar topics associated with work, school, leisure time, etc. Can deal with almost all situations and can express logically regarding familiar topics and personal interests. Can explain dreams, hopes, goals and express their own views and plans.
Apprehending B2 level through which students can communicate so spontaneously and fluently with native speakers. Can express themselves in a clear and detailed manner. Explain their opinion on a current issue and can brief the benefits and drawbacks of certain things.
Understanding C1 level for expressing spontaneously and fluently. Using the language effectively and flexibly in their social and professional lives. Also can make clear detailed statements on complex and difficult topics.
Getting familiarised with C2 level to practically understand everything. Can summarize information and make clear statements on precise topics.
Professional and first-hand training for students to learn the language extensively.
Real-time training to make students proficient and competent in the German language.
Developing the Listening, Speaking, Reading, and Writing skills of the students in the German language.
Conducting Roleplay to make students deal with realistic situations and the like.
Upcoming Batches
| | | | |
| --- | --- | --- | --- |
| 12-06-2023 | Weekdays | Monday (Monday - Friday) | |
| 15-06-2023 | Weekdays | Thursday (Monday - Friday) | |
| 17-06-2023 | Weekend | Saturday (Saturday - Sunday) | |
| 24-06-2023 | Weekend | Saturday (Saturday - Sunday) | |

Classroom Training
Get trained by Industry Experts via Classroom Training at any of the FITA Academy branches near you
Why Wait? Jump Start your Career by taking the German Language Classes in Velachery!
Instructor-Led Live Online Training
Take-up Instructor-led Live Online Training. Get the Recorded Videos of each session.
Travelling is a Constraint? Jump Start your Career by taking the German Online Course!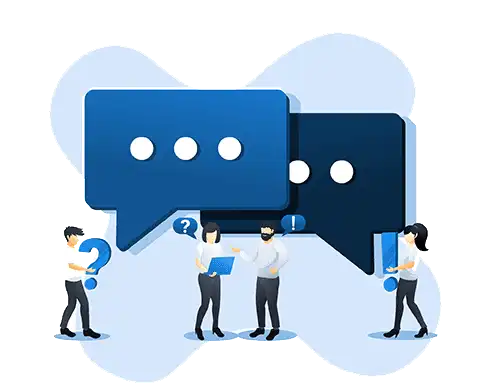 Have Queries? Talk to our Career Counselor
for more Guidance on picking the right Career for you!
Trainer Profile
The German Language trainers of FITA Academy are meticulously picked after a tough hiring process.
They are industry professionals who possess a maximum working experience of 10 years in their field.
They draft the syllabus according to the requirements of the German aspirants.
The German experts provide career-oriented training to the students to help them attain extensive and practical knowledge of the Language.
They provide both Career and placement guidance support.
Features
Real-Time Experts as Trainers
At FITA Academy, You will Learn from the Experts from industry who are Passionate in sharing their Knowledge with Learners. Get Personally Mentored by the Experts.
LIVE Project
Get an Opportunity to work in Real-time Projects that will give you a Deep Experience. Showcase your Project Experience & Increase your chance of getting Hired!
Certification
Get Certified by FITA Academy. Also, get Equipped to Clear Global Certifications. 72% FITA Academy Students appear for Global Certifications and 100% of them Clear it.
Affordable Fees
At FITA Academy, Course Fee is not only Affordable, but you have the option to pay it in Installments. Quality Training at an Affordable Price is our Motto.
Flexibility
At FITA Academy, you get Ultimate Flexibility. Classroom or Online Training? Early morning or Late evenings? Weekdays or Weekends? Regular Pace or Fast Track? - Pick whatever suits you the Best.
Placement Support
Tie-up & MOU with more than 1500+ Small & Medium Companies to Support you with Opportunities to Kick-Start & Step-up your Career.
German Certification Classes in Velachery
About German Certification Classes in Velachery at FITA Academy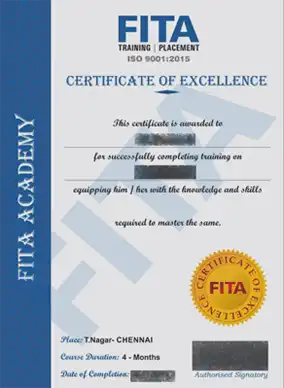 German Certification Classes in Velachery
FITA Academy's German Classes in Velachery can be attended by anyone who wants to be skilled in the language as well as to attain proficiency in it. Learning German as a Foreign language has many advantages for a german aspirant or for any other candidate. There are six levels in German, from A1 to C2. By completing each level, a german candidate has the advantage of studying, working or migrating to any of the German-speaking countries. Level A is called Basic User. It is split into A1 and A2, Beginner and Elementary. Completing the A level, a german candidate is eligible for applying for a visa or a residence permit in Germany. Level B is called Independent User. Level B is split into B1 and B2, Intermediate and Upper-intermediate. By completing level B, a german candidate is eligible for applying for German citizenship. Level C is called Proficient User. Level C is split into C1 and C2, Advanced and Proficient (Near-native). By completing the C level a german aspirant is eligible for pursuing his/her higher education in Germany or any of the German-speaking countries. These are the advantages of learning German and acquiring a German certification. Attending FITA Academy's German Language Classes in Velachery will definitely place students in a better position career-wise and make them achieve more in their professional field.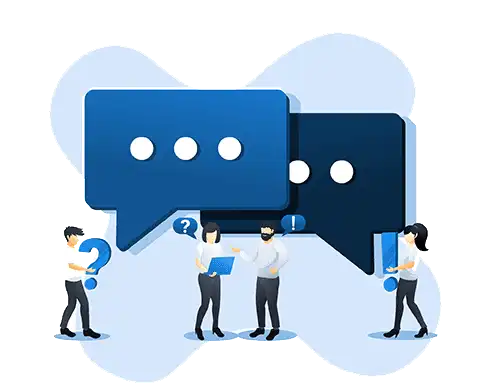 Have Queries? Talk to our Career Counselor
for more Guidance on picking the right Career for you!
Job Opportunities After Completing German Classes in Velachery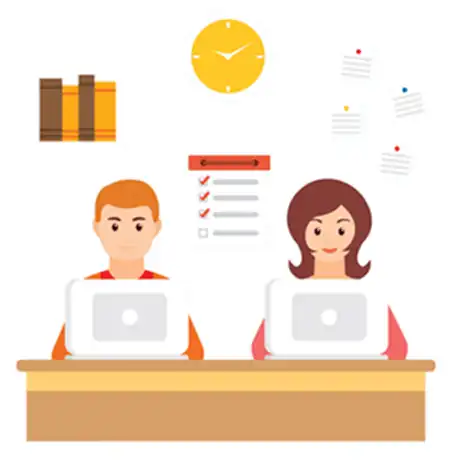 German, being one of the major languages of the world, has acquired a significant place for itself in the history of languages. The language is widely taught as a foreign language around the world due to the significant advantages it provides its aspirants. The major advantage is the career option it provides for the german learners. Yes, Germany is a well-developed country that provides international education as well as vast career opportunities for its own people, students and immigrants from around the world. The pay scale for the professionals is also high and thus they can lead a lucrative life. Apart from this, students who are proficient in german can even land high-end german-based jobs in their own country. Besides career, education is one of the important factors a lot of students travels to Germany. Because Germany provides free education with international standards. That's why many students flock to Germany to have a lucrative as well as a stable career. After the US, Germany is the country looking for skilled Engineers, Doctors, Scientists, etc because it is a developed country that can provide as much as a high pay scale for its professionals. By learning German, students can also try their chances in other German-speaking countries such as Austria and Switzerland.
Some of the job opportunities for German learners in India are German Language Teacher/Trainer, German Translator/ Interpreter, Tourist Guide, Advertising Manager, Public Relations, Journalist, German Content Writer and more. Join FITA Academy's German Classes in Velachery to experience career-oriented training to achieve your professional goals.
Student Testimonials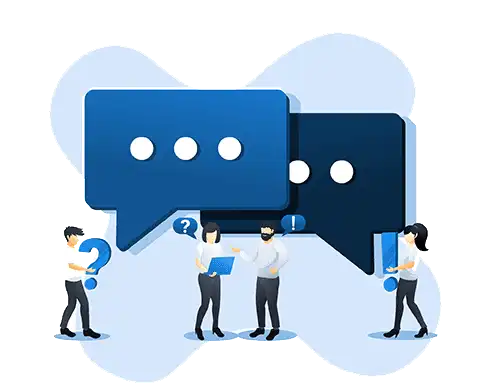 Have Queries? Talk to our Career Counselor
for more Guidance on picking the right Career for you!
Additional Information
Germany is one of the richest countries in the world with a powerful economy and financial system. Germany is known for its rich history, colourful architecture, castles, cathedrals, monuments, landscapes, mountains, forests, delicious food, exotic travel destinations and much more. Among these things, Germany is also known for the free education it provides. Thousands of students travel to Germany, particularly for this main reason. Though education is free, it has a standard and degree to it.
Benefits of learning the German Language
German and English comes from the same Language family
For English speakers, German is easy to learn as the language shares the same roots with English as both are West Germanic Languages. Furthermore, 26% of English Vocabulary shares the same roots as German, from grammar structure to vocabulary. So additionally you can learn a foreign language if you know English.
Learning German is equal to getting us exposed to a lot of education and career opportunities around the world. Learning German can benefit us in terms of getting employed in big MNCs and German-based companies. The pay scale for the jobs is also high.
Explore more about German History and Culture
Learning German is one of the easiest ways to explore more about its history and culture. Germany has a vast and rich history and more literature and science works are written in German. So being proficient in the language can help aspirants to explore more about the German country's history and culture.
Use the Internet through German
German is the most spoken language in the world after English and Chinese. So learning German opens you to a new world of knowledge that can be accessed through the internet. The World Wide Web is available in German too so german learners can make use of it and can obtain knowledge of German's classics, books in German.
German is used in Science too
German is the second most language used in Science after English. Learning the language will give you an advantage of studying for a Masters or Ph.D. in their German language.
Will improve the quality of your life
Knowledge of German will increase your chances of acquiring high-end job roles thus increasing the quality of your both personal and professional life.
Will help you to take up international careers
Landing International Career is also one of the benefits of learning German. German learners also have the benefit of working in their own country or traveling abroad to pursue high-profile job roles.
Opportunity to Work in Tourism and Hospitality Industry
The tourism and hospitality industry is also one of the good career options for German learners. German people often go on vacation and are the biggest spenders in the world. So they need german-speaking tourist guides to assist them on their tours. So tourism and hospitality industry is one of the good career options for german learners.
German is used in Communication
The German language is used in the World Wide Web for german learners to acquire information extensively on everything. Therefore it is an advantage for German language experts to gain information through the net, books and literature.
Learning German also helps you in understanding the German culture, history and also about their tradition, festivals, etc. Join FITA Academy's German Language Classes in Velachery and enjoy the benefits of officially acquiring a German Certification.