Course Highlights & Why Selenium Training in Tambaram at FITA Academy?
Introduction to Automation Testing, Advantages and Scope of Automation Testing.
Introduction to Selenium Testing, its Frameworks, Components, Versions, and Selenium Supported languages like PHP, Java, and Python.
Learning OOPs concepts and Core Java like Java Programming concepts, Classes, Objects, Variables, Methods and Packages, Abstraction, Encapsulation, Polymorphism, and Inheritance.
Understanding Concepts and Loops, Access and Non-Access Modifiers, Interfaces, Constructors, Collections, Keyword list, String Handling, Exception Handling, etc.
Hands-on practice to install Selenium IDE, Create a script, Record a Script, Executing Scripts, Debugging Scripts, Develop Test Cases and Test Suites with Selenium IDE.
Comprehending Verify, Asserts and Locators, Extracting Values, Usage of Regular Expressions, Locator Type, etc.
Apprehending Selenium Web Driver, the difference between Web Driver vs RC, Cross-Browser Testing, etc.
Knowledge of Mouse Movements, Keyboard Events, Tabs and Frames, Static and Dynamic Tables, Automating Real-time Scenarios, Handling Exceptions, etc.
Exploring Headless Browser Testing, Flash Object Testing, Test NG Framework, and Unit Testing.
Insights on Test Automation Frameworks, Linear Scripting, Keyword-driven or Table-driven Testing Framework, Data-driven Testing Framework, Hybrid-Test Automation Framework.
Upcoming Batches
| | | | |
| --- | --- | --- | --- |
| 05-10-2023 | Weekdays | Thursday (Monday - Friday) | |
| 07-10-2023 | Weekend | Saturday (Saturday - Sunday) | |
| 09-10-2023 | Weekdays | Monday (Monday - Friday) | |
| 14-10-2023 | Weekend | Saturday (Saturday - Sunday) | |

Classroom Training
Get trained by Industry Experts via Classroom Training at any of the FITA Academy branches near you
Why Wait? Jump Start your Career by taking the Selenium Training in Tambaram!
Instructor-Led Live Online Training
Take-up Instructor-led Live Online Training. Get the Recorded Videos of each session.
Travelling is a Constraint? Jump Start your Career by taking the Selenium Online Course!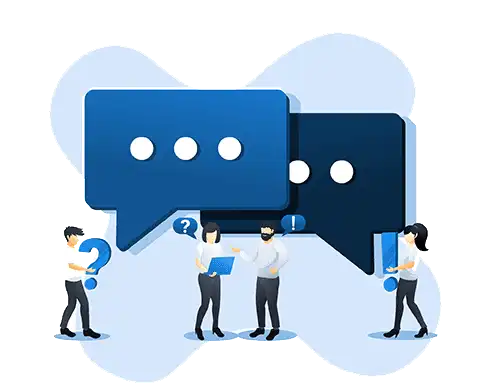 Have Queries? Talk to our Career Counselor
for more Guidance on picking the right Career for you!
Trainer Profile
The Selenium Trainers of FITA Academy are working professionals in eminent IT organizations with a maximum working experience of 10+ years.
They have terrific knowledge of the Selenium Automation testing tool that includes both theoretical and practical expertise.
They possess profound teaching skills and can handle more than a handful of students and help them commence their careers.
FITA Academy hand-picked these Selenium experts so they can deliver a high-quality training program.
These Selenium experts not only teach but also assist and guide students in developing their soft skills and helping them to prepare their resumes and confidently face their interviews, etc.
Features
Real-Time Experts as Trainers
At FITA Academy, You will Learn from the Experts from industry who are Passionate in sharing their Knowledge with Learners. Get Personally Mentored by the Experts.
LIVE Project
Get an Opportunity to work in Real-time Projects that will give you a Deep Experience. Showcase your Project Experience & Increase your chance of getting Hired!
Certification
Get Certified by FITA Academy. Also, get Equipped to Clear Global Certifications. 72% FITA Academy Students appear for Global Certifications and 100% of them Clear it.
Affordable Fees
At FITA Academy, Course Fee is not only Affordable, but you have the option to pay it in Installments. Quality Training at an Affordable Price is our Motto.
Flexibility
At FITA Academy, you get Ultimate Flexibility. Classroom or Online Training? Early morning or Late evenings? Weekdays or Weekends? Regular Pace or Fast Track? - Pick whatever suits you the Best.
Placement Support
Tie-up & MOU with more than 1500+ Small & Medium Companies to Support you with Opportunities to Kick-Start & Step-up your Career.
Selenium Certification Course in Tambaram
About Selenium Certification Course in Tambaram at FITA Academy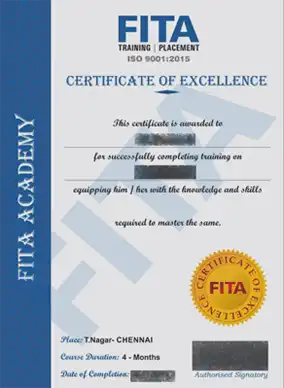 Selenium Certification Course in Tambaram
FITA Academy's Selenium Certification course is mindfully curated by the Selenium Automation testing tool experts of FITA Academy to help students learn the Selenium Automation Software in its entirety i.e. the A to Z of the Software. The training program is conducted by the same Selenium experts so that it will be easy for students to gain first-hand knowledge of the tool from them. Learning the Selenium tool is imperative for students who aspire to be Testing Engineers as well Programmers or Developers. Particularly it will serve as an additional skill for the programmers specifically if they are working as freelancers, so apart from developing the websites or web applications, they can also test them and deliver sophisticated/flawless websites. Besides, the Selenium Automation testing tool is a popular Testing tool that has been extensively preferred and used by IT organizations as well as freelance testing engineers/developers to test their web projects. So choosing it as a Specialization to kick-start your career will be a wise decision as it pays you off money-wise exuberantly and also puts you in a better position by helping you to have a solid and stable career. Learning Selenium is easy as it requires only foundational knowledge of programming languages like Java, Python and C#. Therefore possessing knowledge in these programming languages will help students to quickly grasp the automation software. Attend our Selenium Course in Tambaram to master this Automation Testing Software and to skillfully implement the learned skills.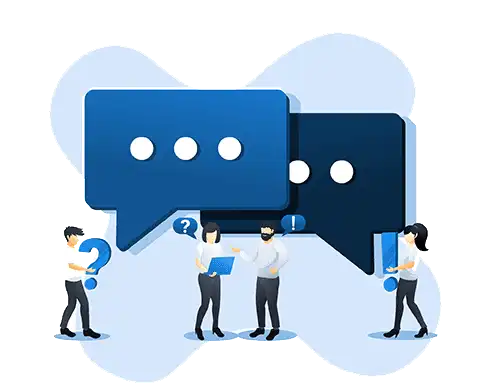 Have Queries? Talk to our Career Counselor
for more Guidance on picking the right Career for you!
Job Opportunities After Completing Selenium Training in Tambaram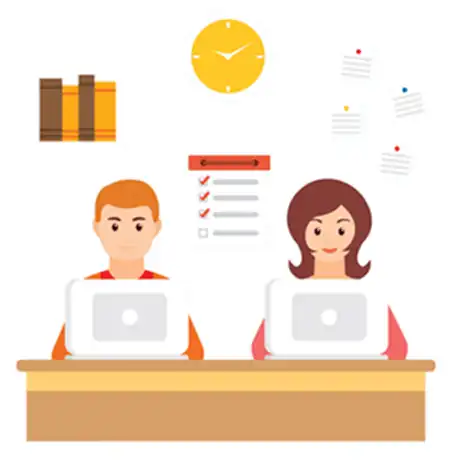 When it comes to Automation Testing, the most discussed tool is the Selenium testing tool that has become the best companion for Testing Engineers, Programmers, and Developers in order to efficiently carry out and finish their tasks. The tool is widely used because of the ease it provides for the Testing Engineers as the testing scripts can be written in multiple programming languages like Java, Python, Ruby, PHP, Perl, etc. Also, the tool is not a single tool but a set of software like Selenium IDE, Selenium RC, Selenium Grid, and Selenium Remote Control which are used for the different testing needs of the organizations. The tool also has become famous due to the many advantages it possesses such as free and open-source software, multi-browser compatibility, multi-platform support, cross-browser testing, multi-programming language support, supports testing of Mobile and Web Applications, and also provides extensive documentation and support. Moreover, Selenium testing skills are highly demanded by countries like the US, UK, India, Australia, etc.
Some of the top companies that hire Selenium Testing Engineers in India are Facebook, Google, Microsoft, LinkedIn, etc. Some of the job roles that can be acquired after getting certified in the Selenium certification are Selenium Tester, Selenium Automation Engineer, Java Selenium Automation Engineer, Mobile Testing Lead, Selenium Test Analyst, Software Development Test Engineer, etc.
Some of the crucial responsibilities of the Selenium Testing Engineers are,
Find the strategy needed for Automation Testing using Selenium as per Business requirements.
Develop a Test Plan and Test Scripts.
Follow existing Regression Suites/Test Scripts.
Make sure to attend Agile meetings.
Carry out Regression suites
Develop solutions and provide them to developers, manual testers, project managers and stakeholders.
Evaluate new tools and APIs.
Finally, let us discuss the salaries of the Selenium Testing Engineers in India. Entry-level Selenium Testing Engineers earn around Rs. 3.9 to 5.5 lakhs. Mid-level professions earn around Rs. 6.8 to 9.1 lakhs. Meanwhile experienced professionals earn around more than Rs. 10 lakhs. Join FITA Academy's Selenium Training in Tambaram to gain immense skills in the Selenium Automation Testing Tool and to professionally exhibit your working skills.
Student Testimonials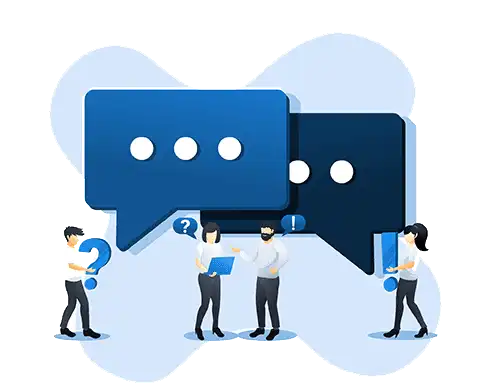 Have Queries? Talk to our Career Counselor
for more Guidance on picking the right Career for you!
Additional Information
What is Selenium Testing?
Selenium is an open-source (free) automated testing framework for validating web applications across multiple browsers and platforms. Selenium Test Scripts can be written in a variety of programming languages, including Java, C#, Python, and others. Selenium Testing is the term for testing done using the Selenium testing tool.
Selenium Software is more than just a single tool; it's a collection of tools, each of which caters to a specific organization's Selenium QA testing requirements. The following is a list of tools.
Selenium Remote Control
Selenium Core testers have to install the complete application under test, as well as the web server, on their own local PCs due to the same-origin policy's restrictions. So a server was created by another ThoughtWorks Engineer, Paul Hammant to act as an HTTP proxy to deceive the browser into believing Selenium Core and the web application under test are from the same domain. This technology was named as Selenium Remote Control, or Selenium 1.
Selenium Grid
Patrick Lightbody developed Selenium Grid to cut down the execution times as much as possible. Initially, he called the system "Hosted QA." It could take snapshots of the browser during crucial stages and send Selenium commands to several machines at the same time.
Selenium IDE
Shinya Kasatani of Japan created Selenium IDE, a Firefox extension that uses a record-and-playback feature to automate the browser. He came up with this idea to make the process of creating test cases even more efficient. He donated Selenium IDE to the Selenium Project in 2006.
Selenium WebDriver
style="text-align: justify;"Simon Stewart created WebDriver in 2006, at a time when JavaScript technologies such as Selenium Core were becoming more powerful and restrictive in browsers and online apps. It was the first cross-platform testing framework to give the browser OS-level control.
Join our Selenium Trainnig in Tambaram to get trained comprehensively and to grab the next best job in your field.